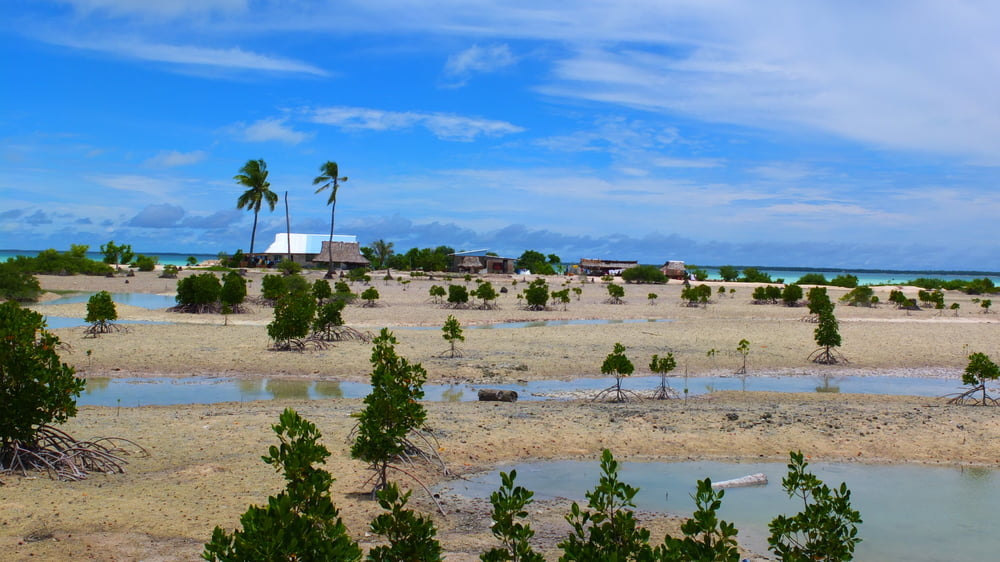 Photo by Robert Szymanski/shutterstock
Kiribati:A Nation of Atolls and Coral Islands with Turquoise Blue and Green Waters Along the Pacific
table of contents
[x] close
Kiribati:A Nation of Atolls and Coral Islands with Turquoise Blue and Green Waters Along the Pacific
Kiribati is a group of islands found in Micronesia in the central Pacific Ocean. Officially called the Republic of Kiribati, the sovereign state has a population of just over 110,000 in 2015. When sightseeing in Kiribati, you may witness 33 atolls and reef islands and one raised coral island which comprises the country. Being a predominantly Catholic country, sightseeing in Kiribati may also allow you to see several religious institutions and attractions. Here are several attractions in Kiribati which you could visit for sightseeing.
1. Fenua-ura (Fanning Island)
Fenua-ura, otherwise known as Fanning Island, is one of the attractions in Kiribati where tourists can go sightseeing. There are a lot of exciting things in Fenua-ura which tourists can experience. Locals welcome their guests with a warm and inviting song. Visitors who are sightseeing in the island can purchase several handicrafts including jewelry and weaved baskets. Fresh coconut juice can also be bought for a buck. A visit to Fenua-ura in Kiribati will allow tourists not only explore the place but to immerse themselves in the local culture and tradition of the citizens.
Name:Fenua-ura
Address:Fanning Island, Kiribati
2. Ambo Island
Ambo Island is another spot for sightseeing in Kiribati. The island can be accessed easily from North Tarawa. While facilities are minimal, several accommodations are available in Ambo Island such as the Dreamers Guest Lodge and the Utireri Motel. The blue water that surrounds the island has great potential, it looks inviting. The beach is pure white sand with broken shells. Since the Parliament building is in the Ambo island, the place is one of the prime areas in Kiribati for sightseeing. Among all islands in Kiribati, this could be a potential place to go.
Name:Ambo Island
Address:Tarawa Atoll, Kiribati
3. Sacred Heart Cathedral (South Tarawa)
The Sacred Heart Cathedral is another attraction for sightseeing in Kiribati. Being a predominantly Catholic nation, Kiribati has several religious buildings such as the Sacred Heart Cathedral as a place of worship and veneration. Located in South Tarawa Atoll on the island of Tarawa. The Roman Catholic Cathedral is the current seat of the Bishop of the Diocese of Tarawa and Nauru (also known as Dioecesis Taravana et Nauruna). The diocese was created in 1982 in order to replace the existing Diocese of Tarawa and Nauru Funafuti of 1978.
Name:Sacred Heart Cathedral
Address:South Tarawa Atoll, Kiribati
4. Parliament Building (Tarawa Atoll)
When sightseeing in Kiribati, you should also consider visiting the Parliament Building. It is recommended that you visit the place while the parliament session is going on. The building was designed to resemble a local canoe from the front and from above. Fully funded by the Kiribati Government, the Parliament building can be found in Tarawa Atoll on the island of Tarawa. It may be seen halfway along the atoll, and it may undoubtedly be recognized because it can be located in one of the places along the road which has a turning lane.
Name:Parliament Building
Address:Tarawa Building
5. Kiribati National Library and Archives (Tarawa Atoll)
The Kiribati National Library and Archives is a relatively exciting place in Kiribati for sightseeing. It houses several books which may fascinate young readers to engage themselves into different genres of literature. Some of the staff from the NZ High Commission leads young kids in reading some of the books. Aside from sightseeing, tourists may likewise donate good books which are of quality if they can. While it is not up to par with other national libraries or archives, the management of Kiribati National Library and Archives ensures that the building includes sufficient information for students and researchers.
Name:Kiribati National Library and Archives
Address:Tarawa Atoll, Kiribati
6. Kiritimati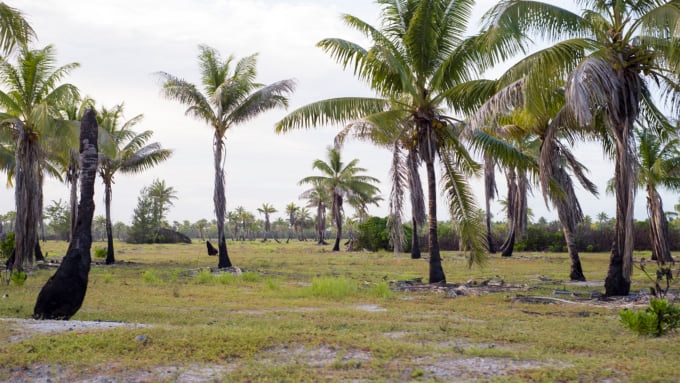 The island of Kirimati is a raised coral atoll in the northern Line Islands in Kiribati. Otherwise known as Christmas Island, Kirimati got its name from a respelling of the English word "Christmas" in the Kiribati language, hence its other name. It has the largest land area among all coral atolls in the world. Its lagoon has the same size as well. The island of Kirimati makes up over 70% of the total land area of the country of Kiribati. When sightseeing in the island, one could view the beauty of the Pacific Ocean.

Name:Kiritimati
Address:Northern Line Islands, Kiribati
7. Tarawa
Tarawa is the capital of Kiribati in the Central Pacific Ocean. This atoll is composed the North Tarawa and South Tarawa, both of which are inhabited. When sightseeing in the city, one can still witness the beauty of the Pacific Ocean, its clear blue waters, and its fine sand. Furthermore, when sightseeing on this attraction, tourists can discover that Tarawa is the site of the Battle of Tarawa which was held during the World War II.
Name:Tarawa
Address:Tarawa, Kiribati
8. Bairiki (South Tawara)
The town of Bairiki is one of the largest in South Tarawa in Kiribati. When sightseeing around the place, one can witness several diplomatic offices including the embassy of Taiwan, the High Commissions of New Zealand and Australia, and the State House which are based on this town in Kiribati. A small islet in Kiribati with a land area of less than a square kilometer, Bairiki is seen as a potential tourist attraction for sightseeing because of its government ministries, and its surrounding blue waters which is ideal for swimming and boating.
Name:Bairiki
Address:South Tawara, Kiribati
9. Bairiki National Stadium
Located in Bairiki in Kiribati, the Bairiki National Stadium is the national stadium of the country. It is likewise the home of the national football team of Kiribati. With a capacity of around 2,500, the Bairiki National Stadium is also a potential sightseeing attraction where tourists can witness local football games when in Kiribati. A sandy pitch surface characterizes the stadium in the arena. While there have been no international football games done there, it is a favorite local destination for local football games.
Name:Bairiki National Stadium
Address:Bairiki, Kiribati
10. Tabuaeran
Tabuaeran is one of the Line Islands of the Central Pacific Ocean in Kiribati. It is otherwise known as Tahanea which is called as Fanning Atoll in English. With an estimated population of more than 1,900 in 2010, its population continues to grow as years go by on a land area of 33.73 square kilometers. When sightseeing in Tabuaeran, one should try to visit the lagoon. While its deepest water is 15 meters, most of the water is shallow. Aside from sightseeing, one can also swim in its lagoon.
Name:Tabuaeran
Adress:Tabuaeran, Kiribati
◎ Closing
Kiribati provides its tourists several distinct destinations for sightseeing. Although a ride going to the country is not regular, going there could be worth your time and your energy. Kiribati boasts of beaches and lagoons which are particularly suitable for sightseeing and swimming. Hence, you should try to include Kiribati under your bucket list.