10 Places You Need to Visit in Costa Rica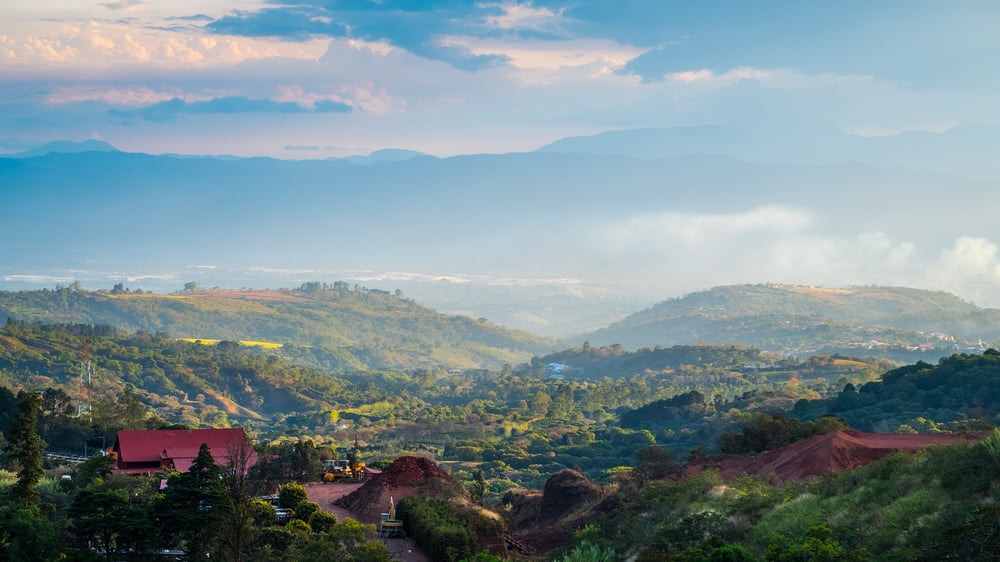 Photo by Dudarev Mikhail/shutterstock
Located at the heart of Central America, Costa Rica is a prime example of an eco and adventure tourism destination. The country is full of incredible landscape such as its rapid waterfalls, misty crater lakes, pristine sandy beaches and dense tropical rainforests. With a number of different ecosystems you'll find a huge range of wildlife around the country. Compared to other Central American countries the tourism industry is more developed with a number of different extreme sports you can take part in such as bungee jumping and parasailing. If you're taking a tour of the country however make sure to visit these places.
[x] close
10 Places You Need to Visit in Costa Rica:table of contents
1. La Fortuna Waterfall (La Fortuna de San Carlos)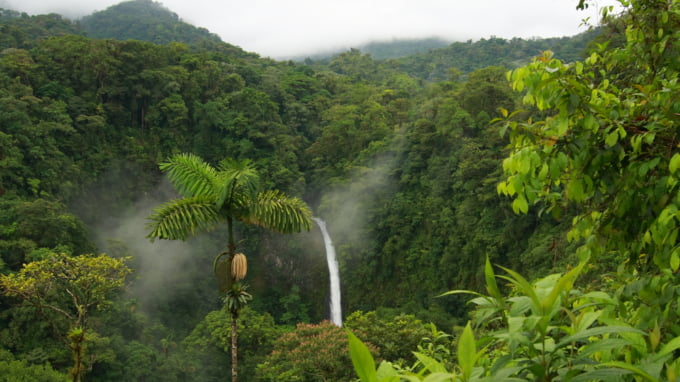 Photo by gary yim/shutterstock
La Fortuna Waterfall is a beautiful ecological Reserve located in the lush green of the northern plains of La Fortuna, Costa Rica. This reserve is used as a means of sustaining the surrounding communities. The waterfall features a hike to the top over a flight of stairs, the trails here are well maintained and perfectly safe for hiking around. You'll also find a number of rest spots that are provided for visitors who may find the climb a little challenging. At the top you'll get incredible views over the surrounding scenery along with numerous perfect spots for pictures along the way.
Name:La Fortuna Waterfall
Address:Arenal Volcano National Park, La Fortuna de San Carlos 106-4417, Costa Rica
Related Site:http://www.cataratalafortuna.com/
2. Proyecto Asis (La Fortuna de San Carlos)
Proyecto Asis is an educational center along with a wildlife shelter for rescued animals around the country. The Proyecto Asis organization does an excellent job sheltering animals that have been found wounded, forsaken or been traded in the black market by rehabilitating and caring for them.

You'll need to make a reservation first and the visit will usually last about two hours. The guide provided is very knowledgeable and passionate about the project, which will allow you to understand the history of the animals better and support the center's noble cause. After your tour, you can help prepare food for the animals and even get a personal experience of feeding them.
Name:Proyecto Asis
Address:141, Provincia de Alajuela, San Carlos, Costa Rica
Related Site:https://www.institutoasis.com/wildlife-volunteer-costa-rica-2/
3. Cahuita National Park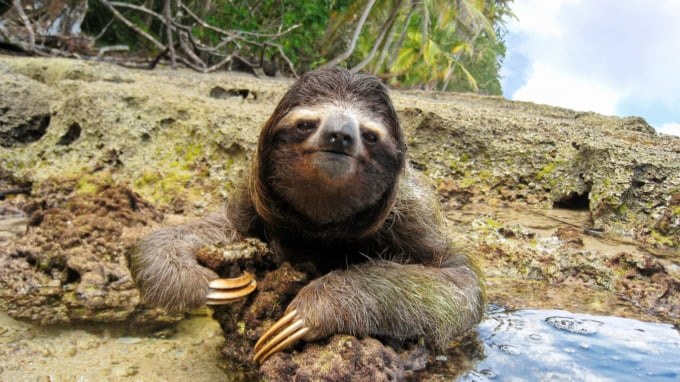 This coastal park contains some amazing natural scenery including a lush green tropical jungle full of tropical wildlife, beautiful tracks, stunning white sandy beaches and colorful coral reefs.

The usual trek that people use takes about three hours at a leisurely pace. The park is open from morning till 4 pm, though it's best to visit in the morning when the animals are most active. Guides are available though can be a little expensive to hire one. The trail is not confusing so a guide may only come in handy if you wish to get a detailed description on the wildlife and plantations within the jungle.

Name:Cahuita National Park
Address:36, Limón Province, Costa Rica
Related Site:http://costa-rica-guide.com/nature/national-parks/cahuita
4. Playa Manuel Antonio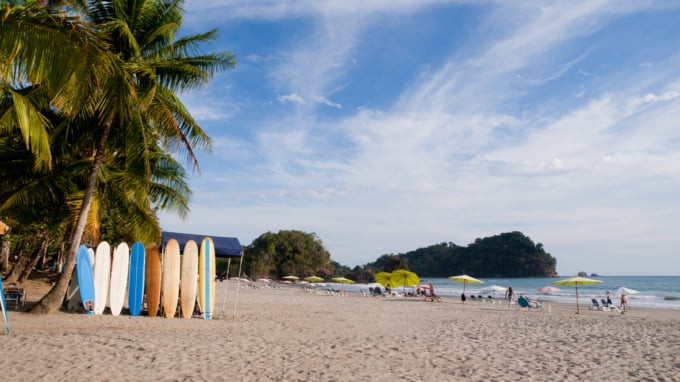 Often listed as one of the most beautiful national parks in the world, Manuel Antonio is known in particular for its beautiful white sandy beaches and hiking trails along the coast. Along with sunbathing and snorkeling in the beautifully clear waters, the beach is also popular as a surfing spot with large waves often gracing its shores.
Name:Playa Manuel Antonio
Address:Parque Nacional Manuel Antonio, Manuel Antonio 195-6350, Costa Rica
Related Site:http://www.sinac.go.cr/ES/buscador/Paginas/Discover.aspx
5. La Paz Waterfall Gardens (Vara Blanca)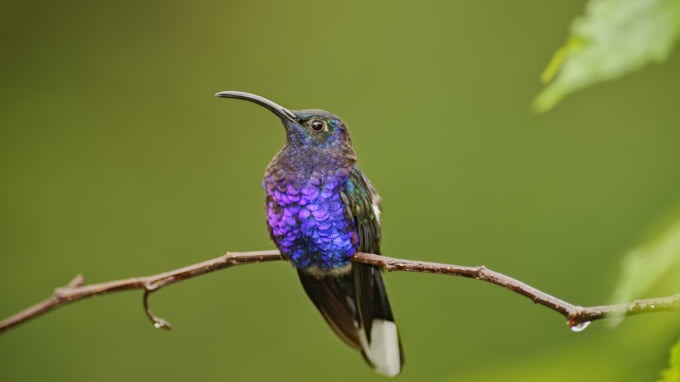 Photo by Eric Middelkoop/shutterstock
The La Paz waterfall gardens is a combination of five beautiful waterfalls accessed by paved trails through the rain and cloud forest. Here you'll find the largest aviary and butterfly observatory in Costa Rica. Popular activites include feeding the hummingbirds along with seeing butterflies in each of their growth stages. The animal sanctuary here also is home to a number of rescued wildlife like jaguars, ocelots, pumas, capuchin and spider monkeys.
Name:La Paz Waterfall Gardens
Address:Poas, Vara Blanca 00000, Costa Rica
Related Site:http://www.waterfallgardens.com/
6. Rio Celeste (Tenorio Volcano National Park)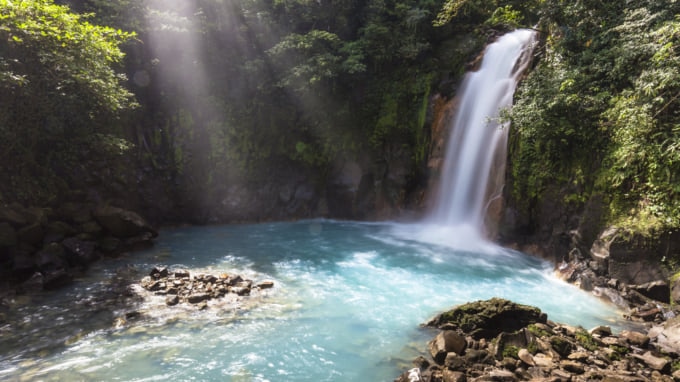 Another of the numerous beautiful hikes you'll find around the country, this one in Tenorio Volcano National Park leads to a beautiful bright blue waterfall. Costa Rica's most enchanting river, the waters of Celeste are a distinctive turquoise color due to a physical phenomenon known as Mie scattering. It really is beautiful to witness in person and although you can't swim in the park itself, if you drive further down the river it's allowed to take a soak.
Name:Rio Celeste
Address:Parque Nacional Volcan Tenorio, Tenorio Volcano National Park, Costa Rica
7. Dave & Dave's Costa Rica Nature Park (La Virgen )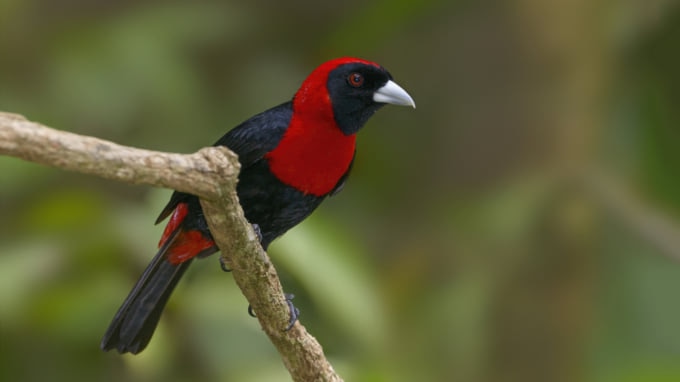 Photo by Tim Zurowski/shutterstock
A must visit destination for wildlife lovers and photographers, this bird sanctuary is famous among BBC wildlife and National Geographic photographers. The place is run by father and son built on what used to be part of an old palm oil plantation. It was bought and built in the 1980's and since then a secondary rain forest has grown there. This created a natural habitat for the animals and food source due to the fruits they eat, the park also features large viewing decks with bird feeders to attract them there.
Name:Dave & Dave's Costa Rica Nature Park
Address:200 Meters North Of The Cementery, La Virgen 123321, Costa Rica
Related Site:http://sarapiquieco-observatory.com/welcome
8. Tortuguero National Park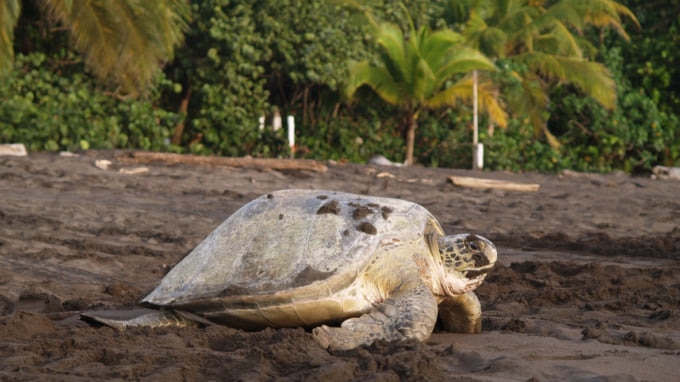 The Tortuguero National Park in Costa Rica is a sanctuary for nesting sea turtles with eleven different ecological habitats found around the park. A memorable experience you can take part in is a boat ride using a 'canu' through the canals where you get to see the local wildlife from a different angle.

Entrance to the park is monitored and boats enter and exit at a designated time to preserve the natural habitat of the wildlife within the park.
Name:Tortuguero National Park
Address:San Jose, Costa Rica | Ivan Espinosa, Tortuguero 10103, Costa Rica
Related Site:http://www.acto.go.cr/index.php/en/
9. Ecotermales Fortuna (La Fortuna de San Carlos)
The Ecotermales Fortuna is a family owned and operated natural hot springs facility in Costa Rica. The place features 5 tranquil pools with different cascading elements some with river bed like stone walls and one with a cascading waterfall.

Only a limited number of guests are allowed per session in a day to allow for a more relaxing atmosphere during your stay there. It's easy to chill out there as you can order cocktails from a bar beside the pools.
Name:Ecotermales Fortuna
Address:3.5 Km Este de la Iglesia Católica, La Fortuna, San Carlos, 21007, Costa Rica
Related Site:http://ecotermalesfortuna.cr/
10. Corcovado National Park (Carate)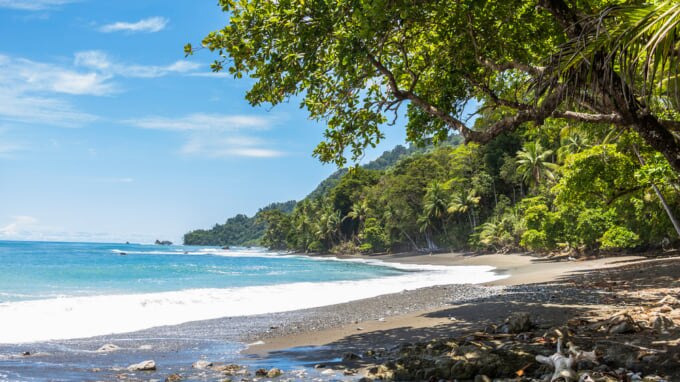 Photo by Picturist90/shutterstock
Corcovado National Park in Costa Rica is a beautiful place with amazing wildlife surrounding it, stretching across white sandy beaches of the Pacific ocean. The weather is usually quite hot and humid throughout the year here so make sure to bring plenty of water.

Camping is also a common activity for visitors to the park, however nights there can be a little noisy due to howler monkeys and other animals. The area is also prone to quite a number of bugs so bug repellent would come in handy.
Name:Corcovado National Park
Address:Parque Nacional Corcovado | Peninsula de Osa, Carate, Corcovado National Park, Costa Rica
Related Site:http://www.osaservices.com/
Conclusion
If you're a thrill-seeker and someone who craves for a little adventure, Costa Rica is the ideal destination. From its delicious national cuisine, to the adrenaline water sport activities like cliff diving and whitewater rafting along with the friendly locals, you're sure to have an awesome time in this tropical heaven.