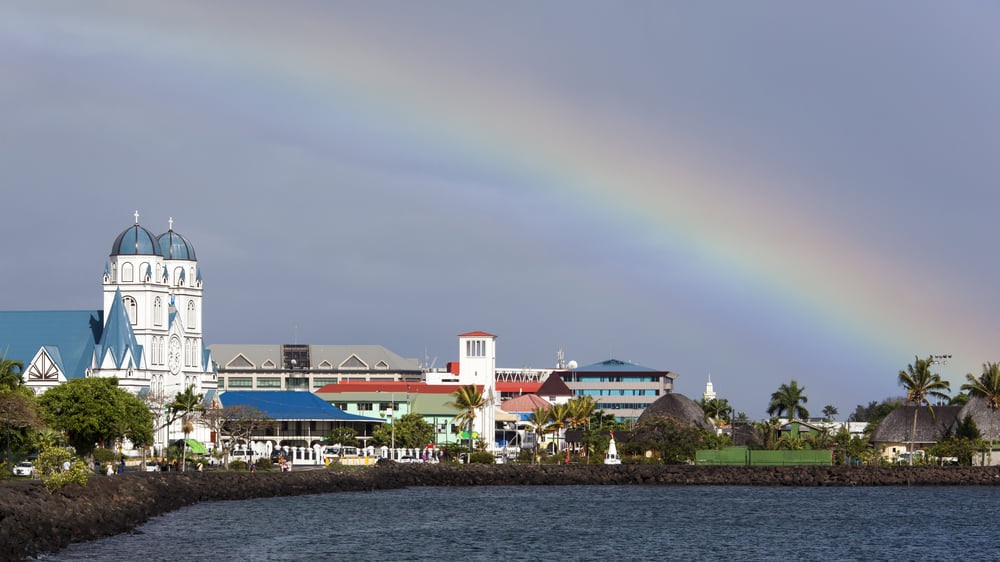 Photo by Ramunas Bruzas/shutterstock
Samoa:The Ultimate Tropical Paradise with Perfect Coves and Tranquil Azure Waters
table of contents
[x] close
Samoa:The Ultimate Tropical Paradise with Perfect Coves and Tranquil Azure Waters
Samoa can be said to be a group of islands situated almost centrally both in the Pacific and part of the South Sea Islands. Upolu and Savai'I, the main islands of Samoa, have the largest population of the people of Samoa and that is where most of the urban life can best be experienced. Samoa is characterized by reef-bordering coastlines and an interior of lush vegetation of mangrove and lowland forests, waterfalls and gorges. Samoa is an undoubted and intense natural beauty waiting to be explored.
1. To Sua Ocean Trench (Lotofaga)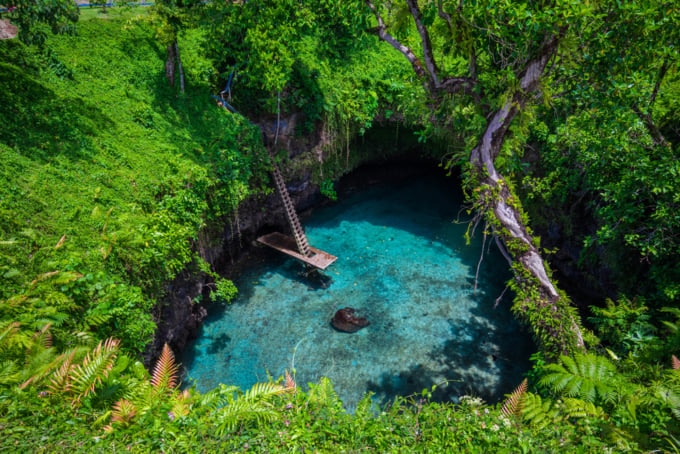 Photo by Martin Valigursky/shutterstock
Samoa has got one of the most interesting yet unusual places for sightseeing. To Sua Ocean Trench, in Lotofaga Village is a 30-metres natural swimming hole that was formed as a result of a lava eruption. The pool is fed by a series of water tunnels from the ocean and water flows back to the ocean through a tube cave. This turquoise water swimming pool can only be accessed using a single wooden ladder. At the site, there is also a rock pool for children, blow holes and a lava field. The most favorable weather for having fun at To Sua is during the dry season, from May to November when temperatures average 27ºC. Besides the perfect climate for swimming, it is also a good timing for most festivals in Samoa.
Name:To Sua Ocean Trench
Address:Lotofaga, Lotofaga, Upolu, Samoa
Related Site:https://www.to-suaoceantrench.com/
2. Robert Louis Stevenson Museum (Apia)
The Robert Louis Stevenson Museum was named after a Scottish writer who chose to settle in Samoa due to the warm and hospitable climate of that was favorable to his chronic respiratory illness. The museum is the house in which this prolific writer lived in, more than a century ago. The home also served as a residence of the Governor of German Samoa and the head of state of Samoa after independence. Today, the home is a major sightseeing attraction to Samoa. Visitors are also allowed to hike to the top of the hill, to view the gravesite of Robert Louis. We recommend the dry months of May to November as the most pleasant period for sightseeing since the pathways to the gravesite get wet and slippery during the rainy season.
Name:Robert Louis Stevenson Museum
Address:Vailima, Apia, Upolu, Samoa
Related Site:http://rlsmuseum.org/
3. Immaculate Conception of Mary Cathedral (Apia)
In the capital of Samoa, is a holy place, the Immaculate Conception of Mary Cathedral that has seen the wrath of an earthquake but has survived the tests of time and still stands strong through extensive restorations and extension. The cathedral is spectacular from the outside and once you get in, it is breathtaking. The architectural design is a blend of Samoa and Roman styles. The church is active in operation for both sightseeing and for church services. You can take a walk around the exterior of the church or get in to marvel at its eye-catching interior finishing.
Name:Immaculate Conception of Mary Cathedral
Address:Beach Rd, Apia, Samoa
4. Lalomanu Beach (Lalomanu)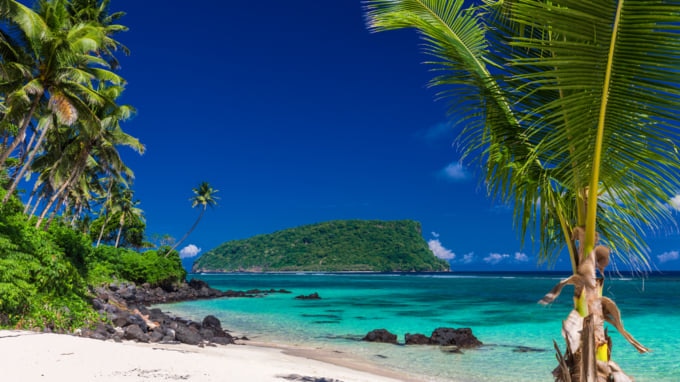 Photo by Martin Valigursky/shutterstock
Lalomanu beach is on the shoreline of Upolu, one of the islands of Samoa. This beach has the words "come and unwind in paradise" written all over, and truly, it does not disappoint. The beach is peaceful enough for taking some time to bathe in its sunshine, cool off on its blue lagoon or take a walk on its endless stretch of its white sand. The equatorial climate of Samoa favors the beach lovers, especially in the months of April to October. Lalomanu is also the excellent place to watch the sunset and take that perfect photo where the sun seems to meet the sky.
Name:Lalomanu Beach
Address:Lalomanu, Upolu, Samoa
5. Afu Aau Waterfall (Savai'i)
Afu Aau Waterfall on the southeastern part of Savai'I island is another stunning swimming spot in Samoa. The waterfall has a shallow outer edge that most people are comfortable swimming in, and a deeper rim where the waterfall touches down. The best swimming weather is during the dry season when the temperatures are favorable and the rocks are dry. Afu Aau Waterfall is also a favorite for divers. Most climb to the surrounding rocks to use them as a diving platform. If you would like to dive from the rocks, we strongly recommend that you wear reef shoes. You should also take great caution as there are no lifeguards, which is the case for most spots in Samoa.
Name:Afu Aau Waterfall
Address:Savai'i, Samoa
Related Site:http://www.samoa.travel/activity/afu-aau-falls
6. Alofaaga Blowholes (Savai'i)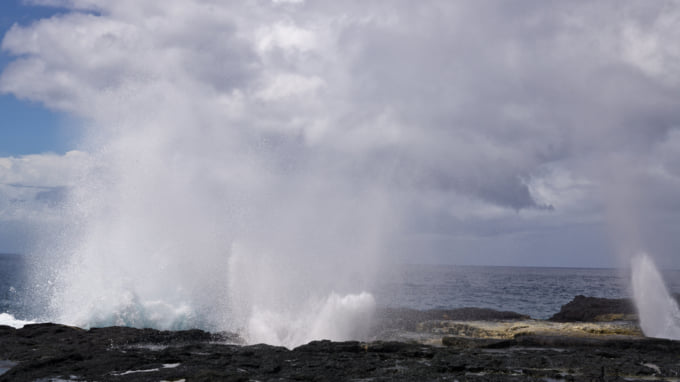 Photo by Johnny Giese/shutterstock
Alofaaga Blowholes is in the village of Aloofaga in Savai'i. The blowholes are a natural feature formed when a sea cave grows upwards and is exposed to the surface such that water blasts at a high pressure from the top of the hole when the weather is appropriate. You may relax as you enjoy the gorgeous scenery of this natural phenomenon or watch the locals putting coconuts in the water caves to see how far they launch or you may do it yourself. However, the area around the blowholes is unfenced, and the rocks may be slippery at times, so you should wear shoes with a firm grip. The blowholes are most impressive when there is a high tide.
Name:Alofaaga Blowholes
Address:Alofaaga Village, Palauli, Taga, Savai'i, Samoa
7. Piula Cave Pool (Piula)
Piula Cave Pool is in the gardens of Piula Methodist Theological College and is worth sightseeing while in Samoa. The cave is a system of two fresh-water natural swimming pools that were formed as a result of a lava tube formation. An underwater cave connects the two pools, and if you are brave enough, you can swim through this passage. Although the pools have got fish, fishing is not allowed both in the pool and the conservation area. You can also take a walk or relax at the well-maintained college gardens.
Name:Piula Cave Pool
Address:Piula, Upolu, Samoa
Related Site:http://www.piula.edu.ws/facilities/cave-pool.htm
8. Papapapaitai Falls (Apia)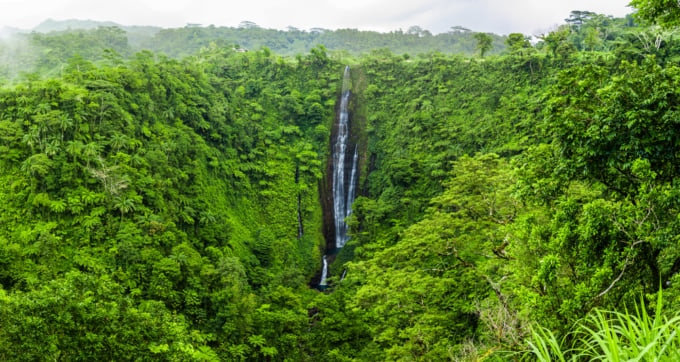 Photo by Martin Valigursky/shutterstock
In Samoa, there are water spots everywhere. Papapapaitai Falls are known as one of the longest falls in Samoa. They plunge 500 feet into a volcanic crater that forms a deep gorge, surrounded by an evergreen rainforest. Sightseeing can only be done from afar, as visitors cannot reach the actual site of the falls. In the dry season on sunny days, the waterfalls and the surrounding lush vegetation offer a picturesque view while the during the rainy season From November to April, you will enjoy the powerful thundering of the falls.
Name:Papapapaitai Falls (Apia)
Address:Cross Island Rd, Apia, Upolu, Samoa
Related Site:http://www.samoa.travel/activity/papapapaitai-tiavi-falls
9. Palolo Deep Marine Reserve (Apia)
When it comes to biological diversity, we have to admit that Samoa is outstanding. The Palolo Deep Marine Reserve is an impactful marine biodiversity area with an extensive array of fish and coral. The reserve is just five minutes away from Apia, the capital of Samoa. Palolo Deep Marine Reserve is ideal for sightseeing, swimming, and snorkeling. The reserve is best visited when there is a high tide when the reef is deep. You may also visit when there is a low tide, but you may possibly hurt yourself or the coral.
Name:Palolo Deep Marine Reserve
Address:Apia Harbour, Apia, Upolu, Samoa
Related Site:http://www.samoa.travel/activity/palolo-deep-marine-reserve
10. Baha'i House of Worship, Tiapapata, Samoa (Apia)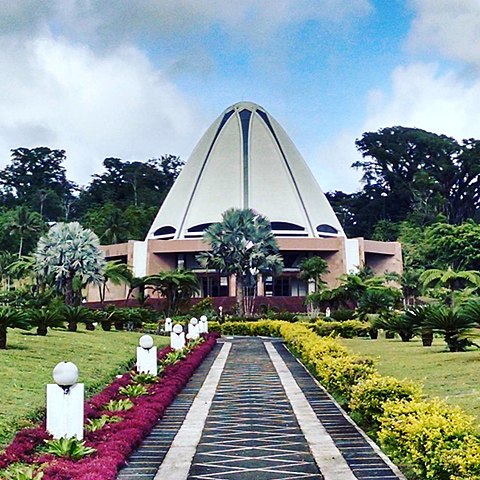 Photo by commons.wikimedia.org
Samoa hosts one of the nine Baha'i Houses of Worship in Tiapapata, few kilometers from Apia. This major sightseeing attraction of Samoa has a distinctive architectural design depicting grace, holiness and beauty at the same time. Whether you are religious or not, Baha'i' House of Worship of Samoa is a must visit as it is open for people from all backgrounds. The most notable structures are the auditorium, the dome and the 20-acre prayer gardens. The church is open every day, and on Sundays, there is an interfaith church service.
Name:Baha'i House of Worship, Tiapapata, Samoa
Address:Cross Island Rd, Apia, Samoa
Related Site:http://www.bahaisamoa.ws/
◎ Closing
Samoa is known as the treasure of the Pacific for a reason- Samoa is serene, intriguing and will leave you searching for more knowledge of its unique natural sightseeing places. The tropical beaches are out of this world, and you will have fun searching for waterfalls, swimming in natural hole pools and watching coconuts burst out from blowholes. The food of Samoa is not what you are used to; Samoa will introduce you to food cooked underground, covered with green banana leaves. You might not have had plans for sightseeing in Samoa, but now you have the reasons why you should.