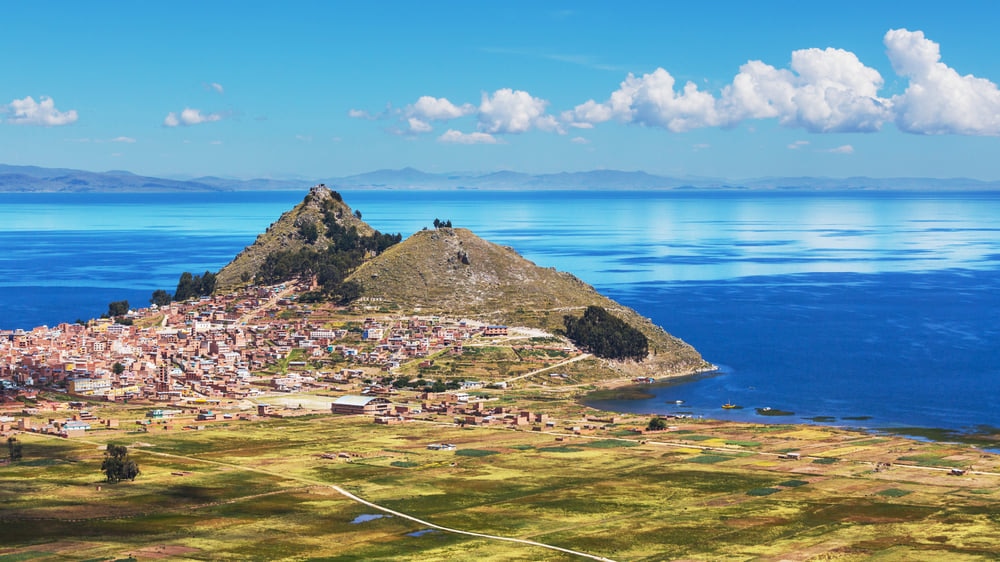 Photo by Galyna Andrushko/shutterstock
Bolivia:A Country with a Rich Cultural Heritage
table of contents
[x] close
Bolivia:A Country with a Rich Cultural Heritage
Situated in the heart of South America, Bolivia is known to be a fascinating and multiethnic democratic country. It is bordered by countries including Brazil, Peru, Chile, Argentina, and Paraguay. When sightseeing around Bolivia, and its capital La Paz, tourists may be able to discover several attractions and destinations which speak of the culture of the country. Hence, here are ten of the best attractions worth sightseeing in Bolivia.
1. Salar de Uyuni (Uyuni)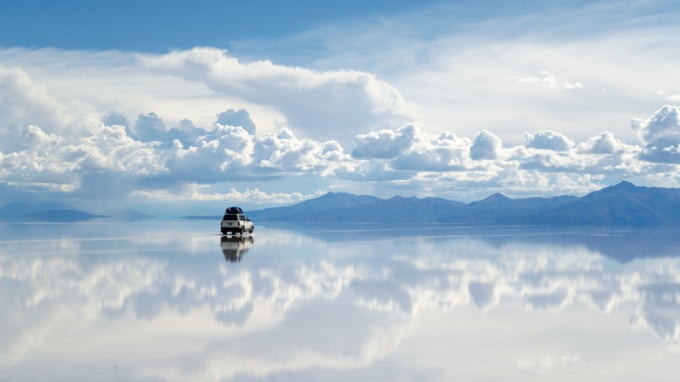 Salar de Uyuni is the largest salt flat in the world with an area of 4,086 square miles. Located in Bolivia, the Salar was formed due to to the transformations between a lot of ancient lakes. Also known as Salar de Tunupa, Salar de Uyuni is one of the major tourist attractions in Bolivia. It is known for its clear skies and its exceptionally flat surface. The Salat also serves as a transport route across the Bolivian Altiplano. It is also a significant breeding zone for several flamingo species.
Name:Salar de Uyuni
Address:Uyuni, Bolivia
2. Mi Teleferico (La Paz)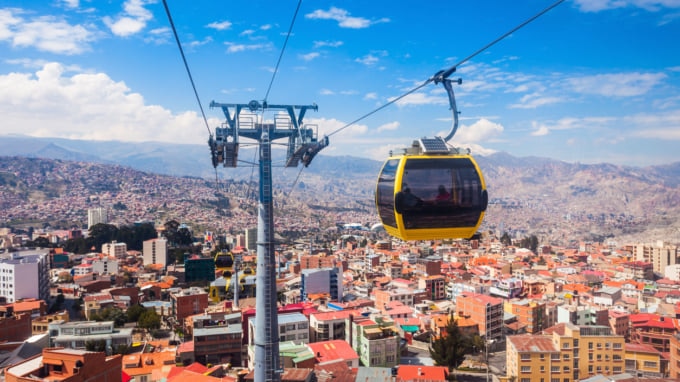 Mi Teleferico, also known as Teleférico La Paz–El Alto is an aerial cable car transit system in Bolivia. Situated in La Paz, Bolivia, the cable car connects the cities of El Alto and La Paz, two of the most populated cities in Bolivia. Mi Teleférico is comprised of monocable car lines, each with a maximum capacity of 6,000 passengers an hour. The attraction has five lines, each operating 17 hours a day. When sightseeing in Bolivia, you should try the Mi Teleférico.
Name:Mi Teleferico
Address:La Paz, Bolivia
3. Yungas Road (La Paz)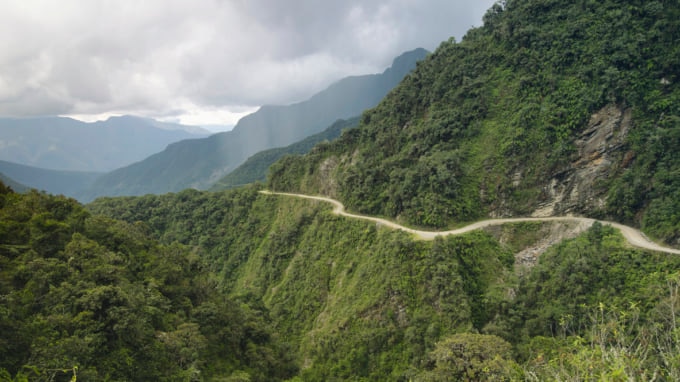 The North Yungas Road is a road leading to Corico from La Paz, Bolivia. It is also known as Camino a Los Yungas, or Road of Fate. The Yungas Rad connects the Yungas region of Bolivia to the capital city. Due to its extreme set up, the road has become a favorite attraction worth sightseeing when in Bolivia. For those who are into extreme sports, the road could be a good avenue for mountain biking.
Name:Yungas Road
Address:La Paz, Bolivia
4. Lake Titicaca (Copacabana)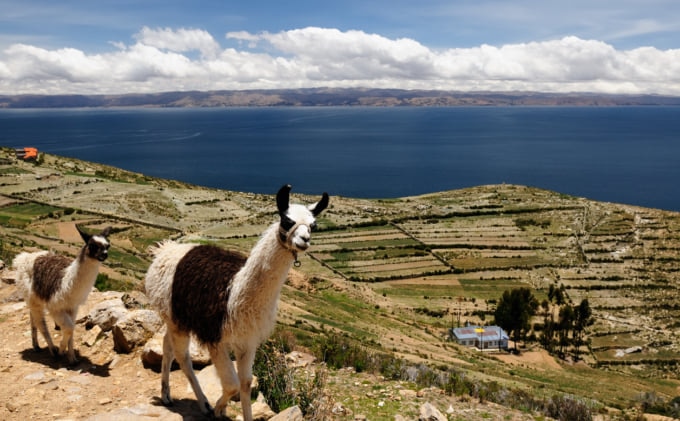 Often called the highest navigable lake in the world, Lake Titicaca is a large and deep lake which is found at the border of Bolivia. It is composed of two separate sub-basins which are connected by the Tiquina Strait. Lake Titicaca has abundant aquatic species that thrive around the attraction. When sightseeing around the lake, you can see several populations of water birds. Endangered species such as the Titicaca grebe and the Titicaca water frog can be seen on the lake as well.
Name:Lake Titicaca
Address:Copacabana, Bolivia
5. Isla Incahuasi (Uyuni)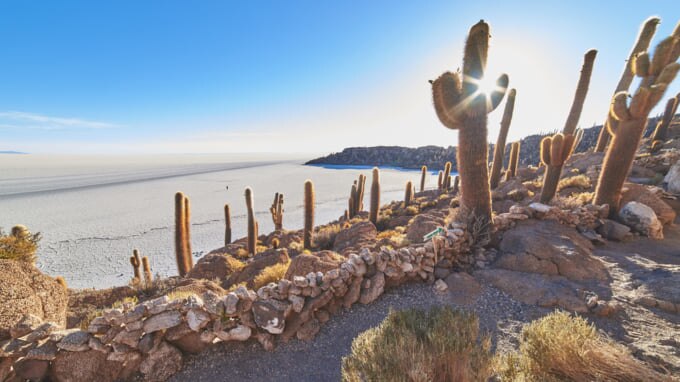 Photo by insideout78/shutterstock
The Isla Incahuasi is a rocky outcrop of land situated in the middle of Salar de Uyuni in Bolivia. A former island in Bolivia, Isla Incahuasi has a total area of 61 acres. It has distinct coral-like structures that is comprised of fossils and algae. Moreover, the island hosts gigantic cacti species. Isla Incahuasi is a popular destination for sightseeing when in Bolivia. It derived its name from the Spanish word isla which means island, and Incahuasi for Inca house.
Name:Isla Incahuasi
Address:Uyuni, Bolivia
6. Museo del Tesoro (Sucre)
The Museo del Tesoro is a local cultural institution n Sucre which features some of the most treasured artifacts of Bolivia. When sightseeing around the museum, tourists can witness several metals and stones which have originated in Bolivia. They can also discover the art and techniques of such gems. The gallery specializes in jewelry, geology, and architecture. Tourists who are sightseeing in the museum can also purchase jewelry which is of high quality. The Museo del Tesoro opens every day except on national holidays.
Name:Museo del Tesoro
Address:Sucre, Bolivia
Related Site:http://www.museodeltesoro.com/
7. Laguna Verde (Potosi Department)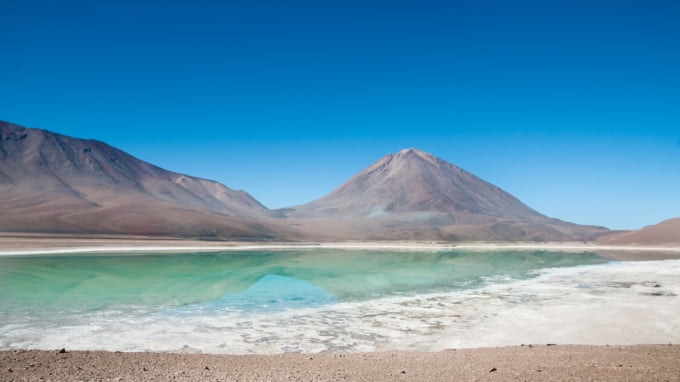 Laguna Verde is a salt lake located in the Potosi Department of Bolivia. It is found at the foot of the volcano Licancabur near the border of Chile. The lake is known for its aqua green color, hence the name. Tourists who are sightseeing in Bolivia should consider visiting Laguna Verde because aside from its greenish color, the lake has minerals in the sea which create a fantastic view. Laguna Verde is also a windy place.
Name:Laguna Verde
Address:Potosi Department, Bolivia
8. Biocentro Guembe Mariposario (Santa Cruz)
For nature lovers who are seeking for a fun and relaxing place in Bolivia, you should definitely visit Biocentro Guembe Mariposario. The center is a great diversion from the city due to the facilities it offers to tourists. For animal enthusiasts, you may enjoy its butterfly sanctuary and a bird enclosure. Its botanical garden is also an excellent place to see several species of plants. For those who are sightseeing around Bolivia, this is a great place to spend a day.
Name:Biocentro Guembe Mariposario
Address:Santa Cruz, Bolivia
Related Site:http://www.biocentroguembe.com/
9. Cerro Rico (Potosi)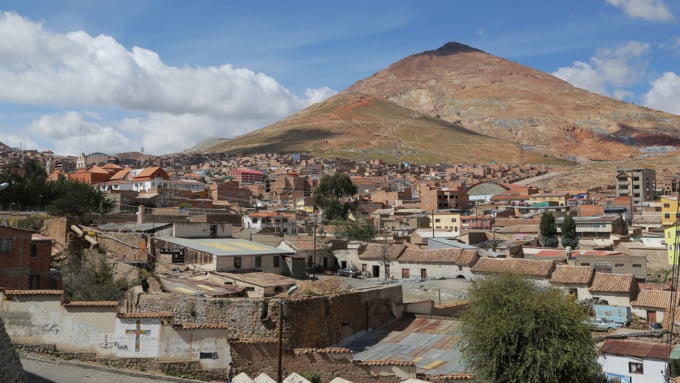 Photo by IVAN VIEITO GARCIA/shutterstock
Cerro Rico is a mountain in the Andes near Potosi, Bolivia. Also known as Cerro Potosi and Sumaq Uruq, Cerro Rico provides quantities of silver during the New World Spanish Empire era. Due to its large deposits of silver ore, Potosi, where it is found, became one of the largest cities in the New World. Cerro Rico is one of the most popular tourist spots in Bolivia for its rich history and its natural wonders.
Name:Cerro Rico
Address:Potosi, Bolivia
10. Casa de la Libertad (Sucre)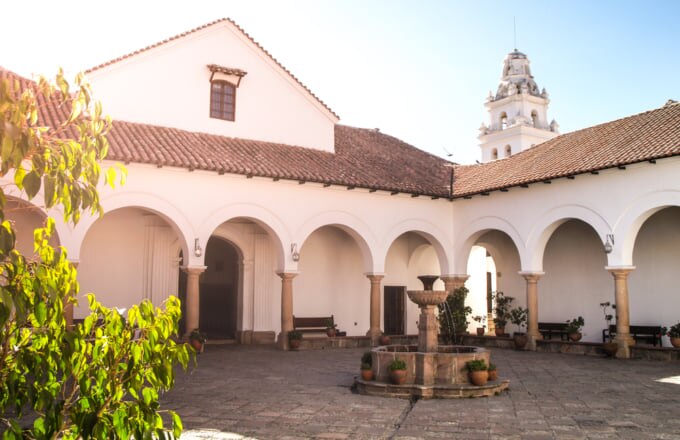 Casa de la Libertad is one of the most significant buildings in Bolivia known for its rich history. In 1825, it was in this house where the signing of the declaration of independence in Bolivia took place, creating the Republic of Bolivia. Today, Casa de la Libertad is a museum which houses several exhibits depicting several historical events in Bolivia. When sightseeing in the museum, you may want to avail of a guided tour to understand the explanations of each artifact.
Name:Casa de la Libertad
Address:Plaza 25 de Mayo, Sucre, Bolivia
Related Site:http://www.casadelalibertad.org.bo/
◎Closing
Bolivia is rich in culture and history, as seen on its attractions. They value their heritage like how they value the natural attractions which they also have. Bolivia has proven itself to be an excellent place for sightseeing. It truly is a must-visit country in South America.