7 Easy Day Trips From Bangkok You Can't Miss Out On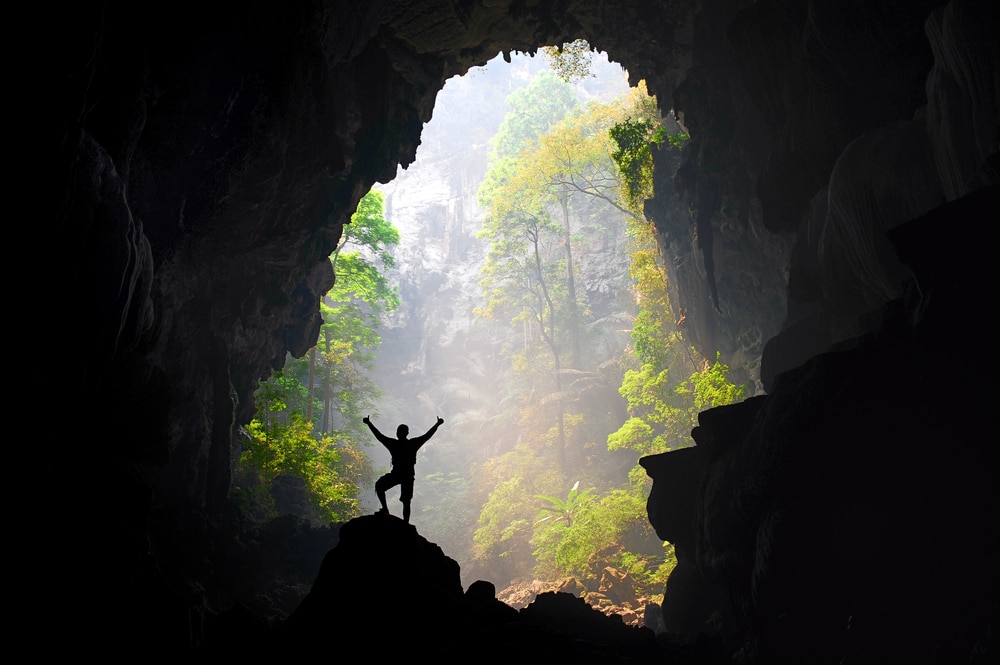 Bangkok - a beautiful gateway to southeast Asia. With its picturesque nature sights, rich culture, and mouth-watering dishes, it's hard not to fall in love with the most popular city in Thailand. But should you just stay in Bangkok? Although the city may already offer a long list of activities, there are also plenty of things you have to see outside its limits. Here are seven areas around Bangkok that you just need to visit.
[x] close
7 Easy Day Trips From Bangkok You Can't Miss Out On:table of contents
Ayutthaya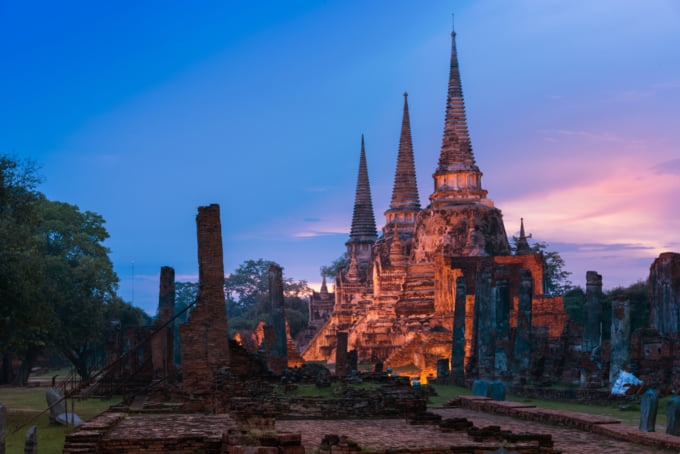 Photo by kikkuuzaa/Shutterstock
While visiting Bangkok it would be sacrilege to miss out on seeing the famous ancient city of Ayutthaya. This UNESCO World Heritage Site is home to ancient temples, monasteries and magnificent Buddha statues. Stepping on Ayutthaya's grounds can make you feel like you're transported back in time - each structure tells a story of the rise and fall of Siam's ancient capital.

Make sure to explore Wat Mahathat and see the photogenic Head of Buddha cradled in the roots of a tree. While looking around, don't forget to make a stop at Wat Na Phra Mane and Wat Lokayasutharam and relish the ancient vibe that permeates the halls of these ruined temples.

Pattaya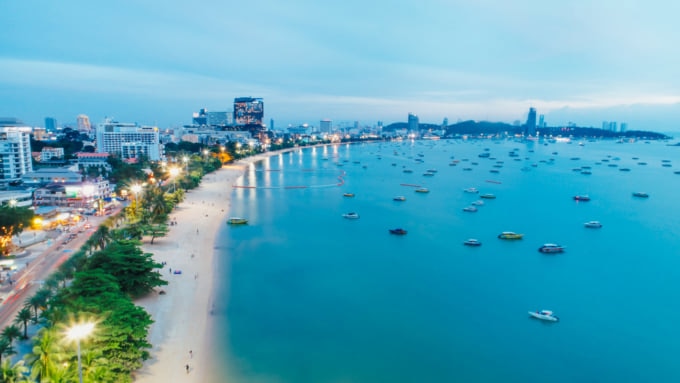 Photo by eldar nurkovic/Shutterstock
Three hours away from Bangkok is the coastal paradise sought after by both local and foreign tourists alike - Pattaya. This place has it all - it's home to multicultural attractions, historical landmarks, and family spots that will keep anyone's itinerary busy. Pattaya beaches - Jomtien and Pattaya Beach included - are endowed with breathtaking beauty complemented by endless seaside entertainment. Beyond the beach is the famous Sanctuary of Truth, an iconic landmark for Hindus and Buddhists. Pattaya also boasts a vibrant and thriving night life scene that rivals even the busy bar-ridden streets of Bangkok.
Damnoen Saduak Floating Market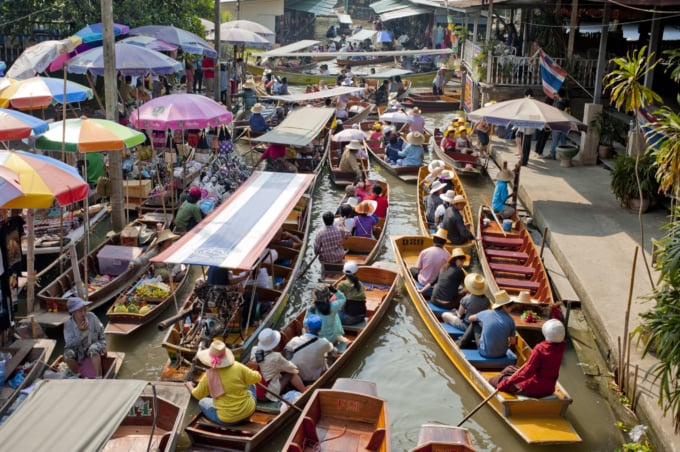 Damnoen Saduak Floating Market is one of the oldest and most popular of all the floating markets in Thailand. It's been in existence for more than 100 years and has become one of the iconic sights that define tourism in Thailand. It's hard to even think of a trip to Bangkok without a stop at Damnoen Saduak Floating Market. It's best seen with a private boat ride down the river leading to the busy, loud marketplace where tourists get to shop for souvenirs and enjoy local delicacies all while on the boat! This place is crowded, loud, and bustling with all kinds of sights and smell, but it showcases the rich and interesting culture of Thailand in a uniquely fascinating way.
Khao Yai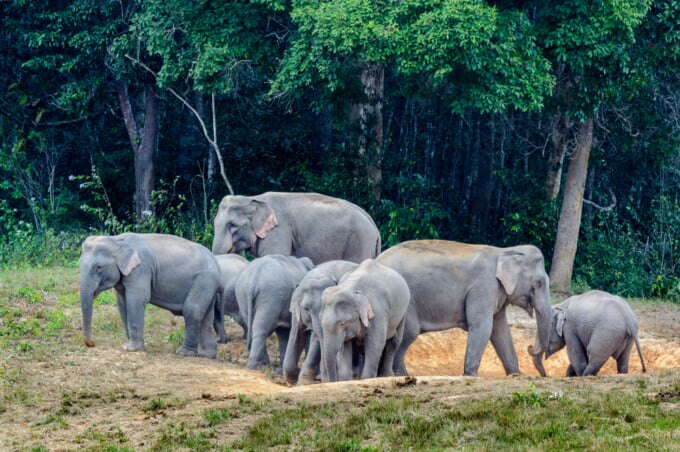 Photo by Narupon Nimpaiboon/Shutterstock
Marked by its lush greenery, picturesque spots, and rich wildlife, Khao Yai is a site of nature revered locally and internationally. This UNESCO World Heritage Site is comprised of one of the few remaining monsoon forests in Asia. Within its vast area are hiking trails that lead to several must-see spots in the dense forest, pristine waterfalls that roar with power and a huge variety of wildlife waiting to be spotted. The refreshing and serene ambiance of Khao Yai is a far cry from the hustle and bustle of Bangkok, a fact that makes the national park an ideal place to visit when the stress of the city is starting to take its toll.
Amphawa Floating Market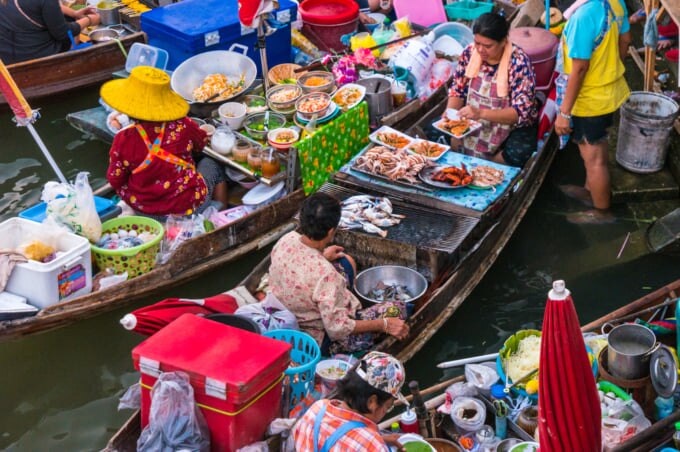 Photo by Romas_Photo/Shutterstock
Once you've seen one floating market you've seen them all? Think again. In the southern part of Bangkok is Amphawa Floating Market - known for its mouth-watering grilled delicacies served up right from the boats. Amphawa Floating Market made its mark thanks to the various floating restaurants that serve delicious seafood dishes at super cheap prices.

A trip to Amphawa Floating Market is not complete without enjoying the sight, smell, and taste of the local grilled fish, prawns, and shellfish. On the other side of the canal are boats serving all sorts of colorful local ice cream and sweets, perfect for after you've had your fill of ocean treats. The charm of the floating market in Amphawa appeals to those who love to enjoy the culture and traditions of the local people without the busy crowds.
Hua Hin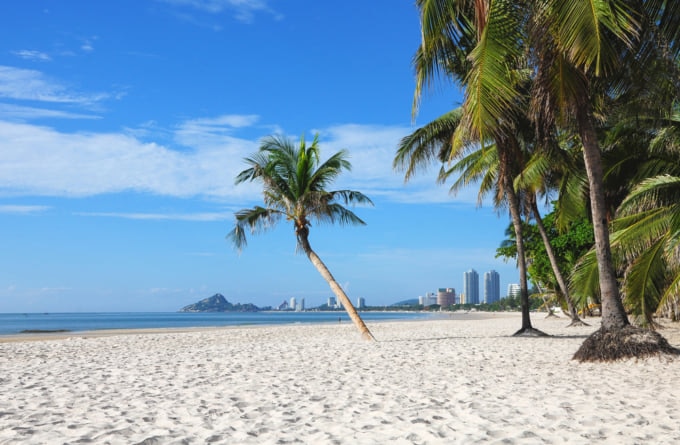 Photo by Kaban-Sila/Shutterstock
A highly popular seaside resort among the locals in Thailand, Hua Hin is the answer when a quick getaway from Bangkok's intense city scene is much needed. Hua Hin's coast is a paradise in itself. Pristine, cerulean beaches riddle the coastlines and void of the large crowds and dizzying party scenes that often plague many a Thai resort. Don't dismiss Hua Hin beaches as boring however - thrilling water sports and activities can be enjoyed here as well.

The city's charm doesn't end on its beaches - a short distance away is the majestic 15-level Pa La U Waterfalls. A quick stop to Hua Hin temples - Wat Huay Mongkol - provides a glimpse of this humble city's history. And lastly, a trip to Thailand's seaside city won't be complete without indulging on the mouth-watering seafood delicacies, they serve some of the freshest catch here!
Kanchanaburi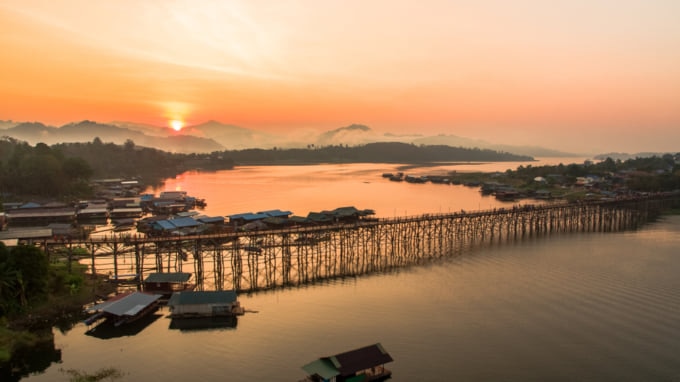 Photo by Drone Thailand/Shutterstock
A couple of hours drive west of Bangkok is Kanchanaburi - a must-visit destination in Thailand which features an spectacular combination of nature, adventure, and history. Kanchanaburi, one of the places dramatically affected by World War II, is noted for its historically-significant trio - The Death Railway, Allied War Cemetery, and Bridge Over River Kwai.

Beyond these poignant attractions is the jaw-dropping beauty of the surrounding scenery. The province is home to Erawan National Park, and Sai Yok National Park - two national parks with dense forests, breathtaking landscapes, and pristine waterfalls. Taking a river raft tour allows visitors to see the tradition and culture that are very much alive in the scenic riverside areas. Kanchanaburi is both for people who seek for adventure, and for folks who simply want to enjoy a peaceful break from the busy Bangkok life.
Conclusion
Bangkok is beautiful, but there is more to Thailand than just the busy metro. While vacationing in Bangkok, grab the chance to take some easy day trips that will lead you to fascinating forests, busy water markets, pristine beaches, and compelling historical sites.