10 Essential Street Foods To Try When Traveling In India
India
May 7, 2019
214 views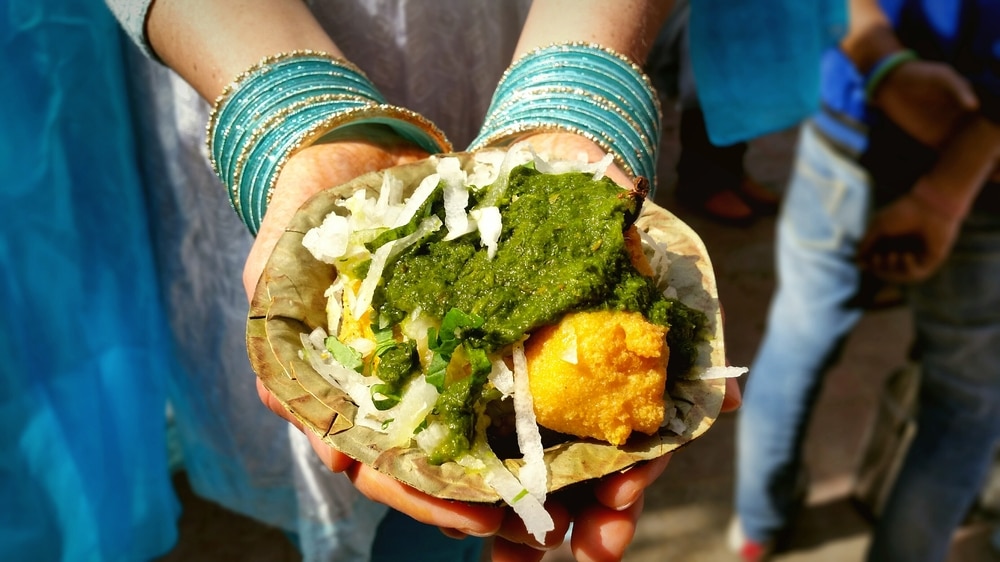 Photo by Ashish Abhishek Kumar/Shutterstock
There are only a few countries in the world where street food takes on a unique persona that defines a whole region. Looking at the diverse cultures, religions and traditions that emerge out of the streets and cities in India, it is evident that the country has a rich culinary heritage. A fact easily witnessed from the colorful, flavorful foods you'll find gracing the streets here.

A unique amalgamation of everyday ingredients, age-old recipes, and budget-friendly preparations, there lies a charming similarity in the variety of foods sold on make-shift stalls in villages, town, and metropolitan cities of the country. However, there are some street eats here that have gained national and international fame, making them particular essential eats that you have to try when visiting the country.

[x] close
10 Essential Street Foods To Try When Traveling In India:table of contents
Puchkas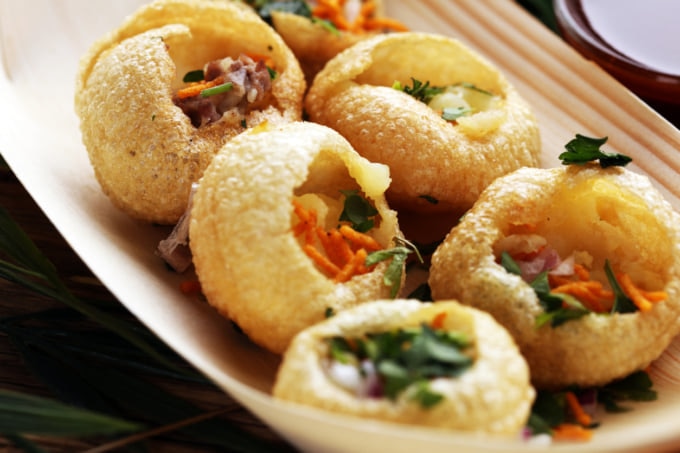 If there is one street food loved equally across the nation, it's puchkas. Popularly known as pani puri or pani ke patashe, expect an explosion of flavors every time you devour one of these delectable balls. Crunchy, tangy, spicy, and sweet, a melange of textures and flavorings combine to stimulate the mouth like no other dish you have ever had.

The "balls" are made with either semolina or flour, whereas the fillings consist primarily of potatoes, onion, chickpeas, and tamarind sauce. The puchkas are often filled with either sweet or tangy water and are eaten whole in one bite, which bursts with flavor as you bite into it.
Chaat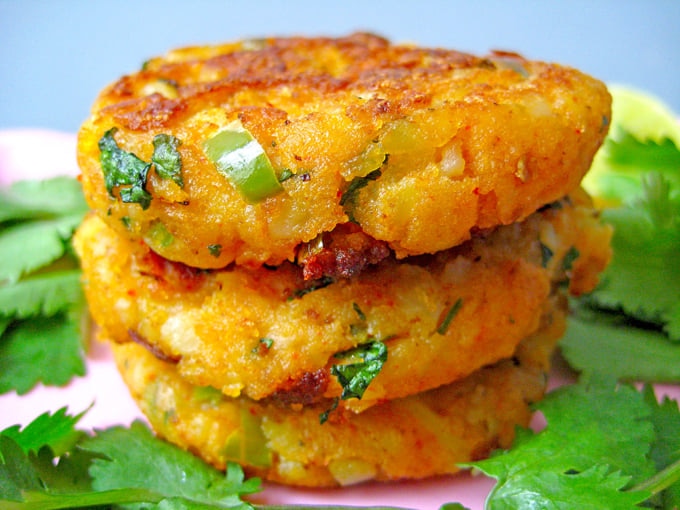 The word "chaat" is a broad street-food category which includes a few different dishes. Sev and bhel puri, dahi bhallas, papri chaat and Kolkata's ghoti gorom all are referred to as chaat even though they all differ in texture and taste.

In its proper form, chaat includes potatoes, and the two most famous versions are aloo chaat and aloo tikki. Aloo chaat are little pieces of potatoes shallow-fried and mixed with a coriander green chutney. Its simplicity complements the flavors that are subtle, yet satisfying. Aloo tikki, on the other hand, is a mashed potato cutlet, fried and served with a mix of sweet and tangy chutneys.
Momos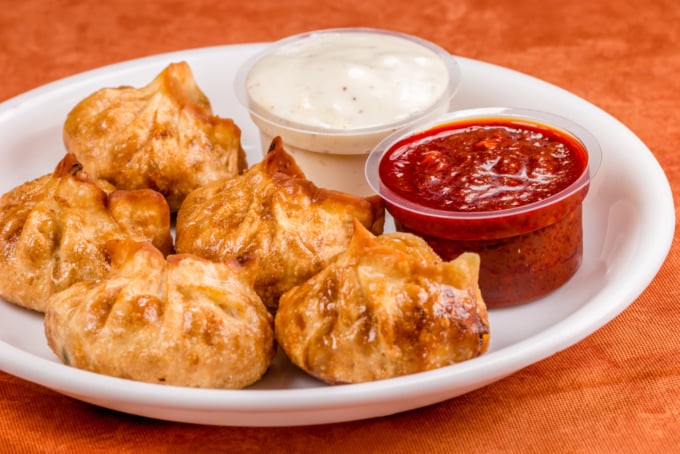 Photo by deepak bishnoi/Shutterstock
Little round Eastern delights, momos have their origin in Tibet. Similar to a dumpling, steamed momos are a favorite street-food in the Northern regions of the country. In recent years, fried momos have also gained in popularity, often experimented with to fuse this Eastern dish with Northern ingredients leading to momos in a creamy, buttery curry typically used in butter chicken.

When served in a rich flavourful broth, momos take on a whole new form, transforming from a quick bite to an entire meal. Momo fillings include both vegetarian and non-vegetarian ingredients such as chicken, pork, paneer and spinach, or a mixture of vegetables.
Vada Pav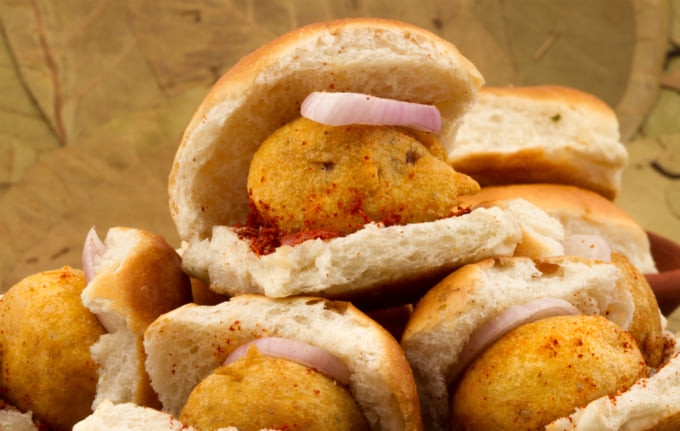 Photo by Kailash.K.Soni/Shutterstock
The quintessential Mumbai street-food, vada pav is cheap, filling, and quick bite, ticking off three essential elements of any good street food. The dish, consisting of a fried potato fritter inside a bun, is available across the city on mobile carts as well as in high-end restaurants.

For a genuinely Mumbaikar street-food experience, head down to Chowpatty Beach and enjoy vada pav from one of the many food stalls there. Vada pav is typically served with coriander chutney and goes perfectly with a hot cup of masala tea.
Indian Kebabs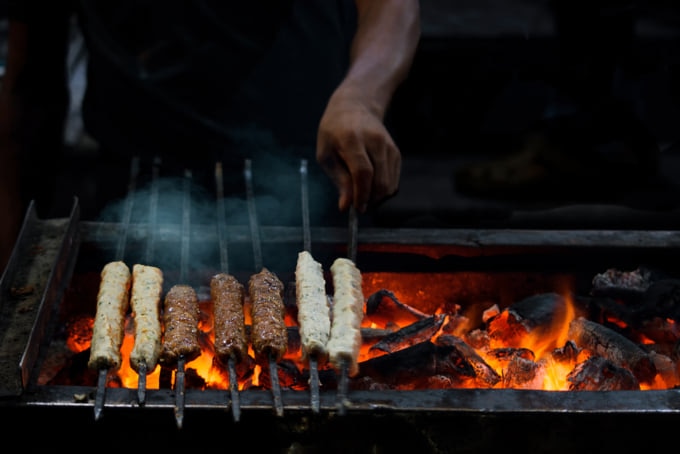 Photo by Situ Gupta/Shutterstock
Succulent and juicy, kebabs form an essential part of India's street-food culture. Although vegetarian options are easy to find, it is the non-vegetarian kebabs that are more popular with most food lovers.

Lucknow is one of the best destinations to eat the most amazing kebabs in India. The streets of the city are brimming with some of the best meat-filled offerings ranging from the soft galauti, made with minced meat, to the local favorite kakori kebab, which gets its name from a district near Lucknow. Often eaten with a paper thin and chewy roomali roti, some of the other delicious kebabs include the tunday, boti and burrah kebab.
Samosas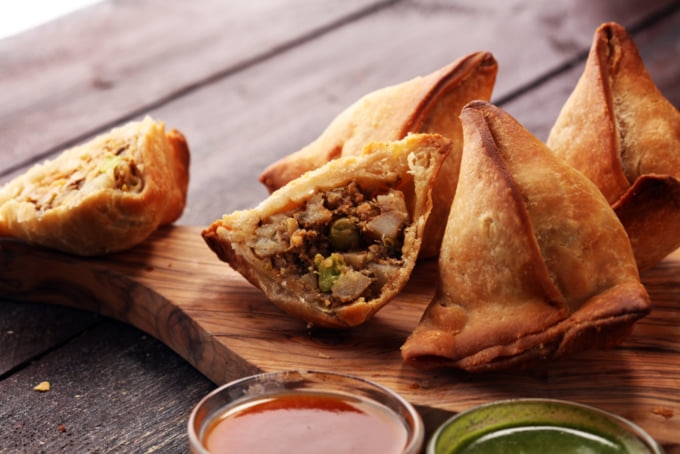 Little pockets of goodness, samosas are made with maida flour and are a fried dish that has evolved from being a street-food to a popular entrée in restaurants, where you can also find baked versions.

Typically served in a triangular form, samosa fillings typically include potatoes and peas or cauliflower. However, non-vegetarian samosas with chicken or mutton are common as well. Samosas also come with dry masala which lasts longer, making for a savory snack often served with tea. You can also get samosa chaat which involves mashing a samosa and then adding chole (chickpea curry) to it.
Paddu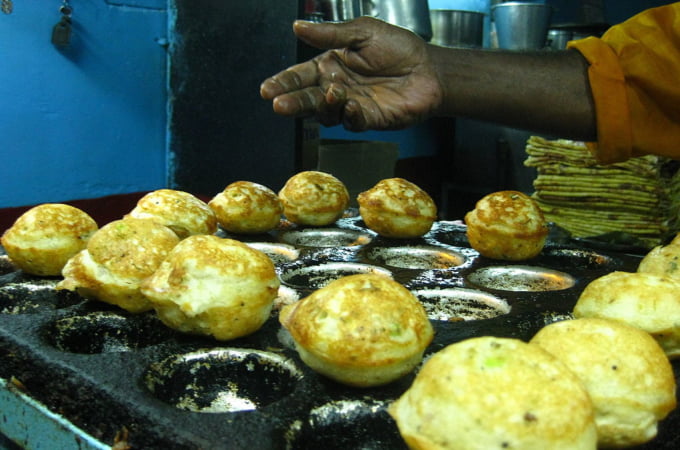 Famous in Southern India as a street-food, but eaten mostly as a snack or for breakfast in the North, paddu is a combination of idli and dosa in a puffed mini-avatar. Made with a mixture of rice and lentils, Paddu is shallow fried in a mold consisting of tiny cups. Depending on the region you are eating, it comes with either coconut, coriander, or sweet and sour chutney.
Parathas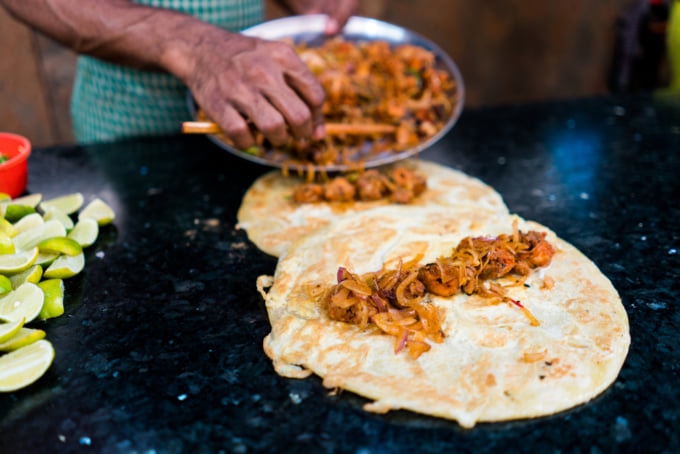 Photo by alexreynolds/Shutterstock
When speaking of street-food, especially in New Delhi, there is nowhere more iconic as the Paranthe Wali Gali of Old Delhi. A series of shops selling that most delicious fried Indian flatbreads, there's something here to satiate every possible paratha craving. From the humble plain paratha to the more exotic karela (bitter gourd) ka paratha, there are more than 30 varieties available to fulfill all your foodie dreams.

Parathas take a more wholesome role as a street-food by being the perfect wrap for various foods. The egg paratha when eaten with some raw onion rings and green chutney, makes for a great late night, after-party snack. Also known as a "kathi roll," the paranthas wraps in Kolkata are legendary and come with fillings like chicken, mutton, or paneer, that make for a filling, delicious treat.
Chole Bhature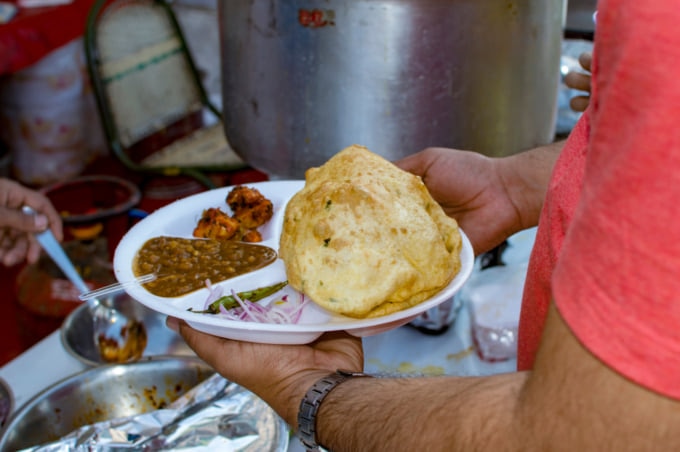 Photo by promicrostockraw/Shutterstock
The very sight of chole bhature is enough to tempt the most ardent of healthy eaters. A combination of puffed up, soft and steaming fried bread along with a spicy mix of chole (chickpeas) is the ultimate comfort food that often results in a food coma. Eaten for breakfast or lunch, chole bhature originates from Punjab but is equally loved in many parts of North India.

So passionate are the locals about the dish that each person usually has their own favorite chole bhature stall in their city each of which, according to them, is the best in the entire country.
Jalebi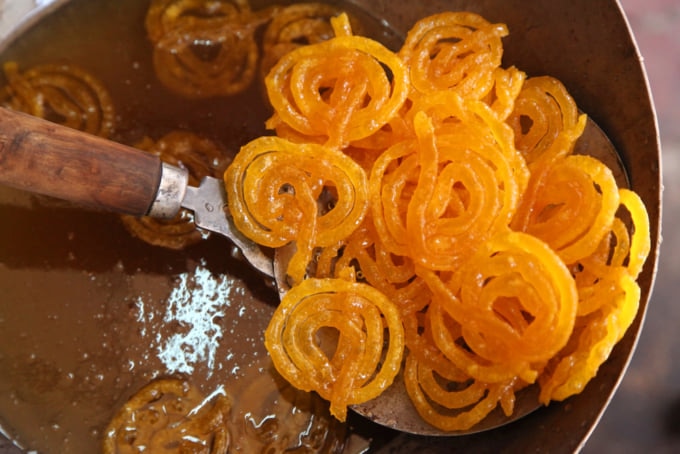 Photo by Rahul D'silva/Shutterstock
Jalebi's oh-so-sweet nature goes perfectly with the often spicy food consumed on Indian streets. Deep fried spirals made with flour, if the design isn't enough to entice you, then its bright orange color, obtained from dipping the jalebis in sweet syrup, should. Best eaten when hot, jalebis have a slight crunch to them and will most likely lead to a sugar rush you won't regret.
Conclusion
Traveling through India, the smells, sounds, and tastes of its gastronomic delights change dramatically along with the regional dialects and sceneries. However, looking at the intricacies of what people eat, there exists an apparent overlap in how and what the country consumes. Foods from various regions have traveled to new territories and taken new forms based on local preferences. Still, at the heart of it all is a nation that cherishes and relishes its vibrant food culture, brimming with unimaginable pleasures to feed not just the stomach, but also the soul.