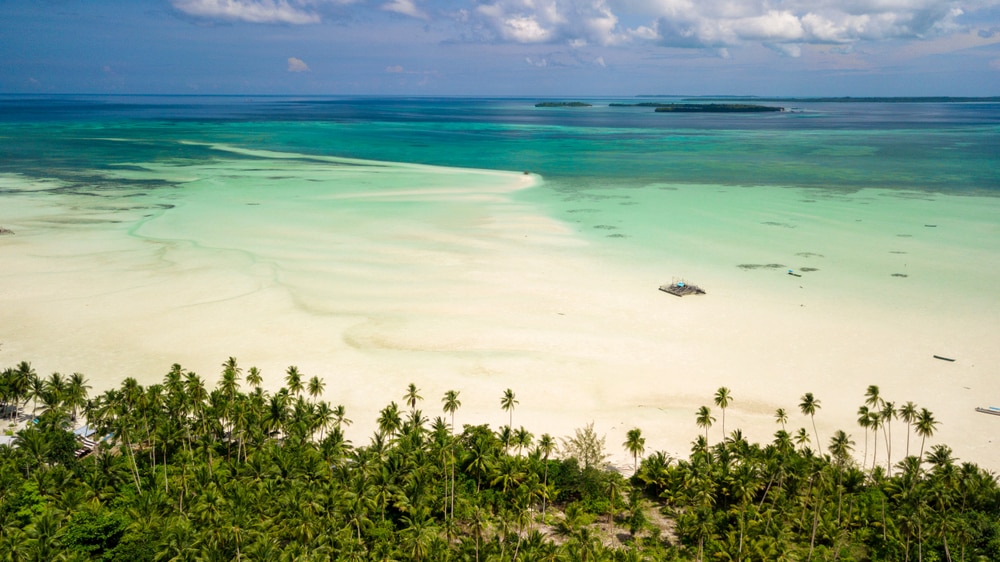 9 Breathtaking Islands in Indonesia More Beautiful Than Bali
Every year millions of tourists flock to Indonesia, usually homing in on the tourism mecca of Bali, known for its beautiful beaches and natural landscape. However with around 18 thousand islands stretching across the vast archipelago, the country has its fair share of stunning picture-perfect isles of paradise, many of which are arguably much more beautiful than the ever-popular Bali. With the government starting to develop areas for tourism outside of Bali, it's the perfect opportunity to check out these stunning locations before the crowds get there.
table of contents
[x] close
9 Breathtaking Islands in Indonesia More Beautiful Than Bali
Wayag Island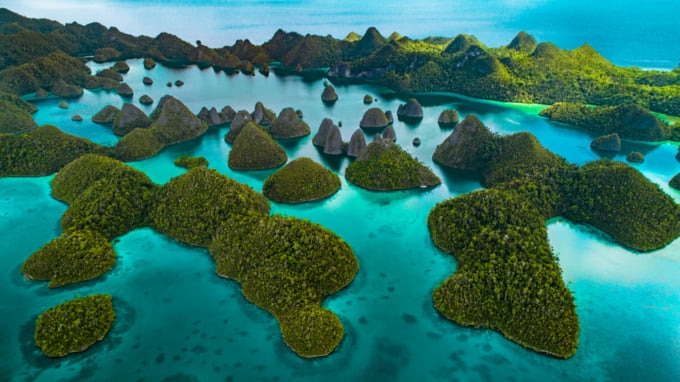 Photo by Andre Djohan/Shutterstock
In the eastern reaches of Indonesia, lodged between Sulawesi and West Papua are the Raja Ampat Islands. The larger island of Wayag offers exceptionally beautiful views over the miniature islands that look like gems scattered across the ocean. With the perfectly clear waters and colorful coral found in abundance here, it's also the perfect destination to go diving or snorkeling.
Lombok Island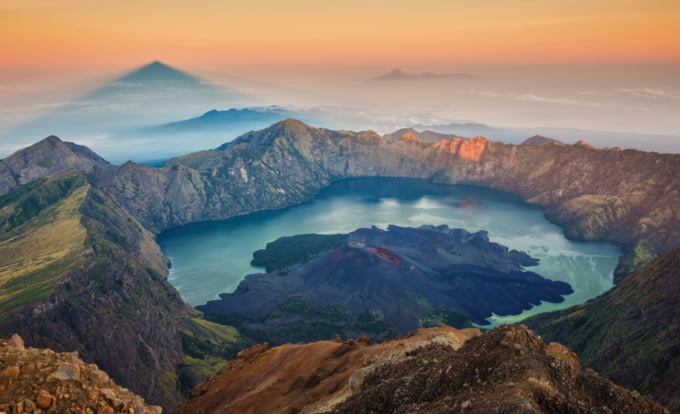 Photo by rob_travel/Shutterstock
The island directly east of Bali offers a number of similarly beautiful beaches, many of which are devoid of crowds unlike its busy neighbor. While tourism to Lombok has started to increase in recent years, it still pales in comparison to the amount of tourists that flock to Bali and many of its visitors are those trying to escape to a quieter, more relaxing place to soak in the sun. The island is also home to Mount Rinjani, a volcano with a picturesque lake at its crater along with a number of other stunning natural landscapes, arguably more breathtaking than what you'll find on Bali.

Even better, a few minutes by boat from the coast of Lombok are the beautiful Gili Islands (pictured below), an area that's perfect for snorkeling and relaxing on some of the best beaches in the country.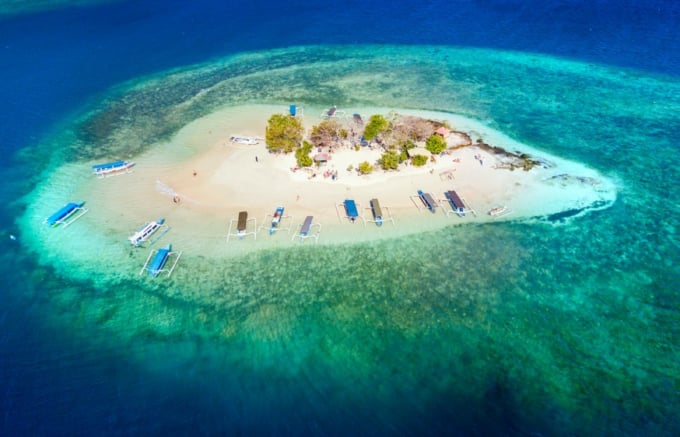 Photo by Creativa Images/Shutterstock
Dodola Island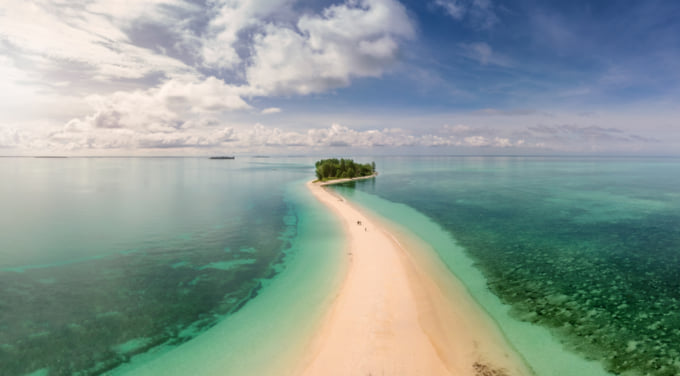 Photo by Pambudi Yoga Perdana/Shutterstock
Off the top of North Sulawesi you'll find Dodola Island, a stretch of beautiful sand that's just perfect for relaxing and taking in the comforting rays of the Indonesian sun. It's not difficult to get to, with boats regular leaving for the Morotai Islands including Dodola from Tobelo. Or you can choose to fly to Leo Wattimena Airport on Morotai, although flights are chartered and can be quite expensive.
Seram Island
Photo by Yati Nurhayati/Shutterstock
Although Seram is much bigger than Bali, it hardly sees many tourists. While much of the island is underdeveloped and not really suited for visitors, there are some amazing resorts dotted around the coast, perfect for escaping to nature and enjoying the crystal clear waters. One of the best is Ora Beach Resort with its picturesque hut villas perched on top of the crystal clear ocean. If you get tired of snorkeling and relaxing on the beaches here, the island is covered in dense tropical rain forest perfect for trekking and exploring.
Kei Kecil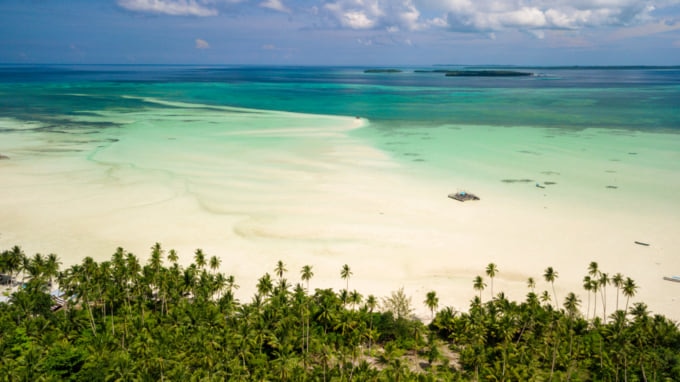 Photo by Stephane Bidouze/Shutterstock
If it's vast stretches of deserted beaches you're looking to relax on then you can't do much better in the world than Kei Kecil Island. Even most native Indonesians have never heard of the Kei Islands making it a perfect getaway to chill out in private, without a soul to bother you. Getting there is not the easiest, requiring a transfer in Ambon, but the very few who do make it are highly rewarded. The beaches here have some of the whitest and finest sand in the world, such as Ohoidertawun Beach, which stretches for over two kilometers across the coast of the island and not a soul in sight.
Padar Island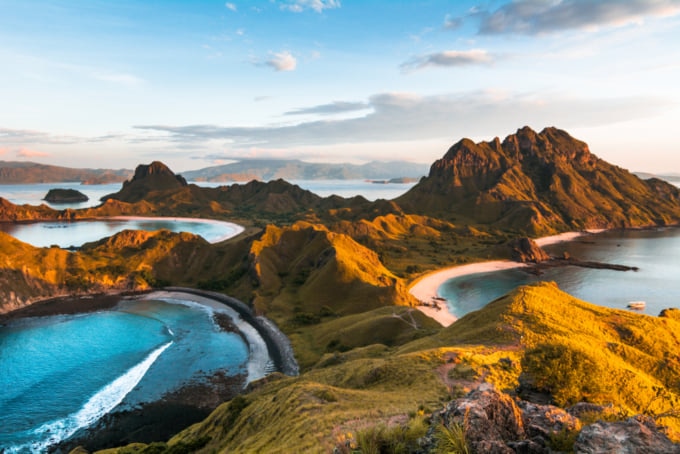 Photo by Thrithot/Shutterstock
At the heart of the incredible Komodo National Park is Padar Island and its stunning jagged peaks and dramatic coastline. You wont find any of the majestic Komodo dragons here anymore, but the beautiful scenery easily makes up for it. Pair that with the gorgeous golden sand beaches and you have one of the most picturesque islands in Indonesia.
The Thousand Islands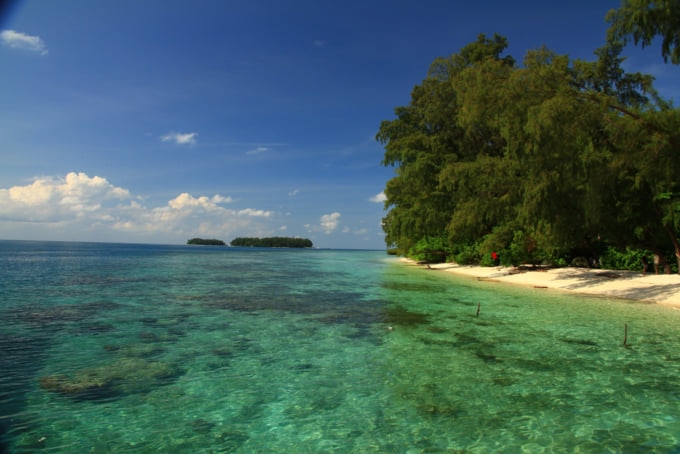 Photo by Arief Akbar/Shutterstock
Jakarta, a mess of polluting cars, traffic jams, towering chrome skyscrapers and a gazillion gigantic shopping malls. The capital is a great place to sample the highly underrated and diverse Indonesian cuisine, but can quickly get quite cloying and tedious. Especially after waiting for three hours in a traffic jam, which the city is notorious for.

What most tourists don't realize however, is that there is an archipelago of beautiful tropical islands a stone's throw from the concrete jungle. The Thousand Islands, or Pulau Seribu are dotted around the Jakarta Bay and offer the perfect getaway from the city for those reluctant to travel further afield. Although there isn't actually quite as many islands as the name suggests, and many are off limits, the ones available to the public are quite picturesque with gorgeously clear waters and golden beaches.
Sumba Island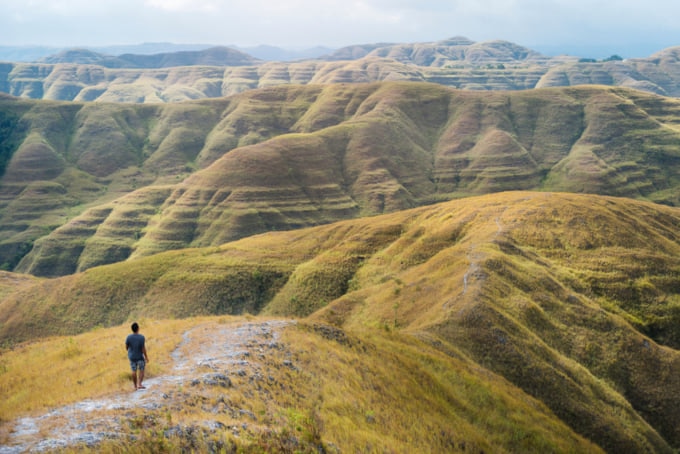 Photo by Mario Susilo/Shutterstock
Sumba is home to some of the most incredible landscape in Indonesia, if not the world. From its beautiful rolling hills and mountains around Bukit Wairinding to the breathtaking waterfalls and jungle scenery in Laiwangi Wanggameti National Park. Here you'll find a wide range of dramatic scenery unparalleled anywhere else. Not to be outdone by Bali it's home to a unique culture in the Marapu people and a number of beautiful beaches. One of which, Walakiri Beach (below), offers a breathtaking sight as the reflection of the alien-like mangrove trees reflect in its shallow waters.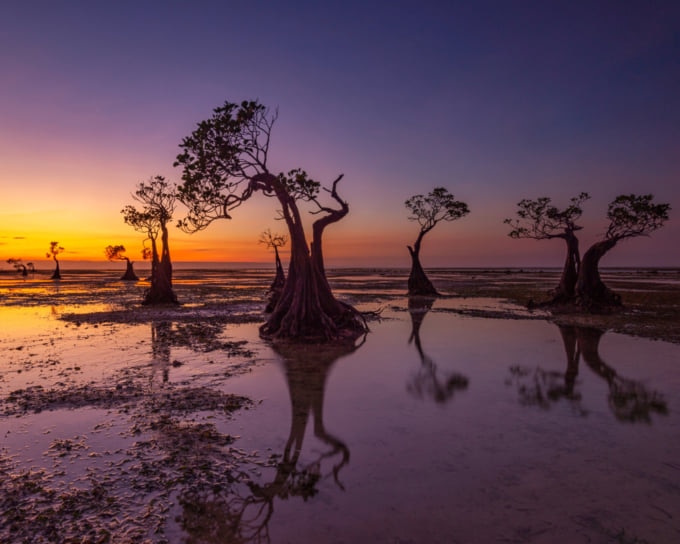 Photo by Krist Setyawan/Shutterstock
Misool Island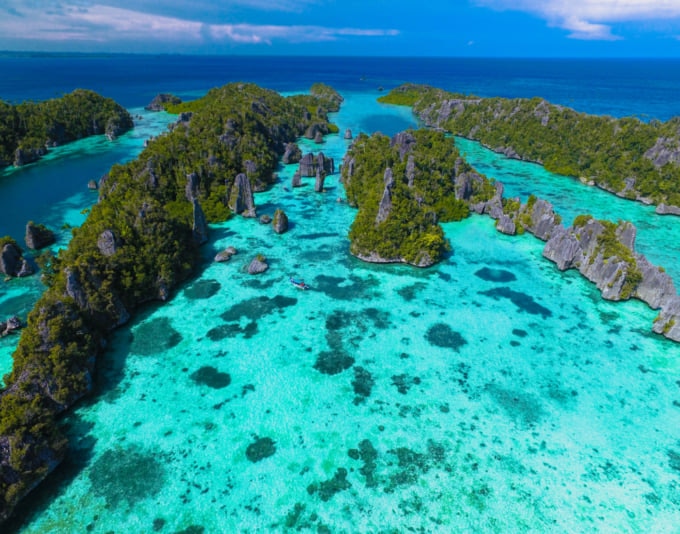 In the south of the Raja Ampat Islands, Misool is surrounded by minature drops of islands, dramatic karst landscape and waters of seemingly a hundred tones of blue and green. As you might expect from such clear waters, the area is perfect for snorkeling and swimming around and like Wayag you'll find a wealth of beautiful, vibrant coral around here too.
Conclusion
These are just a few of the beautiful islands of paradise you'll find around the vast archipelago of Indonesia, just waiting to be explored. In recent years the government has realized the incredible tourism potential devoting more money to resorts and resources to make these hardly explored areas just that bit easier to take a vacation to.