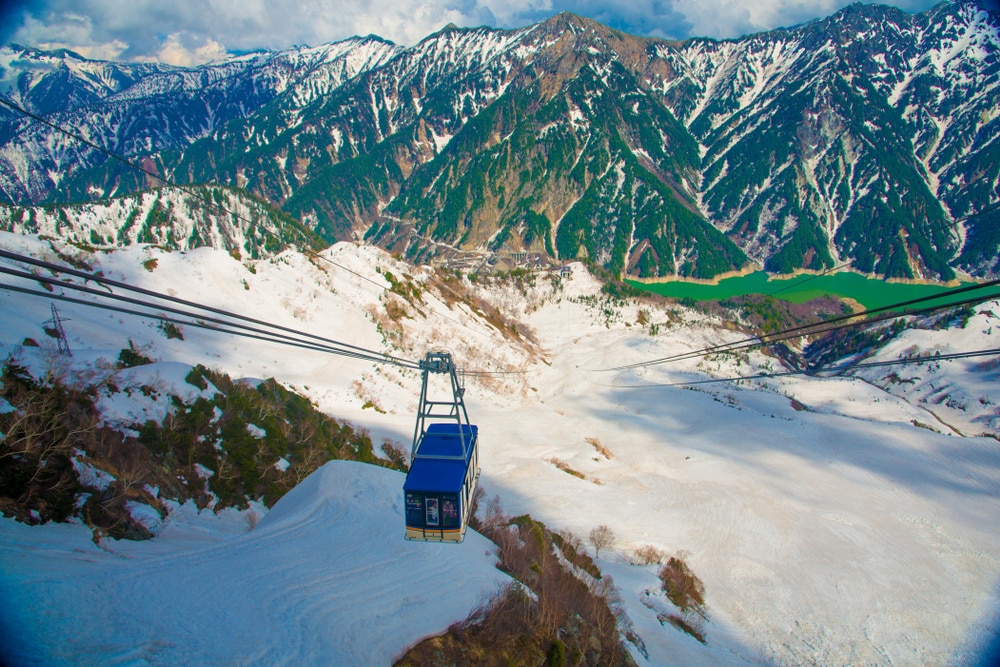 Photo by Jayson_Photography/Shutterstock
7 Amazing Places in Japan's Toyama Prefecture That You Have to See
Toyama is a quaint, little city that sits by the Sea of Japan surrounded by steep, picturesque mountain ranges known as the Northern Alps. Famed for its abundance of nature, fresh seafood, and beautiful scenery, it's the perfect destination for nature enthusiasts, seafood lovers and photographers. While not as famous as some of Japan's other main cities, there's still plenty to do here that would make a visit well worth the effort. Below are seven delightful places to get you started on your Toyama adventure.
table of contents
[x] close
7 Amazing Places in Japan's Toyama Prefecture That You Have to See
Toyama Castle Park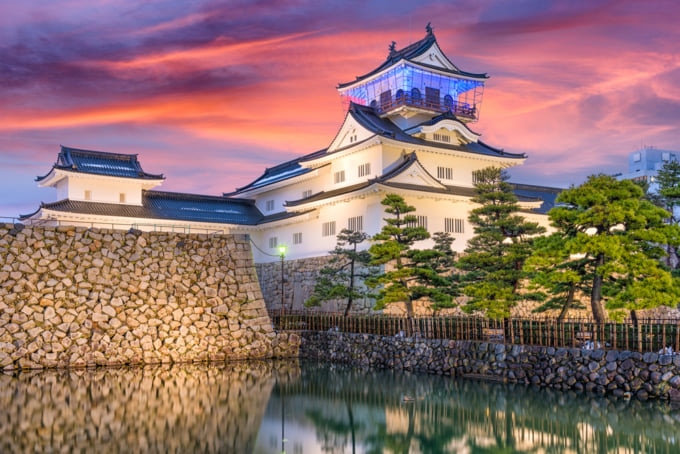 Photo by Sean Pavone/Shutterstock
This postcard-worthy, picturesque castle can be found just an easy ten minute walk from Toyama Station, in the very same location where the original 16th century Toyama castle once stood. The castle keep serves as a museum where you can learn about the fascinating history of the castle for a small entrance fee of 210 yen (approx. 2 USD) for adults and 100 yen (1 USD) for children under 12. For those on a budget, you can also choose to just explore the castle grounds for free. These include a beautiful Japanese garden and multiple angles from which you can get a perfect shot of the castle.
Fugan Canal Kansui Park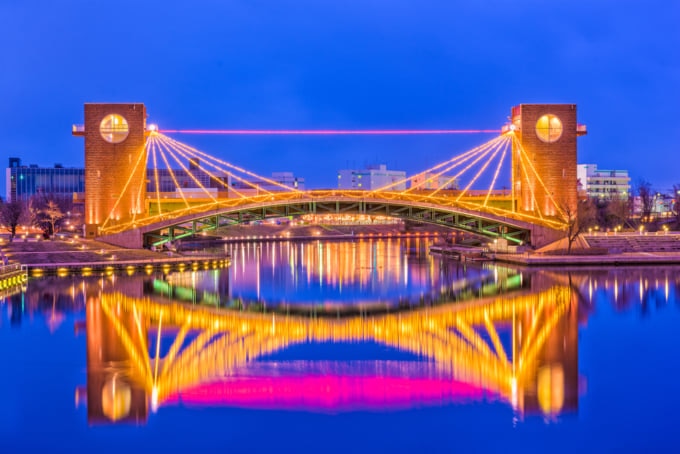 Photo by Sean Pavone/Shutterstock
Located just a convenient ten minute walk from Toyama station, this vast stretch of greenery straddles the banks of a wide canal and is the perfect place to spend a lazy afternoon or take a romantic evening stroll. Home to a wild bird sanctuary, the charming Tenmon-kyo bridge and a Starbucks that once held the title for being the most beautiful Starbucks in the world, this park is a great place to visit if you have a little time to kill while in Toyama. As the atmosphere changes quite a bit from day to night - when the park is lit up and transformed into an enchanted little wonderland - it may be best to visit in the late afternoon. That way, if you stick around just a bit longer, you can get to see the park in both of its marvelous forms.
Kurobe Dam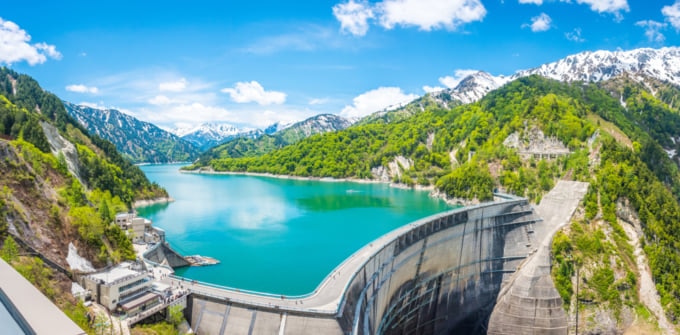 Photo by beersonic/Shutterstock
It's hard to think of a concrete dam as a must-see tourist attraction, however, Kurobe dam, which stands at 186 meters - officially making it the tallest dam in Japan - manages to attract over one million visitors to it every year. It's the sheer magnitude of the structure, which discharges up to 15 tonnes of water a second that seems to leave visitors breathless. That coupled with aerial views of the verdant valleys of forest and beautiful bodies of emerald green water surrounding the dam. Getting there from Toyama station takes around 3.5 hours, but it's well worth the long journey to witness this incredible feat of Japanese engineering first hand.
Iwasehama Bathing Beach
Open for swimming during the summer season, Iwasehama Bathing Beach is located just a quick five minute walk from Iwasehama station - a pleasant 25 minute tram ride from Toyama station. On a clear day, an incredible view of the sacred Tateyama mountain range stretching across the horizon can be seen from the shore. As there isn't very much here in terms of facilities, you might want to pack a few drinks and snacks of your own, unless you don't mind the limited selection available there.
Gokayama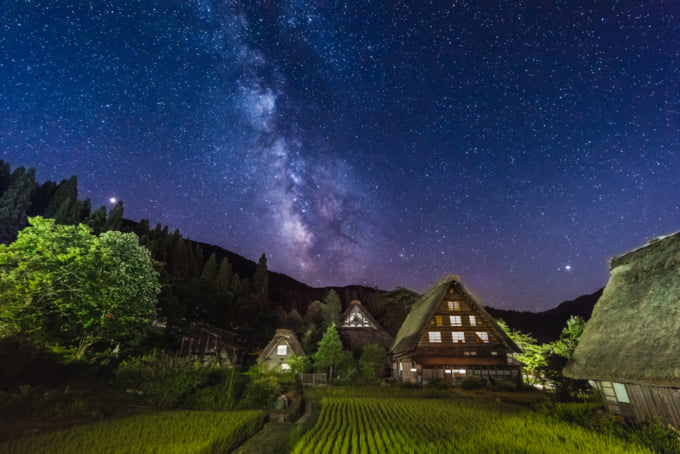 Famed for the rustic, traditional 'gasho-zukuri' style farmhouses making up its villages, this UNESCO world heritage site is a wonderful place to experience what traditional life was once like in this rugged, mountainous region. Gasho-zukuri houses are rare in Japan, and can only be found in Toyama and Gifu prefecture, where in relative isolation, they were developed to meet unique environmental and socioeconomic conditions. Getting to Gokayama from Toyama station takes just a little over an hour and for those interested in staying a night or two, bed and breakfast accommodation is available in a couple of these charming Gasho-style homes.
Tateyama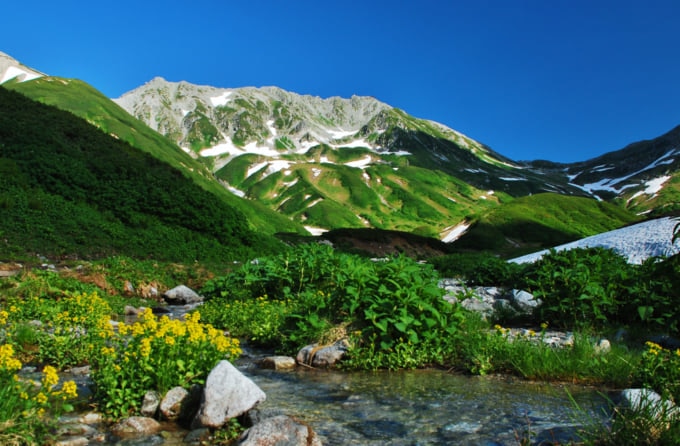 Tateyama, or mount Tate, is one of Japan's three holy mountains alongside the globally renowned Mount Fuji, and the lesser known Mount Haku. It is beloved by travelers for its breathtaking scenery which changes drastically from season to season, and can best be enjoyed by taking the Tateyama Kurobe Alpine Route. This scenic route is traversed using a variety of low emission transportation methods such as electric buses, cable cars, trolleys and ropeways. It's definitely a fun and memorable way to explore the Northern Japan Alps.
Zuiryuji Temple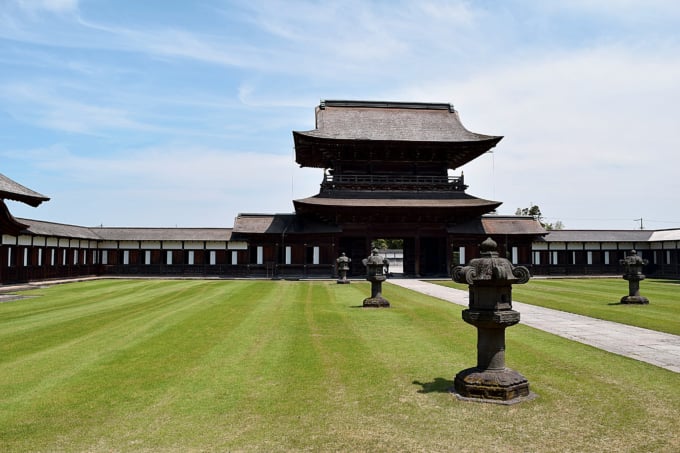 Designated as a national treasure, this impressive Soto Zen temple located in the small, sleepy town of Takaoka is definitely worth a visit for anyone passing through Toyama. The lack of crowds here makes exploring the beautiful grounds and interior of this grand, symmetrical structure a lot more pleasant than a visit to some of Japan's more famous temples. While here, you can experience copying Buddhist scripture along with requesting a talisman of Ucchusma - a guardian of the bathroom.
Conclusion
Toyama may not be as famous among tourists as some of its neighboring prefectures such as Nagano, Gifu and Ishikawa, but it's still well worth making a trip for some of the incredible underrated sites found there. From delicious, fresh seafood, to the many opportunities to explore the traditions and treasures of Japan in relative peace and quiet, it's definitely a location you should try and squeeze into the itinerary for your next trip to Japan.