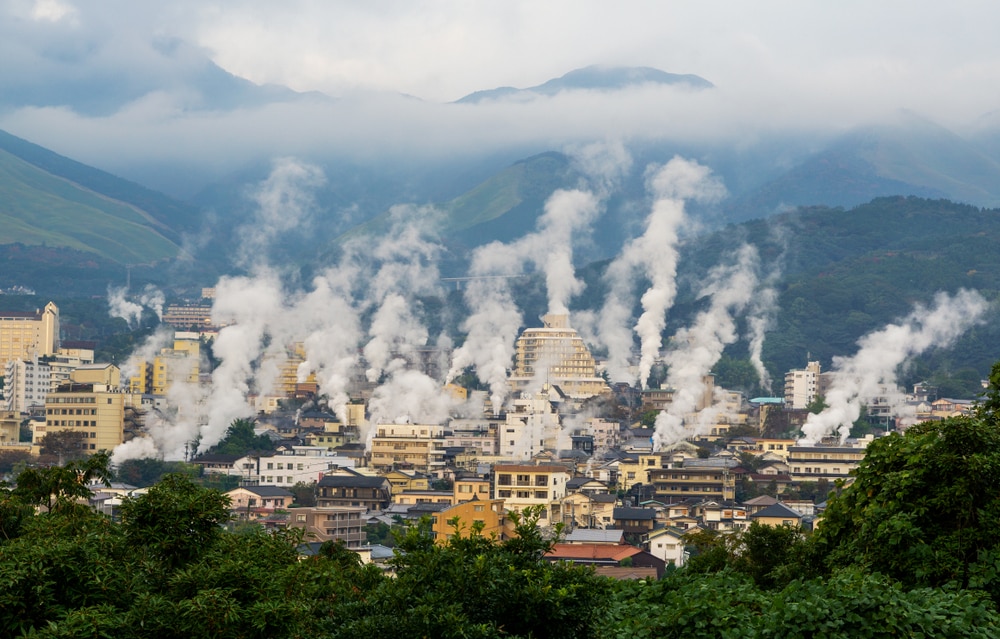 Photo by Journey is bliss/Shutterstock
7 Incredible Hot Spring Towns Perfect for Relaxing in Japan
For many, a trip to Japan is an exciting, enthralling mix of manic entertainment, culture shock and jet lag. Luckily being Japan, there's already the perfect antidote available for those willing to brave the potential awkwardness from stripping down to your birthday suit - the onsens. These traditional hot springs are found all over the country, with a number of towns dedicated to providing a relaxing atmosphere and plenty of baths to wash and soak away the tires of traveling.

Some of these towns have been in operation for hundreds of years and heading to one is highly recommended, the perfect way to get a glimpse of the traditional side of the country.
table of contents
[x] close
7 Incredible Hot Spring Towns Perfect for Relaxing in Japan
Hakone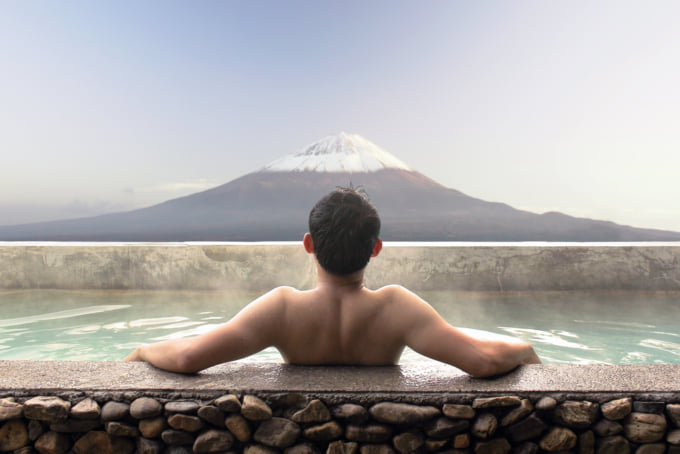 Nothing beats chilling out in a hot spring with the iconic view of the majestic Mt Fuji rising up in the background and Hakone has numerous onsens to soak in the beautiful sight. A perfect side trip from Tokyo, the popular resort town can be reached in under two hours by regular train. If you're a little apprehensive about using a public bath, this onsen town is known for having a high number of private hot springs.
Shibu Onsen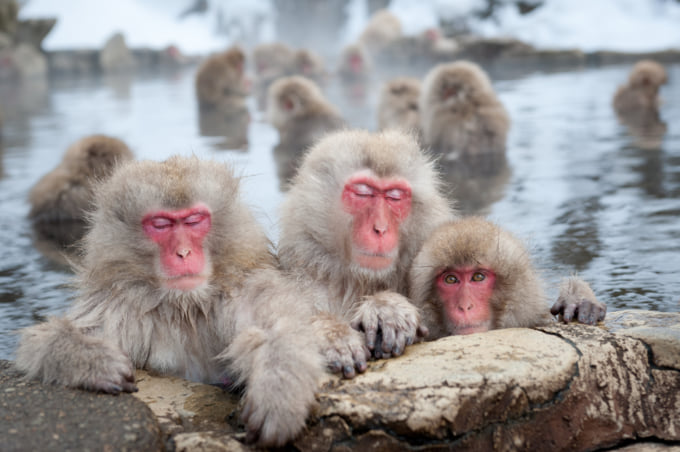 Photo by redswept/Shutterstock
Famous for the nearby Jigokudani Valley where monkeys can be seen warming themselves in the hot pools of water, Shibu Onsen is the town travelers pass through as they head into the valley. Fear not, you won't actually have to share your bathing space with the wild monkeys here, but it's not uncommon to see them running around town. Most visitors to the valley tend to head there for a day trip, but ignoring the beautiful, traditional town that dates back as far as 1,300 years ago would be a complete shame.
Dogo Onsen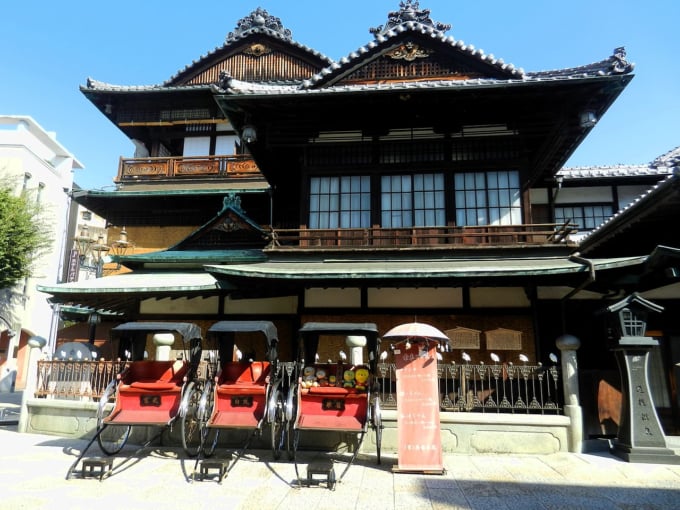 Photo by lienyuan lee/Wikipedia
The oldest onsen in Japan, Dogo Onsen has a history of 3,000 years. It's quite off the beaten track for foreign tourists on the rarely-visited island of Shikoku, but those who do make it are well rewarded. The main building of the onsen town, called the 'Honkan' is one of several locations said to have inspired the Studio Ghibli movie Spirited Away and after witnessing the magnificent three-story bathhouse you'll realize why.
Kusatsu Onsen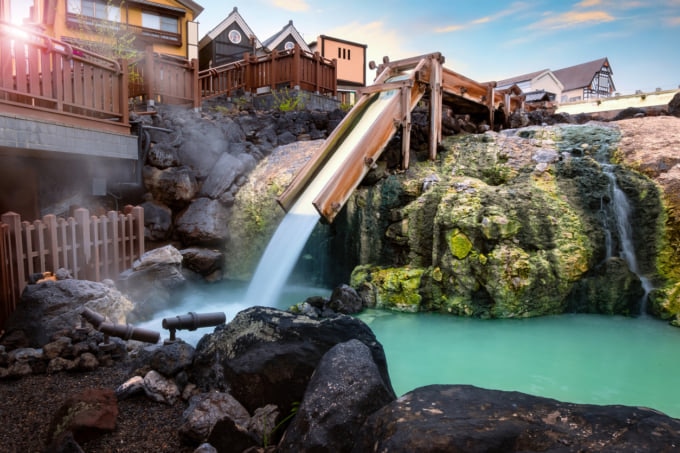 High up in the mountains is one of the most famous and biggest of all the onsen towns in Japan, Kusatsu. Here you'll find a range of interesting activities apart from the usual hot spring bathing. Make sure to watch the traditional Yunomi Performance or 'water-cooling' along with checking out the Yubatake, a reservoir of hot water that acts as a symbol for the town. Although this incredible town is popular among domestic tourists, it still seems to fall under the radar to most foreign tourists visiting the country. It's the perfect place for those who want a taste of Japan's traditional onsen towns.
Ginzan Onsen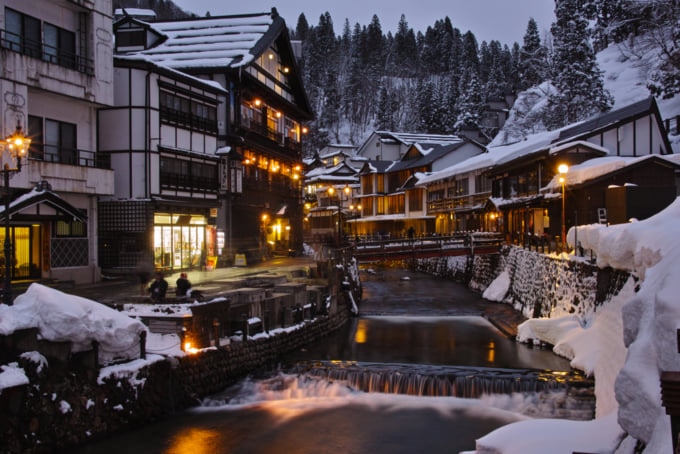 Photo by tabi-buta/Shutterstock
Another secluded onsen town nestled in the mountains, Ginzan Onsen is a beautiful town of traditional wooden ryokans lined up along the river that cuts through the historic area. A little difficult to get to, Ginzan is located in Japan's northern prefecture of Yamagata. The region is known for its beautiful mountain landscape and valleys, one of the most underrated areas in the country for tourism.
Beppu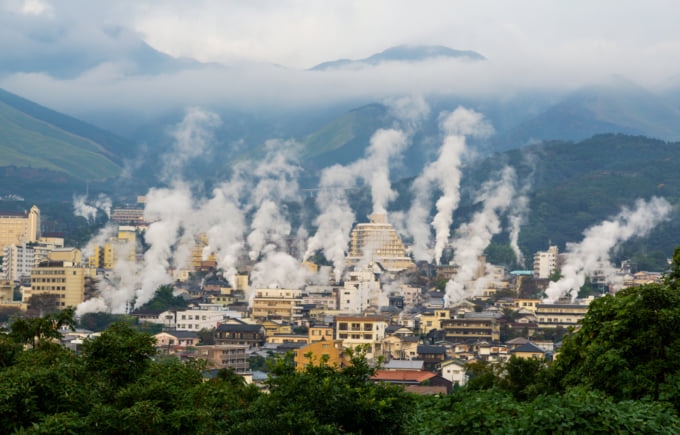 Photo by Journey is bliss/Shutterstock
A list of onsen wouldn't be complete without the hot spring powerhouse of Beppu. This chilled-out town on the southern island of Kyushu is packed full of hot springs, both public and private, divided into eight different onsen areas. While it's a great place for anyone to visit, this town really shines for the hardcore onsen enthusiasts. With almost three thousand hot spring vents spread throughout the city, here you can find a range of different water styles and relaxation spots. Apart from standard baths with different mineral contents you'll also find mud baths and sand baths, where you'll be buried in heated sand.
Conclusion
Although the majority of the hot spring towns are centered across the mountainous areas of Japan, you'll find onsens everywhere, whether its rural or just outside big cities. While planning your trip, see if any of these traditional towns are en route to your destination, it's a great way to break up a long journey with an overnight stay of relaxation and soaking in the local culture.