What to Eat in Bangkok's Chinatown: 6 Foods You Need to Try in Yaowarat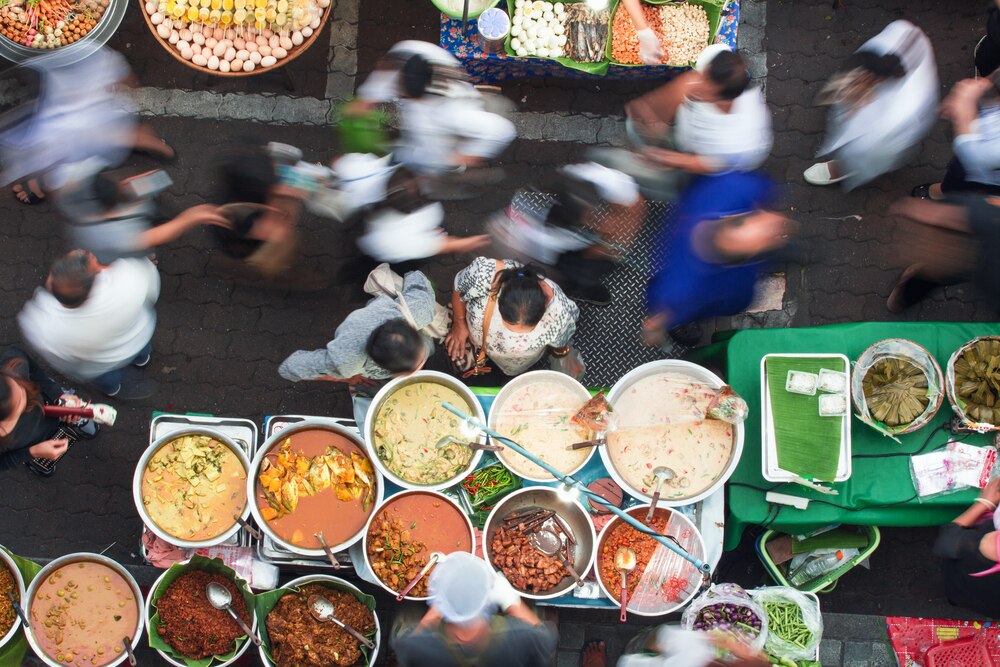 Photo by Anansing/Shutterstock
The perfect spot to start a food adventure into one of the most vibrant cuisines on earth, the stretch of eateries on Yaowarat Road is a microcosm of some of the city's best food crammed into one location. Yaowarat is one of the oldest neighborhoods of Bangkok, created when the city first came to be. Unlike many other Chinatowns throughout the world however, it's not just Chinese food you'll find here. A mix of local Thai dishes along with Thai-Chinese cuisine, it's here where you'll find some of the best food the country has to offer. Even better, most of these dishes tend to be small, cheap portions, allowing you to easily eat your way around three to four stalls.

If you're worried about getting ill from eating street food, Thailand has long since cleaned up its street-eat scene to cater to the huge influx of tourism. The vendors in Chinatown have been operating for years, with locals and foreigners constantly coming back for more. We've also provided the local Thai names, so if you're having trouble communicating what you want, just point here and smile.
[x] close
What to Eat in Bangkok's Chinatown: 6 Foods You Need to Try in Yaowarat:table of contents
Kway Chap (ก๋วยจั๊บ) at Nay Lek
This intense peppery broth will give you cravings you never thought you had. A kind of flat noodle roll, it's added to the peppery pork bone soup along with a delicious helping of crispy pork. The flavor of this is quite subtle compared to some of the more intense dishes that you'll often find around the country, but its a great example of how varied Thai cuisine can be. Ask for an extra helping of the crispy pork if you can manage it - you'll regret it soon after trying if you don't.
Kuay Jab Nay Lek (ร้านก๋วยจั๊บนายเล็ก)
Address: Yaowarat Road, Soi 11 (On the corner of the two streets)
Khao Gaeng (ข้าวแกง) at Jek Pui
Khao gaeng literally just means rice and curry and if you're familiar with Thai cuisine you'll know one thing the country does well is its intensely flavorful Thai curries. In Chinatown there's only really one place to get a great plate of curry and that's at Jek Pui. This street-side curry cart has been popular for years, where hungry locals will travel from all corners of the city and queue as soon as it opens up. It's easy to spot, lines of cheap plastic chairs line outside along with the huge vats of delicious, colorful curries. One of their signature dishes is the creamy yellow curry (แกงกะหรี่หมู), but either of their mouth-watering curries are well recommended.

The stall has recently seen a huge influx of visitors from tourists, especially after a street food documentary from Netflix featured the place, so make sure to head there early in case they sell out. We'd recommend garnishing it out with a helping of chili sauce and roasted Chinese sausage for an extra kick of flavor and satisfaction.
Khao Gaeng Jek Pui (ข้าวแกงเจ๊กปุ้ย)
Address: 19 25 Mangkon Rd, Pom Prap, Pom Prap Sattru Phai, Bangkok
Open: From 4 pm till sold out.
Khao Moo Daeng (ข้าวหมูแดง) at Si Morakot
The perfect example of how the Thais have taken classic Chinese foods and given it their own culinary spin, khao moo daeng is a delicious rendition of char siu, a Cantonese style BBQ pork dish. Down a nondescript side road a little out of the bustle of Chinatown you'll find Si Morakot, a popular spot with the locals but not so popular among foreigners, yet. It's here you'll find hands down the best khao moo daeng in Bangkok and probably across Thailand.

The delicious marinated moo daeng or red pork is the highlight, but their other roasted meats such as the crispy pork belly are also fantastic. You can see them hanging in the shop window, so just point to the meats you want. It's then lathered in a delicious smoky brown sauce, a reduction broth of pork bones and various Chinese spices.


Si Morakot Restaurant (ร้านข้าวหมูแดงสีมรกต)
Address: 80-82 Soi Sukon 1, Bangkok, Thailand
Open: 11 am – 7 pm
Fish Maw Soup (กระเพาะปลา) at Xia Hu Chalam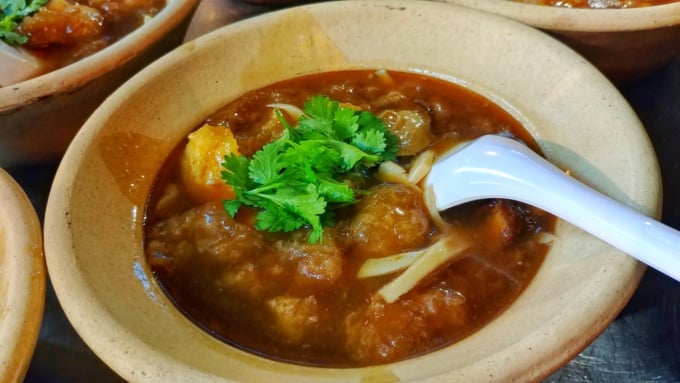 Photo by Sinetudio/Shutterstock
An institution of Chinatown, Xie Hu Chalam is known for being one of the best places to get the controversial shark fin soup, while we don't advocate such a dish, we also much prefer their fish maw soup. The comforting pieces of fish maw are heated vigorously in a clay cauldron filled with a super flavorful broth. Although it might seem a bit counter-intuitive to chow down on this piping hot dish during the unforgiving heat of Bangkok, it's still highly comforting and will make you forget the heat for a moment as you enjoy this delicious dish.
Xie Hu Chalam (ร้านเซี้ยหูฉลาม)
Address: 446 Yaowarat Road
Open: 7 pm-1 am
Pla Meuk Neung Manao (ปลาหมึกนึ่งมะนาว) at Fikeaw
The famous T&K Seafood has seen some pretty mixed reviews recently, leading most visitors to believe they've become lazy with the steady crowds that head there every night (mostly Chinese tourists). Instead we'd recommend Fikeaw for your seafood fix. The chef of this street-side seafood stall is famous for his pyromaniac antics which make for a spectacular sight in itself (stay well back while he's cooking or you might get singed). All the food we've tried here has always been good but two that really stand out are the pla meuk neung manao (ปลาหมึกนึ่งมะนาว), squid that's cooked in a delicious tangy and spicy sauce along with the wok-fired morning glory (ผัดผักบุ้งไฟแดง).
Fikeaw (ไฟเขียว)
Address: Soi Yaowarat 11, Khwaeng Chakkrawat, Khet Samphanthawong
Suckling Pig (หมูหัน) at Tang Jai Yoo
One of the oldest establishments in this antique neighborhood is Tang Jai Yoo. The restaurant is also hugely popular (thanks to a visit from Anthony Bourdain), but it's kept up its quality every time we've visited. They have a number of outstanding dishes but it's the roasted suckling pig that brings the crowds from all over the town here. The skin is perfectly crispy, encasing the beautifully juicy and fatty pork inside. Another star dish is the oyster omelette, their seafood is super fresh and the juicy oysters are plentiful and delicious.
Tang Jai Yoo Restaurant (ตั้งใจอยู่)
Address: 85-89 Yaowarat & Phanit Rd, Bangkok
Conclusion
While these are some of the top vendors we'd recommend to head to while you're touring Chinatown, the area is full of delicious street eats, many of which have been sold there for over 50 years. Follow your nose and stomach and stop at anywhere that takes your fancy, these are some of the best eateries in the city.

Although some eateries are available in the day, most places start to wheel out carts or open doors from around 5 pm, so make sure to get there in the evening. Note that most of Chinatown closes on Mondays for street cleaning.