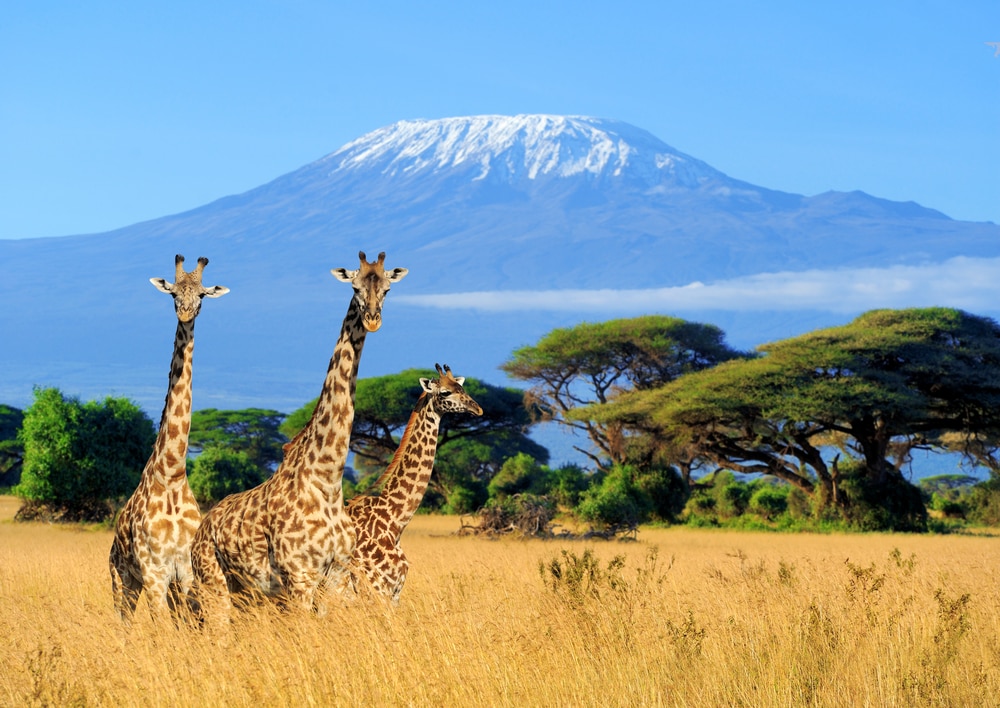 Photo by Volodymyr Burdiak/Shutterstock
The Best Safari Parks in Kenya For Some Incredible Wildlife Watching
Kenya's moderate climate, diversity and abundance of nature have consistently made it a top destination for adventure seekers and nature lovers alike. Travelers come in droves to take in the sprawling views of the African savanna and its unique inhabitants, in particular, the famous 'big five': lion, leopard, African elephant, rhinoceros and Cape buffalo. However, the country's outstanding parks are also home to other incredible wildlife equally worth making the effort to come and see, such as cheetahs, giraffes, wildebeests, zebras, flamingos and hippos. Below is a list of five parks and reserves in the country that offer some of the most unforgettable wildlife viewing experiences imaginable.
table of contents
[x] close
The Best Safari Parks in Kenya For Some Incredible Wildlife Watching
Amboseli National Park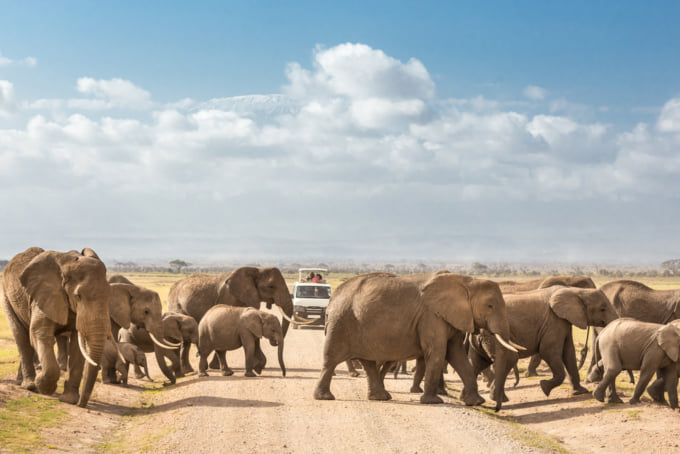 Photo by Matej Kastelic/Shutterstock
Famous for its spectacular views of the snow capped Kilimanjaro, the tallest free standing mountain in the world, Amboseli is a great park for viewing the big five. Particularly abundant here are big herds of elephants which can often be observed up close. Other notable wildlife who roam here include cheetahs, mongoose, hyrax and adorable little dik-diks for those with a sharp enough eye to spot the tiny antelopes.
Entrance Fee (Non-Residents): adults - $60 | children - $35

Masai Mara National Reserve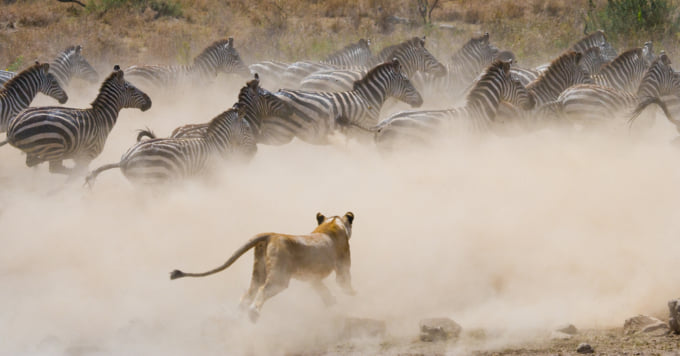 Photo by Gudkov Andrey/Shutterstock
The most famous of Kenya's national parks, and easily taking top spot for wildlife viewing in the country, the Masai Mara is home to a bewildering abundance of wildlife. A main highlight here is the great migration in which over 1.5 million wildebeests, zebras, elands and gazelles cross over from Tanzania's Serengeti National Park. If you are unable to visit during the migration period (sometime between July and October), a visit here is still entirely worth it, especially as it is one of the few parks that almost guarantees a sighting of each of the 'big five'.

Entrance Fee (Non-Residents): adults - $70 | children - $40 | students - $40
Tsavo National Parks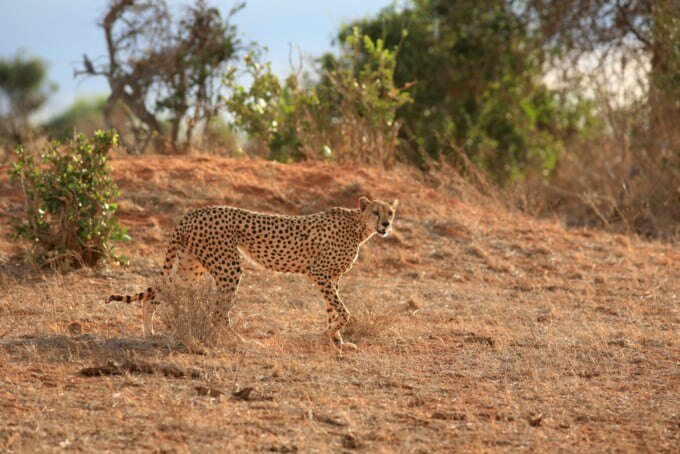 Photo by Marco Corso/Shutterstock
The Tsavo National Parks consist of Tsavo East and Tsavo West, separated by a road. The Tsavo parks are Kenya's largest and wildest national parks, much less visited than any of the country's other parks. The vast swaths of wilderness making up these parks are hardly if ever traversed entirely making it a true sanctuary for wildlife. The 'big five' are present here but may require a bit of effort to spot. Other incredible wildlife and nature viewing is also possible in the Tsavo parks. A particular favorite with travelers is viewing hippos, crocodiles and fish from the underwater viewing chamber at the Mzima springs, a beautiful oasis located in Tsavo West.
Entrance Fee (Non-Residents): adults - $90 | children - $40 | students - $40
Lake Nakuru National Park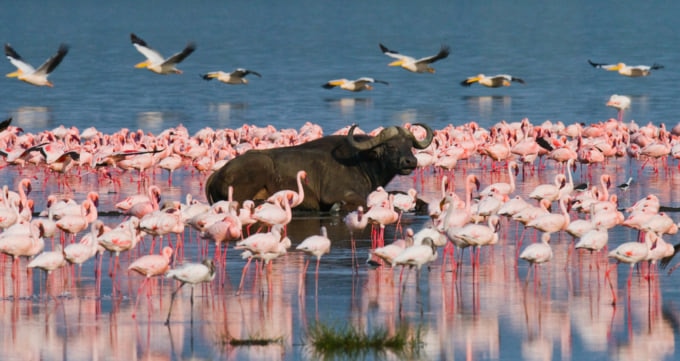 Photo by Gudkov Andrey/Shutterstock
Located just a 3 hour drive from Nairobi, this scenic park is famous for its beautiful soda lake which attracts millions of pink flamingos to its shores. It's also home to buffaloes, zebras, giraffes, ostriches and hippos, with occasional to rare sightings of lions, leopards, black rhinos, hyenas and other other indigenous game. If you're lucky, you might even get to see one of Nakuru's famous tree climbing lions in action. Lake Nakuru National Park is also perfect for a day trip from Nairobi due to its proximity to the city.


Entrance Fee (Non-Residents): adults - $40 | children - $20 | students - $10
Nairobi National Park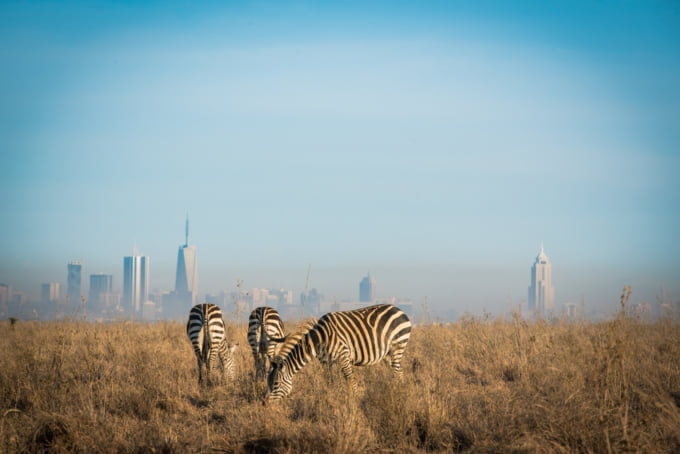 Photo by drewcarr85/Shutterstock
The only national park in the world located at the border of a capital city, Nairobi National Park is Kenya's oldest and most accessible park. While no elephants can be seen here, 80 species of mammals along with the other four of the 'big five' can be found around the park. One highlight of this park is the backdrop of skyscrapers against the dry grassland with its wild and fascinating inhabitants.
Entrance Fee (Non-Residents): adults - $50 | children - $25 | students - $25
Conclusion
The best thing about safaris is that you can do them over and over again without ever tiring of them. Every time you go you can expect an entirely different experience, and the first time you make the journey out there is nothing short of magical. Safaris are adventures in every true sense of the word. If you're traveling through Kenya, you should definitely add a visit to at least one or two national parks to your itinerary. If you don't have much time and are staying in the city, then Nairobi National park and Lake Nakuru National Park might be good options for you. However, if you have a little more time to spare, definitely venture out a little further to experience some of the finest game viewing in the world.