Morocco: The World's Latest and Most Underrated Fashion Capital
Within the past few decades, the fashion sphere primarily revolved around leading scenes in cities such as London, Paris and New York that gained more traction among fashion enthusiasts. However with the dawn of emerging stylish spots across developing destinations, Morocco, once home to the renowned designer Yves Saint Laurent has quickly earned their place as one of the most underrated fashion capitals in the world.
table of contents
[x] close
Morocco: The World's Latest and Most Underrated Fashion Capital
Yves Saint Laurent Museum Marrakech
Celebrated as one of the world's most legendary fashion designers, Yves Saint Laurent and his partner Pierre Bergé first sought refuge in Morocco during a trip in 1966. The two immediately fell in love with the cityscape and decided to buy a holiday home that became their creative retreat and sanctuary. In the years following his death, in 2018 Bergé aims to preserve the designer's legacy by paying tribute in the most grand and elegant way - establishing the Yves Saint Laurent Museum.

The museum exhibits approximately 5,000 pieces of clothing and 15,000 accessories that was created throughout the designer's career. Iconic pieces such as the Mondrian A-Line dress are available on display. Here fans will be able to witness how Morocco served as a rich reservoir of inspiration for him. General admissions are priced at 100 DH and there are special discounts for Moroccan residents. Guests can also explore around the YSL bookshop, cafe le studio and landscapes within the grounds.
Address: Rue Yves Saint Laurent, 40090 Marrakech
URL: https://www.museeyslmarrakech.com/en
Le Jardin Majorelle
Photo by Ser Borakovskyy/Shuttershock
In addition to the aforementioned museum, Yves Saint Laurent fans can also fully submerge into the designer's glamorous world by visiting the beautiful Le Jardin Majorelle. Originally designed by the French painter Jacques Majorelle, Yves and his partner acquired the Villa Oasis and later combined it with the enchanting Jardin (meaning garden in French). The garden is a living and evolving work of art that boasts exotic plants and rare species that are personally curated by the designer. The space witness the designer's escapades and due to its sentimental value, it remains as grounds for a memorial that is free for fans to pay their respects.
Address: Rue Yves Saint Laurent, 40090 Marrakech
URL: https://www.museeyslmarrakech.com/en/fondation-jardin-majorelle/le-jardin-majorelle/
Amanjena Marrakech
Ranked number one in the Top Luxury Hotel Brands 2018, the high-end resorts group Aman recently launched their first establishment in Africa through Amanjena Marrakech. Amanjena's architecture mimics an ancient Moorish palace where guests can experience unparalleled hospitality living like Moroccan royalty. The stylish five-star resort is among A-Lister's favorites, in fact it's the venue where Hollywood actor Idris Elba exchanged his nuptials and other major celebrities such as David Beckham and Katy Perry celebrated their birthday. For luxury seekers, Amanjena is the go-to destination to enjoy your stay in Morocco.
Address: Route de Ouarzazate km 12, 40000 Marrakech
URL: https://www.aman.com/resorts/amanjena
Blue City Chefchaouen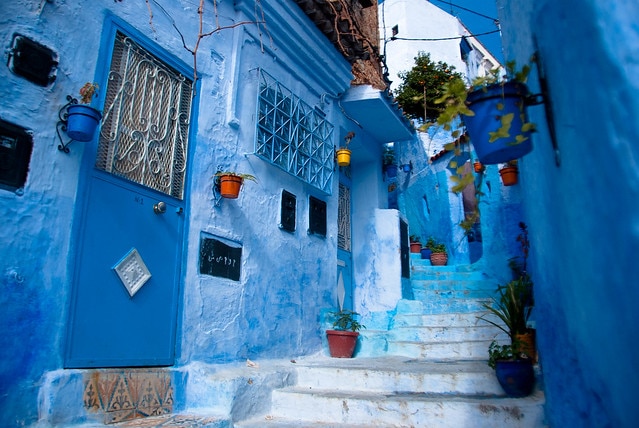 Photo by Steffan Jensen F/Flickr
Forget Santorini, nicknamed by locals as the 'blue pearl of Morocco', Chefchaouen is a must-visit city for anyone feeling a sense of wanderlust. Up on the rugged peaks of the Rif Mountains lies a picturesque blue city clustered with exotic architecture. Historically, this city was built to serve as a Moorish fortress for exiles from Spanish occupation. Visitors can wander aimlessly through charming and vibrant alleyways that is truly unique only to Morocco. Chefchaouen is a prospective background landscape for stylish travelers to have a photo shoot in - truly a dream sight for all photographers out there!
33 Rue Majorelle Concept Store
Adjescent to Yves Saint Laurent's botanical paradise, 33 Rue Majorelle is a one-stop-shopping destination for all stylish travelers. Bearing the concept as the antithesis of the traditional souk, this store aims to reinvent classic Moroccan crafts with a modern twist. A range of items from ceramics and paintings to design-led fashion and beauty products are handpicked to fit the taste of design-minded customers.
Address: 33 Rue Yves Saint Laurent, Marrakesh 40000, Morocco
URL: https://www.33ruemajorelle.com/
Conclusion
Beyond the exotic Saharan desserts and the bustling local souks - Morocco emerges as a fashionable destination primarily from the cultural landmarks that were paved by the revolutionary Yves Saint Laurent, as well as other high-end venues that are A-Lister's regular spots. Whether you're sipping a fresh cocktail by the pool of Amanjena resort or capturing insta-worthy moments in these stylish sites, Morocco should be on every fashionista's next travel list!