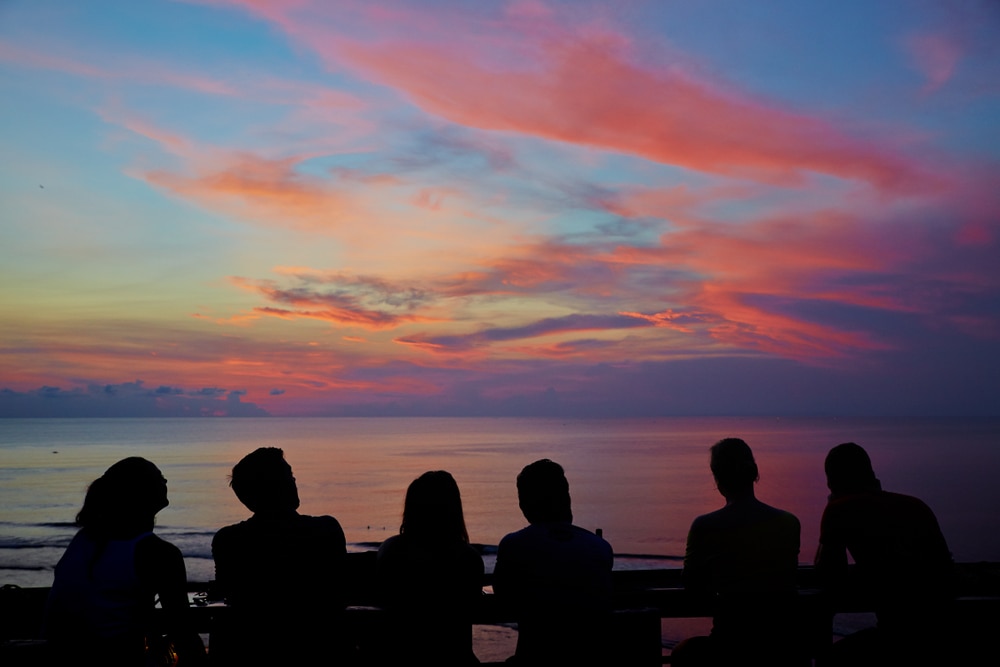 Photo by Hartrey Media/Shuttershock
The Ultimate Guide to Bali's Bar and Beach Clubs
Known for the beautiful beaches, rich culture and top-notch hospitality, it's clear how Bali gained its remarkable title as the 'Island of Gods'. Every year this popular destination welcomes millions of visitors from across the globe. If you're looking to enjoy captivating sunset views with a glass of fresh tropical cocktail in hand, here are the our top beach club and bar picks that are guaranteed to uplift your stay in Bali!
table of contents
[x] close
The Ultimate Guide to Bali's Bar and Beach Clubs
Rock Bar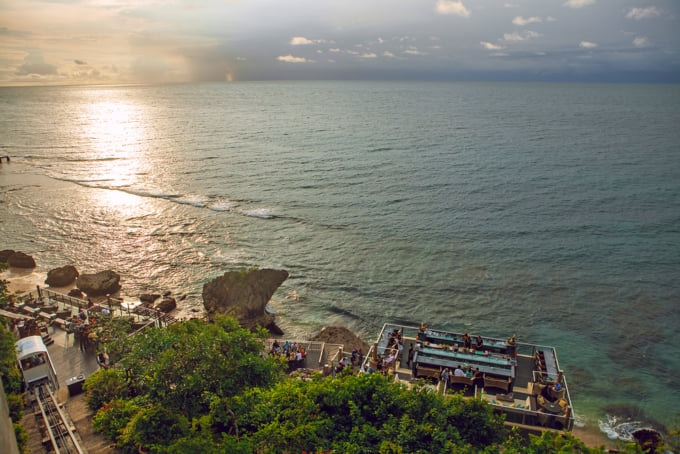 Photo by Redchanka/Shuttershock
It's often said 'the best view comes after the hardest climb', but here at the Rock Bar you don't even need to break a sweat. Nestled on top of Jimbaran's rock formations 14 meters above the Indian Ocean, guests are invited to ride along a thrilling cliff side elevator to enter this beautiful bar in Ayana Resort Bali. The journey out here is well worth it as guests are brought to experience stunning unparalleled views in a truly unique site, even by global standards. As the sky transforms to gold, the elevated views accompanied with the crashing blue waves to the rocks and harmonic DJ tunes is something anyone should experience at least once in their life! The exclusive spot is often jam-packed with visitors, so make sure to get there early and adhere to their mandatory 'smart' dress code.
Address: Jl. Karang Mas, Jimbaran, Kec. Kuta Sel., Kabupaten Badung, Bali 80364
URL: https://www.ayana.com/bali/ayana-resort-and-spa/eat-and-drink/venues/rockbar
Potato Head Beach Club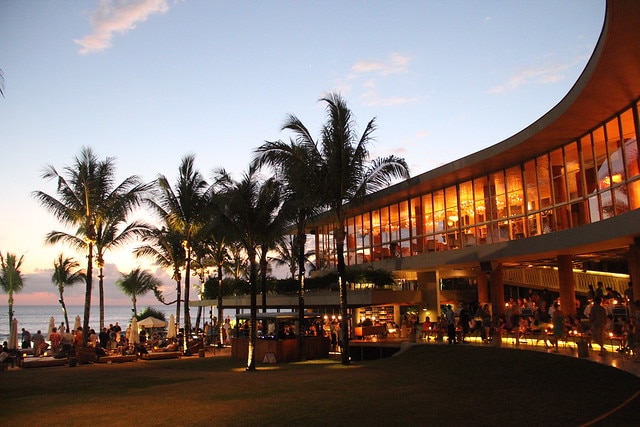 Photo by Lavinia Elysia/Flickr
Arguably the hippest up-and-coming hospitality group, the Potato Head Family kick-started their tenure with their beach club that quickly secured a spot as the Seminyak neighborhood's popular landmark. Home to one of the best sunset views in Bali, the venue is also equipped with a stylish infinity pool overlooking the Seminyak beach that guests can enjoy freely. However what sets Potato Head apart from other bars in the island is its multi-cultural blend of music, art, gastronomy and entertainment. They've previously hosted world-class festivals such as Ultra Music Festival and Sunny Side Up Festival that featured international headliners including Skrillex, Zedd, Halsey and Mark Ronson to name a view.

After a day in the beach club, visitors can also take strolls to various Potato Head-owned establishments within the complex such as the Escalier and Canaan boutique, Katamama Hotel and Studio Eksotika - truly Bali's one-stop destination.
Address: Jl. Petitenget No. 51B, Kerobokan Kelod, Kec. Kuta Utara, Kabupaten Badung, Bali 80361
URL: https://www.ptthead.com/bali/
Finns Beach Club
For the action-seekers, Finns Beach Club should be right up your alley. This extensive venue boasts four pools, nine bars and a range of premier entertainment facilities including surfing on one of Indonesia's famous surf breaks. Visitors can also enjoy a variety of delicious dining options such as the Sushi Bar, Bondi Bakehouse and Mumbai Kitchen. To experience as much of the incredible activities as possible, Finns also provide day passes that offers an all-inclusive entrance to the different recreation clubs including Splash Water Park, Bounce Trampoline Centre, Strike Ten Pin Bowling and Cubby House Kids Club. Whether you want to simply lounge in their plush daybeds or dive into unparalleled recreations, Finns have you covered with an ultimate VIP service.
Address: Jl. Pantai Berawa, Canggu, Kec. Kuta Utara, Kabupaten Badung, Bali 80361
URL: https://www.finnsbeachclub.com/
OMNIA Dayclub
Renowned as one of the world's greatest nightclubs, earlier last year OMNIA expanded their venture to the far east, launching their first daytime club in none other than the Island of Gods. International party goers are probably familiar with the flagship OMNIA Nightclub in Las Vegas, so it's no surprise how their Bali day-club immediately became the hottest talk in town. Situated on top of the stunning cliffs in Uluwatu, this jewel is best suited for luxurious daytime leisure and a sophisticated party experience. As expected from the OMNIA group, the venue's grand opening featured superstars such as Matrin Garrix. Visitors can anticipate more of the biggest names in the industry throughout the year, so party-lovers, go ahead and keep an eye out for them!
Address: Jl. Belimbing Sari, Pecatu, Kec. Kuta Sel., Kabupaten Badung, Bali 80364
URL: https://omniaclubs.com/bali/
Manarai Beach House
Another new-comer to the list, Manarai Beach House adds another level of excitement to Bali's social scene. Shying away from the hustle and bustle of crowded tourist areas, Manarai offers a lively buzz within the upscale Nusa Dua area. Unlike most bars whose culinary options are only limited to tapas, guests of the Manarai Beach House can relax inside their spacious beachfront cabanas while enjoying an unforgettable gastronomic dining in courtesy of the Michelin-awarded chef Stefan Poyet that blends flavors from the West to the East. If you are looking to visit Manarai soon, this summer they're in charge of hosting the hip Sunny Side Up Festival which headlines Flume and Grace Carter in their first lineup.
Address: Beachfront at Sofitel Nusa Dua Lot N5 BTDC Nusa Dua 80363, Jl. Nusa Dua, Benoa, Kec. Kuta Sel., Kabupaten Badung, Bali 80363
URL: https://www.ismaya.com/eat-drink/manarai
Tropicola Beach Club
Bright and vivid colors, playful installations, and youthful vibe - Tropicola is millennials' latest go-to spot in Seminyak! Tropicola takes you back to 80s era aesthetics interior that are picture-perfect to boost your Instagram game. Guests are joined to reimagine iconic tropical escapades with their tongue-in-cheeck cocktails list such as Tropicolada, Tulum Bliss, Copacabana and Porn Star Martini. Youthful crowds can now seek an urban scene to lounge for a suntan, jam to hip songs and dive for a carefree splash!
Address: Jl. Pantai Batu Belig No 5, Kerobokan Kelod, Kec. Kuta Utara, Seminyak, Kerobokan Kelod, Kuta Utara, Kabupaten Badung, Bali 80361
URL: https://www.tropicola.info/
The Night Rooster
It is about time that Bali deserves a classic bar centered with artisanal and well-crafted cocktails amidst the ever-growing beach club trend. The Night Rooster was brought to the scene by the founders of Locavore Bali - the only Indonesian restaurant that won a spot in the prestigious Asia's 50 Best Restaurants Award! Beyond basic mojitos and frozen margaritas, this bar aims to elevate the island's mixology by infusing alchemy and exotic local Indonesian ingredients in innovative ways that are uniquely delicious. The Night Rooster definitely raised the creativity benchmark for mixologists on the island.
Address: Jl. Goutama Sel., Ubud, Kecamatan Ubud, Kabupaten Gianyar, Bali 80571
URL: https://www.locavore.co.id/nightrooster
La Brisa
For a view of Bali in its zen and tranquil depiction in 'Eat, Pray, Love', La Brisa is your best match from this list. Unlike the range of glamorous beach clubs on the island, La Brisa was solely built using reclaimed wood from more than 500 old fisherman boats and carefully hand-decorated by local Bali artisans. Resulting in a one-of-a-kind sustainable eco-friendly venue that inherently portrays authentic Balinese character. The bohemian aesthetic setting is ensured to offer you a relaxing breezy afternoon overlooking the beautiful Echo Beach.
Address: Jl. Pantai Batu Mejan, Canggu, Kec. Kuta Utara, Kabupaten Badung, Bali 80361
URL: http://labrisabali.com/
Single Fin
Home to the hottest surf spot on the island, Single Fin is the ultimate base camp for international and local surfers. The laid-back ambiance in this venue draws guests to kick-start their leisure even starting from a breakfast rendezvous. Starting by indulging post-surf treats, as the skyline transcends to dark, Single Fin transforms into a hipster party scene known for their iconic 'Sunday Sessions'.
Address: Pantai Suluban, Jl. Labuan Sait, Pecatu, Uluwatu, Kuta Selatan, Pecatu, Kec. Kuta Sel., Kabupaten Badung, Bali 8036
URL: http://www.singlefinbali.com/
Conclusion
With its ever-growing, world-class bar and beach club scene, Bali truly has options for everyone. From the high-end to the contemporary and classic, visit the bars above for the most treasured gems on the island. Whether you've been to Bali or not, there's always an endearing activity to suit every soul you're bound for never-ending adventures that makes every visit feels like the first time! Nothing truly matches the spirit of the Island of Gods.