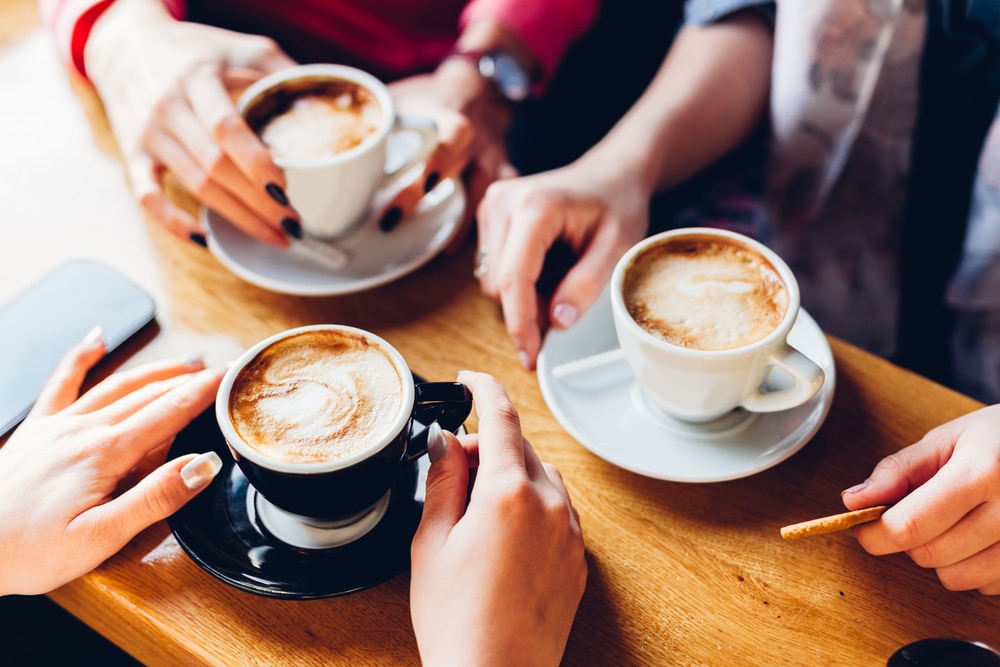 7 Trendy Cafes to Hop Around in Brooklyn
Among all the five boroughs of New York City, Brooklyn has always been more about the community. As a result, the cafes here are more than just places to grab a coffee on the go. Often multi-purpose, there is a sense of local pride that gives each homegrown establishment a personality both endearing and fashionable.
table of contents
[x] close
7 Trendy Cafes to Hop Around in Brooklyn
Sey Coffee
Putting emphasis on ethical trade practices over profit-making, Sey Coffee first started as an online retail shop. Now, they have their very own cafe in Brooklyn that conveys their ethos through architecture and the perfect cup of coffee.

The walls of the cafe are plain white with green plants all around adding color. Tables are spread out, simple in design and uncluttered. Their roll-up front door gives the cafe a spacious and airy feel, further heightened by the three skylights bringing in more natural light. Sey Coffee refreshes the mind even before that first sip of your drink.

Must-try: Being a gratuity-free cafe, the drinks are slightly expensive here, but the ambiance more than makes up for it. Sey Coffee is one of those few places where everything is good and you can either go with the classics or experiment a little with their unique concoctions.

Address: 18 Grattan St, Brooklyn, NY 11206, USA
Sweatshop Coffee
Sweatshop Coffee gets its laid-back vibes from having Australian owners. The 'Aussie espresso bar and cafe' is done up aesthetically with black furniture contrasting the light brown wooden tables, green plants, and brick exposed white walls. The crowd at the cafe is typically young and consists of art and design enthusiasts. It is a tiny space, so expect Sweatshop to be busy during breakfast and lunch hours.

Must-try: As cliched as it may sound, when talking about new-age cafes, their avocado toast is a must-eat. However, for something a tad more exciting, go for Sweatshop's 'the mess', a combination of eggs, black bean salsa, pickled onion and a toasted cheddar biscuit.
Address: 232 Metropolitan Ave, Brooklyn, NY 11211, USA
Sit and Wonder
With a name like Sit and Wonder, it's hard to walk past this delightful cafe and not be curious about it. A bistro that encourages working outside, they have a lovely garden at the back, perfect for contemplating about life while having a drink and a bite.

The interiors of Sit and Wonder are typical cafe-like. Odd curios adorn the walls, and the tables are set out in a fashion that encourages strangers to mingle, but also gives everyone space to be alone. Sit and Wonder has a corner dedicated to a book exchange and as with most good cafes, offers free Wi-Fi.

Must-try: Sit and Wonder serves roasts from Stumptown, creates in-house baked goods and sandwiches, and sells delicious donuts. Their Hangover Helper is worth a bite even if you are not nursing your head after a wild night.

Address: 688 Washington Ave, Brooklyn, NY 11238, USA
Five Leaves
Industrial at its core, and modern in its heart, Five Leaves is among one of the best bistro experiences to have in Brooklyn. The decor is unconventional with metal, marble, and cane merging beautifully, the menu casual, and yet there is a sophistication to the place that is unassumingly appealing.

The best part about Five Leaves is that it changes in attitude as the day goes by. From a fun cafe to have brunch with friends, it transforms into a cool drinking spot in the evening and then an ideal location to have a satisfying dinner.

Must try: Burgers are big here and their in-house specialty, the Five Leaves Burger, comes with grass-fed beef, grilled pineapple, harissa mayo and a fried egg on a sesame brioche.
Address: 18 Bedford Ave, Brooklyn, NY 11222, USA
Relationships
Their coffee bar might play second fiddle to the art on display, but that's what makes Relationships all the more enchanting and a must-visit when in Brooklyn. A place for artists to showcase their works and a store that sells vintage furniture, Relationships is all about collaboration and the continuous unification of 'art, design and coffee.'

While coffee at Relationships remains the same, the art changes every few weeks, giving the space a new look whenever you visit. They have a small backyard for customers to sit and enjoy a cup on a pleasant day. The tables and stools inside have a juvenile playfulness to them, adding to the overall artistic theme of the cafe.

Must try: A great place to pick up the classics – cappuccino, iced latte, hot tea – and while away the time appreciating the art pieces that decorate the cafe.

Address: 920 Fulton St, Brooklyn, NY 11238, USA
Hungry Ghost
Started in 2012, Hungry Ghost, now serving at nine outlets in the city, is a dream come true for coffee aficionados. The 'coffee bar' promises the perfect espresso every time and encourages its patrons to strike up a conversation with its baristas to understand and get to know what they're drinking.

Although all of the Hungry Ghost outlets carry their own unique identity, the one at Fort Greene is particularly charming and oh-so-hip. The benches outside give it a coffee shop look, but the black and white tiled floor and understated elegance inside adds a different kind of flavor to the coffee shop experience. Their egg chair by the entrance window is hot property, so you might want to grab that if it's empty.

Must try: For a small cafe, Hungry Ghost has quite a bit of variety on their menu for customers. From amazing flat whites to vegan carrot cupcakes, they also offer almond and oat milk as substitutes in their drinks.

Address: 781 Fulton St, Brooklyn, NY 11217, USA
Gorilla Coffee
The red and black theme that runs through the decor and packaging of Gorilla Coffee gives it a mysterious aura. Maps on the otherwise plain walls add to its eccentricity. At the heart of the establishment is good coffee served in a friendly atmosphere that epitomizes the charm of the classic neighborhood coffee shop.

The cafe is popular with locals as well as professionals who can be seen sitting on tables with their laptops, throughout the day. The menu is limited when it comes to food, however, Gorilla Cafe is ideal for grabbing a coffee on the go. Their beans are fair-trade and roasted in house.

Must try: Gorilla Cafe is mainly known for its strong coffee. Although, regulars swear by its lattes, which are said by many to be the best in all of NYC.
Address: 472 Bergen St, Brooklyn, NY 11217, USA
Conclusion
Brooklyn cafes are enigmatic places, ideal for working, socializing or to grab that morning fix of caffeine. No matter the reason, the coffee shops here are an integral part of the New York culture. They are the fuel that keeps the locals running smoothly and robustly, very much like the characteristics of a good cup of coffee.