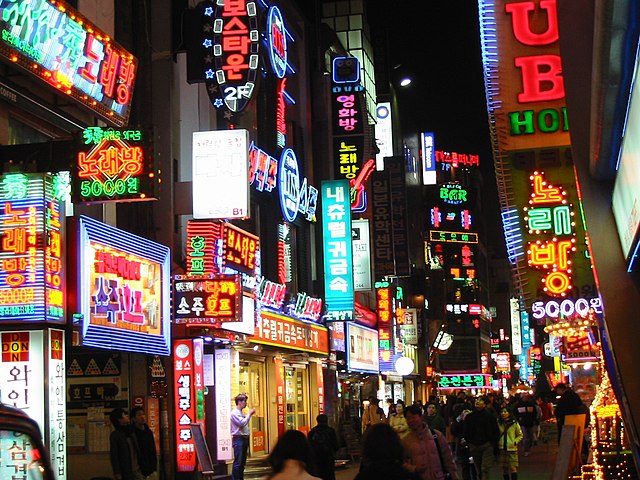 Photo by commons.wikimedia.org
7 Quaint and Quirky Cafes to Visit in Seoul
There are very few countries around the world that have had the kind of impact Korea has when it comes to art and pop-culture. From award-winning Korean films and TV dramas to the international craze for K-Pop, there's something inimitable about Korean ethos that enthralls and entertains the curious admirer.

A similar unconventional trend is visible in Korea's vivacious cafe culture. Featuring some of the most attractive coffee shops in the world, no visit to the country's capital, Seoul, is complete without spending a couple of days visiting its many quirky and quaint cafes that you'll find all over the city.
table of contents
[x] close
7 Quaint and Quirky Cafes to Visit in Seoul
943 King's Cross
You shouldn't need much persuasion to visit 943 King's Cross, a Harry Potter themed cafe in the heart of Seoul. Featuring everything charming about the series, the cafe is a popular hangout spot with the local young crowd and a must-visit for tourists.

943 King's Cross consists of four floors, all based on different themes from the book. Only a limited number of customers are let inside at one time. However, it's worth waiting as the interior is truly magnificent, packed with curios that might even make you forget about the main reason you are there, which is of course to eat.

Must-try: Once you're done making the most of all the photo opportunities in the cafe, pick one of the many pastries in their display case along with a Wizard Beer, available as both alcoholic and non-alcoholic versions.
Address: 24 Yanghwa-ro 16-gil, Seogyo-dong, Mapo-gu, Seoul, South Korea
CaFace
Latte art takes on a whole new meaning at CaFace. The cafe is particularly famous for 'printing' photos of their customers on the foam of their drinks.

With a young and bright ambiance, transparent chairs, white walls, and the occasional dash of color keep the cafe both simple and trendy at the same time. Customers at CaFace take their photos in a designated booth, using a phone camera. When they go to pick up their drinks, customers are wowed by seeing their photo appear on top of the foam.

Must-try: The drinks at CaFace aren't that expensive. So make sure to try a few different flavors, which are all pretty good. Just make sure to be creative with your photos and try various poses for every order.
Address: 20 Hongik-ro 3-gil, Seogyo-dong, Mapo-gu, Seoul, South Korea
Zapangi
Zapangi is eccentric from the get-go with its pink vending machine entrance that might even fool people unaware of the cafe's existence. Inside, there is an industrial meet feminine vibe to the place that further reflects in the beautifully decorated desserts, served in tin cans.

As expected, Zapangi is typically crowded throughout the day. The seating is refreshingly basic inside the cafe. In some cases, there are only benches with cushions and no proper tables. However, that doesn't take away the brilliance of Zapangi, only adding to its casual and friendly atmosphere.

Must-try: For a photo-worthy drink, skip their glass-bottled options and choose either the unicorn drink or a melon pompom. The tinned tiramisu is also must try.
Address: 79, 13-gil World Cup-ro, Seoul, South Korea
Orang Orang
Old-fashioned glory oozes from every brick in Orang Orang, a beautiful coffee shop in the upcoming district of Sinheungsijang. The cafe, situated in a 1960s building, takes on the avatar of a construction site with distressed walls and building material adding to its individualized theme.

The highlight of any visit to Orang Orang is the vintage ambiance, masterfully enhanced by smooth jazz that's always playing in the background. The enticing smell of freshly roasted beans that lingers in the air at all times completes the quintessential cafe feel. For a slightly more visual experience, head on to the roof for some mesmerizing city views.

Must try: Roasted in-house, the coffee at Orang Orang tends to have a slightly darker character. Pick up your favorite from the classics – espresso, cappuccino – and you won't be disappointed.

Address: 1-62 Yongsandong 2(i)-ga, Yongsan-gu, Seoul, South Korea
Dreaming Camera Cafe
An hour away from Seoul is probably one of the most Instagrammable cafes in the world. Situated in the picturesque town of Yangpyeong you'll find Dreaming Camera Cafe, a wonderful eatery shaped like a 1950s Rolleiflex Mini camera.

A family-run establishment, Dreaming Camera is a labor of love that integrates passion for photography, coffee and a life away from the bustling city of Seoul. Inside, the cafe is cluttered with homely things, giving it the kind of warmth that customers expect from coffee shops.

Must try: Go with a simple cappuccino, made with Korea's homegrown Terrarosa Coffee, and dream away your worries while appreciating the panoramic mountain views that surround Dreaming Camera Cafe.

Address: 341-13 Jungwon-ri, Yongmun-myeon, Yangpyeong, Gyeonggi-do, South Korea
Peach Gray
Coffee lovers will love Peach Gray for its unique take that encourages art. Ever order at the cafe comes in a tray with a pallet of watercolors and pen brushes. For artists, blank sheets of paper are available, but if you'd rather paint, ask for a template to color-in.

The interior of Peach Gray however, is not as arty as you might expect. The white walls with the odd plant or painting and the white-tiled counter allow the colors of the food and customer's paintings to pop out. The cafe though is popular with locals who come here to relax and calm their minds after a hard day's work.

Must try: Besides the coffee, Peach Gray is famous for its delectably fluffy pancakes.

Ho Ho Myoll
Named after the cat that lives in the cafe, Ho Ho Myoll is one of the most delightful bistros to visit near Hongik University in Seoul. Breaking away from the minimalistic trend, Ho Ho Myoll is brimming with kitsch artifacts in every direction you look. However, it's usually the VW campervan parked inside that first makes customers curious about the cafe.

Ho Ho Myoll has something for everyone. Instagram lovers are sure to find ample subjects for an unusual photo-op whereas professionals can sit towards the back of the cafe where individual stations are perfect for working on your laptop.

Must try: Ho Ho Myoll has a "Barista Master" at the helm who is known for their latte art. Thus, it would only be apt to go for a lovely espresso or cappuccino to sip on while you bite into one of the sandwiches or muffins mentioned in their hand-drawn menu.

Address: 50 Wausan-ro, Sangsu-dong, Mapo-gu, Seoul, South Korea
Conclusion
Immaculate service, specialized food and drinks, and decor that leaves you in wonder; cafes in Seoul have an individual persona that makes them a truly spectacular experience, bursting with surprises galore. It's hard to walk a few paces without coming across a coffee shop in the city, with each store trying to stand out by creating unique beverages or featuring unconventional decors, if you're looking for a memorable afternoon then there's an endless list of offerings here.