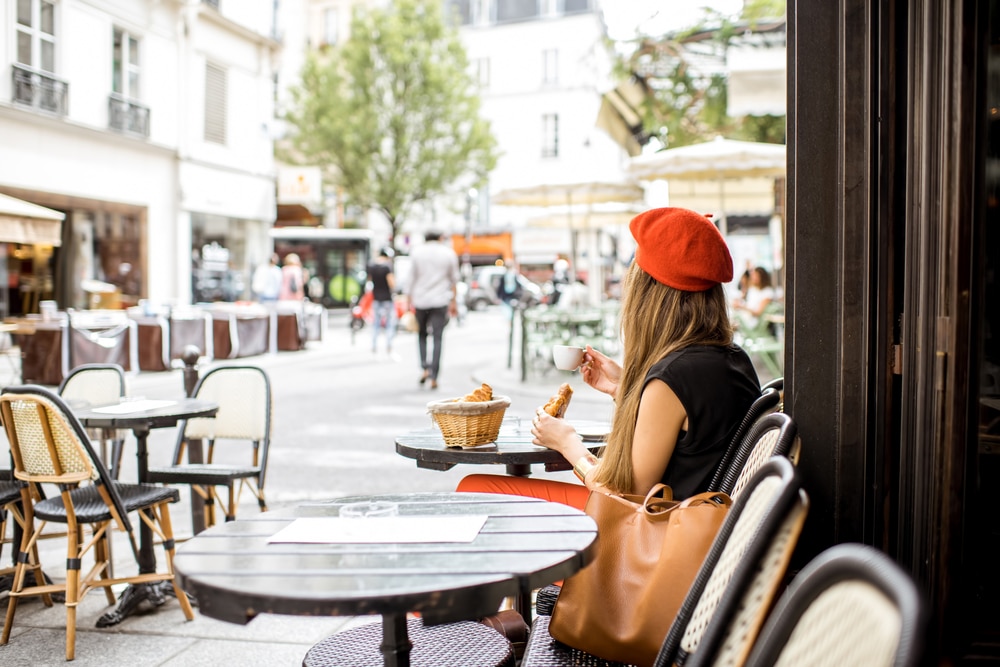 Photo by RossHelen/Shutterstock
7 Quaint French Cafes You Should Check Out in Paris
Paris, the city of romance, art, fashion, glorious food, wine and of course coffee. Whether you're looking for a fancy Michelin-starred restaurant, an upscale brunch spot, a cozy bar or a dreamy cafe to people-watch from, Paris has the very best. Cafes have always been an integral part of Parisian life and it can be hard to choose from the many charming spots found all over the city. Grab a cup and let's get started with some of our personal favorites.
table of contents
[x] close
7 Quaint French Cafes You Should Check Out in Paris
Les Deux Magots
If you fancy hanging out where the likes of Ernest Hemingway, Simone de Beauvoir, James Joyce, Jean-Paul Sartre and other intellectuals spent their days writing and socializing, head to Les Deux Magots at Saint-Germain-des-Prés. Started in 1885, this iconic cafe now serves coffee, hot chocolate, and some delicious albeit pricey dishes including omelettes, croque-monsieurs, pastries, macarons, salads and more. With the Art Deco decor still relatively intact, walking into the cafe is like taking a journey back in time.

The best seats are undoubtedly the ones under the green awning on the terrace. Some may argue that it's a tourist trap, but that's the price you pay to walk in the footsteps of idols from the past.
Address: 6, place Saint-Germain-Des-Prés, 75006 Paris, France
URL: http://www.lesdeuxmagots.fr/en/
A. Lacroix Pâtissier
Located in the heart of Paris, just across the river from the beautiful Notre Dame, this quaint cafe is known and loved for its artisanal pastries, ice-cream, cakes, delicious coffee and ethically-sourced specialty teas. The stone walls, exposed ceiling beams and open kitchen, where you can watch the chef create his otherworldly desserts, really add to the charm of the cafe, while the friendly staff are the cherry on the cake! It's the perfect place for a quick pit stop when you're walking around this magical city. Our only advice? Be sure to try their lip-smacking almond croissant along with your coffee. You'll thank us later.
Address: 11 Quai de Montebello, 75005 Paris, France
URL: http://alacroixparis.com/

Ob-La-Di
Small, charming, and quintessentially Parisian, Ob-La-Di's retro-cool decor complete with blue tiles, fresh flowers, a marble counter top, and bare concrete walls makes it one of the most Instagrammable cafes in the city. Just like the cafe, the menu is also small and specialized with options that include millennial favorites like avocado toast, matcha tea, delicious scones, and a few vegan options. Regulars swear by the Horchata and the Affogato with cookie dough ice cream and we couldn't agree more. The best part is that most of their baked goods are made in-house and are as much a treat for the eyes as they are for the taste buds.

Address: 54 Rue de Saintonge, 75003 Paris, France
URL: https://www.facebook.com/ObLaDiParis/

Shakespeare & Company Cafe
Books and coffee are every bibliophile's dream come true and no one knows that better than Shakespeare & Company, Paris' iconic bookstore. The cafe which came into existence fairly recently is right next door to the famous bookstore and serves up locally roasted coffee, tea, juices, vegan shakes, light dishes, and George Whitman's famous lemon pie. Perhaps what is most unique about the menu are the literature-inspired dishes like "The Bun Also Rises", "Flapjack Kerouac" and "A Movable Feast". With books adorning the shelves and literary inspiration all over, this one is a must-visit for every self-proclaimed bookworm. Take our word for it.
Address: 37 Rue de la Bûcherie, 75005 Paris, France
URL: https://shakespeareandcompany.com

Soul Kitchen
Whimsical is the first word that comes to mind when you set foot into this delightful little cafe in Montmartre. It's hard not to fall in love with the quirky decor adorned here such as a birdcage with paper butterflies, old wine crates, a typewriter, a huge bay window, distressed furniture and a quaint chalkboard menu. Run by three female chefs, Soul Kitchen's ever-changing menu includes wonderfully wholesome dishes prepared with organic local produce. So stop by for a hearty breakfast, brunch, or lunch but just remember that their dishes sell out fast, so come early. Great food, delicious coffee, a homely vibe, and a warm atmosphere makes this one a win in our books.

Address: 33 Rue Lamarck, 75018 Paris, France
URL: https://www.facebook.com/soulkitchenparis

Boot Cafe
Only in Paris can you go to a cafe set in what was once a cobbler's workshop. True to its name, the original blue facade remains the same with the rustic 'Cordonnerie' sign, while the interiors have been updated with quirky furniture, postcards and photos on the walls along with bunches of flowers. With a seating capacity of only six, Boot Cafe is no doubt an intimate affair, but they definitely know their coffee, tea, and pastries along with making a killer hot chocolate. So grab your to-go cup, choose your stimulant and get ready for the perfect 'hole in the wall' experience.
Address: 19 Rue du Pont aux Choux, 75003 Paris, France
URL: https://www.facebook.com/bootcafe/
Strada Cafe
If you're looking for a cafe that will give you a slice of the Parisian life while still being easy on the pocket, head to Strada Cafe. What sets them apart is their top-notch organic coffee that comes from all over the world including Ethiopia, Brazil, and India. Besides that, they also have plenty of options for both breakfast and lunch including eggs, avocado toast, salads, sandwiches, cakes and more. Unassuming yet charming, this cafe is the perfect spot for students, digital nomads and tourists who just want to take it easy and linger.
Address: 24 Rue Monge, 75005 Paris, France
URL: https://www.facebook.com/stradacafe94/

Conclusion
There's no lack of choices when it comes to getting your caffeine fix in Paris. Whether you choose to visit a well-known classic, an Instagram favorite, a trendy hot spot, or a hidden gem, one thing is for sure... Paris' cafe culture will always leave you wanting more!