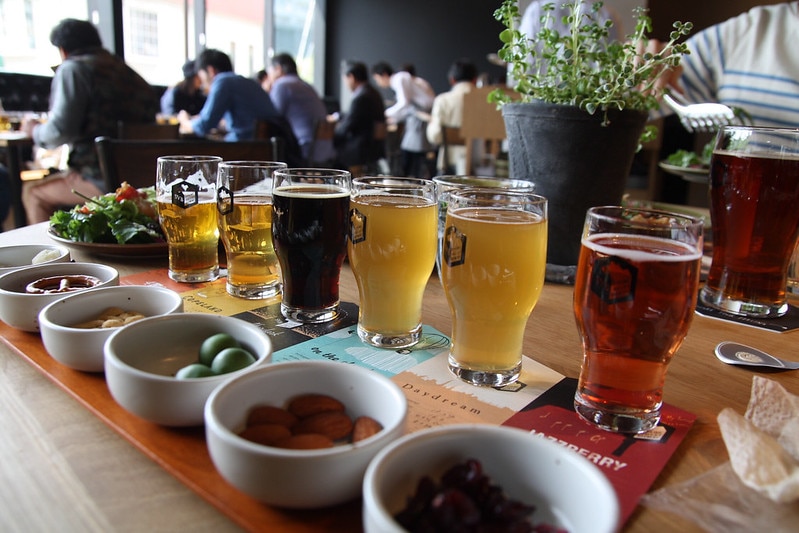 Photo by Tatsuo Yamashita/Flickr
The Top 5 Local Brewpubs and Craft Beer Bars in Tokyo
Buoyed by the craft beer trend, Tokyo's collection of brewpubs seems to grow larger each year. From hip rice wine brewers to cozy local haunts, these top picks are the perfect starting point from which to start exploring the city's electrifying brewpub scene.
table of contents
[x] close
The Top 5 Local Brewpubs and Craft Beer Bars in Tokyo
Beer Kobo, Koenji
Beer Kobo's idea is simple - like the water from a clear mountain spring, good beer should be enjoyed fresh from the source. Serving low-cost brews whipped up fresh on the premises each day, Kobo has quickly grown into a 'chain' of successful brewpubs across Tokyo, but the Koenji location was the first. Beer Kobo's food menu is typical of Tokyo's pub scene, featuring hearty fare like steak, German-style sausage and potato wedges.
YYG Brewery, Yoyogi
YYG or 'Yoyogi' Brewery was one of the first brewpubs to open in Tokyo. Located near Yoyogi Station just southwest of Shinjuku, the shop includes a cozy outdoor terrace on the first floor and seated dining on the seventh floor. Beer lovers and novices alike can enjoy brews like 'Shibuya IPA' and 'Shinjuku Pale Ale' brewed right behind the bar, made with local ingredients.
Wakaze x Whim Sake & Tapas, Sangenjaya
Located in the hip Sangenjaya neighborhood, Whim Sake & Tapas is the brewpub of Wakaze, a craft sake brewing company, and a local twist on the traditional brewpub. Whim brews their own sake (Japanese rice wine) on the premises, inventing new and seasonal flavors like honey and matcha that even people who've never tried sake can enjoy.
TY Harbor, Tennozu Isle
Possibly the largest brewpub in Tokyo, TY Harbor's massive dining complex is on Shinagawa's Tennozu Isle, an artificial island that was once a warehouse district. The aptly-named bar and dining establishment looks out over a small inlet fed from Tokyo Bay. The main dining area's terrace seats are a rare treat in a city as cramped as Tokyo, while the reservation-only sofa seats in the lounge offer closeup views of passing yakatabune (traditional pleasure boats) through floor-to-ceiling windows.
Spring Valley Brewery, Daikanyama
Photo by Tatsuo Yamashita/Flickr
A good introduction to Tokyo's brewpub scene, Spring Valley Brewery is beer giant Kirin's 'craft' beer subsidiary. While the Spring Valley Brewery brand is available at bars and restaurants throughout the city, there are some brewed at the in-house brewery in Daikanyama that aren't available anywhere else, like the pub's flagship 'Daikanyama IPA'.
In Conclusion
The fresh brews and locally-sourced ingredients at these top Tokyo brewpubs offer a truly local experience that you'll only find here. The city's craft beer scene has sky rocketed in popularity in recent years as residents forgo the four brewery giants of Kirin, Sapporo, Suntory and Asahi in favor of new quality microbreweries.