Detroit:The Motor City that Evolved to a Cool-Cat Destination with Great Sightseeing Attractions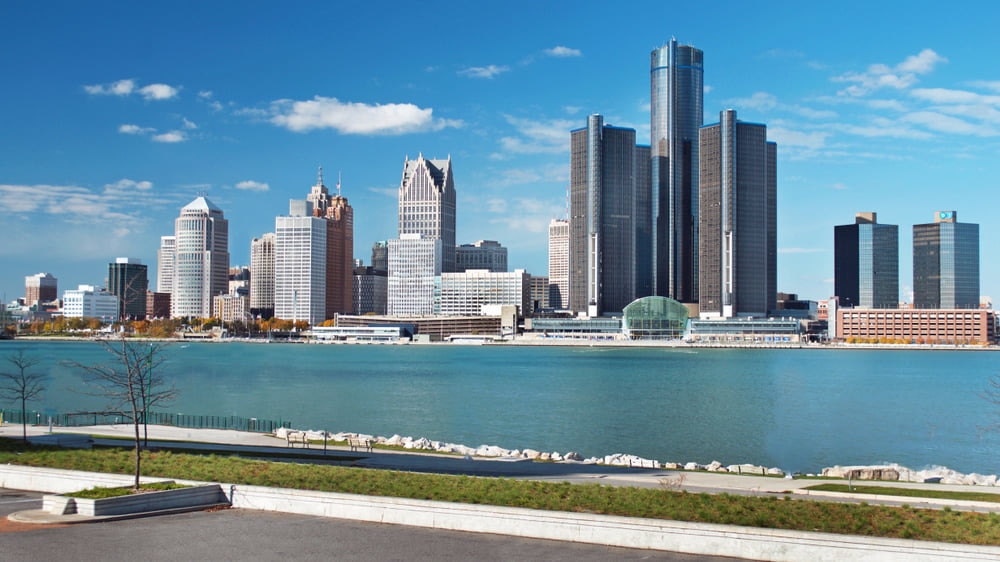 Photo by Linda Parton/shutterstock.com
Detroit is one of the cities in America having a beautiful comeback story. It had never been a tourist destination but this motor city is now facing the spotlight. Some of the abandoned parts of Detroit have been converted into very amazing spots such as urban farms and museums. These are some of the places that are a must see from this amazing Detroit evolution.
[x] close
Detroit:The Motor City that Evolved to a Cool-Cat Destination with Great Sightseeing Attractions:table of contents
1. Detroit Institute of Arts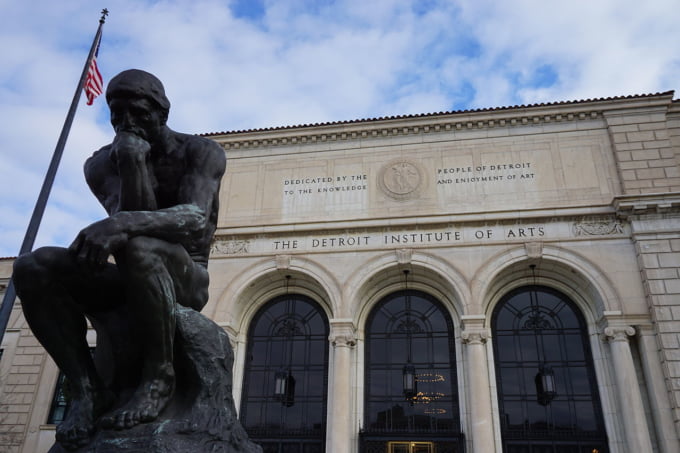 Photo by commons.wikimedia.org
Detroit Institute of Arts is an interesting sightseeing spot for every tourist looking for some artsy adventures. The museum is vast showcasing over 65,000 collections of Monets, mummies, African masks and some modern art. There is a beautiful section by the center of the general motors for African American art that showcases various artworks and media by African Americans. Afternoon hours are ideal for sightseeing the museum because you may be lucky to get the free tours. Another interesting aspect of the museum are the murals painted on the museum walls which feature the genesis of Diego Rivera. Admission to the Detroit Institute of arts is charged though usually a small fee.
Name:Detroit Institute of Arts
Address:5200 Woodward Ave, Detroit, MI
Related Site:https://www.dia.org/about
2. Comerica Park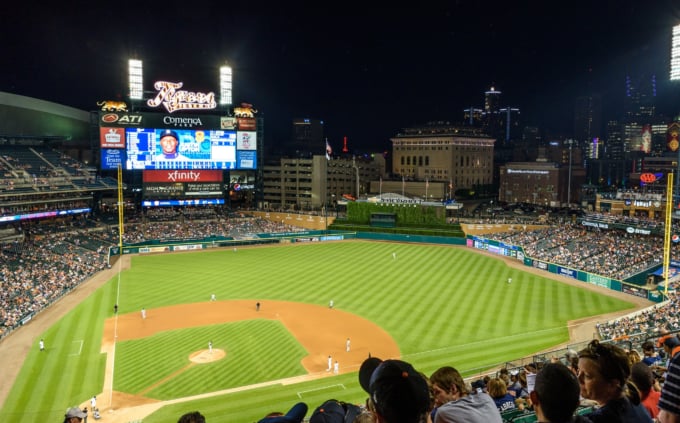 Comerica Park is an all rounded park in Detroit. This park is home to the famous Detroit Tigers. Not only does it serve as a ballpark, it also has a theme park and a baseball museum. Some of the eye-catching features include a carousel with tigers, huge tiger statues, a Ferris wheel and, a colored musical a fountain. Most people, however, come to Comerica Park not only for sightseeing excursions but also to catch a good ball game. The view is great from all seats. There is also a great selection of food and beverages and this would be a great opportunity to sample a local Detroit beer as it can get hot. Purses may not be allowed into the stadium so it is great to check with security on the restrictions.
Name:Comerica Park
Address:2100 Woodward Ave, Detroit, MI
Related Site:http://detroit.tigers.mlb.com/det/ballpark
3. Motown Museum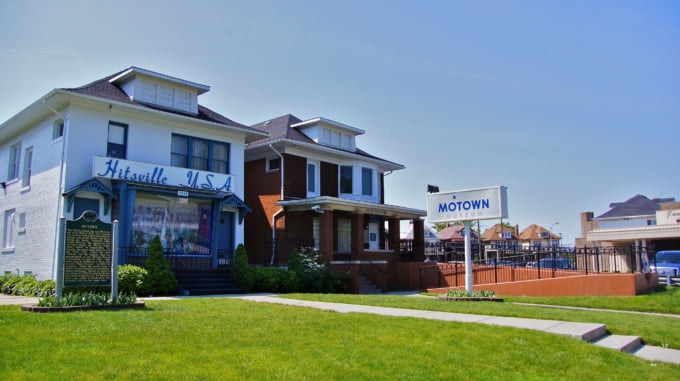 Motown Museum is an old Detroit home that has been converted into a funky museum. This home once belonged to Berry Gordy and it is believed that he recorded some of his Motown hits there. Most tourists enjoy sightseeing the museum because it is the ideal stop to enjoy some great booming Detroit music hits especially from the Motown era. Tourists also get to explore the artworks, costumes, photography and, other memorabilia by Motown artists from the day. Tours around the house start with an educative video followed by a guided tour. There is also a nice gift shop to scoop some souvenirs.

Name:Motown Museum
Address:2648 W Grand Blvd, Detroit, MI
Related Site:https://www.motownmuseum.org/
4. The Guardian Building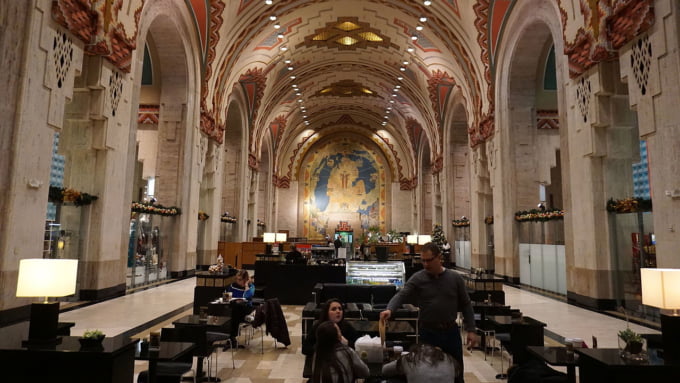 Photo by commons.wikimedia.org
The Guardian Building is a sophisticated gem within downtown Detroit. It was built back in 1920 but still maintains its original charm with some modern twists. The lobby of the building has some remarkable art deco with so much color and detail. The walls and ceilings are the most attractive features. This is the perfect place for tourists to take a break and have a drink and snacks. Most business people like the place to host business meetings over coffee. Some free sightseeing tours are usually scheduled during the weekend.

Name:The Guardian Building
Address:500 Griswold St, Detroit, MI
Related Site:http://guardianbuilding.com/
5. Detroit RiverFront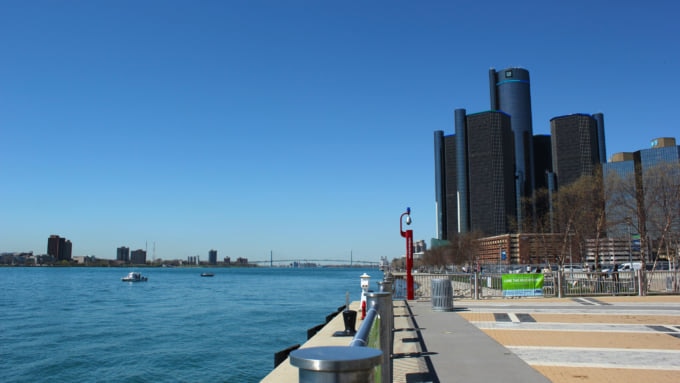 Detroit RiverFront is an amazing water heaven in Detroit. The riverfront is an amazing place to get some cool views of Canada and many sightseeing tourists use this opportunity to get a glimpse of this beauty. Some take part in cycling along the river as they marvel at the waters. There are usually ships or sailboats crossing the border that are also great to watch. Even Though the waters look calm, swimming is prohibited. The people around the area are friendly and security is tight with various cops patrolling the area.

Name:Detroit RiverFront
Address:600 Renaissance Ctr, Detroit, MI
Related Site:http://www.detroitriverfront.org/
6. Fisher Building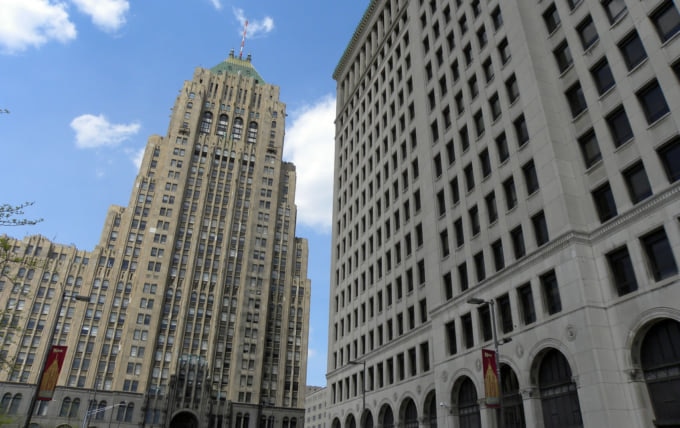 Fisher Building has been soaring in Detroit since 1927. It is also part of the major landmarks found in Detroit. The Fisher family are believed to be behind this marvelous piece of architecture that is why it was named in their honor. Its architecture focused mostly on modern progressing art as the building stands out. There are theaters in the building that can be accessed by the general public but some floors are restricted. The building is very beautiful inside and photo opportunities in this beauty should not be missed. Touring the building can take about an hour.

Name:Fisher Building
Address:3011 W Grand Blvd, Detroit, MI
Related Site:http://thefisherbuilding.com/
7. Greektown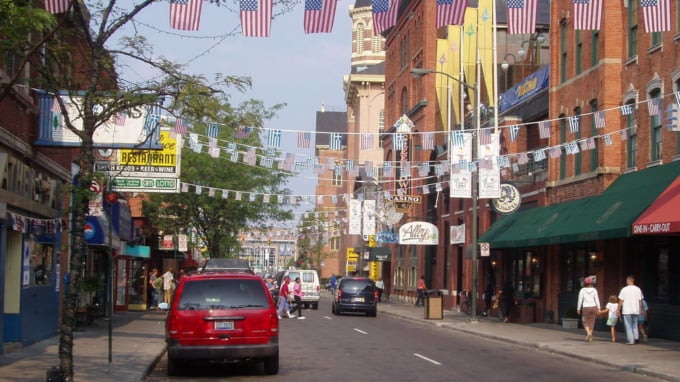 Photo by BC Images/shutterstock.com
Greektown is a more diverse part of downtown Detroit. This Greektown has Monroe street which is dominated by Greek restaurants. This ethnic saturation of Greek restaurants led to its name. The area is also famous for some classy metro fun. This is because of the booming entertainment scene. There are various shops, clubs and, an everyday casino. This casino is also very popular and affordable that one can try their luck on a $5 table! A plus for Greektown is that security is great with patrol police making rounds.
Name:Greektown
Address:Monroe Street, Detroit, MI
Related Site:http://www.greektowncasino.com/

8. Detroit Windsor Tunnel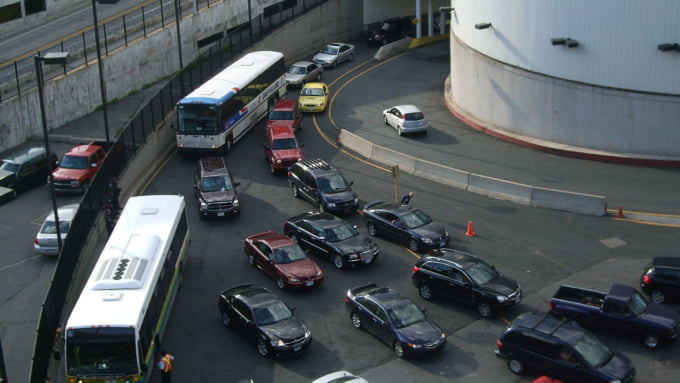 Photo by commons.wikimedia.org
Detroit-Windsor Tunnel was built in the 1930's. It has been facing modifications throughout the years and has seen tourists flocking from every corner. It is a beautiful sightseeing sight from afar as it cuts across Detroit river. The bridge is 22 feet wide and about 13 feet high. Trucks and motorcycles are not allowed through the tunnel. The tunnel serves as a drive-through across the beautiful Detroit river to cross over into the Canadian grounds. Crossing the tolls through the tunnel can take about 10 minutes. If you wish to cross over to the Canadian grounds, a passport is needed and a toll fee of $6.00 Canadian dollars will be charged.

Name:Detroit Windsor Tunnel
Address:100 E Jefferson Ave, Detroit, MI 48226-4376
Related Site:http://www.dwtunnel.com/

9. GM Renaissance Center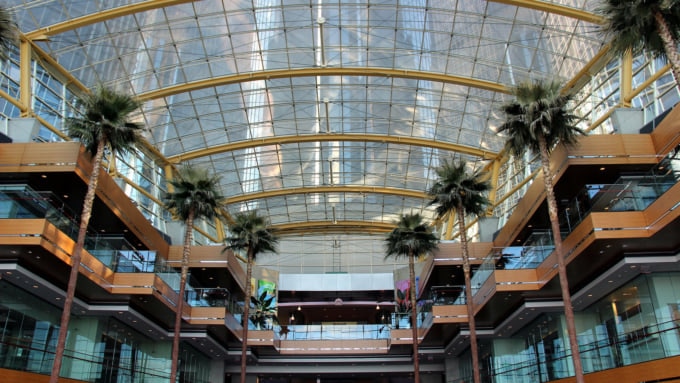 GM Renaissance Center is the gem within Detroit and it's the most beautiful thing gracing the Detroit skyline. Most tourists enjoy sightseeing this piece of art because they get to see breathtaking views of Detroit from the observation tower. The 72nd floor of the building is where the magic happens. Aside from the beautiful aerial views, the GM center has displays of both their new and classic vehicles. The interior is well furnished with large screens displaying sea scenes. One of the interesting things about the place is a carousel of old chevy trucks. If you get hungry during the visit, the food court is worth visiting to enjoy great meals and get an amazing waterfront view.

Name:GM Renaissance Center
Address:100 Renaissance Center, Detroit, MI
Related Site:http://gmrencen.com/

10. Anna Scripps Whitcomb Conservatory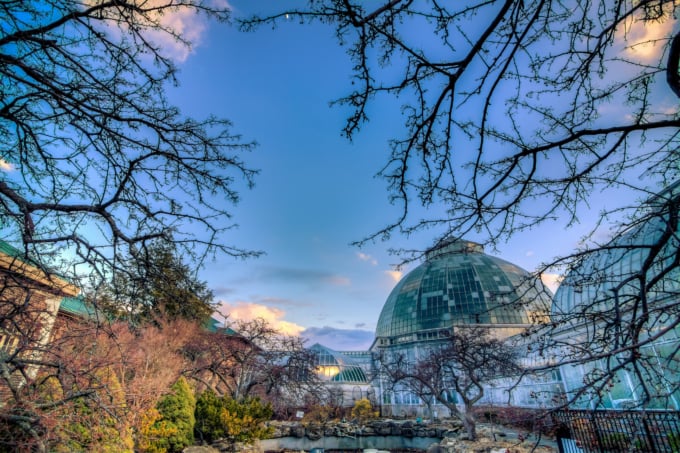 Anna Scripps Whitcomb Conservatory is indeed a hidden treasure in Detroit. This conservatory is architectured within a large glass and is located on Belle Isle in Detroit river. The conservatory is made up of botanical gardens and a magnificent greenhouse filled with plants from around the globe. The botanical garden features some beautiful floral pieces that stand out in their blooming colors. Photography is very common because of the vibrant flora in the background. There is a beautiful lily pond located between the Belle Isle Aquarium and the greenhouse which adds beauty to the place. Admission is free though donations are accepted.

Name:Anna Scripps Whitcomb Conservatory
Address:900 Inselruhe Ave, Detroit, MI
Related Site:https://www.belleisleconservancy.org/anna-scripps-whitcomb-conservatory

◎ Closing
Detroit has shown evolution and positive changes throughout the years showing potential to grow into more than just the Motor city. Its beautiful sightseeing locations continue to increase its fame. From the beautiful landmarks to art museums, there is a diversity in what Detroit has to offer. This city will definitely wow you from doubt to an overwhelming experience!