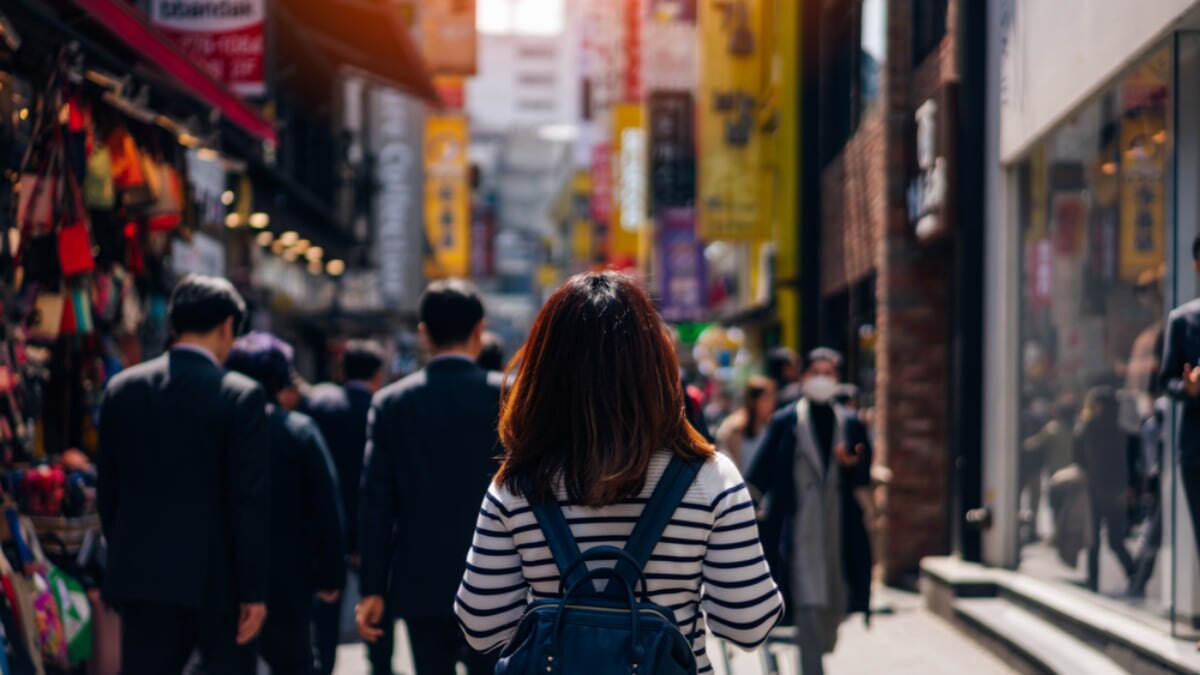 Photo by Travel Man/Shutterstock
The Top 10 Instagram-worthy Photo Spots in Seoul
It's not difficult to find a beautiful photo spot in Seoul. The South Korean capital is a photographer's playground, full of stunning modern architecture as well as charming historic neighborhoods, lush green parks and lively streets with a constant energy lit by neon lights. Seoul's best Instagram-worthy spots are hardly scarce, but these ten favorites are at the top of our list.
table of contents
[x] close
The Top 10 Instagram-worthy Photo Spots in Seoul
Bukchon Hanok Village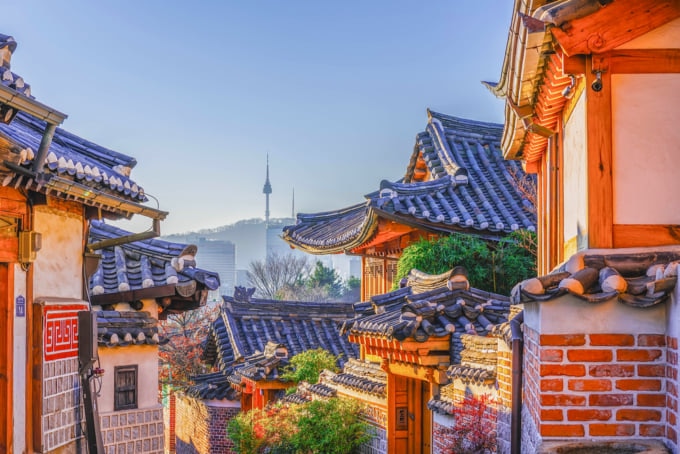 Photo by Noomna nakhonphanom/Shutterstock
Bukchon Hanok Village is a historic neighborhood of Seoul, home to hundreds of traditional homes called 'hanok'. Some of these have been converted to shops, inns or cafes where visitors can experience Korean culture in a heritage setting. A must-see for anyone's first visit to the city, Bukchon is also near Gyeongbokgung Palace, Changdeokgung Palace and Jongmyo Shrine, other beautiful and historic places that are well worth a visit. You'll also find a number of stores renting traditional outfits to wear as you photograph your way around the area.
Jeongdong Observatory
Often described as the best observatory in Seoul, the large windows of Jeongdong Observatory frame spectacular views of Deoksugung Palace along with the mountains and skyscrapers of Seoul. Located on the 13th floor of Seoul City Hall Seosomun Building, cityscape observers can cozy up with a hot drink from the in-house cafe, Darak.
Myeong-dong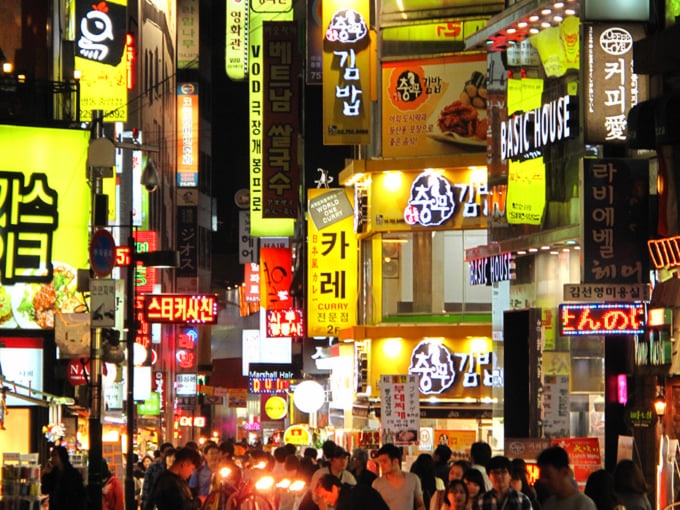 Photo by Ken Eckert/WikiCommons
Myeong-dong is the busiest shopping district in Seoul, lined with department stores and luxury boutiques as well as karaoke bars, casual eateries and lively cafes. The area is always abuzz with activity, but many would argue the best time to visit Myeong-dong is at night, when the neighborhood come alive with bright neon signs, and the streets fill up with vendors hawking trinkets and food stalls with local street eats. It might be a tourist hotspot, but you'll find plenty of opportunities for photos here.
Gyeongbokgung Palace
Photo by SS Pixels/Shutterstock
The largest and grandest of Seoul's five ancient palaces, Gyeongbokgung Palace is located in the northern end of the center. Gyeonghoeru Pavilion and Hyangwonjeong Pond date back to the palace's original construction in 1395, while the other palace structures underwent restoration in the late 1800s. The spacious gardens and historic buildings are a popular photography spot.
Gwangjang Market
Gwangjang Market is the place to go for trying authentic Korean food and street snacks, with everything from spicy kimchi dumplings and bindaetteok (mung bean pancakes) to fresh fruits and yogurt drinks. The market is also known for its high-quality hanbok, a traditional style of dress worn for weddings and special occasions.
Ikseon-dong
One of Seoul's oldest neighborhoods, Ikseon-dong's retro charm and growing population of young entrepreneurs have only recently started attracting attention. This up-and-coming area is lined with narrow alleys and colorful cafes, vintage shopfronts and modern eateries. The areas must-sees are the Pojangmacha (food tent) Street, the historic Unhyeongung Royal Residence and the Hanok Village area.
Cheonggye Stream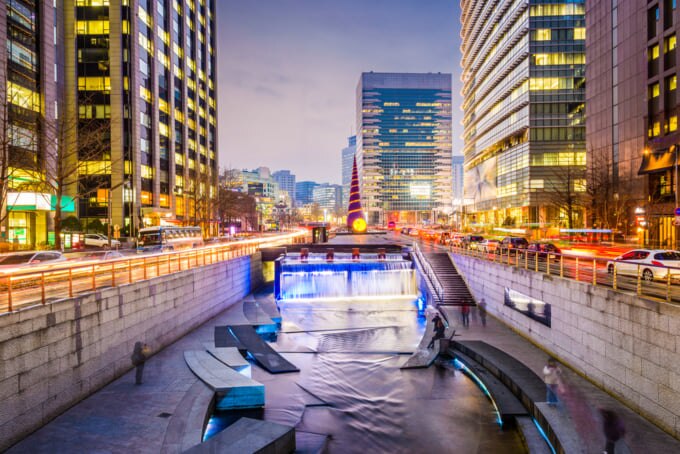 Photo by Sean Pavone/Shutterstock
The gently rolling Cheonggye Stream is decorated with stone bridges and scenic greenery, cutting through the heart of Seoul's central area for around eleven kilometers. Apart from providing a walkway underneath the busy roads of the center, the stream often features seasonal illuminations and art installations, making it a popular hotspot for photography.
Common Ground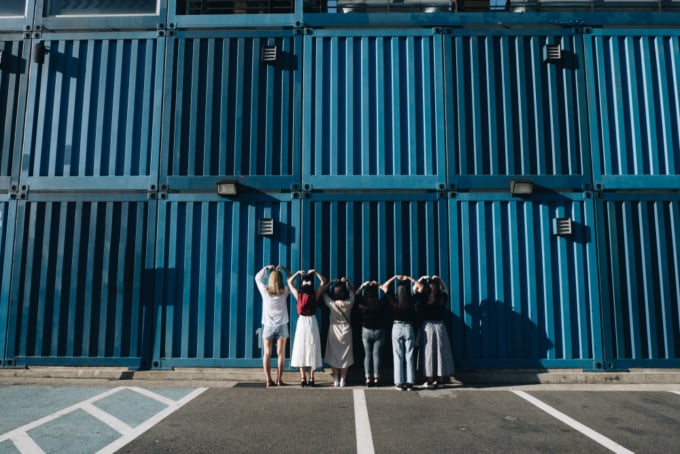 Photo by nuu_jeed/Shutterstock
The first of its kind in South Korea, Common Ground is a commercial complex featuring fashion and lifestyle stores as well as dining options on the third floor terrace. It's made from converted, stacked shipping containers painted blue, which has contributed to its success and popularity. The central square regularly hosts events and markets, and at night, food vendors take over. Common Ground is frequented by students from the nearby Konkuk University as well as overseas tourists.
Changdeokgung Palace Complex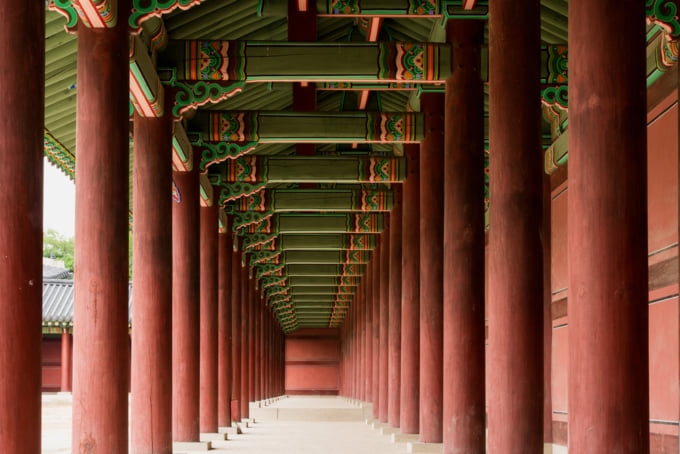 Photo by Artaporn Puthikampol/Shutterstock
A UNESCO World Heritage Site built in the early 15th century, the Changdeokgung Palace Complex is considered one of the country's best-preserved relics from the Joseon Dynasty. The palace structures are ornately beautiful and detailed, and everything from the gardens to the administrative quarters are organized according to traditional Confucian principles. The Changdeokgung Palace Complex was secondary to Gyeongbokgung Palace, the nearby primary residence of the royal family.
Book Park
Located inside the the Blue Square multi-complex in Itaewon, Book Park is a sprawling emporium dedicated to the written word. The shop is a paradise for bookworms, but even those who can't remember the last time they picked up a book will enjoy the soaring wall to ceiling shelves, adorable book-themed hanging lights and cozy reading spaces at every turn. Seoul is no stranger to beautiful bookstores - check out Arc N Book and Starfield Library for more popular book-laden backdrops.
In Conclusion
Seoul's best photo spots run the gamut from ancient palaces to hipster shopping malls. Add the city's top Instagram ops to your travel itinerary and you'll soon have a collection of unique and memorable photos, making your forway into South Korea a trip you won't soon forget.