Photo by Alland Dharmawan/Shutterstock
7 Foods You Need to Try When Visiting Hong Kong
Hong Kong's unique blend of Cantonese and Western cuisine is unlike anywhere else in Asia. From the region's favorite brunch to its internationally-famous desserts, these top seven dishes are a must-try when visiting Hong Kong.
table of contents
[x] close
7 Foods You Need to Try When Visiting Hong Kong
Egg Tarts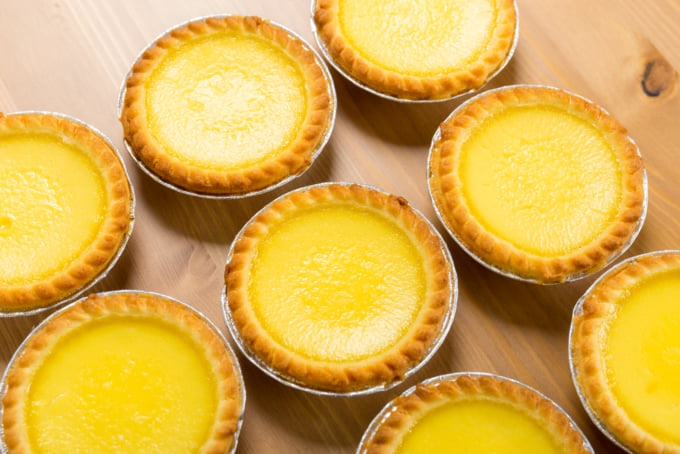 Photo by leungchopan/Shutterstock
Egg tarts are a classic Hong Kong treat. The origin of the egg tart is a bit of a mystery, but is believed to be the result of traditional British sweets clashing with local tastes. A basic egg tart consists of a thick egg and milk custard in a bite-sized shortcrust pastry, served either piping hot and fresh, room temperature or chilled.
Egg Waffles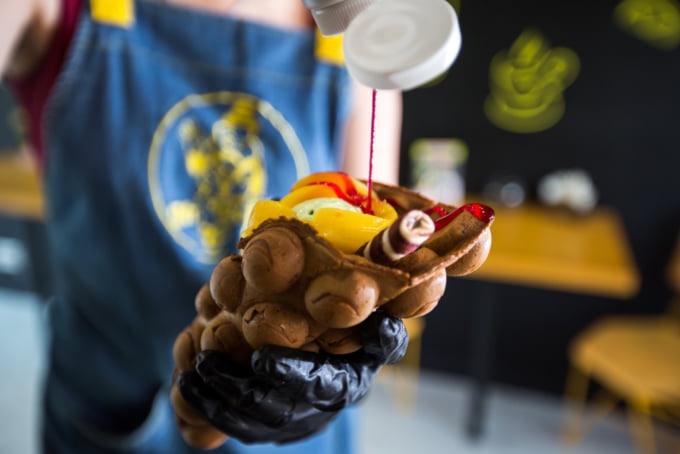 Photo by Studio Peace/Shutterstock
These puffy, crispy snacks are one of Hong Kong's most beloved street foods. Legend has it that the multi-celled waffles, also known as egg puffs, were originally meant to be broken apart to sell by hawkers. These days, egg waffles can be found all over Hong Kong and come in a variety of flavors like green tea, chocolate or a la mode.
Dim Sum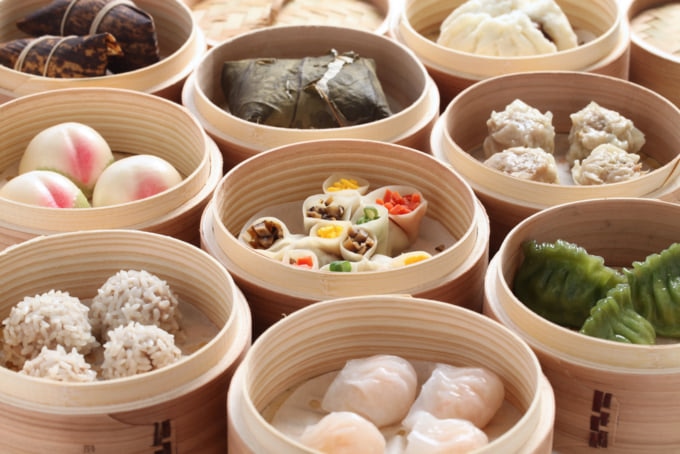 Dim sum is a Hong Kong brunchtime favorite. Classic dim sum dishes include steamed bite-sized dumplings and rolls, fluffy buns filled with sweet or savory fillings, roasted meats and rice, soups or congee (porridge). Typically served as yum cha, or 'a meal with tea', dim sum is best paired with Chinese green or oolong tea, but fragrant herbal teas are also popular.
Cha Chaan Teng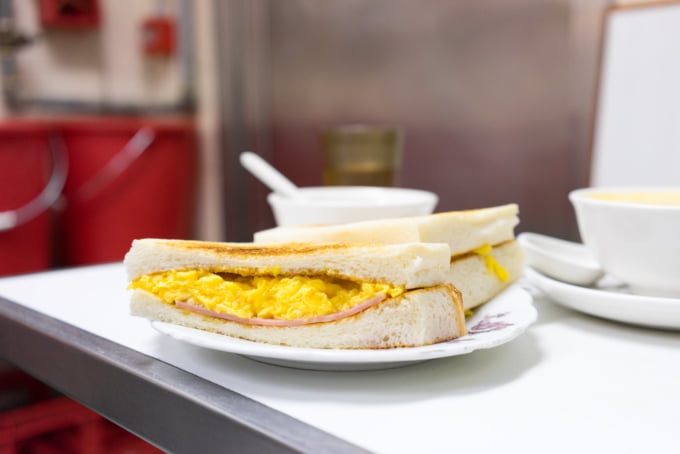 Photo by City Foodsters/Flickr
Cha chaan teng are Hong Kong-style diners. These casual eateries became popular in the 1950's and 1960's as the demand for cheap, fast Western-style food grew. The result is a delightful blending of Cantonese and Western cuisine, and today some of Hong Kong's most delicious egg sandwiches and french toast can be found in its cha chaan teng.
Cantonese Roast Goose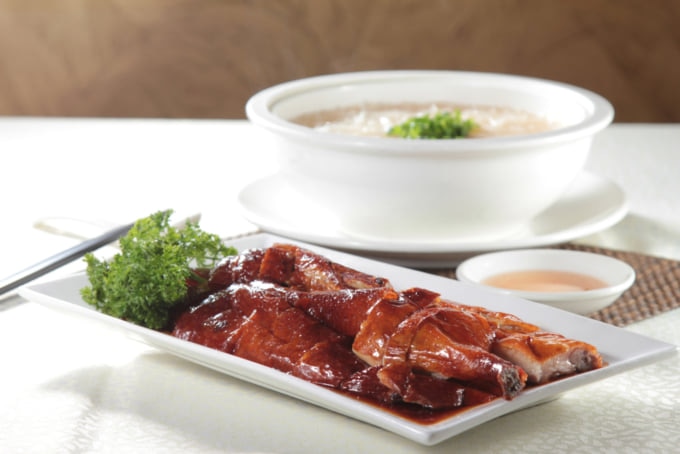 Photo by ctktiger/Shutterstock
The crispy, flavorful skin surrounding the tender meat morsels of a quality roast goose is one of Hong Kong's most sought-after foods. Charcoal-roasted at extremely high temperatures, the dish is virtually impossible to recreate at home, and diners flock to Cantonese restaurants like Michelin Bib Gourmand Yung Kee to get their fix. Roast goose is typically served with a plum dipping sauce and can be one of the siu mei (roasted meats) with dim sum.
Hong Kong-Style Milk Tea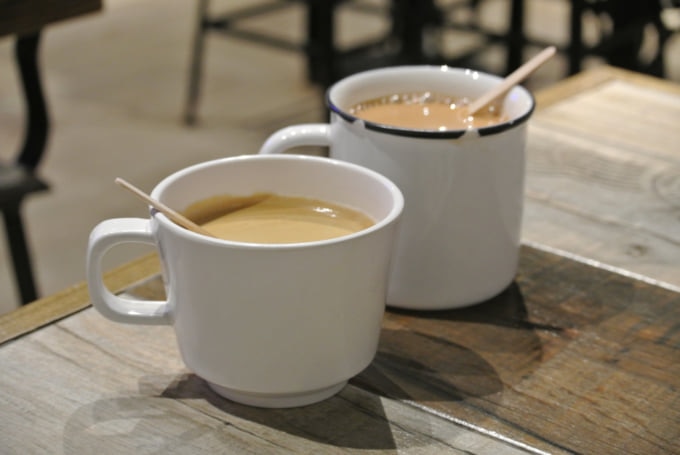 Photo by Chevy Wan/Shutterstock
Hong Kong's milk tea is made with strong black tea and sweetened condensed milk, making for a rich and flavorful drink. It can also be made with evaporated milk and sugar instead of sweetened condensed milk, allowing customers to customize the sweetness in their cup. In Hong Kong, milk tea is as commonplace and beloved as a cup of coffee in North America.
Pineapple Bread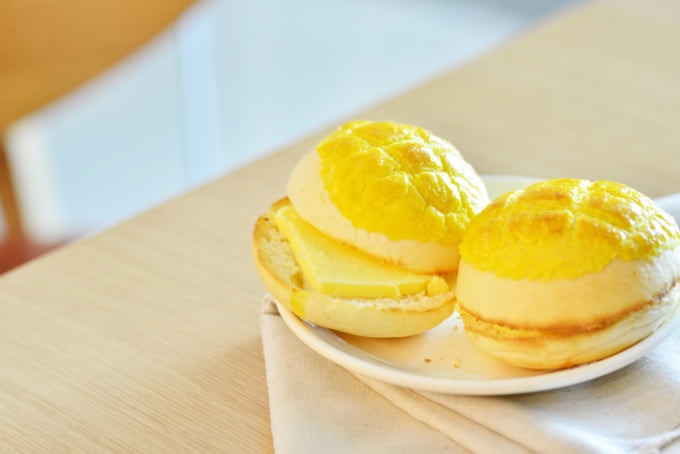 Photo by Hello RF Zool/Shutterstock
The pineapple bread or pineapple bun is made with a sweet and simple dough topped with a crunchy cookie shell. The natural crumbling of the cookie layer when baking creates a look similar to the skin of a pineapple, hence the name 'pineapple bun'. The snack is found in bakeries, dai pai dong (street vendors) and cha chaan teng throughout Hong Kong where you'll often see it cut in half and stuffed with butter.
In Conclusion
Often imitated but never duplicated, Hong Kong's best dishes include the country's world-renown roast duck and internationally-famous egg waffles, and should be included in every traveler's Hong Kong itinerary.