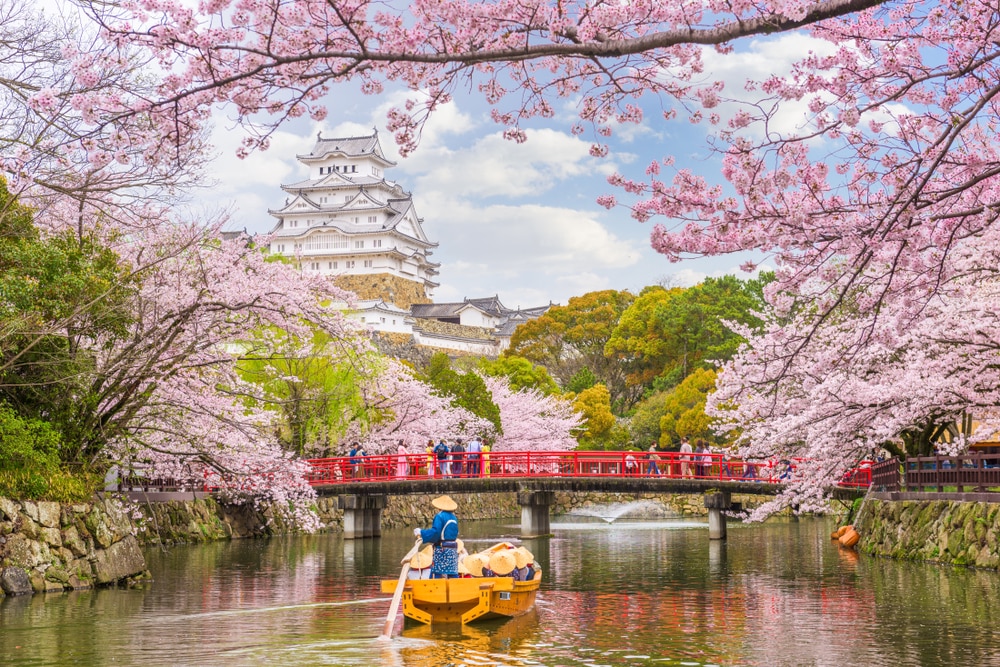 Photo by Sean Pavone/Shutterstock
The Top 10 Most Beautiful Japanese Castles
There are now just over one hundred castles in Japan today. Some are original, preserved structures which, against all odds, survived centuries of natural disasters, revolutions and neglect before finally being restored to their former glory. Others are replicas, monuments and reminders of an earlier time. Whatever their classification, these ten Japanese castles are the most striking of all.
table of contents
[x] close
Himeji Castle, Hyogo
A UNESCO World Heritage monument and a National Treasure of Japan, Himeji Castle is the prototypical image of traditional Japanese castle architecture. This splendid castle complex in Himeji City, Hyogo Prefecture, was first built in 1561. It survived both the Meiji Restoration and the bombing of World War II to become the nation's largest and most-visited castle.
Kanazawa Castle, Ishikawa
Photo by tk312001/Shutterstock
Kanazawa Castle was once owned by the Maeda clan, the second-most powerful family during the Edo Period. One of the castle's most eye-catching features is its long Gojukken Nagaya, a defense structure that also functioned as a warehouse for weaponry and other supplies. The nearby Kenroku-en was once the private garden of the Maeda clan and part of Kanazawa Castle, and is now considered one of Japan's 'Three Great Gardens'.
Hikone Castle, Shiga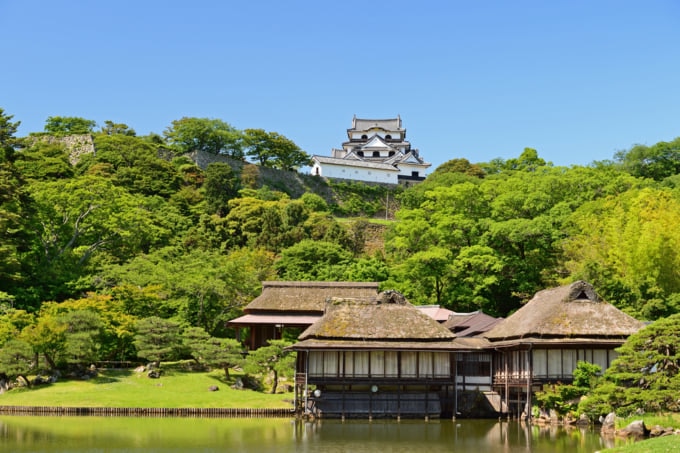 Photo by hayakato/Shutterstock
Another of Japan's National Treasures and a source of pride for Shiga Prefecture, Hikone Castle was completed in 1622 on the order of the feudal Li Clan. The castle is unique among Japanese castles in that it retains most of its original structures, including the main keep, stables and several turrets. As a result, the grounds of Hikone Castle are extensive, and offer a rare glimpse of daily life inside these ancient fortresses, which were not just military strongholds but private residences of the elite.
Nagoya Castle, Aichi
Photo by cowardlion/Shutterstock
Finished in 1615, Nagoya Castle was ordered by the former shogun and most powerful man in Japan, Tokugawa Ieyasu, for his son, Yoshinao. Fittingly, the private living quarters of the Honmaru (innermost) Palace were appointed with luxurious gold paintings on the ceiling, walls and sliding doors, along with solid gold shachi - fearsome dragon-like fish meant to ward off fire - to watch over the property. Nagoya Castle recently reopened to the public in 2018 after extensive reconstruction and repair efforts.
Matsumoto Castle, Nagano
Photo by Theeraphong/Shutterstock
Matsumoto Castle has been almost completely preserved through the centuries thanks to the efforts of a few local residents. Finished around 1594, the castle focused heavily on defense, and today visitors can climb the steep wooden stairs of the keep meant to deter enemies in heavy armor. The main keep also contains a 'secret' living quarter where the lords would wait during a siege, as well as a moon-viewing pavilion - the only castle in Japan to have one.
Shuri Castle, Okinawa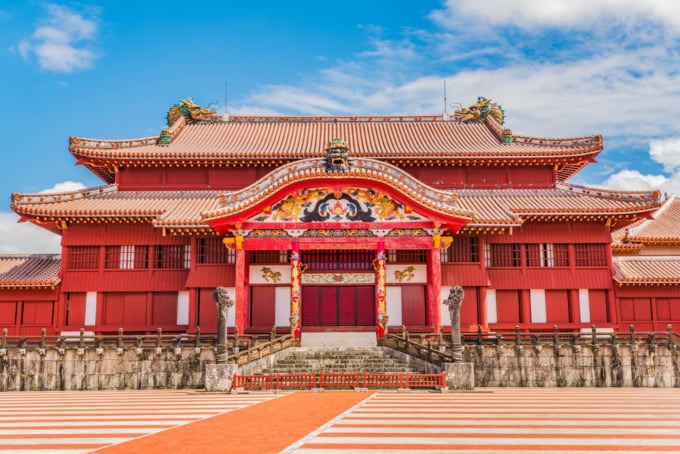 For 400 years, Shuri Castle of the Okinawan Islands was the seat of the Ryuku Kingdom, a maritime peoples who ruled the islands until the aristocracy was abolished and the lands annexed by the Japanese Meiji Government in 1879. The Ryuku Kingdom had close ties to China, and the castle reflects Chinese architectural elements of the time. Shuri Castle was destroyed during World War II, rebuilt in 1992 and just recently leveled again by an electrical fire in 2019, however plans for rebuilding are already underway.
Kumamoto Castle, Kumamoto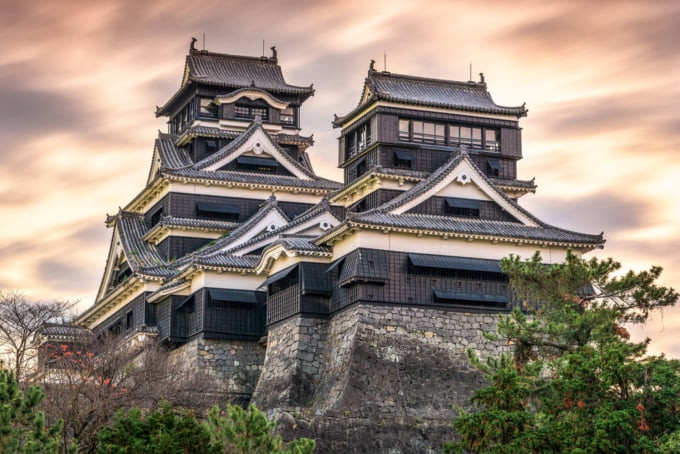 Photo by Sean Pavone/Shutterstock
Kumamoto Castle is known for its striking black walls and roof, along with the dramatically curved defense walls for repelling attackers. Along with Himeji and Matsumoto Castle, Kumamoto Castle is considered one of the top three Japanese castles. The castle reopened in autumn 2019 after it was damaged in an earthquake three years prior, but more repairs are scheduled for the next fifteen years.
Wakayama Castle, Wakayama
Photo by C.Lotongkum/Shutterstock
Wakayama Castle was reconstructed after World War II as a symbol of the region's feudal history and power, though some of the walls and gates are original features. The castle is ideally situated on a small hill overlooking the city, and the spacious grounds include a scenic garden and teahouse where visitors can try matcha and traditional Japanese sweets known as wagashi.
Okayama Castle, Okayama
Photo by cowardlion/Shutterstock
Beginning in 1573, the original construction of Okayama Castle took over 20 years to finish. The castle changed hands a few times before finally ending up as property of the Ikeda Clan, who further expanded it and built the traditional strolling gardens, Koraku-en. Okayama Castle's dark grey exterior has earned it the nickname 'Ujo' or 'Raven Castle'. Two of the castle watch towers date back to its original construction during the Sengoku Period and are Important Cultural Properties of Japan.
Shimabara Castle, Nagasaki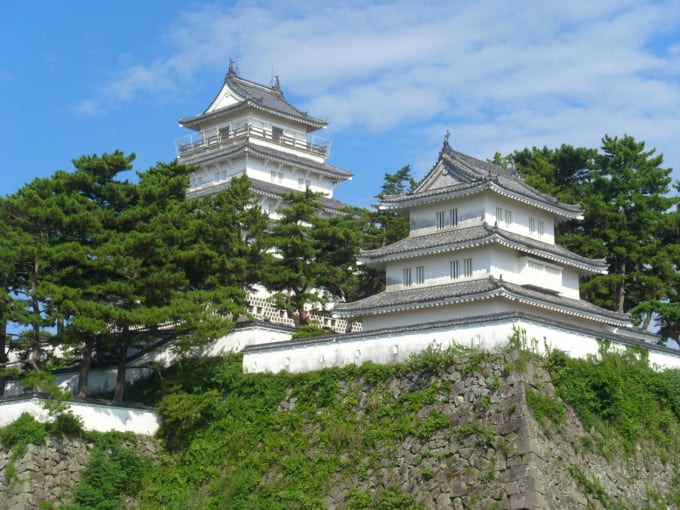 Photo by Luftikus/Shutterstock
Shimabara Castle was finished around 1624, and was partly responsible for the Shimabara Rebellion of 1637. The castle's lord, Matsukura Shigemasa, was a cruel man who heavily taxed and oppressed his subjects, in order to fund the castle's construction. Shimabara Castle's moat and stone walls date back to the Edo Period, while the main keep and other structures were rebuilt using old records for reference.
In Conclusion
Japan's most beautiful castles are striking, not just in size and scale but with their complex and exciting history, rare artifacts and unusual designs. From island strongholds to hilltop fortresses, these ten Japanese castles are some of the best.