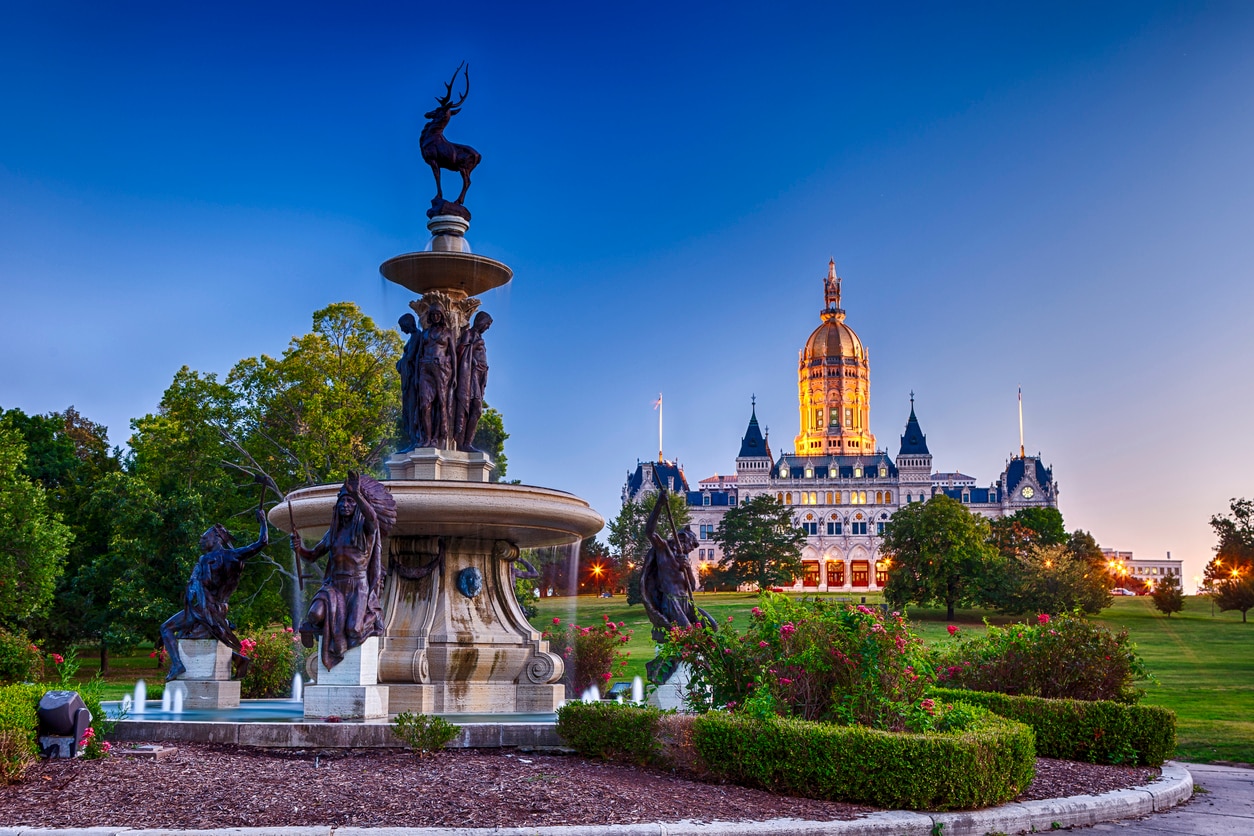 Hartford:A Tourist Attraction City that Is Home to Two American Literary Giants – Mark Twain and Harriet Beecher
Hartford was founded in 1635 and is a recognized as the capital of the U.S state of Connecticut. it is as well-known known as the 'insurance capital of the world" a nickname that it earned from hosting numerous insurance company headquarters. It is a tourist attraction destination that boasts of the gorgeous park, unique museum and performing arts facilities.
table of contents
[x] close
Hartford:A Tourist Attraction City that Is Home to Two American Literary Giants – Mark Twain and Harriet Beecher
1. Wadsworth Atheneum Museum of Art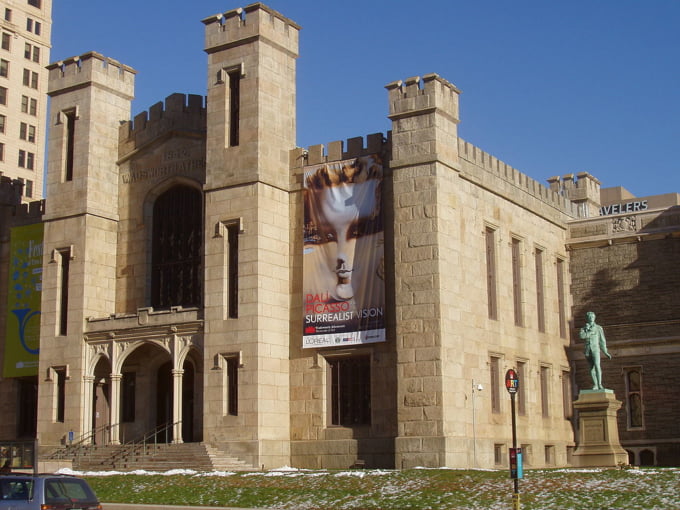 Photo by commons.wikimedia.org
The Wadsworth Atheneum Museum of Art was founded in 1844, and it is famous as the oldest art museum in the U.S. it occupies 196,000 square feet making the largest in Connecticut as well be listed as the National historic place. It hosts a vast collection of the American impressionist paintings that have been developed by the contemporary artists. Also, find the impressive French picture done by the experts from the Hudson River school. The museum is also favorite due to its American gallery of decorative art and furniture. Visitors can participate in the exciting programs that are happening in this museum such as education and film screening.
Name:Wadsworth Atheneum Museum of Art
Address:600 Main St, Hartford, CT
Related Site:https://thewadsworth.org/
2. Elizabeth Park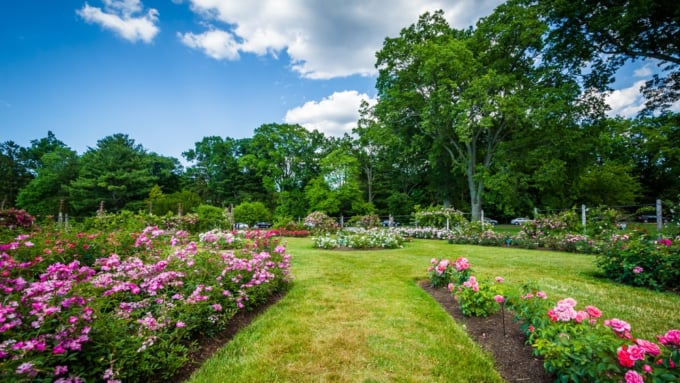 Photo by Jon Bilous/shutterstock.com
The most beautiful and serene place in the Harford city with a recreational area covering 102 acres and situated at the Asylum Avenue. The flower garden inside this park makes it a fascinating tourist attraction contain numerous collection of rose flower. You can take a walk in the fantastic pathways around this park and especially around the rose flower garden where you can find various species of cute butterfly. The pond in the park offers an opportunity to learn about the different rare fish of all colors. Also, you there is tennis court where you can play to spice up your sightseeing visit.
Name::Elizabeth Park
Address:1561 Asylum Avenue, West Hartford, CT
Related Site:http://elizabethparkct.org/
3. Connecticut Science Center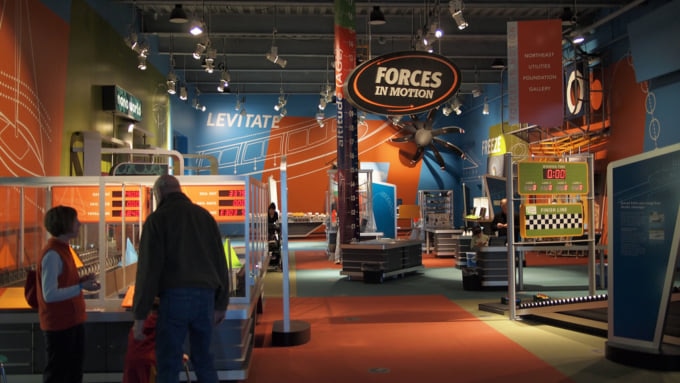 Connecticut Science Center is a nine-story building Museum and a theatre that was opened in 2009. It is located along the Connecticut River in Hartford and with an area coverage of 400,000 square feet. It is a spectacular place to learn and see endless collections of items and is a recognized as one of the to Hartford attraction sites for families. It is known to have a significant gallery that is composed of audio, tactile, and visual exhibits. Visit different sections in this museum to enjoy the fascinating items. For example, the sight and sound demonstrate the magic of combining art, music, and science.
Name:Connecticut Science Center
Address:250 Columbus Boulevard, Hartford, Connecticut
Related Site:https://ctsciencecenter.org/
4. Bushnell Park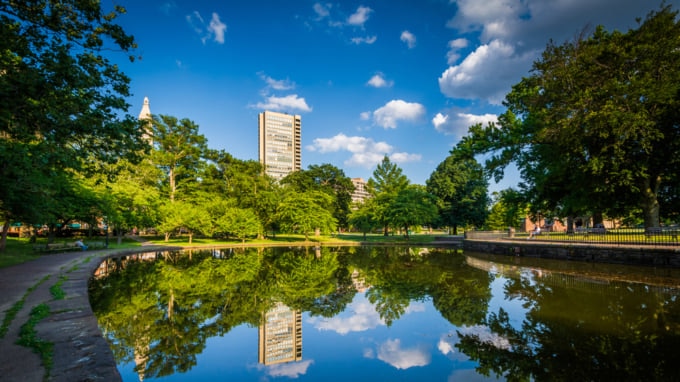 Photo by Jon Bilous/shutterstock.com
Bushnell Park is dedicated to offering people of the Hartford and the surrounding areas a green environment and was initiated by the Reverend Horace in the mid-19th century. It covers a beautiful area of 50 acres for recreational purposes. It has been recognized as fabulous sightseeing site which has well-done pathways for walking, hiking, jogging, picnicking. Also, find a fish pond that is well decorated showing the various unique and colorful baby fish. Get an entertainment of a year in the performance pavilion, a carousel and the corning fountain that adds fun to this tourist attraction site.
Name:Bushnell Park
Address:1 Jewell St, Hartford, CT
Related Site:http://www.bushnellpark.org/attractions/the-carousel
5. Charter Oak Landing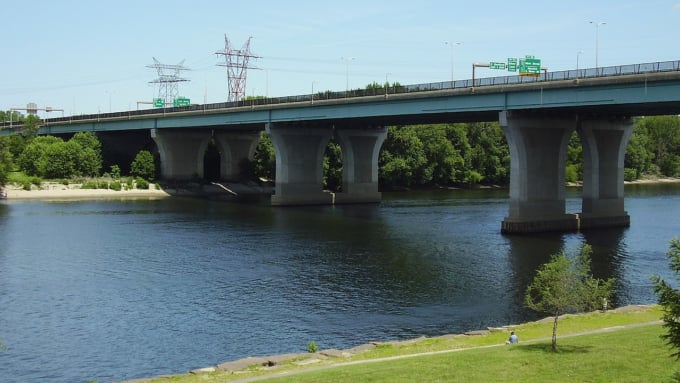 Photo by commons.wikimedia.org
Charter Oak Landing is a park where people come to take the boat to various destinations. It is a beautiful park that is a paradise take leisure walks, jogging, picnicking and bike riding due to its spectacular pathways. Also, engage in fun activities such as fishing and boat riding in a pleasant ecosystem. The grass is well maintained and perfect for hiking and spending time as a family. Enjoy music performance in the park as you spend some time though not always. The kids also have a lot of enjoyment of clean and well-manicured playgrounds that have thick grass cover. Enjoy photography in this beautiful park with well planted and cut trees.
Name:Charter Oak Landing
Address:50 Reserve Rd, Hartford, CT
Related Site:http://www.riverfront.org/parks/charter-oak-landing
6. The Bushnell Performing Arts Center
The Bushnell Performing Arts Center was formerly known as the Bushnell Memorial Hall that was given that name in remembrance of the Horace Bushnell, a well-recognized intellectual scholar. The center was built during the famous great depression period which took place during 1929 and 1930. It is composed of various theatres that act as tourist attraction sites such as the Mortensen Hall and Maxwell M. and R. Belding Theatre. It hosts a world-class performance from famous artist such Symphony Orchestra and also coupled with educational programs from around the world. Get to see live performance every night that will leave excited.
Name:Bushnell Performing Arts Center
Address:166 Capitol Avenue, Hartford, Connecticut
Related Site:https://bushnell.org/
7. Mortensen Riverfront Plaza
The Mortensen Riverfront Plaza is a park in the proximity of the Hartford city located it the downtown. It is the center area of the Riverfront park system and an extensive area near the river that hosts numerous excellent performance with a good grass cover that offers a sitting space for over 2500 visitors. Do some workouts on the stairs as you relax and watch the boats on the river. Get the thrilling action of the boat racing while you are in this park and as well enjoy walking on the trails located near the river. You can also take a boat to the city or walk across the iconic Founders bridge structure to the East Hartford.
Name:Mortensen Riverfront Plaza
Address:Mortensen Riverfront Plaza, I-91, Hartford, CT
Related Site:http://www.riverfront.org/parks/mortensen-riverfront-plaza
8. Museum of Connecticut History
The Museum of Connecticut History is positioned in the magnificent renovated 1910 historic building that houses the State library and the supreme court. It is dedicated towards the state's government, factories, and military history. It is a superb tourist attraction site that displays various collections that are temporary and permanent. The displays include the portraits of the former Connecticut Governors. Also, it holds exhibitions of boxes that contain essential historical books such as state's original Royal charter from 1662. Also, see other essential items such as flags, weapons, uniforms and other significant historical objects. Entry to this museum is free and is open to the public.
Name:Museum of Connecticut History
Address:231 Capitol Avenue, Hartford, Connecticut
Related Site:http://museumofcthistory.org/
9. Riverside Park
The riverside park is an all-around park that offers all the recreational and fun activities. It is a Victorian-era park located downtown on the Harford to the north. As a tourist attraction, it provides spectacular fun and enjoyment activities such as rowing docks in the river, boat riding, sports activities- volleyball, cricket and playgrounds for children. It has some long trails of more than 4.5 miles passing through beautiful trees exposing the canopies of the mature cottonwood trees. With various designated points for the gallery, it is paradise for photography lovers. It is open from sunrise to sunset all days in the year to the public.
Name:Riverside Park
Address:20 Leibert Rd, Hartford, CT
Related Site:http://www.riverfront.org/parks/riverside-park
◎ Closing
Hartford is home to parks and museum that are internationally recognized because of their precious preservation of the specific history. You need to visit Hartford to enjoy exciting tourist attraction that will make you even learn enjoyably. It is family getaway for they have a recreational site that fits all ages.