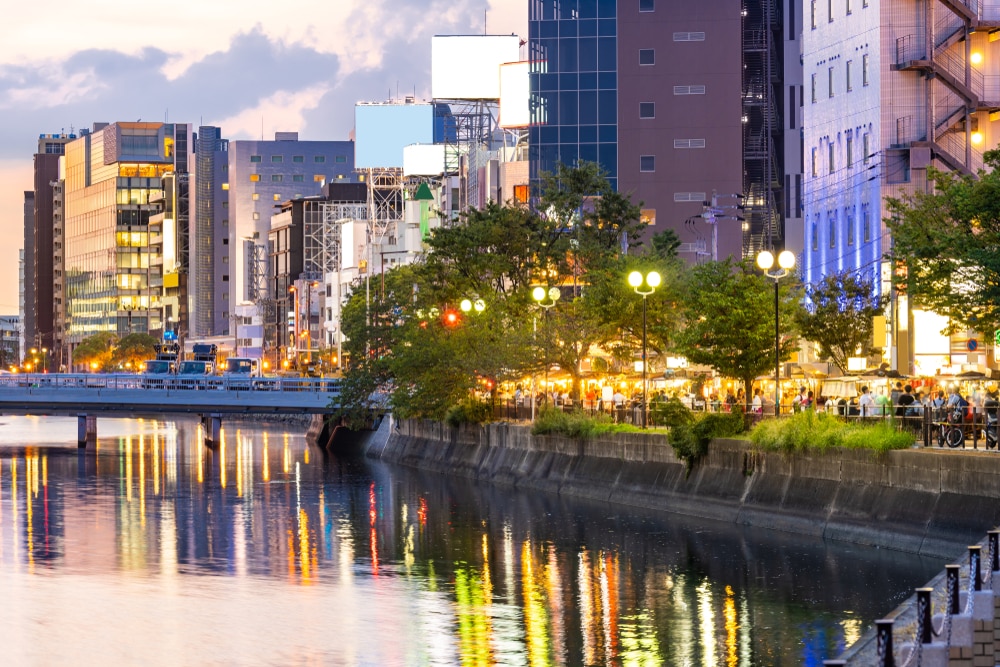 Photo by vichie81/Shutterstock
The Top 10 Things to Do and See in Fukuoka Prefecture
Although most people just associate it with the city, Fukuoka is a large and populous prefecture on one of Japan's four main islands, Kyushu. The vast region stretches from the Kanmon Straits in the northeast to the Ariake Sea in the south, and is blessed with both scenic shores and picturesque parkland. In the city, Fukuoka is buzzing with activity, and one of the few prefectures in Japan with a growing population. Come and see what all the fuss is about, and don't forget to add these top ten things to do in Fukuoka Prefecture to your travel itinerary while you're at it.
table of contents
[x] close
The Top 10 Things to Do and See in Fukuoka Prefecture
Yanagawa River Canals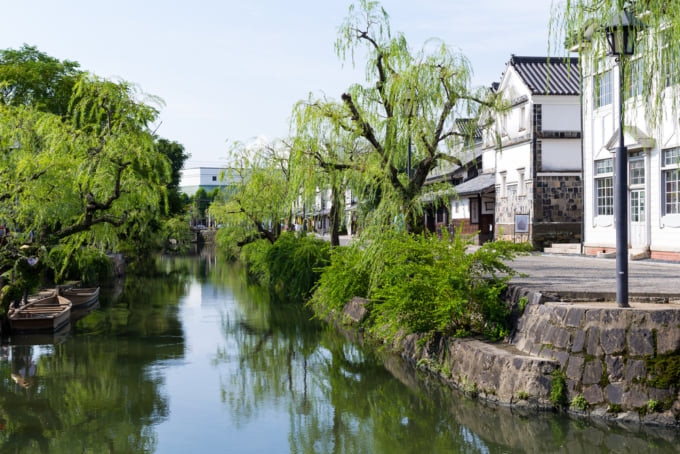 Photo by Leungchopan/Shutterstock
The historic canals running through the town of Yanagawa were once used for irrigation by small farming communities who settled there, and were later expanded and incorporated into the defenses of the old castle. Today, these waterways have been restored and are the small town's claim to fame. People come from all over Japan to experience the town's river cruises in their flat-bottomed donkobune boats and the warm hospitality of Yanagawa's residents.
Kawachi Fuji Gardens Wisteria Tunnels
The picture-perfect wisteria tunnels of Kawachi Fuji Gardens in the city of Kitakyushu bloom for just a few weeks each year, from late April to mid May. With over 22 different varieties of wisteria and nearly 200 meters of tunnels as well as arbors and trellises adorned with the colorful and fragrant flowers to admire, the gardens have shot to fame and become one of the top flower-viewing spots in Japan. With such a short blooming season and a growing demand to see them, Kawachi Fuji Gardens requires advance ticket purchases, so be sure to book beforehand to avoid disappointment.
Nanzo-in and the Reclining Buddha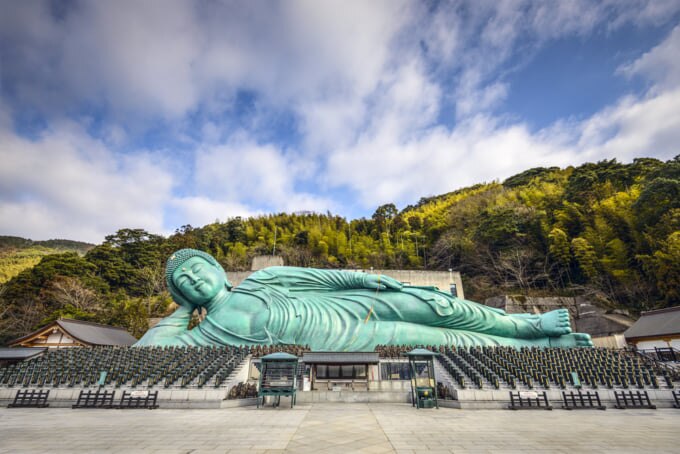 Photo by ESB Professional/Shutterstock
Nanzo-in is a Buddhist temple in Sasaguri, Fukuoka Prefecture. The temple's most notable feature is the enormous statue of a Buddha in repose, intended to depict the moment of death and the achievement of Nirvana. The world's largest bronze statue, Nanzo-in is the destination of pilgrims along the preserved Sasaguri Pilgrimage Route, one of only three famous pilgrimage routes in Japan.
Dazaifu Tenman-gu and Omotesando Shopping Street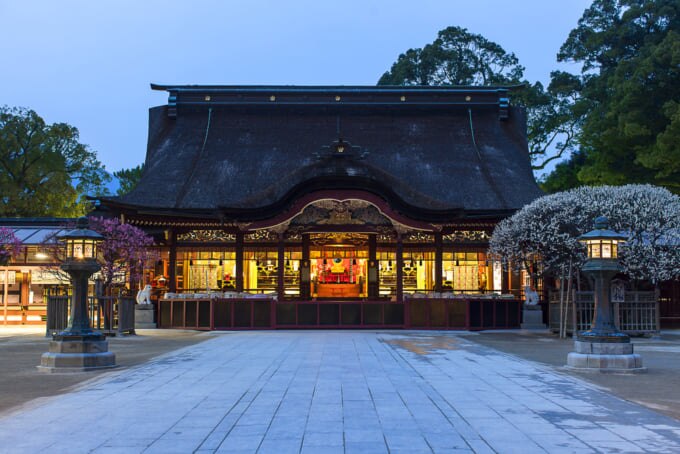 Photo by Sollafune/Shutterstock
Just a short bus ride from Fukuoka City, the town of Dazaifu is known for its historic teramachi (temple town) and impressive collection of shrines and temples. Among these, Dazaifu Tenman-gu, the area's premier Shinto shrine, and Komyozen-ji, a large Buddhist temple with a picturesque Zen garden, are not to be missed. The lively pedestrian shopping street leading to Dazaifu Tenman-gu is also famous for its unique Starbucks location designed by renown Japanese architect Kengo Kuma.
Uminonakamichi Seaside Park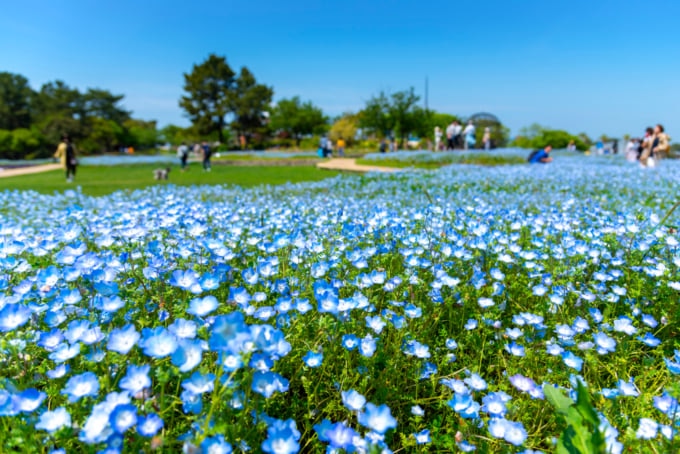 Photo by iamlukyeee/Shutterstock
Uminonakamichi Seaside Park is a spacious park covering 300 hectares, located on a sandbar in Hakata Bay near Fukuoka City. The scenic park is known for its seasonal flowers which bloom throughout the year, as well as its autumn foliage trails and wintertime lantern illumination. The park houses a petting zoo along with several playgrounds and pools, and is very popular with families.
Fukuoka City's Hakata Old Town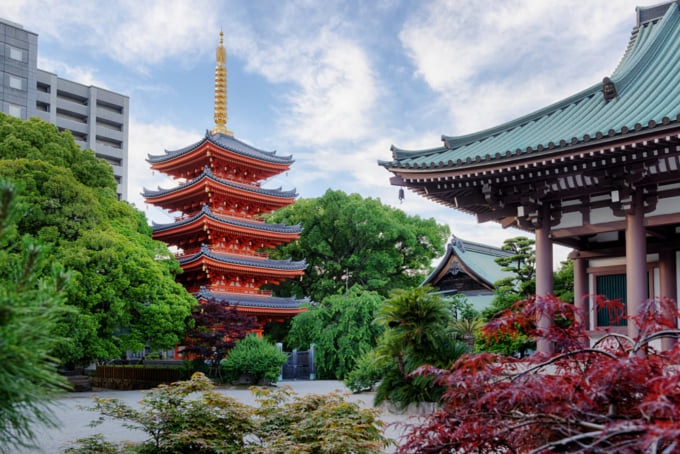 Photo by Mny-Jhee/Shutterstock
The historic center of Fukuoka City, Hakata Old Town is a chance to experience the traditional culture and feudal past of this buzzing port town. The bright yellow Hakata Sennen-no Mon gate welcomes visitors to the Old Town, where countless temples, shrines, gardens and shops await. The red pagoda at Tocho-ji and the imposing black gates of Kushida Shrine are just a few of the recommended stops on a tour of Hakata.
Miyajidake Shrine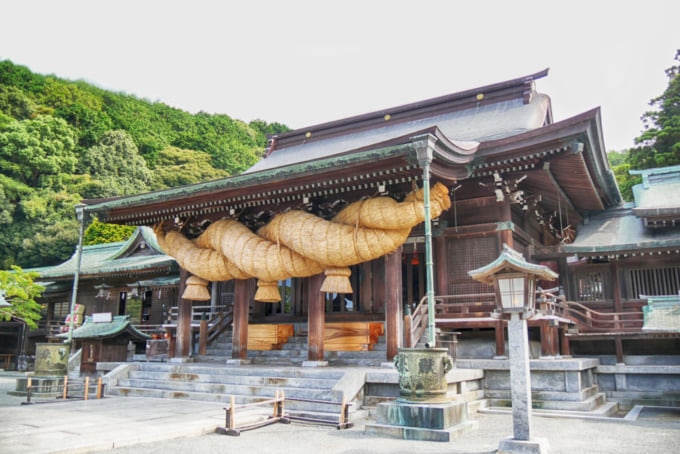 Photo by Ear Iew Boo/Shutterstock
Miyajidake Shrine is dedicated to the Empress Jingu, also known as Okinagatarashi Hime no Mikoto, who reigned from 201 to 269. On the first day of each month, visitors come from all over to see the monthly Tsuitachi Mairi festival, where they can not only join in the well-wishing but shop for souvenirs and snacks from the vendors along the way. Miyajidake Shrine's most notable features are the enormous 'Three Number Ones', a five-tonne straw rope (shimenawa) strewn over the main hall along with the giant bell and drum.
Nokonoshima Island Park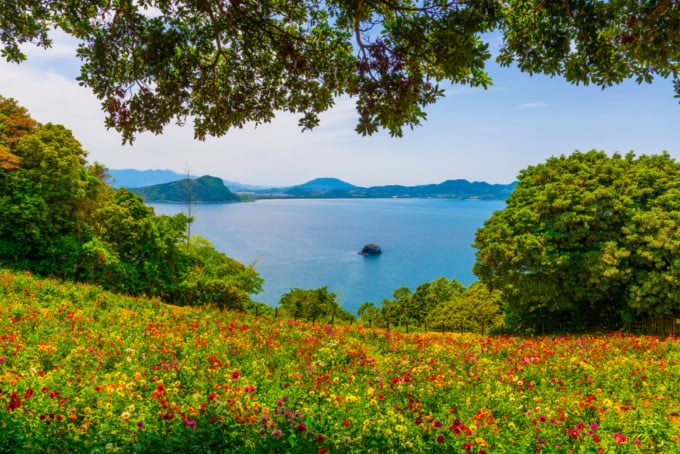 Photo by Mny-Jhee/Shutterstock
Nokonoshima is a small island and scenic parkland off the coast of Fukuoka City and accessible by a short 10-minute ferry ride from Hakata Port. Most famous as a flower-viewing spot during the spring and summer, the island is an escape to nature from the busy city. There's plenty to see and do on Nokonoshima, from a campground and barbecue pits to walking trails and cafes.
Fukuoka Tower and Momochi Seaside Park
Photo by Kai Keisuke/Shutterstock
Fukuoka's most iconic landmark, the soaring Fukuoka Tower is located in the Momochi seaside area of Fukuoka City. Visitors can pay to check out the multi-level observatory, which offers scenic views over the ocean and a bird's-eye view of the city. After checking out Fukuoka Tower, grab a snack and relax on the beach at Momochi Seaside Park, just a short walk from the tower.
Kitakyushu Museum of Natural History and Human History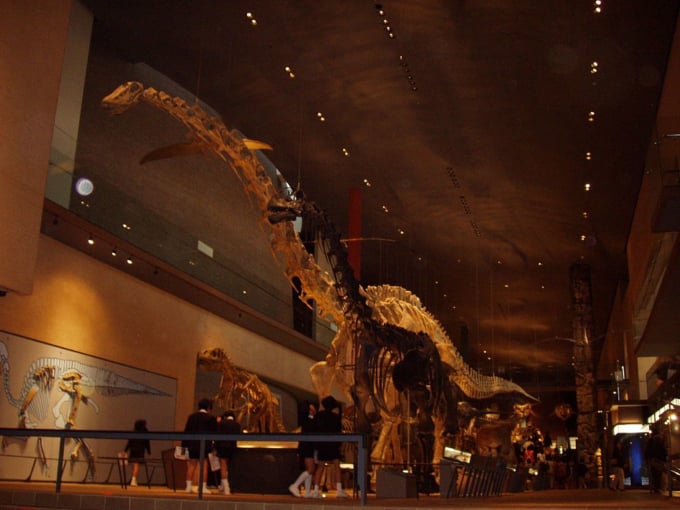 Located in the city of Kitakyushu, the Museum of Natural History and Human History is one of Fukuoka's Prefecture most acclaimed attractions. Perfect for families with kids, the museum's Time Traveling Room features exhibits on the Kitakyushu of the Cretaceous Period, with water and land exhibits and lifelike dinosaurs including the timeless favorite, velociraptor. The museum's longest exhibition hall, History of the Earth and Life, features fossils and skeletons from the Paleozoic, Mesozoic and Cenozoic Periods.
Sakurai Futamigaura Meotoiwa Scenic Spot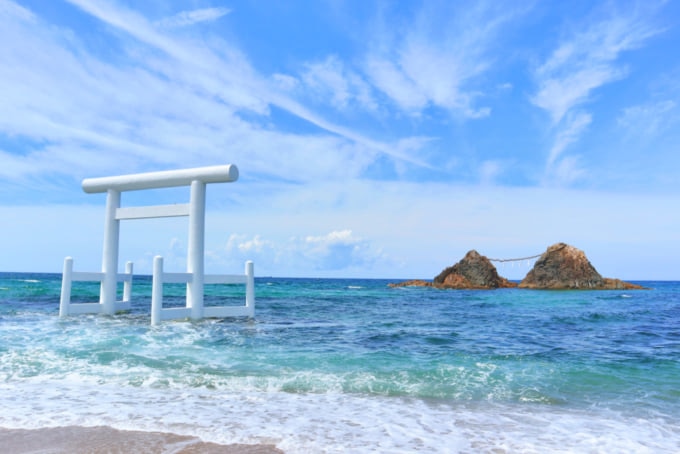 Photo by slyellow/Shutterstock
Located on the Genkai Sea, Sakurai Futamigaura is a scenic spot in Shimasakurai, Fukuoka Prefecture. On a sandy, rocky shore, a large white torii (Shinto shrine gate) is anchored into the sand, and the 'Meotoiwa' or Married Couple Rocks are off the coast, battered by the sea and linked by a sturdy straw rope (shimenawa). There are many cafes and picturesque shores along this coast, and it's popular with beachcombers and surfers.
In Conclusion
From the entertainment mecca of Fukuoka City to the postcard-perfect canals of Yanagawa, there's truly something for everyone in Fukuoka Prefecture. Locals have already figured out the charms of this thriving coastal region, and it's only a matter of time before everyone realizes it's one of Japan's top travel destinations.