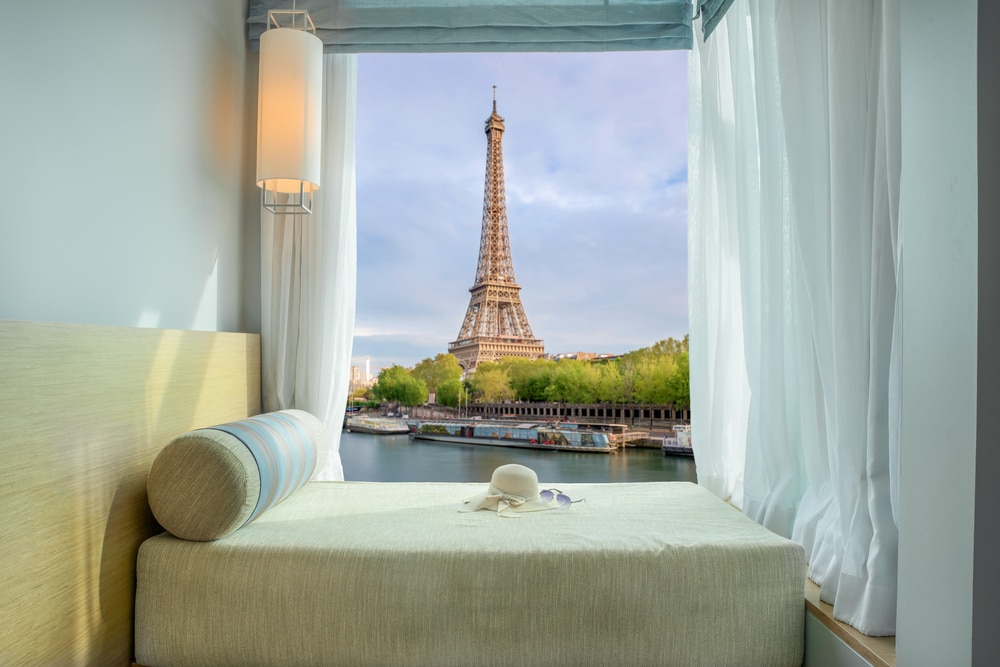 Photo by Travelerpix/Shutterstock
Where to Stay in Paris: 7 Unique Parisian Hotels to Spice up Your Stay
A brilliant aspect of staying in Parisian hotels is that besides the French charm and sophistication, visitors get to see a more lively and modern character of the local culture. From the chic and vintage to the colorful and cheeky, hotels in Paris take an identity of their own, and are sure to charm you with their unique appeal.
table of contents
[x] close
Where to Stay in Paris: 7 Unique Parisian Hotels to Spice up Your Stay
VIP Paris Yacht Hotel
No visit to Paris is complete without taking a cruise down the Seine. An event that oozes romance, it's also perfect for those that want to enjoy a relaxed time appreciating the unmissable views of the city from the iconic river. With options ranging from a two-hour cruise to a luxurious overnight stay, VIP Paris Yacht Hotel is a fantastic way to combine a top city excursion along with a novel stay. The rooms are surprisingly spacious and comfortable, featuring a writing desk, TV, and queen or king-sized beds. Residents are recommended to opt for the dinner cruise for some mouth-watering French cuisine and live music entertainment.

Point to note: The VIP Paris Yacht has six suites with private spas, that are must for any honeymooning couple.
Address: 7 Port de la Rapée, 75012 Paris
Seven Hotel
Located in the Latin Quarter, Seven is one of Paris' most vivid and striking hotels. A 'designer hotel' par excellence, it features individually decorated rooms that star vibrant lighting and contemporary themed-furniture. Among the seven intimate suites of the hotel are the Secret Agent suite and Lovez-Vous suite, which consists of an incredible levitating bed. The hotel also has a lounge and patio, wonderful for spending a quiet evening after a long day of sightseeing.

Point to note: The staff at Seven are known for their immaculate and friendly service. Unknown to many guests, they are more than happy to send across your breakfast to the room, in case you feel like lazing around for a little longer.
Address: 20 Rue Berthollet, 75005 Paris
Hotel du Continent
A passion project of French designer Christian Lacroix, Hotel du Continent, is every avid traveler's dream come true. Housed in a six-floor building, each floor represents a different continent with the poles merged on one level. The 25-room, three-star dwelling is a fascinating journey around the planet that you can take while enjoying the many spoils of living in the center of Paris. The interiors of the rooms are an explosion of colors with objects, paintings, and the walls, full of exquisite scenes, each one with a story to tell.

Point to note: The lobby of the Hotel du Continent has a tiny 'honor bar,' stocked with wine, non-alcoholic drinks and coffee.
Address: 30 Rue du Mont Thabor, 75001 Paris
Brach Paris
From being a run-of-the-mill postal sorting center to becoming an epitome of design and extravagance, Brach Paris is refined, classy, and soothingly inviting. With the great Philippe Starck behind the hotel's decor, visitors can expect a melange of textures and tones seeping around every corner of the living spaces. Tasteful furnishings, fascinating decorative pieces, and the use of different elements give each room a unique identity adding to the attractiveness of each stay at the Brach. The hotel also has an in-house 'concept store,' swimming pool, and several books on various local and international subjects.

Point to note: The seven suites at Brach all come with terraces and access to the hotel's rooftop kitchen garden. Besides the in-room jacuzzi, suite guests have at their disposal a BMW i3 and butler service.
Address: 1-7 Rue Jean Richepin, 75016 Paris
Paris Boutik
There are boutique hotels, and then there is Paris Boutik. A genuinely unique adventure, the 'hotel' consists of two separate residences that were each converted from actual Parisian boutiques. The interiors of both homes are contemporary, with care taken to present a space that is both cozy and homely.

La Librairie, situated near the Picasso Museum, is a single room with an en-suite bathroom and kitchenette. Keeping up with the bookshop theme, there are shelves full of reading material, enough to keep a bibliophile busy for a few years. L'Epicerie, on the other hand, is located next to Gare de Lyon. It's a duplex residence with two separate rooms done up in an authentic Parisian grocery store style.

Point to note: While unique in their concept, both of Paris Boutik's apartment like rooms are brimming with modern amenities. A Nespresso machine, Bose sound system, fridge, microwave and free WiFi all come as standard.
Address: 12 Rue Caffarelli, 75003 Paris and 12 Rue Parrot, 75012 Paris
Nolinski Paris
With its location, only a short hop away from the Louvre, Nolinski Paris is perfect for those who want to be in the center of everything Paris has to offer. The minimalistic yet classic interiors give off a sense of warmth that nurtures the mind, body, and soul. Bathing in French subtlety, separate color themes grace each room with an individual personality, which further adds to the charm of staying here. The hotel is also popular with locals as a destination to indulge in spa and salon treatments that are among the best in the city.

Point to note: The concierge at the Nolinksi is a treasure trove of information on Paris' hidden spots and must-see excursions. Spend a little time conversing with him, and you just might find something genuinely fascinating that is off the typical tourist route.
Address: 16 Avenue de l'Opéra, 75001 Paris
Hotel Odyssey
Inspired by the Japanese concept of capsule hotels, designer Ora-ito presents a futuristic space that captivates the essence of minimalistic living. The bright and amusingly welcoming rooms of Hotel Odyssey are a private cocoon that transforms guests into a 'zen-like' state, away from the hustle and bustle of the city. The hotel will especially appeal to design enthusiasts with its clean-cut lines and patterns that highlight elements such as wood and glass, featured throughout the hotel. In addition, its location close to the heart of Paris makes it the perfect place to stay when wanting to discover some of the city's main tourist attractions.

Point to note: The hotel serves a rather generous buffet breakfast in its Green Room every day. However, guests can also request for the food to be sent up to their room.
Address: 19 Rue Hérold, 75001 Paris
Conclusion
Although staying centrally is always preferable, when in Paris, it's worth exploring the city's many side streets and suburbs for unconventional abodes that promise a lively stay packed with eccentricities and French elegance.