Walvis Bay : The Little Dubai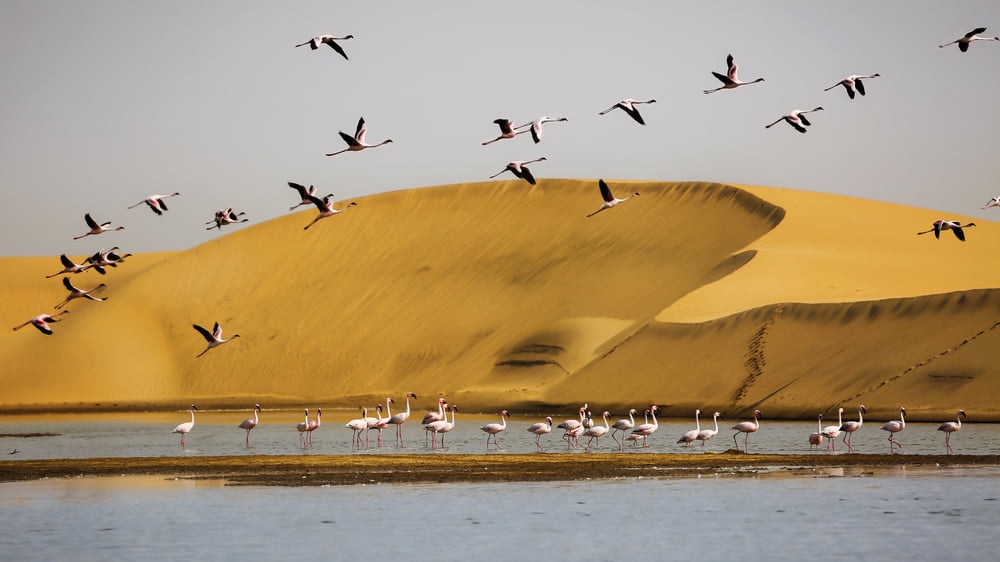 Photo by Carlos A Antunes/shutterstock.com
In the SouthWest coast of Africa along the Atlantic Ocean lies the major port of Namibia, Walvis Bay. The city derives its name from the Afrikaans name, Walvisbaai meaning Whale Bay and spans approximately 29 square kilometers. It was founded in 1973 and the Herero, people who inhabited the area, called it Ezorongondo. Due to its naturally deep waters, the harbor is a haven for deep-sea vessels and boasts a rich variety of birdlife, whales, marine life and planktons. Being the main gateway for exports and imports in the area, it has and continues to boost the local economy tremendously. It has great potential for growth and expansion as more and more tourists flock the area and businessmen set shop.While here, you'll have lots of activities to indulge in, including but not limited to, deep sea fishing, surfing, canoeing, sailing beach walks, and sports. Let's explore some of the best places you can check in during your stay in this beautiful town.
[x] close
Walvis Bay : The Little Dubai:table of contents
1. Walvis Bay Museum
This is a regional museum managed by the Walvis Bay municipality. It is located in a public library and has exhibitions and collections made of cultural history and natural science. The museum has collections with themes based on the cultural history of the area. These include items such as homeware items of the 19th century, Exhibitions relating to natural science has seashells, animal skin and bones, rocks, gemstones, minerals and marine fossils given the rich flora and fauna. It is a member of the Namibia Association of Museums Educational programs, guided tours, and exhibitions facilitated offer an insight into the history of Walvis Bay for both international and local tourists. In the recent past, it has transformed through the upgrade of exhibitions, the establishment of new displays and addition of an education resource center for the public.
Name:Walvis Bay Museum
Address:Nangolo Mbumba Avenue, Walvis Bay, Namibia
Related Site:http://www.museums.com.na/museums/coast/walvis-bay-museum
2. Port of Walvis Bay (Land of Open Spaces)
Port Walvis Bay is the largest commercial port in Namibia. Its strategic location to major shipping routes easily places Namibia as a natural International trade gateway. Major investment in infrastructure ensures efficient and secure vessel and cargo handling. It receives around three thousand vessels in a year making Walvis Bay a world-class Export Processing Zone. To get access to this area, you will need your passport and permission from the police at the Walvis Bay railway train station or the public relations officer at the port. Drop by the port and experience the efficient transshipment and deep anchoring facilities offered at the harbor as you experience fishing activities carried out here.
Name:Port of Walvis Bay (Land of Open Spaces)
Address:13th Rd, Walvis Bay
Related Site:https://www.namport.com.na/ports/welcome-to-the-port-of-walvis-bay/522/
3. Dune 7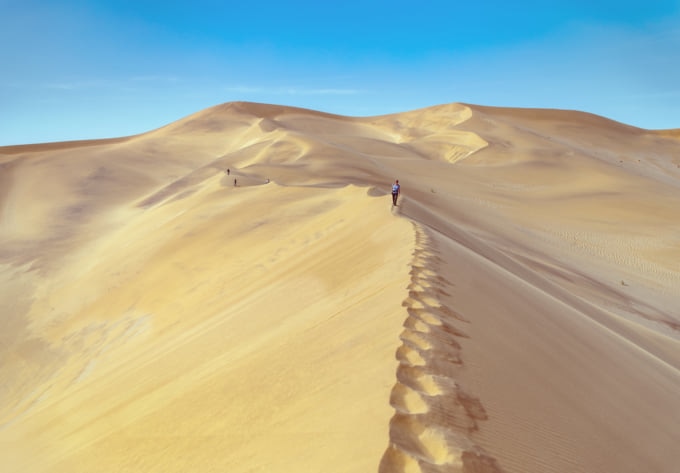 Photo by Vadim Petrakov/shutterstock.com
To the East of Walvis Bay, about 7km from the town lies Dune 7. It is Namibia's highest dune rising to 1,256 feet. This tourist attraction is the seventh past River Tsauchab which runs through the Namib Desert, the world's oldest desert. It is from this occurrence that the Dune gets its name from. Activities you can indulge in while here include sand boarding, quad biking, and skiing. A climb up the dune is an experience like no other; you'll feel like you are on top of the world. As you go down, enjoy lunch and a beer at a local restaurant or rest under the shade of scanty palm trees offering a picnic feel to help you cool off from the hot sand. An arts and curio shop with a variety of glassware, sand art, souvenirs, and paintings ensure that you have something to bring back home to your loved ones.
Name:Dune 7
Address:Walvis Bay, Namibia
Related Site:http://dune7adventures.com/
4. Rhenish Mission Church
Founded in 1880, this church belonged to the Rhenish Missionary Society and is Walvis Bay's oldest building. It was built from 1865-1867 with an original tower that collapsed but was later redone in 1904. The church is as was originally built, with its building materials having been shipped from Hamburg town, Germany, during its construction. During the native wars, it was a refuge place and is in the present day used to conduct church services by Paulinum Theological Society. Otjimbingwe, the area where the church is located in a traditional center rich in the history of the Herero people where you can learn a thing or two about this interesting populace. It is one of the national monuments in Namibia following a proclamation on November 24th, 1972.
Name:Rhenish Mission Church
Address:9th St W Walvis Bay, Namibia
5. Bird Island
10km north of Walvis Bay town along the Swakopmund road is a humanmade wooden platform known as Bird Island. It was constructed by Adolf Winter in the year 1912. It is 17,000 meters squared in area and a breeding ground for birds. Guano, a component used in the manufacture of fertilizers is collected here, cleaned, ground into powder form and exported.
Name:Bird Island
Address:B2, Walvis Bay, Namibia
6. The Raft Restaurant
This unique and stunning restaurant is situated in the Walvis Bay lagoon on Namibia's West Coast offering amazing views of pink Namibian flamingoes, dolphins, seals, pelicans, Its floor is made from old timber and jetty poles found in the Walvis Bay area while the chairs and tables are locally made from natural wood. The chairs are also upholstered in natural hides giving the restaurant a rustic feel, a perfect place to relax over a glass of wine and enjoy sumptuous dinners as you marvel at the magnificent views over the lagoon. It offers a variety of local cuisine, seafood, and game meat. This is not your ordinary restaurant, do not miss out!
Name:The Raft Restaurant
Address:The Esplanade Raft Jetty Skeleton Coast Walvis Bay Namibia
Related Site:http://theraftrestaurant.com/
7. Pelican Point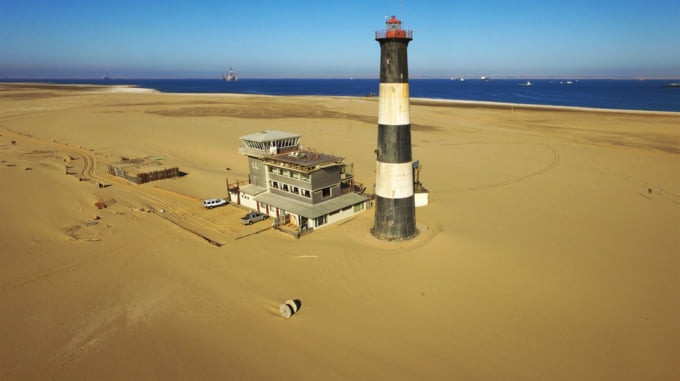 Photo by Dronesberg/shutterstock.com
This is about a half an hour's drive from the town on a remote peninsula. It houses a beacon that has safely guided ships into the Walvis Bay harbor since 1915. In 1932, a lighthouse was constructed next to it, and adjacent to this sits a renovated control building on the harbor with a modern lodge. Bordering the lagoon on one side and the Atlantic Ocean on the other. Get an opportunity to indulge in a drink of your choice as you dine and enjoy the panoramic views of the sea, the bay, and dunes over the sunset. The Damara Tern, an endangered bird species, colonies of seal, flamingoes, pelicans, and jackals can easily be sighted here You can Kayak your way here and have a stroll along the beach.
Name:Pelican Point
Address:Pelican Point Peninsula, Walvis Bay, Namibia
8. Salt Works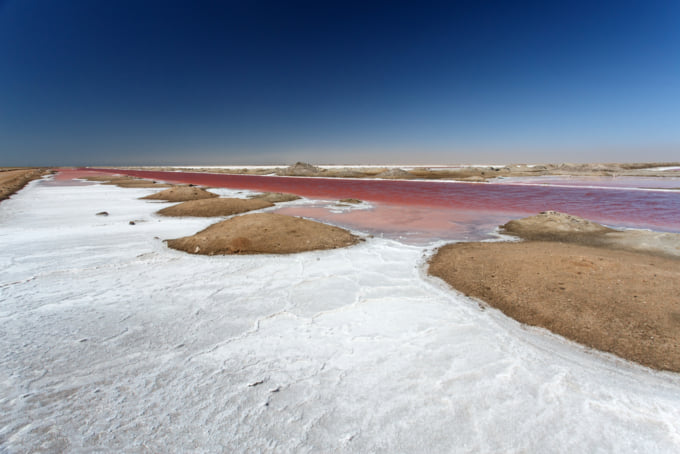 Photo by Sam DCruz/shutterstock.com
To the Southwest of the lagoon lies a 3500-hectare salt complex supplying 90% and above of salt in the South Africa area. More than 400,000 tons of high-quality salt is produced here. With the aid of evaporation, the complex concentrates salt from the sea water and is a rich ground of feeding for shrimps. Together with the Lagoon and Bird Island, they form the most crucial southern Africa wetland for migratory birds.
Name:Salt Works
Address:Walvis Bay, Namibia
9. The Hope
In the winter season, rail services between Walvis Bay and Swakopmund are often plagued by sand blown by wind covering the tracks and undermining the track beds. In front of the train station are the remains of the Hope, which was a South African locomotive powered by steam during the pre-union era in the Cape of Good Hope that ran on the original narrow gauge railway. It was fitted with a 2-4-2 Columbian wheel arrangement. The locomotive was built in 1899 and served up to 1915. The train and the rail were both abandoned due to being buried repeatedly by sand. The Hope is currently a national monument.
Name:The Hope
Address:6th St, Walvis Bay Railway Station
◎ Closing
Visiting Walvis Bay is worth your dimes and effort! It's glorious beauty, and distinctive marine and plant life offer you nothing short of your best adventure yet! You'll be spoilt for choice of the epic outdoor and water sports, not forgetting the beach vibrant life and entertainment facilities that help you wind down and enjoy the sun. The town and the country at large are very vibrant, all day and night long. Every moment will count, shall we get going?