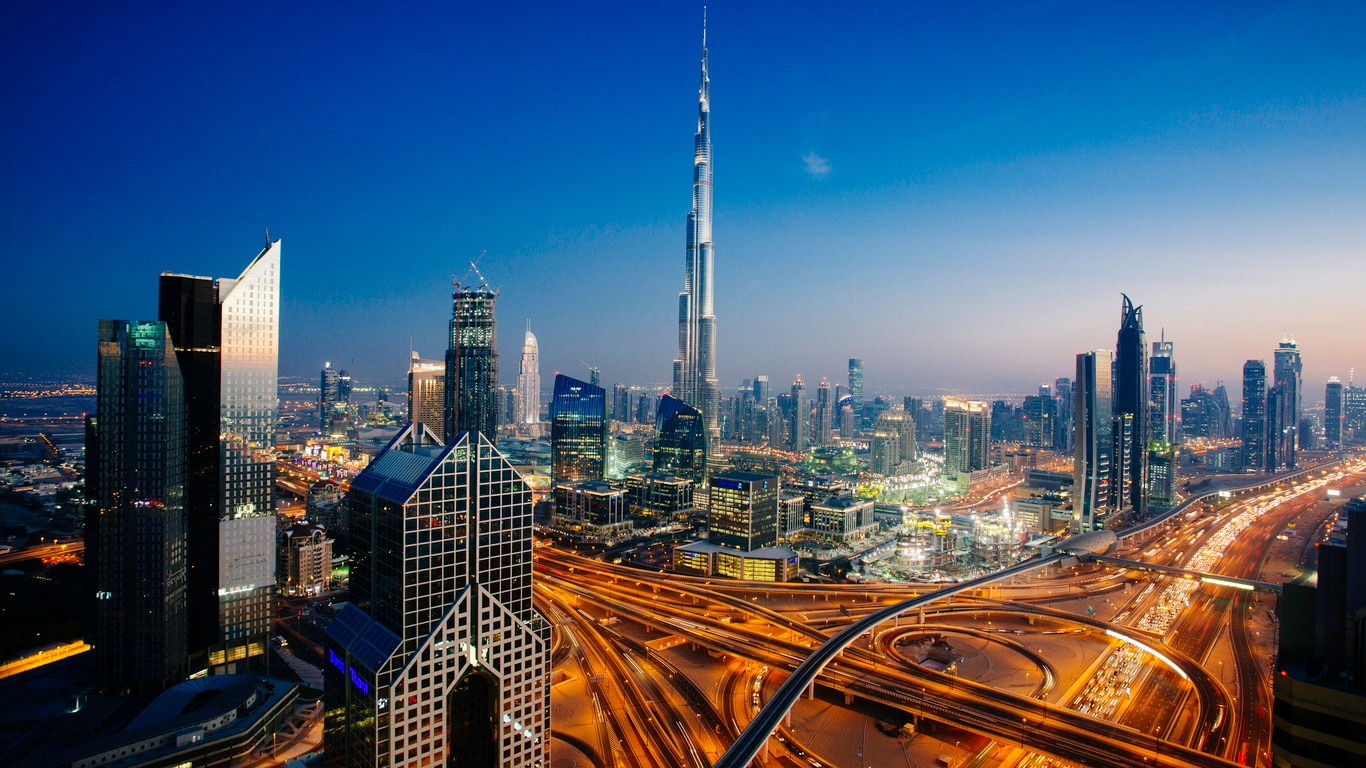 Dubai:10 Things to do in the Futuristic City of Gold
Dubai has seen a spurt of incredible growth fueled by its huge oil reserves financing its splendor. Located on the southeast coast of the Arabian Gulf, its one of the seven emirates that form the state. The region has range of different landscapes such as desert areas, coasts, and distinctive beaches along with its distinctive luxury resorts and skyscrapers.
table of contents
[x] close
Dubai:10 Things to do in the Futuristic City of Gold
1. Burj Khalifa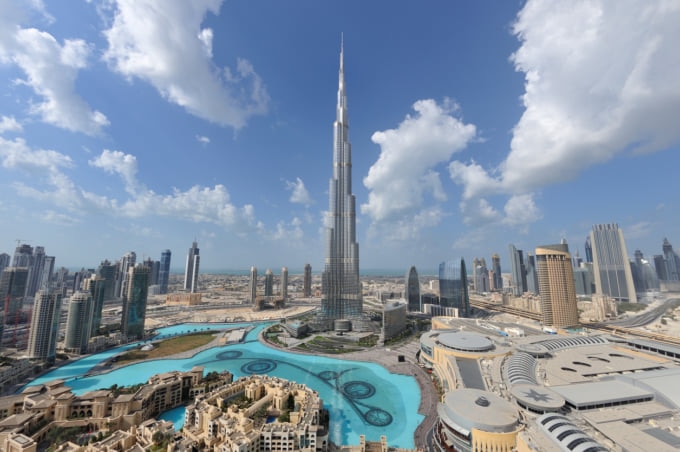 As the tallest building in the world, a visit to Dubai isn't complete without heading to the top of the Burj Khalifa. Towering over the futuristic skyscraper city, the structure is a whopping 828 meters tall. From the top you can see the unique developments of the city such as the incredible man made palm islands and world islands.
Name:Burj Khalifa
Address:1 Sheikh Mohammed bin Rashid Blvd, Dubai
Related Site:http://www.burjkhalifa.ae/en/index.aspx
2. Dubai Fountain
The Dubai Fountain, located between Dubai Mall and Burj Khalifa, offers a variety of musical and visual shows, in a musical harmony guaranteed to entertain onlookers. The fountain offers nine daily shows from 6:00 pm to 22:00 pm with one show rate per hour. There are also two shows earlier on during the day, but we'd recommend heading there at night when it's particularly beautiful.
Name:Dubai Fountain
Address:Fashion Parking, Dubai Mall, Sheikh Mohammed bin Rashid Boulevard, Dubai
Related Site:https://thedubaimall.com/en/entertain-detail/the-dubai-fountain-1
3. Dubai Opera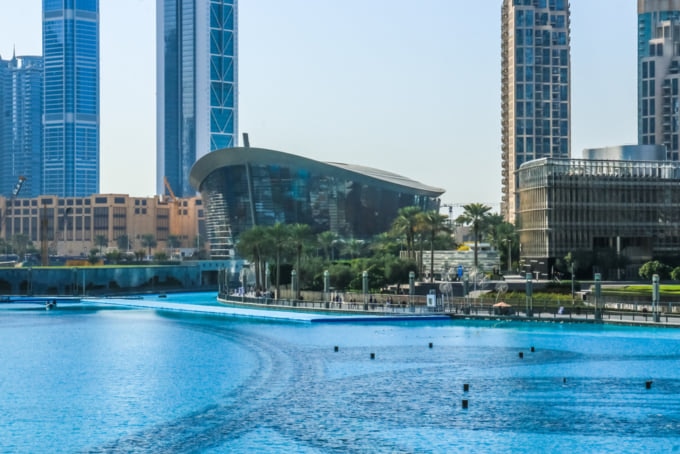 Photo by Abrar Sharif/shutterstock.com
The Dubai Opera's Design was inspired by the traditional sailing vessels in the Arabian Gulf and the wooden fishing boats that sailed up the famous Dubai Creek. The arched part of the building structure comprises the main theater of Dubai Opera House, the orchestra, and the seating halls where the building can accommodate up to 2,000 visitors. There;s a range of activities you can take part in here such as viewing opera, theater, concerts, art galleries, and orchestras as well as seasonal films and shows.
Name:Dubai Opera
Address:Sheikh Mohammed bin Rashid Boulevard، Downtown Dubai
Related Site:http://www.dubaiopera.com/
4. Burj Al Arab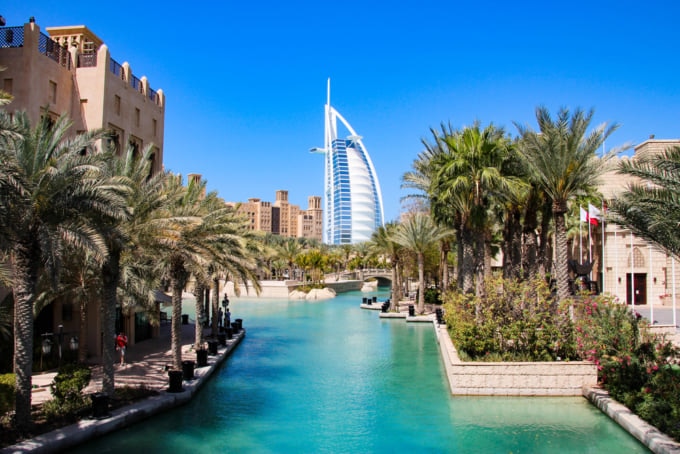 Photo by evenfh/shutterstock.com
Burj Al Arab is a beautifully-designed building shaped like a giant sail that functions as one of the most luxurious hotels in the world. The hotel has a private beach, a helipad at 212 meters and an underwater aquarium restaurant. All suites also have spectacular views over the Persian Gulf. If you don't want to blow a hole in your wallet by staying there, you can also arrange to have a luxurious afternoon tea at the Burj Al Arab's Al Muntaha restaurant on level 27.
Name:Burj Al Arab
Address:Jumeirah Road, Dubai
Related Site:https://www.jumeirah.com/en/hotels-resorts/dubai/burj-al-arab/
5. Dubai Aquarium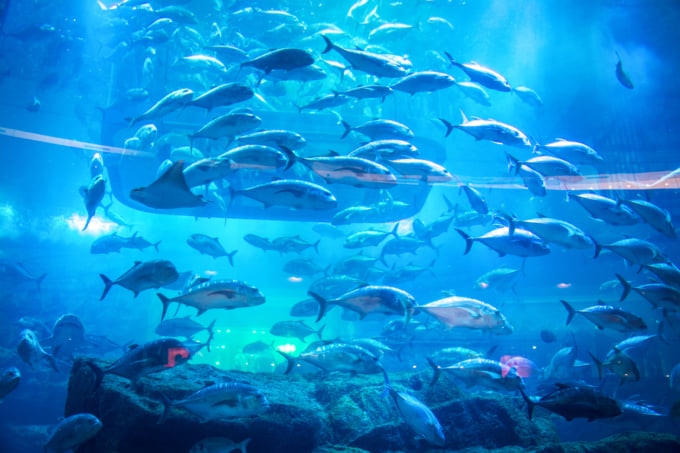 Dubai Aquarium is home to one of the world's most diverse marine animal populations, with 33,000 marine creatures and about 400 sharks. You can find the aquarium on the ground floor of the Dubai Mall, offering an amazing opportunity to roam in a 270-degree view angle and get a closer look at some of the most spectacular marine creatures on the planet. Here you'll find a huge range of different types of aquatic animals including sharks, penguins, crocodiles, piranha, giant asteroid crabs, water rats, seahorses, jellyfish, dolphins and more.
Name:Dubai Aquarium
Address:Dubai Mall, Sheikh Zayed Road, Dubai
Related Site:http://www.thedubaiaquarium.com/en/Default.aspx
6. Dubai Museum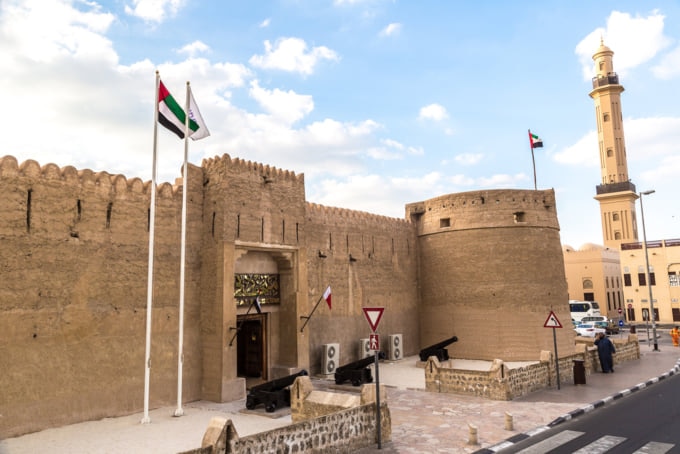 The Dubai Museum or Al Fahidi Fort was opened by the ruler of Dubai in 1971, to showcase the traditional life of the emirate. The museum also represents the way of life in Dubai before the discovery of oil and the subsequent modernization of the city along with newly discovered relics, which date back to around 3000 years BC.
Name:Dubai Museum
Address:Al-Fahidi Street, Al-Fahidi, Dubai, UAE
Related Site:http://www.dubaiculture.gov.ae/ar/Live-Our-Heritage/Pages/Dubai-Museum-and-Al-Fahidi-Fort.aspx
7. Dubai Creek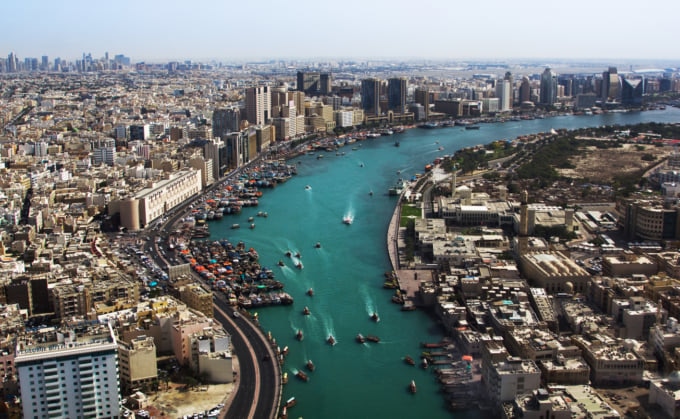 Dubai Creek is a firth like a river that snakes through the center of the city dividing Dubai into two main sections. Apart from walking along the promenade, it's highly recommend to get on one of the cruises that travel down the creek, or for a more private experience hire your own water taxi and travel at your own leisure.
Name:Dubai Creek
Address:Dubai Creek, Dubai, UAE
8. Jumeirah Mosque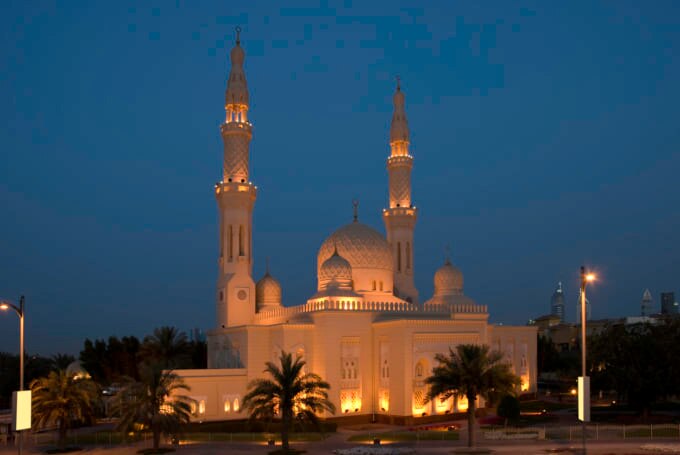 One of the most impressive historic structures in Dubai, this mosque was built entirely of white stone in the medieval Fatimid period. The artistic prowess and glamorous beauty stand out when the two minarets light at sunset, highlighting the beauty of the structure. The mosque is a great way to learn more about the Emirate culture and Islamic religion in an open and relaxed atmosphere.
Name:Jumeirah Mosque
Address:Jumeirah Beach Road,Jumeria 1 Dubai, UAE
Related Site: http://www.cultures.ae/
9. Heritage Diving Village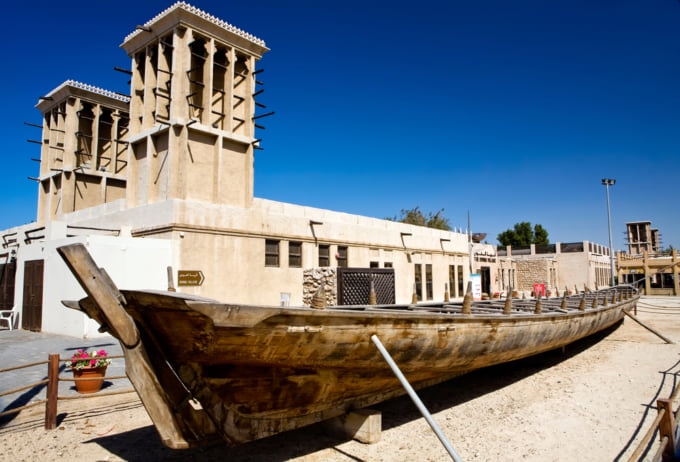 Photo by sokolovsky/shutterstock.com
For a taste of the historical side of Dubai before the towering skyscrapers and modern metropolis then head to the Heritage Diving Village. Essentially a living museum, it showcases the lifestyle and culture of the fishing villages and Bedouin culture that populated the area before the discovery of oil. Here you can see the local craftsmen using the same techniques passed down for hundreds of years to make an array of different goods.
Name:Heritage Diving Village
Address:Al Shindagha Rd,Al Shindagha, Bur Dubai Dubai, UAE
Related Site:http://www.dubaiculture.gov.ae/en/Live-Our-Heritage/Pages/Heritage-Village.aspx
10. Dubai Desert Conservation Reserve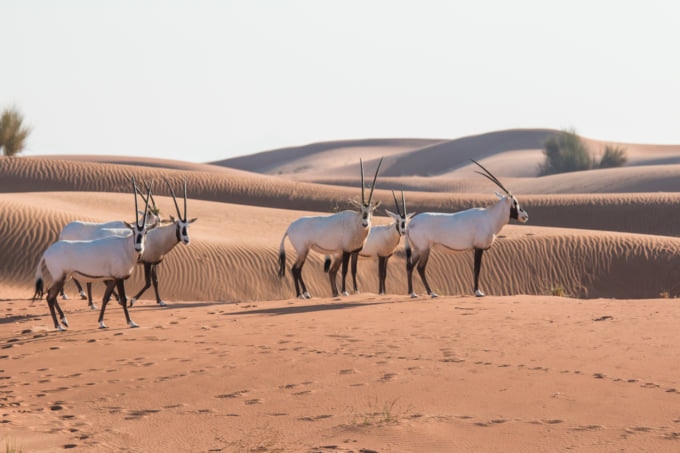 A desert space created for a wide range of threatened desert animals and plants in order to preserve and sustain them, the Desert Reserve covers a protected area of 325 square kilometers. The area is a great way to get out of the busy, lively pace of the city and step into the desert regions that cover much of the country. With a wide range of animal species, the reserve is great for those wanting to see the nature and wildlife living in the desert here.
Name:Dubai Desert Conservation Reserve
Address: Dubai-Al Ain Road - Exit 50, Dubai
Related Site:https://www.ddcr.org/
Conclusion
Dubai is a traditional city in terms of style of living, and a global city that combines luxury with Western taste and the charm of Arabic hospitality. Apart from the sea of skyscrapers and modern metropolis Dubai is well known for, there's much more to see below the surface with a fascinating history and blend of Arabic culture to learn about.