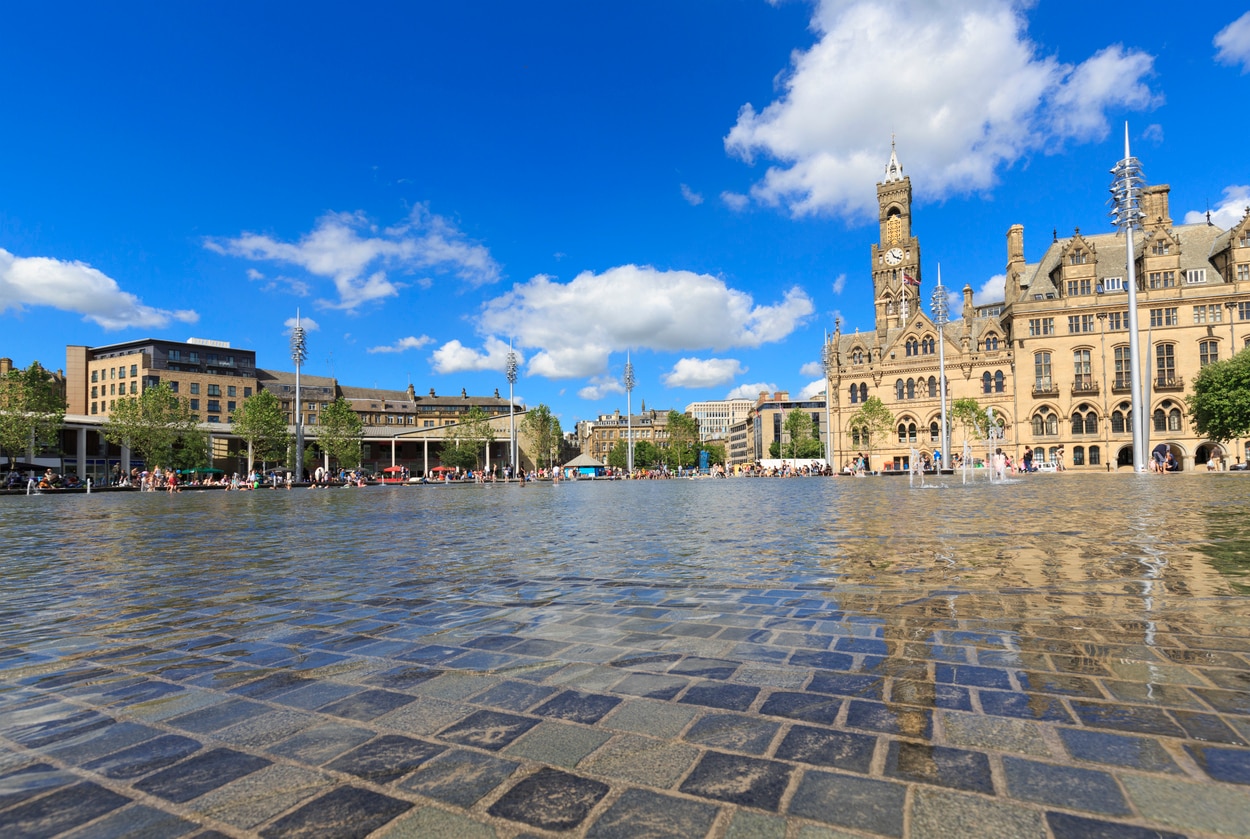 Bradford (UK) : A City Known for Its Urban Girt Mill Chimneys and Its Grand Victorian Structures, a Metropolitan Borough of West Yorkshire
Bradford is a local government district of West Yorkshire England, situated on the edges of the Pennines, more than half of the districts land is green open space. Apart from being the first UNESCO City of Film Bradford is a fabulous mix of fantastic food, culture and historic architecture. Listed below are all the sightseeing places often visited by tourists.
table of contents
[x] close
Bradford (UK) : A City Known for Its Urban Girt Mill Chimneys and Its Grand Victorian Structures, a Metropolitan Borough of West Yorkshire
1. National Science and media Museum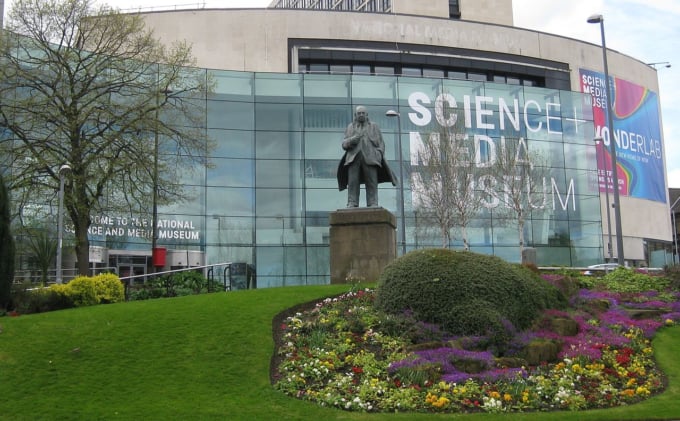 Photo by commons.wikimedia.org
The National science and media museum located in Bradford Yorkshire is a must go to sightseeing site while touring the city of Bradford. The museum has seven floors of galleries which are a mix of visual and interactive exhibits that cover all aspects of media from television, animation, video gaming, photography, television, and animation. The Museum also houses three cinema houses including an IMAX screen. Entrance to the museum is free and there is a cafeteria on site in case you need to grab a meal.
Name : National Science and Media Museum
Address : Pictureville, Bradford BD1 1NQ UK
Related Site : https://www.scienceandmediamuseum.org.uk/
2. The Alhambra Theatre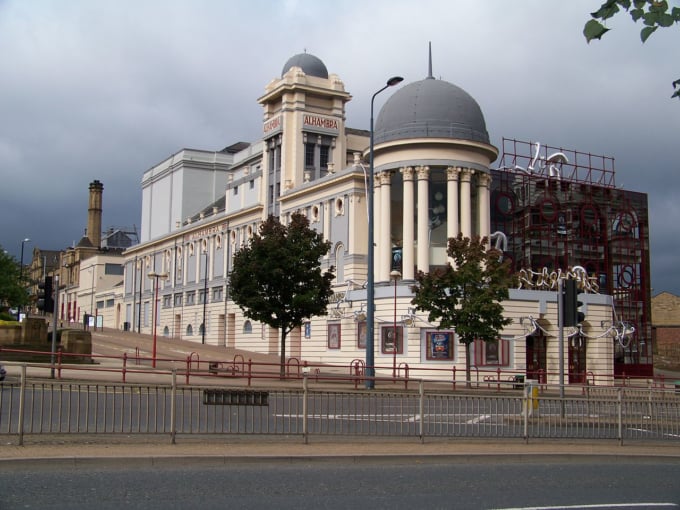 Photo by commons.wikimedia.org
Regarded as the North's premier sightseeing venue, the theatre is named after the Alhambra palace in Granada, Spain. This jewel was inspired by a local impresario known as Francis Laidler back in 1912. The main house hosts a capacity of 1400. The theatre hosts stage shows from ballet and opera to variety and comedy, drama, musicals and the annual pantomime. The theatre is also believed to host Yorkshire's biggest panto. Within the complex is a studio theatre with a seating capacity of 200 and a restaurant with views overlooking the Bradford city park.

Name : The Alhambra Theatre
Address : Morley street, Bradford BD7 1AJ, UK
Related Site : https://www.bradford-theatres.co.uk/venues/the-alhambra-theatre
3. City Park Mirror Pool and Fountain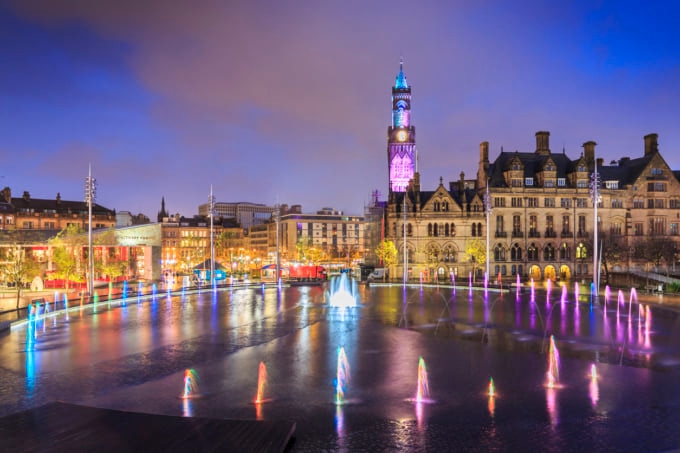 Bradford's City Park Mirror and pool fountain are the largest of its kind in the whole of the UK. A great place to go sightseeing with friends, relax as you watch the different moods displayed by the mixture of laser lights, mist and water effects displayed by the 100 fountains. Enjoy meals in the surrounding restaurants and cafes as you watch the beautiful scenery of the tree-lined park and elegant sculptures plus the beautiful water symphonies displayed by the fountains and the glorious reflective water mirror.

Name : City Park Mirror pool and Fountain
Address : Peel Centre, Bradford BD1 1SD UK
Related Site : https://www.fountains.co.uk/project/bradford-mirror-pool
4. Saltaire Village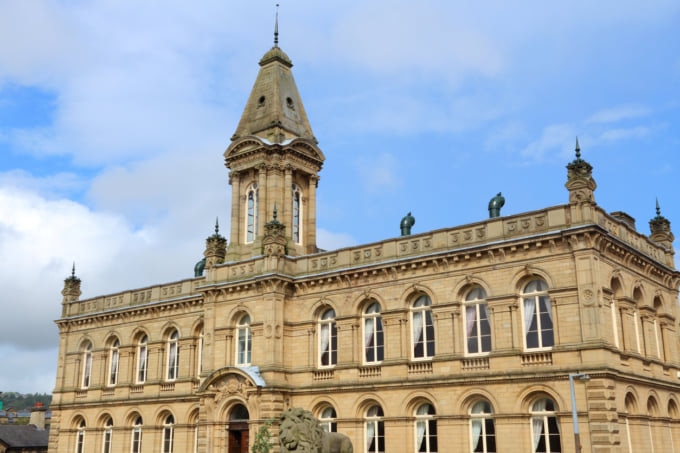 A Victorian model village located in Shipley Bradford. Named after the founder Salt and the river Aire, the village was declared a world heritage site by UNESCO. One of the most highly recommended sites for tourist to visit and go sightseeing while in Bradford. From the canal, a salt mill which has been converted into an art space, and Roberts Park. The area has a vintage feel to it making you feel like you stepped back in time; an area of such scenic beauty. You can also shop and enjoy meals and coffee in the restaurants and cafés as you mingle with the residents.

Name : Saltaire Village
Address : Victoria Road, Shipley, Bradford, England
Related Site : http://www.saltairevillage.info/
5. Britain's Grandest Waterstones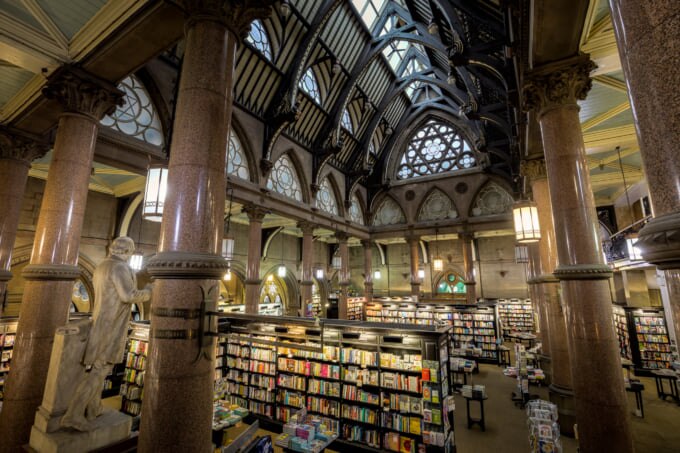 An excellent bookshop housed in Bradford's Victorian Gothic wool exchange building. Constructed between 1864 and 1867; the grandeur that is the architecture is symbolic of the vast wealth and importance that wool brought to the city of Bradford. Currently occupied by the Waterstones, a bookshop that offers a wide range of books and is often compared to Hogwarts from the fiction Harry Potter books. On the mezzanine floor is a balcony café that offers quite a view of the building and the city. A great place to unwind with a book in hand.

Name : Waterstones
Address : The Wool Exchange, Hustlergate, Bradford BD1 1BL UK
Related Site : https://www.waterstones.com/
6. Bradford Cathedral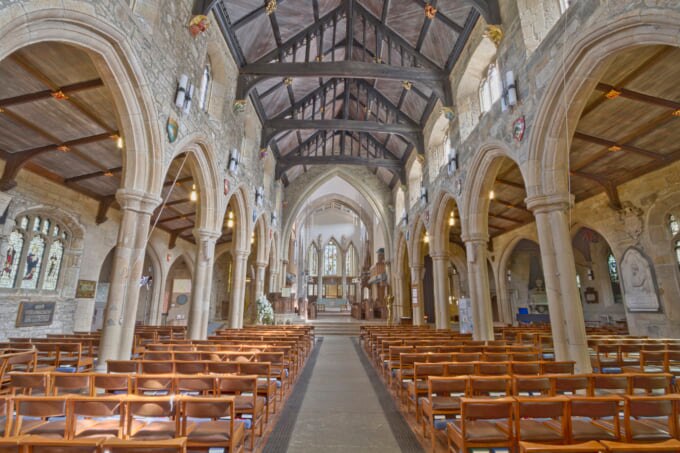 Located in the city center, Bradford cathedral is definitely one of the sightseeing sites worth a visit while in Bradford. Not only is it convenient but it is also a tranquil space that offers an oasis of calm amidst the busy city. Rebuilt in the 14th century after the original structure was destroyed by the Scots. It is definitely a hidden gem offering both an ancient and modern feel because of some of its 20th-century extension. The memorial window depicting scenes from WWI battles is not to be missed.
Name : Bradford Cathedral
Address :1 Stott Hill Bradford BD1 4EH
Related Site : http://www.bradfordcathedral.org/
7. Bingley Five Rise Locks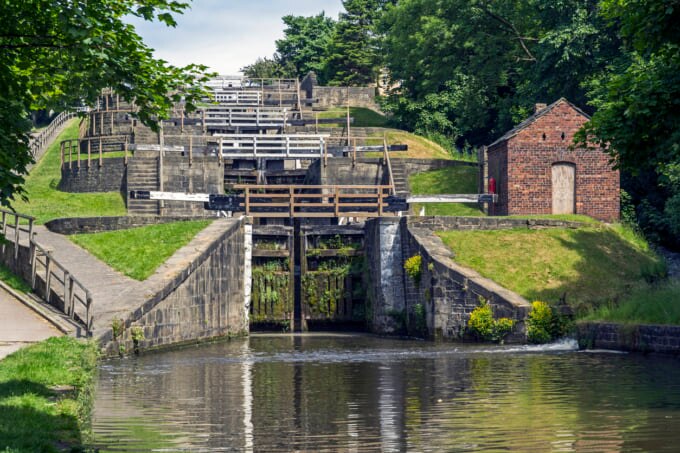 The five rise is composed of five locks connected together. The Bingley five rise staircase is an amazing feature on the Leeds and Liverpool Canal. There are five chambers and six gates; along the staircase is where the locks open directly from one to another. The staircase is a major sightseeing attraction; the passing boats often attract tourists. The area, in general, is so picturesque and ideal for a walk along the canal. There is a café at the top of the locks, where tourists can grab a coffee while sightseeing.
Name : Bingley Five Rise Locks
Address : Beck Ln, Bingley BD16 4DS UK
Related Site : https://canalrivertrust.org.uk/news-and-views/features
8. Bradford Industrial Museum
The Bradford Industrial museum exhibits relics from local industries such as printing and textile machinery. The Museum has galleries on both the ground floor and the first floor. The machinery on display is maintained and kept in good condition for demonstrations to the public. On display also are some Jowett cars in the transport gallery. The museum is a great place to learn a lot about Bradford's industrial history. Entry to the museum is free, open from Tuesday to Friday from 10am-4pm and Saturday, Sunday and public holiday from 11am to 4pm.
Name : Bradford Industrial Museum
Address : 235 Moorside Rd, Bradford BD2 3HP UK
Related Site : http://www.bradfordmuseums.org/venues/visit/bradford-industrial-museum
9. The Bradford Police Museum
A great place to learn about the history of policing in Bradford. The museum is located in the historical city hall Bradford on Centenary square. It offers guided tours; these include tours to the Victorian courtroom and cells plus a gallery tour that exhibits a lot of documents and memorabilia. The main focus of the place is on how the police operated back in the 19th century.The police museum opens every Friday from 11am to 3pm and every Saturday from 12 noon to 4pm.
Name : The Bradford Police Museum
Address : Norfolk Gardens, Bradford BD1 1UH
Related Site : http://www.bradfordpolicemuseum.com/
10. Shipley Glen Cable Tramway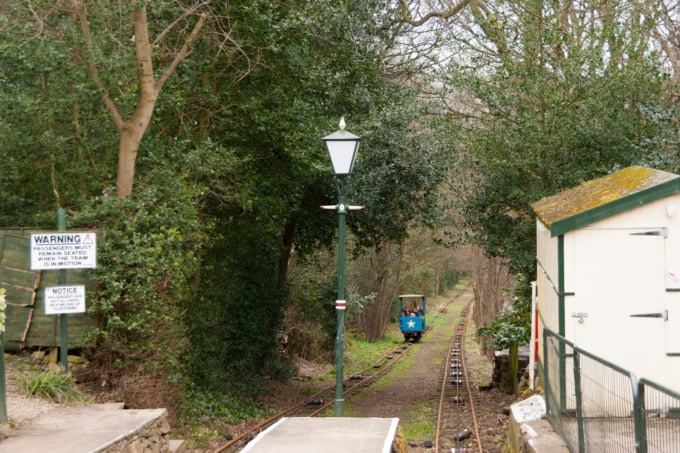 A working Victorian mode of transport that is fun, inexpensive, and a great way to go sightseeing in Shipley Glen, Bradford. It is believed to be the oldest working cable tramway in Great Britain. The Tramway cuts through the hills and one can easily walk back if you want to spend some time wondering the moorland and rural area. The kids will enjoy this scenic ride because aside from the thrill, there is a sweet shop at the top.The tramway is open on Saturday and Sunday from noon to 4:30 pm, except for January and February when its open on Sundays.
Name : Shipley Glen Cable Tramway
Address : Prod Lane | Baildon, Shipley, Bradford BD17 5BN, UK
Related Site : http://www.shipleyglentramway.co.uk/
◎ Closing
Bradford is definitely a destination to consider while planning a trip to the United Kingdom. A city packed with so much history and offering a lot of different activities and places to visit. The food scene is quite versatile as well and the folk is friendly. Accommodation is quite is easy to plan for; ranging from Airbnb's to the fantastic Hotels. A great destination for a family vacation.