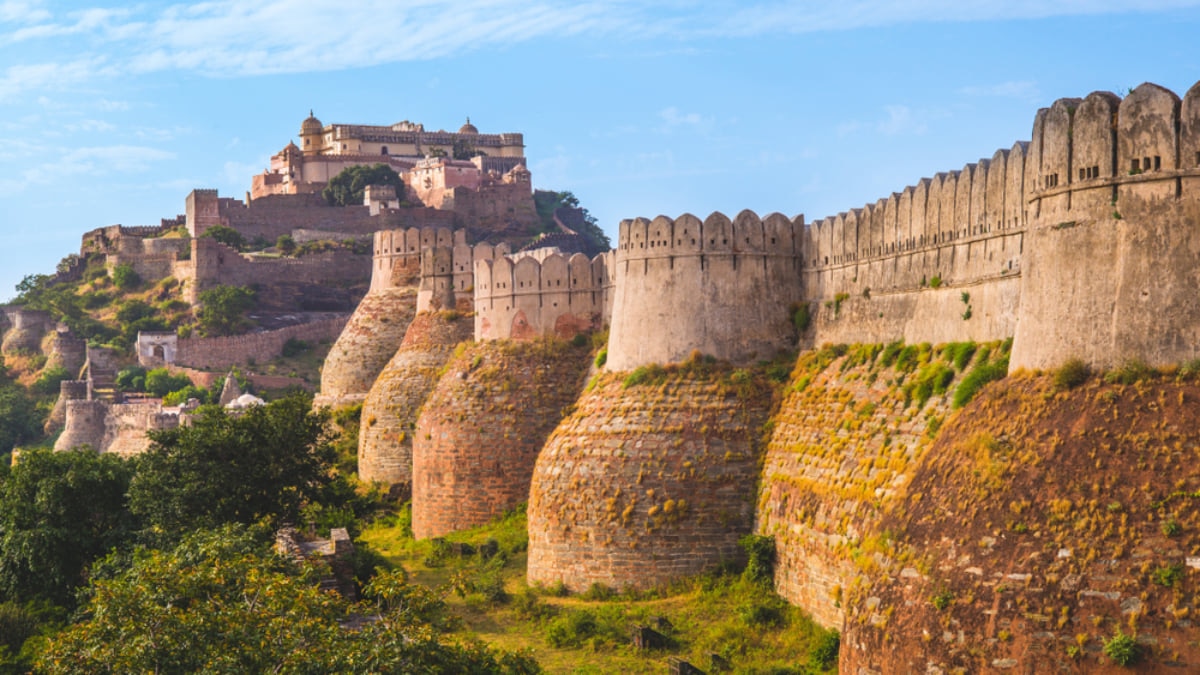 Photo by Richie Chan/Shutterstock
7 Fascinating Things to Do in Rajasthan
North India's desert state, Rajasthan, might leave you with an impression of being barren at first, but hidden amongst its desolate topography are a world of wonders, packed with colorful people, enchanting forts, and out-of-this-world encounters. Rajasthan occupies a vast region allowing those who take time to explore it in entirety with the opportunity to relish its multiple excursions. From humanmade lakes to adventure activities, in Rajasthan, there is something to do for everyone.
table of contents
[x] close
Spot a Tiger in Ranthambore
Photo by Ondrej Prosicky/Shutterstock
A decade ago, India started an initiative to save its tigers. The fruits of this endeavor are now visible in Ranthambore, one of the most famous national parks of the entire country. Ranthambore National Park, which was formally a hunting ground for the maharajas of Rajasthan, covers an area of 392 sq km and offers jeep safaris in its premises to view an abundance of flora and fauna unique to this area.

With luxury and budget hotels available on the periphery of the park, a stay at Ranthambore is a wild yet comfortable adventure not to be missed. Moreover, thanks to the increasing population of tigers, Ranthambore is one of the few places where you are almost guaranteed to come across this beautiful feline face to face.
Experience a Haunting at Bhangarh Fort
Photo by ARUN MANGAL/Shutterstock
The 16th-century fort in ruins is one of the most visited places in Rajasthan, partly because of its history, but also for being amongst the most haunted places in all of India. Situated in the Alwar District, a four-hour drive from New Delhi, it is prohibited to enter the fort after sundown or before sunrise.

Built by Bhagwat Singh, ruler of Amer, there are several theories behind the fort's present state, which at one time consisted of markets, temples, and royal residences. The most fantastical reason being that a tantric cursed the village and its people when his love for a princess was not reciprocated. Now, people walk the remains of Bhangarh Fort in anticipation of supernatural activity, although only a few ever claim to come across a ghost or unexplainable entity.
Be Amazed by the Frescos of Shekhawati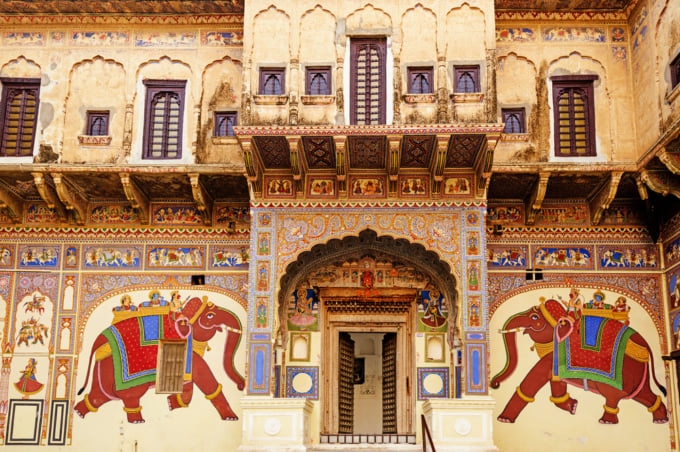 Popularly known as "Rajasthan's open-air gallery," Shekhawati is a district in the north-eastern part of the state famous for its vivid and ornate residences built in traditional Rajasthani style. Named after Rao Shekhaji, this particular area was greatly influenced by Mongol, Persian, Mughal and Rajasthani culture, all of which is beautifully captured in the intricate designs and architecture of the havelies that dot the towns and villages of Churu, Mandawa, and Jhunjunu.

When touring Rajasthan, it is worth taking a detour to Mandawa to admire the vibrant frescos, visit the equally exotic fort, browse through Rajasthan's past at the Mandawa museum, bargain for handicrafts in the local market, and possibly stay a night to acknowledge the beauty of the province fully.
Spend a Night in the Thar Desert
Photo by Dmitry Rukhlenko/Shutterstock
Don't make the mistake of coming all the way to Rajasthan and not making the most of its desert landscapes. A perfect way to do just that is through a desert adventure in Jaisalmer that includes a variety of sandy escapades. Start with a camel safari that takes you into the Thar desert, and then opt for a tour that provides for staying overnight in tents, pitched in between the dunes.

Typically, staying overnight in the desert includes indulging in freshly prepared local food and traditional dance and music performances. To add a hint of adventure, go with the possibility of dune bashing upon your return. Visitors can either use their own bikes and cars or, as recommended, hire one of the jeeps or 4-wheel-drives, exclusively for this purpose.
Attain Nirvana in Pushkar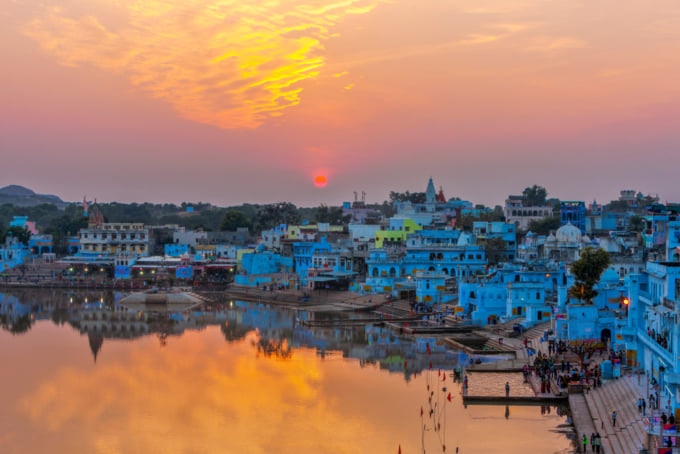 There's an entirely different vibe to Pushkar as compared to the rest of Rajasthan. The town's epicenter is Pushkar Lake, a sacred spot where devotees come to take a dip in the holy water. Surrounding the lake are hundreds of small and big temples. Due to its spiritual aura, Pushkar attracts an assorted set of tourists. However, first-time visitors will notice a thriving hippy-culture that oozes in-between the religious disposition of this divine land. One of the most enlightening moments in Pushkar is when everyone from the city comes to the lakeside ghats in the evening and watches the sunset together.
Attend an Indian Wedding in Udaipur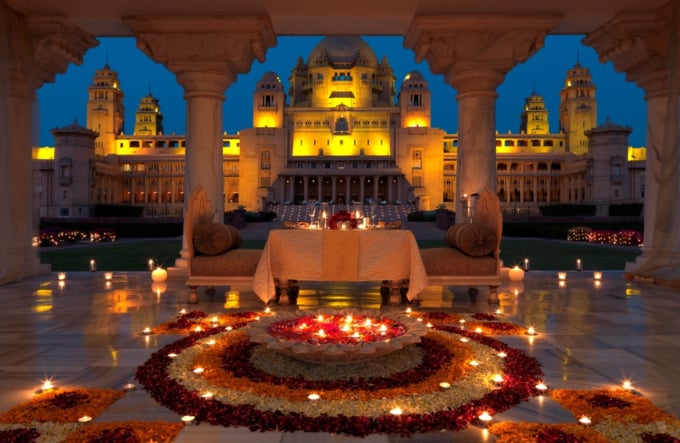 'The city of lakes' is one of the most frequented destinations in all of Rajasthan, popular with both local and international tourists. The lakes of Udaipur give it an individual character, and with royal palaces and lavish residences spread out around these water bodies, the city is a favorite for weddings, especially with the rich and famous who want to bathe in the glamour and richness of Rajasthan's royal past.

Some of the more extravagant weddings in Udaipur take place in temples, palaces, and resorts situated in the middle of the lakes. So grand and inviting are Indian weddings that it's often easy to gate-crash one of them if you are dressed well enough in traditional Indian attire. However, Indians are known for their welcoming hospitality, and if you show interest, they will be more than happy to officially invite you for what is a colorful, long, and magical time at the start of every Indian couple's life together.
Take Part in the Opium Ceremony of Jodhpur
Photo by Scott Biales DitchTheMap/Shutterstock
Before you begin to wonder too much about this, opium is very much banned in India. It is, though, a part of certain Rajasthani traditions, and thus, its use for "religious reasons" is often overlooked by the authorities. Amal Sabha is a gathering of men in a small group, wherein they take opium, dilute it with jaggery sweetened water, and first offer it to Lord Shiva. Afterward, the eldest member of the group provides the drink to everyone gathered around. It is not something you will find conducted openly. However, check with your hotel if they can arrange for you to attend this event.
Conclusion
If limited on travel time, it's possible to visit places in Rajasthan via train and plane. However, to truly apprehend its magnificence, which includes randomly coming across ancient forts or passing through quaint rural villages, a road trip is ideal. Being on the road during your Rajasthani journey is an offbeat venture, that lets you intimately engage with the intricacies of the local culture.