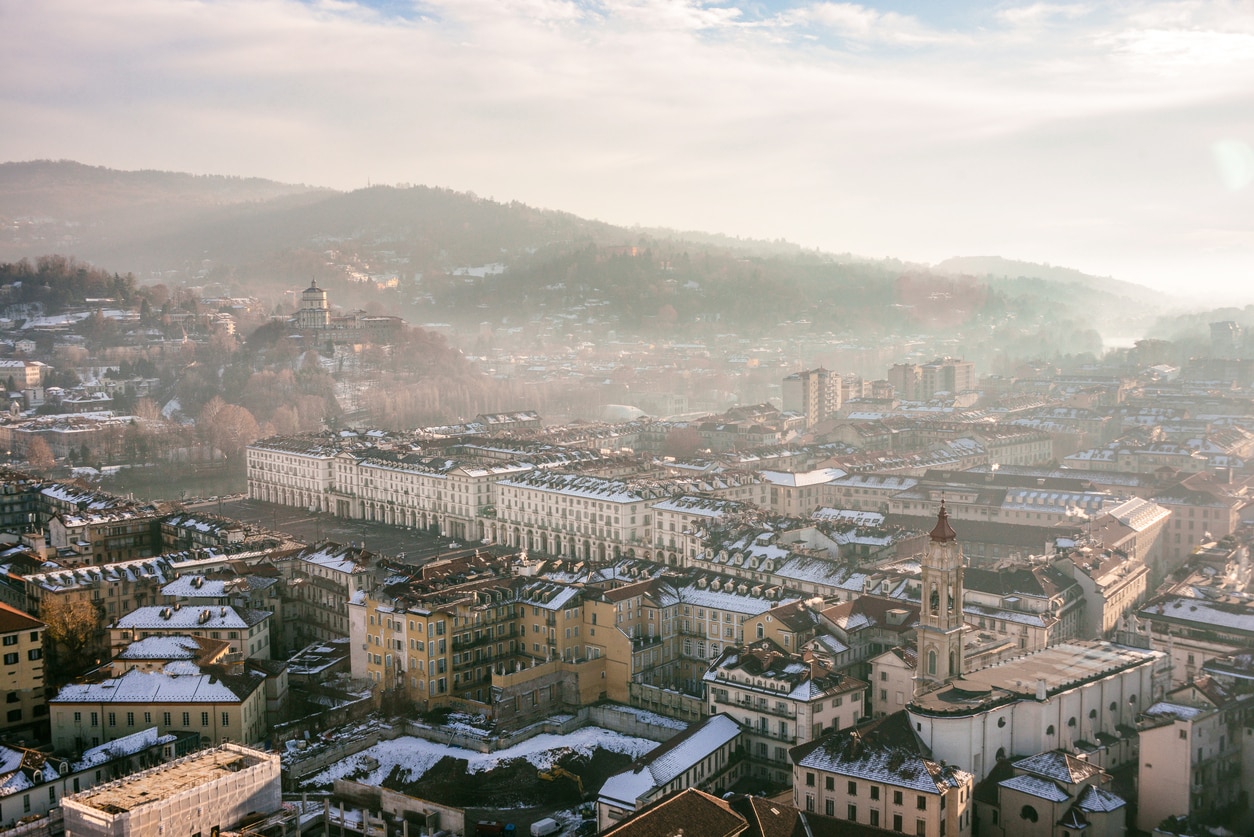 Turin : The Capital of Piedmont That Is Known for Its World Sophisticated Shops and Aristocratic Atmosphere
Turin is usually an underestimated city in Italy but has almost one million inhabitants. Turin has maintained a longstanding cultural and artistic history over the years boasting some grand boulevards and palaces not forgetting its leafy parks that generally provide an aristocratic atmosphere. This Piedmont capital provides the tourists with great sightseeing opportunities that are outlined below:
table of contents
[x] close
Turin : The Capital of Piedmont That Is Known for Its World Sophisticated Shops and Aristocratic Atmosphere
1. Egyptian Museum of Turin
Photo by commons.wikimedia.org
The Museo delle Antichità Egizie is dedicated solely to Egyptian art and culture. It is the only other museum of its kind after the Cairo museum. Many scholars have been seen flocking Turin just to see this great museum mainly for their study work. Tourists who come sightseeing enjoy the great collection of Egyptian artifacts and mummies that were collections from excavations conducted in Egypt. The exhibits are well laid out and detailed. Audio guides are also available for rental aiding the whole tour experience. Despite the expected long queues, it is worth it.
Name : Egyptian Museum of Turin
Address : Via Accademia delle Scienze, 6 | Aperto Anche il Lunedi Mattina, 10123 Turin, Italy
Related Site : https://museoegizio.it/en/
2. Museo Nazionale del Cinema
Photo by Frédérique Voisin-Demery
Museo Nazionale del Cinema is located inside the iconic Mole Antonelliana. The pace is amazing for cinema buffs and photographers or simply cinema enthusiasts due to the great exhibit setup. The place provides great history on the evolution of cinema. One gets to understand the special effects used in cinema and even feel the zest of the place which is the observatory deck that is accessed via a glass lift. When you are tired of exploring all possible exhibitions, you can watch movies on the first floor that are played non-stop.

Name : Museo Nazionale del Cinema
Address : Via Montebello 20, 10124 Turin, Italy
Related Site : http://www.museocinema.it/it
3. Santuario Basilica La Consolata
Photo by commons.wikimedia.org
This is one of the best churches worth sightseeing in Turin. The complex ornate white structures topped up with decorative features make it great to marvel at. It features a needle statue and stands out with gold leaves covered everywhere. Beautiful statues and pictures continue to make this basilica standout. The altar of the church is also not left out. It remains grande complimenting the basilica's heavenly features with small chapels surrounding it. The church remains open for service though it is not usually crowded as expected.
Name : Santuario Basilica La Consolata
Address : Piazza Della Consolata | Via Maria Adelaide 2, 10122 Turin, Italy
Related Site : http://www.laconsolata.org/
4. Cappella dei Banchieri e dei Mercanti
This baroque chapel was restored into a great marvel exposing hidden frescoes that will amaze you. It was once a place for bankers and shopkeepers to congregate and indulge in worship ceremonies. Despite its beauty, this church may go unnoticed because it is located close to a big church. Inside the church expect to find some wooden statues that seem to be made out of marble. There is also a golden crown at the altar. An old perpetual calendar that dates back to 1831 can also be found in the sacristy.

Name : Cappella dei Banchieri e dei Mercanti
Address : Via Giuseppe Garibaldi 25, 70010 Turin, Italy
Related Site : http://cappelladeibanchieriemercanti.blogspot.co.uk/
5. Museo Nazionale dell'Automobile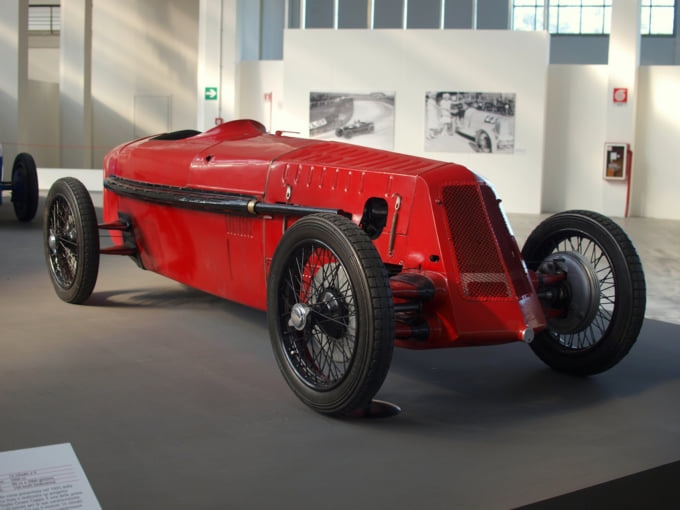 This is one of the oldest and most famous tech museum in the world. It boasts a contemporary and futuristic look that is to be admired. It houses a great collection of cars that will entice all car lovers. Some iconic car models such as Citroen DS are authentically presented here. The first of almost every car model can also be found here. Chariots and stem engines are also not left out in this ride back in time. The tour around the museum is very informative as they dedicate a lot of tie analyzing the displayed motors.
Name : Museo Nazionale dell'Automobile
Address : Corso Unita' d'Italia 40, 10126 Turin, Italy
Related Site : http://www.museoauto.it/website/en/
6. Armeria Reale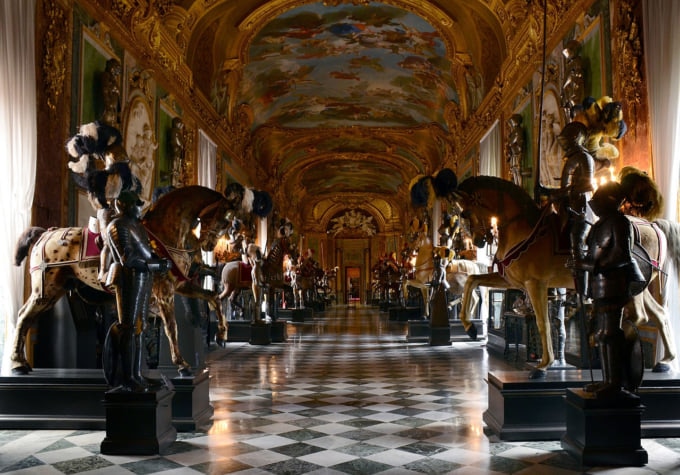 Photo by commons.wikimedia.org
Armeria Reale hosts a veritable collection of Armour and weapons that have been in existence since 1837. These weapons were collections initiated by King Carlo Alberto. One of the most outstanding pieces is the stuffed horse he owned that stands-out among the swords and guns. Every room within the Armeria Reale gives a different atmosphere as they are ornate to the point of saturation. An entire day can be spent sightseeing the place as it offers a lot.
Name : Armeria Reale
Address : Piazza Castello 191, 10122 Turin, Italy
Related Site : http://www.residenzereali.it/index.php/en/residenze-reali-del-piemonte/musei-reali-armeria-reale
7. Museo Pietro Micca
This small museum celebrates the sacrifice of Pietro Micca during the French and Spanish siege. In just three rooms, one can understand the heroic act of Pietro and hoe he was able to save Turin. Every person sightseeing is expected to watch a short film and listen to a 30 minute history lecture from one of the guide. This is done mostly before a tunnel tour. This is where Pietro Micca died while setting up explosives in the tunnel which were under the French battle lines.
Name : Museo Pietro Micca
Address : Via Francesco Giuseppe Guicciardini 7a | nei pressi della stazione FS di Porta Susa, 10121 Turin, Italy
Related Site : http://www.museopietromicca.it/
8. Piazza San Carlo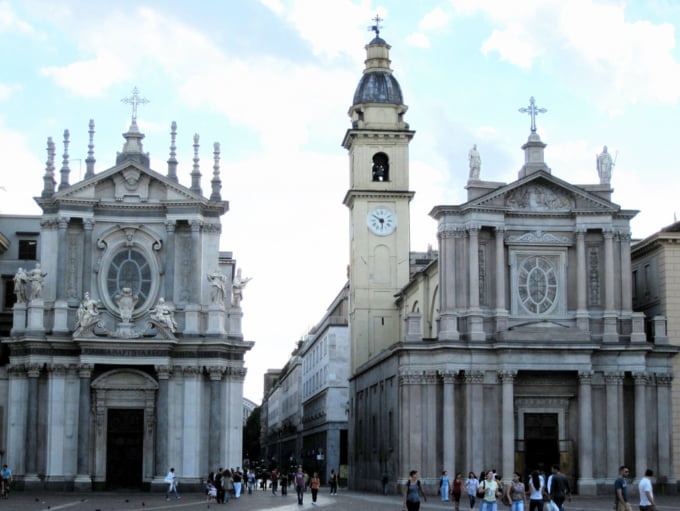 Piazza San Carlo is a large square that was designed by Carlo di Castellamonte. This square has been in existence since 1650 and is still thriving. Some of the well-known designer shops surround this ancient square. Numerous cafes and bars can also be found there making it an idea place to dine, wine, and shop. The river nearby makes it scenic. There is an equestrian statue of a horseman, Emanuele Filiberto that is an iconic symbol of Piazza San Carlo. This is also a great place to cycle especially in Sunday afternoons.
Name : Piazza San Carlo
Address : Piazza S. Carlo, 161, 10123 Torino TO, Italy
Related Site : https://www.visitatorino.com/vie-e-piazze-di-torino/piazza-san-carlo/
9. Basilica di Superga
The Basilica di Superga is a lovely baroque basilica shining on a hill in Turin. Although basic, most come visiting the basilica for the scenic views of Turin and the Alps. The church is yet to be restored to standard but one can still explore around. At the back of the church one can find a poignant memorial dedicated to Torino FC players who perished in an air crash back i 1949. 3 euros is charged for one to go uphill the flight of stairs of around 130 steps.
Name : Basilica di Superga
Address : Strada della Basilica di Superga 73, Turin, Italy
Related Site : http://www.basilicadisuperga.com/
10. Mole Antonelliana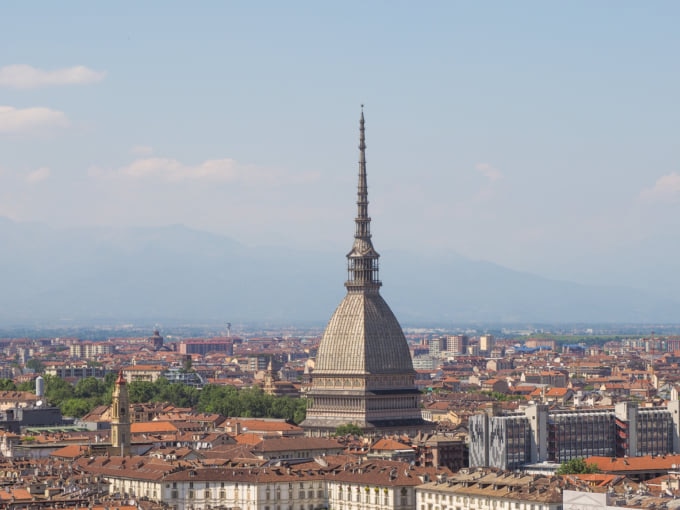 The Mole Antonelliana is a spectacular architectural marvel that stands out in Turin. The whole building is a work of art making it stand out from the rest. The giant pillars at the front are only exterior highlights. It is a shame that it is surrounded by back streets. Most enjoy going to the observatory area with the aid of a suspended elevator in sense that it is made of glass. One also get the chance to peep at the cinematic museum from there.


Name : Mole Antonelliana
Address : Via Montebello 20, 10124 Turin, Italy
Related Site : https://www.moleantonellianatorino.it/
◎ Closing
There's a whiff of Paris in this Alp-fringed city that is Turin. All this is evident in its elegant tree-lined boulevards and its stately art nouveau cafes. However, Turin proved to be an industrious city as it gave birth to Fiat that is Italy's most iconic car. This unpopular Italian city will give the tourist an amazing diverse experience.