Yogyakarta:The Brightest and Traditional Soul City of Indonesia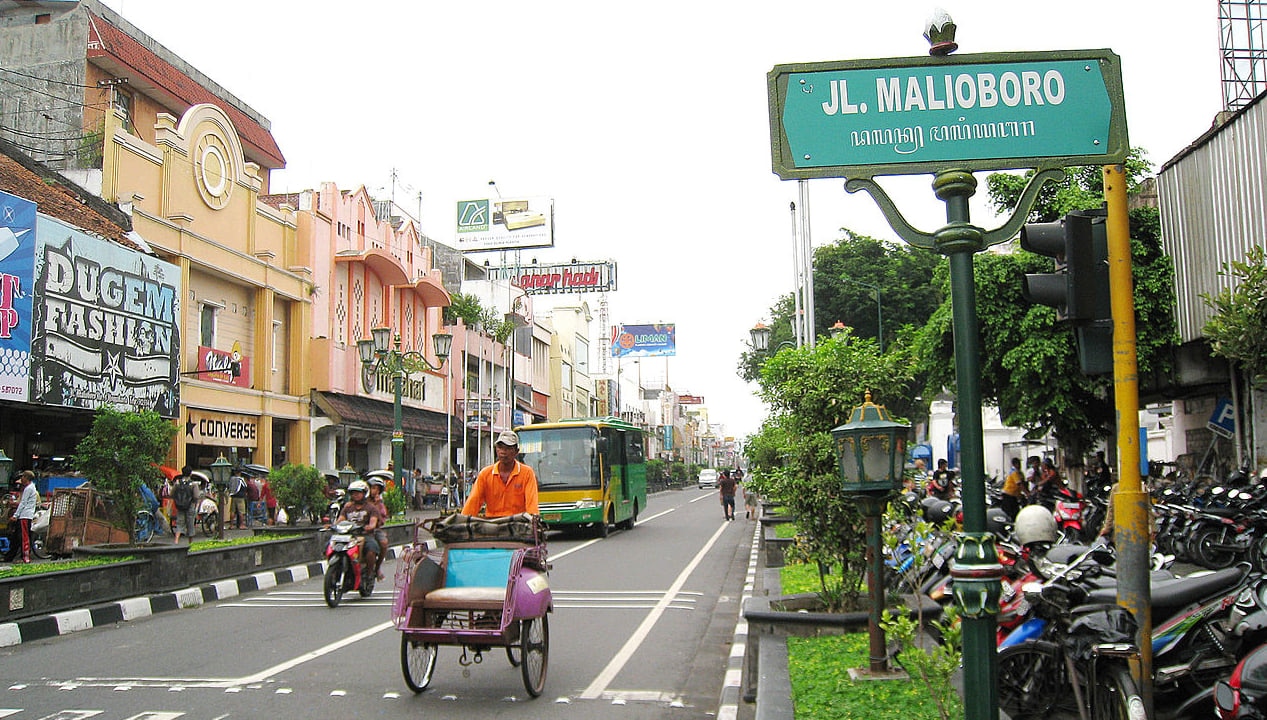 Yogyakarta or Jogjakarta; is a unique city in the island of Java, popular for its Javanese arts and culture. With the intention to protect this vibrant city of centuries-old customs and culture, it is governed independently by a separate governing entity called the Sultan of Yogyakarta that is different from the rest of Indonesia. The well-known cultural and historical landmark of Indonesia is its soul, keeping the spirit of the country in perfect harmony. The city has lots of temples, and historical sites that were once a part of ancient civilization and is a gold mine of stunning landscapes continually reminds you the greatness of our nature.
[x] close
Yogyakarta:The Brightest and Traditional Soul City of Indonesia:table of contents
1. Prambanan Temples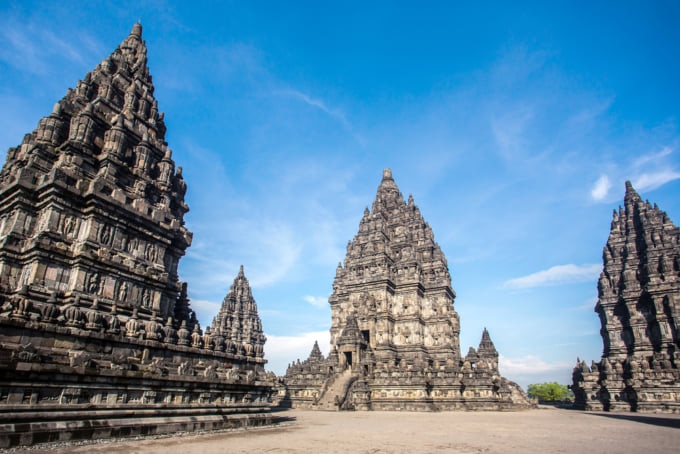 Photo by Alexander Mazurkevich/shutterstock.com
The spectacular Hindu temple Prambanan is truly a Hindu masterpiece dedicated to the Trimurtis. The largest Hindu temple in Indonesia and the biggest in Southeast Asia, it was built during the 9th century. Surrounded by a lush green vast park, the popular temple and its remains are an illustration of the bygone golden era of rich culture. Though a little is known about Prambanan's history, it is said that King Rakai Pikatan constructed the temple to mark the return of Hindu dynasty in Java which was under the influence of Buddhism, for several years. The temple is made of many courtyards and most of them have been rebuilt and preserved in a good way. The central courtyard is the highest among all and includes 8 minor and 8 main shrines each of it having beautifully carved religious statues. The Prambanan temple complex declared as a UNESCO world heritage site back in 1991. You need to spend a whole day to get around the temples.
Name:Prambanan Temples
Address:Bokoharjo, Prambanan, Sleman Regency, Special Region of Yogyakarta, Indonesia
2. Borobudur Temple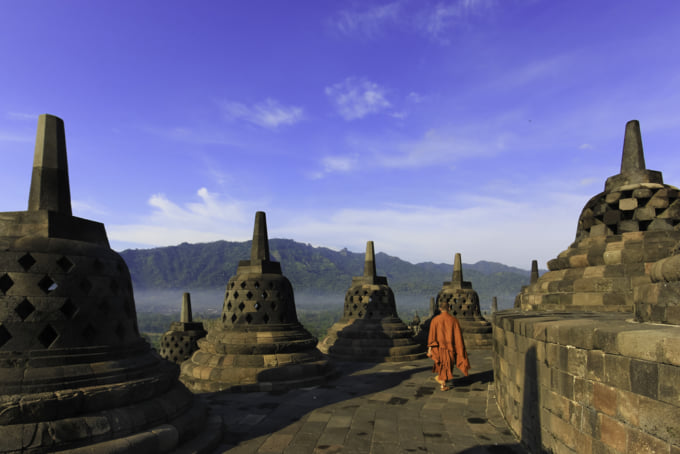 Photo by Udompeter/shutterstock.com
Borobudur Temple is one among the most impressive temples in Java and a main tourist attraction point in Yogyakarta. It is around 40 minutes away from Yogyakarta and is another popular attraction after Prambanan temple. The temple is popular for pilgrimage as Buddhists still celebrate Buddha Poornima or Vesak festival once a year. It has various levels, and also have 72 stupas carrying Buddha statue/engravings in each one. Borobudur is in the middle of jungle-clad hills and has a rich history of 300 years. It has around 2 million blocks of lava rock and close to 1500 carved story structures and 504 statues of the Lord Buddha.
Name:Borobudur Temple
Address:Jl. Badrawati, Borobudur, Magelang, Jawa Tengah, Indonesia
Related Site:http://borobudurpark.com/temple/borobudur/
3. Batik Motif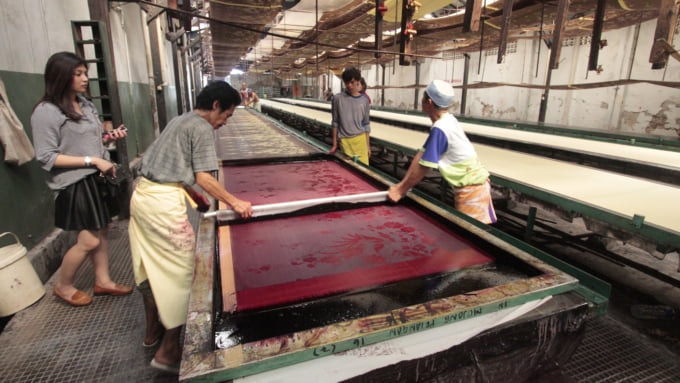 Batik motif is a unique type of textile art consists of different patterns on plain cloth using wax and dyes. Javanese artists incorporate designs and patterns related closely to the Javanese culture. UNESCO has designated Batik motif as a masterpiece of Javanese culture and raised the awareness all around the world. Some batik motifs like Parang Rusak can wear by everyone outside Kraton, but only the royal family has the authority to wear it inside. Some of the batik patterns are reserved for king's crown alone.
Name:Batik motif
Address:Various factories in Yogyakarta, Indonesia
4. Goa Jomblang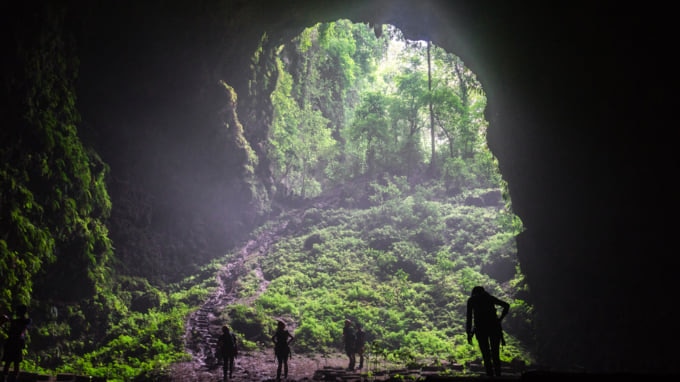 Photo by Scott Biales/shutterstock.com
Goa Jomblang is a highly popular and unique cave with a dense forest right below it. The cave was a geological formation where the land and all of its vegetation went deep into the bowel of the earth. The ruins took the shape of a sinkhole which is luweng or sumuran in Javanese. The major attraction of this place indeed is the light of the heaven. Grubug Luweng, the 90 m tall hallway decorated with naturally formed caved ornaments illuminates during darkness and hence is known as the light of the heaven. If you wish to enter the cave, it is possible only through single rope technique. By using specialized equipment according to caving safety standards, you can enter this vertical cave. Visitors can take the assistance of professional caving trainers, and together you can do caving in this exotic natural cave.
Name:Goa Jomblang
Address:Pacarejo, Semanu, Gunung Kidul Regency, Yogyakarta 55893 Indonesia
Related Site:https://www.jomblangcavetours.com/
5. Taman Sari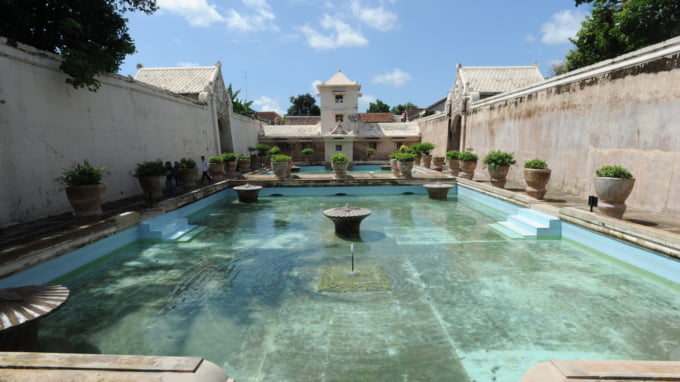 Photo by Stefano Ember/shutterstock.com
Located in Kraton, Yogyakarta is the formal royal garden of the sultanate. Built in the 18th century for various purposes, you can find only a few buildings remains presently. It was built as a place to meditate, to work, to rest and to use a hiding place as means of defense for sultan's family alone. Currently, the site is home to local residents and a few areas like the mosque, the underground tunnels, and the relaxing space are accessible to the tourists. The buildings showcase a mix of the eastern and western style of architecture and the most popular place in Taman Sari is the bathing and resting place of the sultan and his princesses. The bathing space, Umbul Pasiraman is quite popular among visitors with 3 different pools having interesting architecture.
Name:Taman Sari
Address:Komplek Wisata Taman Sari, Taman, Patehan, Kraton, Patehan, Kraton, Kota Yogyakarta, Daerah Istimewa Yogyakarta 55133, Indonesia.
Related Site:http://tour-to-java.weebly.com/taman-sari.html
6. Kraton Palace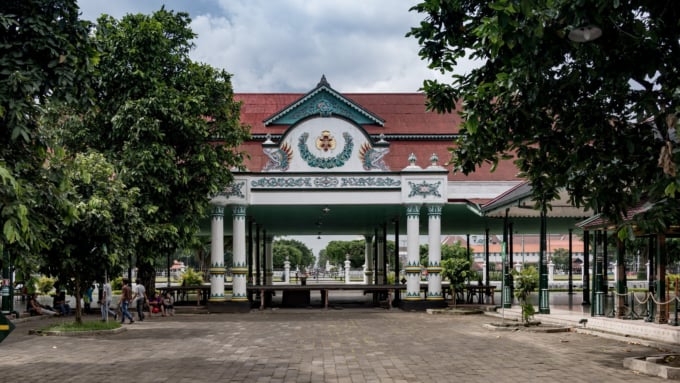 The Kraton Palace of Yogyakarta is a grand palace complex, a sheer reflection of the Javanese cosmos. For the natives of Yogyakarta, Kraton or sultan's palace is the heart and soul of the city. However, for tourists, it will be a disappointing experience watching the poorly preserved treasures and ancient structures. If you dive deep into the history, you can see the representation of their Javanese culture in the place with each structure narrating a beautiful tale. A visit to the palace will not take more than an hour, and it is also recommended to catch any of the cultural performances every day at the palace. Different shows like a puppet show, traditional poetry, classical dance, gamelan music etc., will be performed each day at the palace. Visitors need to dress appropriately to enter the palace by covering the full body and head uncovered.
Name:Kraton Palace
Address:Jalan Rotowijayan Blok No. 1, Panembahan, Kraton, Kota Yogyakarta, Daerah Istimewa Yogyakarta, Indonesia.
Related Site:http://www.kratonjogja.id/
7. Mount Merapi Volcano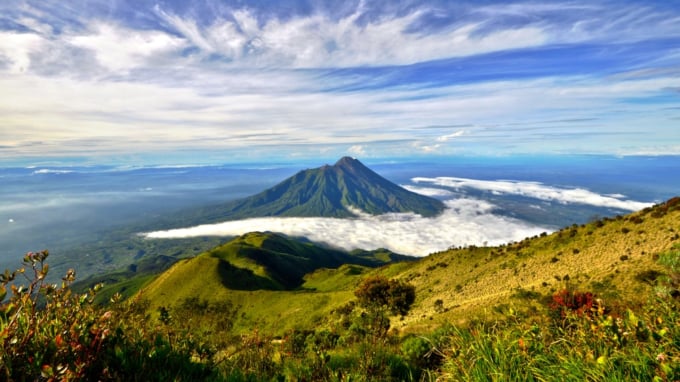 Photo by mohd farid/shutterstock.com
Mount Merapi or Gunung Merapi, located between the border of Yogyakarta and central Java is the most active volcano of Indonesia. Steeply structured Merapi dominated the landscape and situated in one of the most populated areas. The upper part of the volcano doesn't have any vegetation due to its regular eruptions. Visitors enjoy the sunrise trip part of the volcano tour package as it is an exciting experience. Throughout the year, most of the times, you can see fumes rising from the top of the volcano.
Name:Mount Merapi Volcano
Address:Jl. Kaliurang KM 22,6, Hargobinangun, Pakem, Hargobinangun, Pakem, Kabupaten Sleman, Daerah Istimewa Yogyakarta 55582 Indonesia
Related Site:http://www.tngunungmerapi.org/
8. Ullen Sentalu Museum
A trip to Yogyakarta will not be complete unless you visit Ullen Sentalu Museum and get to know about the Javanese culture. Ullen Sentalu is a popular museum in Kaliurang having plenty of collections illustrating Javanese culture. It displays an extensive collection of Mataram dynasty civilization artifacts. The museum also displays relics and artifact from the royal palace, and you can unveil the exciting history of the city. There is an onsite restaurant, and a souvenir shop for tourists and this museum is another must visit when you travel to Yogyakarta.
Name:Ullen Sentalu Museum
Address:Jalan Boyong KM 25, Kaliurang Barat, Hargobinangun, Sleman, Kabupaten Sleman, Daerah Istimewa Yogyakarta 55582, Indonesia.
Related Site:http://ullensentalu.com/konten/40/0/informasi#d=hubungi-kami
9. Sewu Buddhist Temple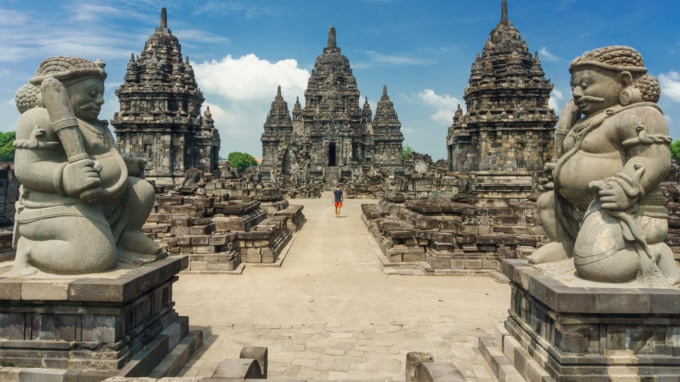 Photo by Jan Jerman/shutterstock.com
Sewu Buddhist Temple, is the popular Mahayana Buddhist temple, the second largest Buddhist temple of java located 2km north of the Prambanan. The beautiful and unique architecture has over 250 religious structures and is even older than Prambanan. Huge statues, ancient temple structures, courtyards, towers and small shrines scattered around the complex will leave any visitor awestruck. The temple ruins yet to complete restoration, but if you take a close look, you can see the rich intricacy of the carvings.
Name:Sewu Buddhist Temple
Address:Jl. Raya Solo - Yogyakarta KM.15, Tlogo, Kalasan, Kabupaten Sleman, Jawa Tengah, Indonesia
10. Plaosan Temple Ruins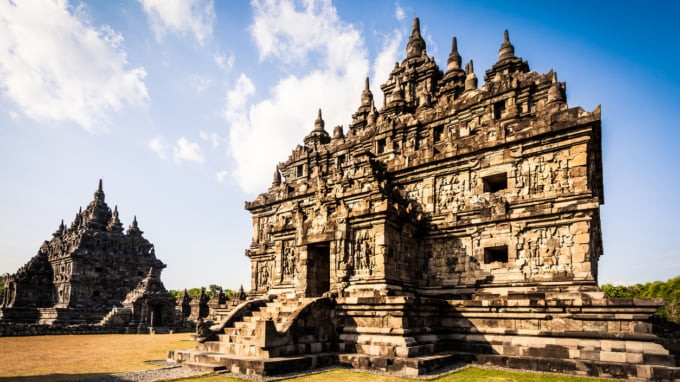 Plaosan Temple located in Bugisan village, located very close to the most popular Prambanan temple complex. Built in the 9th century, Plaosan belonged to the dynasty of Saliendra. The temple complex is a beautiful ensemble of 2 Buddhist temples, the Lor and Kidul. However, only ruins of Plaosan temple remains today with the Kala head decoration and crown ornaments gaining the attention of visitors.
Name:Plaosan Temple Ruins
Address:Jl. Candi Plaosan, Bugisan, Kec. Prambanan, Kabupaten Klaten, Jawa Tengah 57454, Indonesia
◎ Closing
Yogyakarta is a culturally vibrant ancient city in Indonesia, and you got to visit the major temple groups once you are there in the city. Every traveler's day starts with watching the sunrise and visiting popular temple complexes around the area. Most of these temple complexes are picturesque spots, and visiting beaches like Tiamang is also a great option. Theatre performance by ballet dancers based on ancient Hindu stories is also a well-renowned tourist activity in Yogyakarta.
Yogyakarta popularly called Jogja still ranks as the best preserved and attractive ancient city of Java. Being a major center for classical Javanese architecture and art forms, Yogyakarta is a great place to explore the Javanese culture. Shopping is inevitable in Yogya as it is a great place to shop for Indonesian and Javanese items. Malioboro Street is the Commerical shopping area for souvenir and handicraft items whereas, Pasar Beringharjo is another traditional market which is a great shopping spot. Tourists flock here not only due to the opulent splendor of the city but also due to the cuisine and endless shopping opportunities. Explore the modern yet ancient and traditional hearted city of Indonesia to experience the real feel of Indonesian culture.