Cairns : Perfect Tropical Destination in Lap of Pure Wanderlust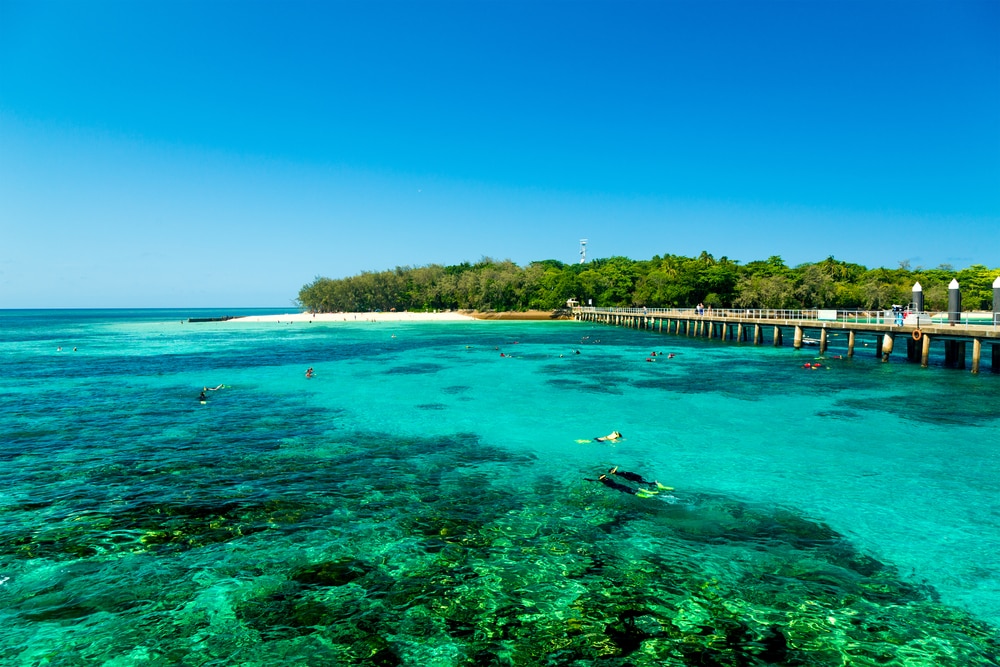 Photo by Filipe Frazao/shutterstock.com
Cairns is a city of joy and fulfillment that quench your invincible thirst for wanderlust with its phenomenal landscapes. The Great Barrier Reef is an exotic part of Cairns surrounded by absolutely stunning beaches, quaint cafes, mighty jungles, serene train rides and most important warm-hearted people. It is a tourist hot spot for its amazing beauty and the city comes to life at night with shining lights and beautiful vibes. Here are the 10 best places you cannot miss.
[x] close
Cairns : Perfect Tropical Destination in Lap of Pure Wanderlust:table of contents
1. Great Barrier Reef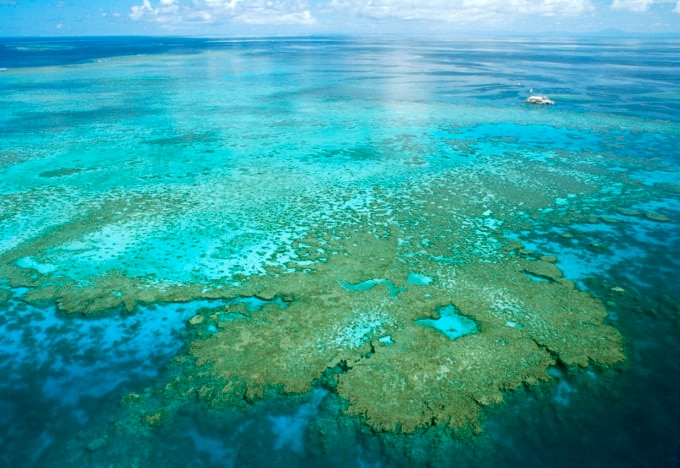 You must have read about the largest coral reef in the world in your high school geography lessons but won't it to be a great idea to experience it. The UNESCO heritage site attracts billions of tourists every year for its stunning coral. You can take a helicopter ride above the coral reef or choose to snorkel around to experience coral life from close. The visit to Cairns is incomplete without Great Barrier Coral Reef. There are day cruises and snorkeling trips which is the best way to witness it closely. It is extremely idyllic.
Name:Great Barrier Reef
Address:Queensland, Australia
Related Site:http://www.greatbarrierreef.org/
2. Kuranda Scenic Railways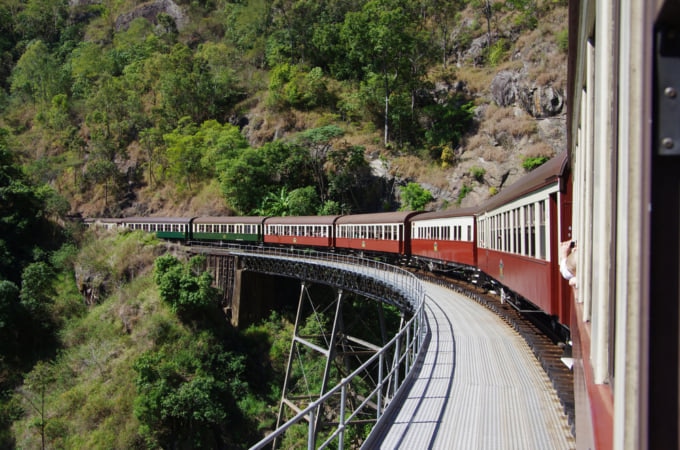 Photo by tomoki1970/shutterstock.com
The Kuranda Scenic Railway trip is something that you must not miss while you are on a trip to Cairns. The journey starts from Freshwater station and the ends at the Kuranda station. It is extremely scenic and takes you through the lush green exotic rain forest of North Queensland. It is a historic railway ride that takes you through many sight-seeing places on the way. It is highly recommended to book a full day trip with everything on-board. There are many stops and you can visit many places while on the gorgeous railway journey.
Name:Kuranda Scenic Railways
Address:126-144 Bunda Station, Cairns, QLD 4870, Australia
Related Site:https://www.ksr.com.au/Pages/Default.aspx
3. Tjapukai Aboriginal Cultural Park
Do you want to experience the vibrant and beautiful history of Aboriginal and their rich heritage? Get an insight by visiting the park that has dedicated in preserving the history and cultural through showcasing programs like traditional dance, art, medicines, handicrafts. It is best way to immerse in the history of Australia and know about their culture and traditional associations. It brings to you the oldest culture of Australia along with traditional food, dance forms and is perfect for a day trip. You can take a guided day trip to explore better.
Name:Tjapukai Aboriginal Cultural Park
Address:4 Skyrail Drive, Smithfield, Cairns, QLD 4878, Australia
Related Site:http://www.tjapukai.com.au/
4. Palm Cove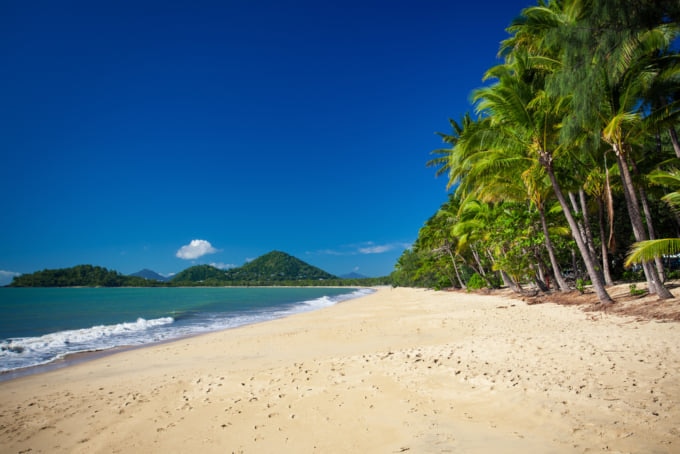 Photo by Martin Valigursky/shutterstock.com
It is a gorgeous tropical destination where you can relax by the quaint and serene seaside village. It is one of the best beaches in Cairns and named after the palm fringed situation which lines the Esplanade. It is popular for water activities like snorkeling, kayaking and scuba diving that enable getting closer to water life. It is also a popular spa destination. It is a haven for beach lovers with pristine beaches, white sands and cobalt blue skies making everything dreamy. It is perfect for spending the day enjoying many water activities.
Name:Palm Cove
Address:Palm Cove, Cairns, QLD, Australia
Related Site:http://tourismpalmcove.com/
5. Esplanade Boardwalk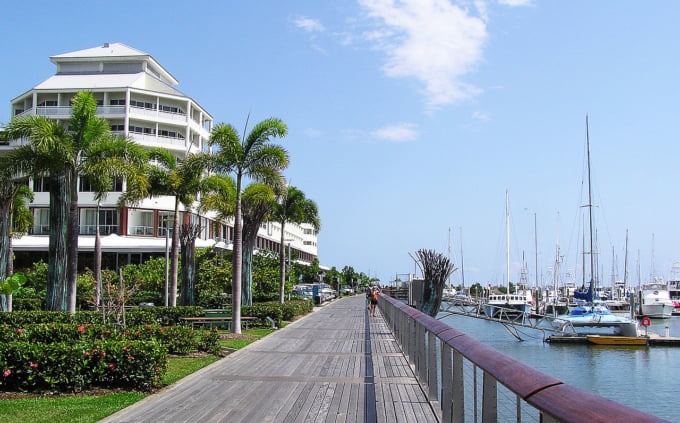 Photo by commons.wikimedia.org
Do you want to feel the soft grains of white sand slip off your foot? The Cairns Esplanade is a gorgeous foreshore stretch extending to 2.5 km and is located in the heart of the city. The gorgeous spot is managed by the Cairns Regional Council and is great for spending a day with your family or kids. There are many playgrounds, boardwalk, park lands, recreational activities along with a lagoon that you can enjoy. It is beautiful place for a walk or play volleyball.
Name:Esplanade Boardwalk
Address:52/54 Esplanade, Cairns City QLD 4870, Australia
Related Site:http://www.cairns.qld.gov.au/esplanade
6. Cairns Botanic Gardens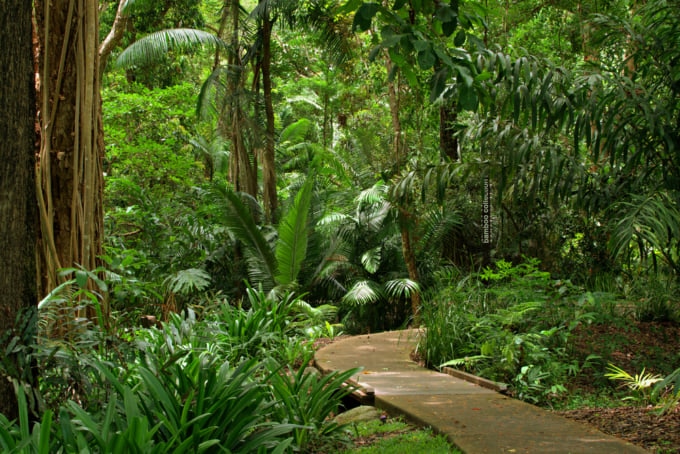 Photo by AustralianCamera/shutterstock.com
This place opens you to diverse variety of flora and is a great place for nature lovers. It is a serene and quite place surrounded by lot of trees, flowers, herbs and is a nice tropical place to enjoy. The stunning surrounding helps you relax. There are some rare plants and flowers in the Botanic garden along with the Flecker Garden Centenary Lakes. It exhibits thousands of different varieties of plants and you can also spot some birds and animals spending their time inside the Botanic garden.
Name:Cairns Botanic Gardens
Address:78-96 Collins Ave, Edge Hill QLD 4870, Australia
Related Site:http://www.cairns.qld.gov.au/facilities-sport-leisure/botanic
7. Australian Butterfly Sanctuary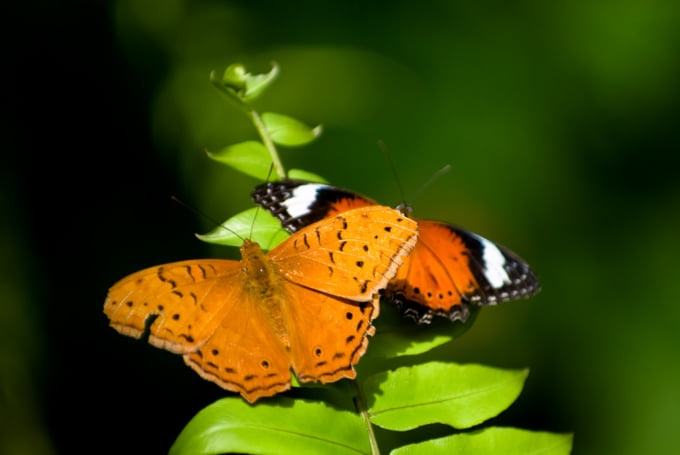 Is it not a beautiful feeling to be surrounded by butterflies? The vibrant colors bring everything to life. This sanctuary is for all those who have endlessly chased and loved butterflies. There are over 1,500 multi-colored butterflies in this butterfly sanctuary and is the biggest in the country. It is an attractive and beautiful place with landscaped garden which is built on the lines of natural rain-forests. It is a place to spend time in leisure enjoying the gorgeous colors and there are many day trips that are organised for the sanctuary.
Name:Australian Butterfly Sanctuary
Address:8 Rob Veivers Dr, Kuranda, QLD 4881
Related Site:https://australianbutterflies.com/
8. Daintree Forest
The stunning rain-forests are perfect to feed your adventurous soul as you witness amazing flora and fauna surrounded by picturesque scenery. The forests are full of Australian bats and huge number of colorful butterflies. There are many things to do in this incredible location and is outstanding for a day trip. Walk through the lush green forests, get lost in the trails, find out hidden waterfalls, drool with the gorgeous coastal views. It is an amazing place to see native creatures.
Name:Daintree Forest
Address:2333 Cape Tribulation Rd, Cape Tribulation QLD 4873, Australia
Related Site:https://www.daintreerainforest.com/
9. Josephine Falls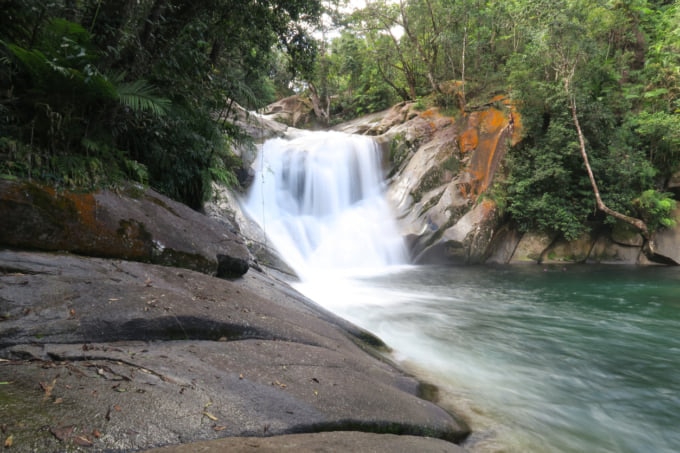 The Josephine Falls is a one of the most scenic waterfalls in Cairns that is surrounded by gorgeous rain-forests. It has swimming holes making it even more popular among tourists. The waterfall is located towards the North of Queensland and mesmerizes one with its crystal clear water. The forest canopy over the rain-forest makes it even more attractive along with gentle breeze, small beach and variety of fauna surrounding it. It is great for a half day trip in Cairns.
Name:Josephine Falls
Address:LOT 1 Josephine Falls Walk, Bartle Frere QLD 4861, Australia
Related Site:https://www.cairnsattractions.com.au/explore/getting-back-to-nature/josephine-falls.416.html
10. Skyrail Rainforest Cableway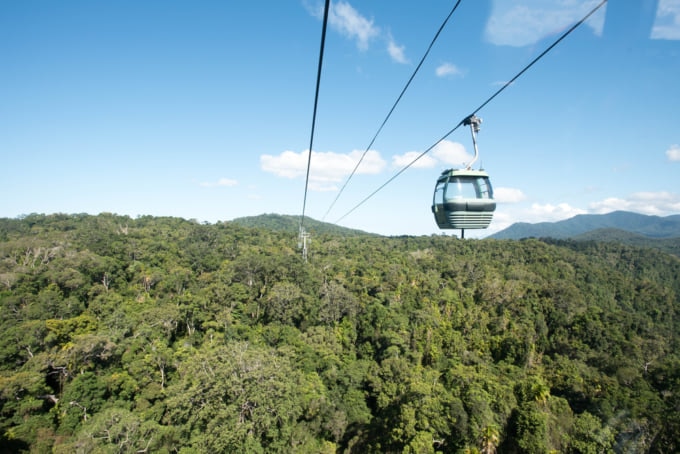 Photo by Jimmy W/shutterstock.com
This is something exciting that you can add to your itinerary. Instead of taking the road route, you can visit the rain-forests with the Skyrail Cableway which is a 7.5 km cable-way. It goes above the UNESCO world heritage rain-forests of Barron Gorge national Park. The aerial views are phenomenal and it gives you a relaxing way to travel through the rain-forests. It is a fascinating thing that everyone must experience once while in Cairns.
Name:Skyrail Rainforest Cableway
Address:6 Skyrail Drive, Smithfield, QLD 4878, Australia
Related Site:https://www.skyrail.com.au/ja
◎ Closing
Cairns is a gorgeous tropical city with amazing things to do, explore and experience. There is everything from the stunning Great Barrier Reef to rain-forest to sandy beaches that one can indulge in. It is a picturesque city that is surrounded by outstanding bestow of nature.