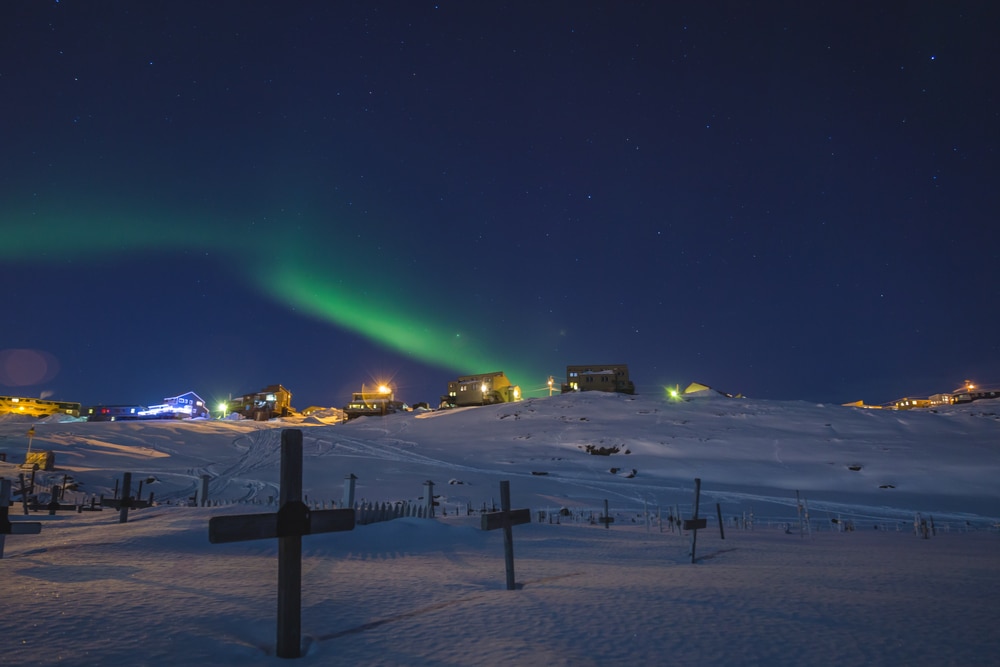 Photo by Max Forgues/shutterstock.com
Iqaluit : The Fastest Growing Territorial Capital
A gateway to the north and capital of Canada's newest territory Nunavut, Iqaluit is situated on the south-eastern inlet of Baffin Island. In 1942, America settled their Air-force base in Iqaluit. It was formerly known as Frobisher Bay and later changed to Iqaluit in 1984. The name 'Iqaluit' means a 'land of many fish.' Iqaluit is the most extensive settlement of Canadian territory of Nunavut. You will be surprised to know the population of Iqaluit is as low as 6700 as per a census conducted in 2011. The best time of the year to visit Iqaluit is the summers. The ice thawing in June, humidity, and heavy showers in July and August make it almost inaccessible for visitors. The place has a lot to offer in terms of local history and heritage.
table of contents
[x] close
Iqaluit : The Fastest Growing Territorial Capital
1. Inukpak Outfitting
The small hilly region snuggled in Frobisher Bay welcomes all the travelers who are looking forward to an experience of a lifetime. It provides you with some fascinating moments with Inukpak outfitting. You can cherish few memorable events made conducive by the geographical location of Iqaluit. Inukpak outfitting on the infinite Arctic region allows you to experience traveling off the beaten track. You can go for snowmobiling, snow sailing, hiking, and sea kayaking and more such sporting activities. Irrespective of your skills, you can choose from various activities we offer as 'turnkey solutions.' In case you are not a sports enthusiast, you can have many guided activities to suit your mood and according to your skills.
Name:Inukpak Outfitting
Address:3310 Niaqunngusiariaq, CP 11392, Iqaluit, NU X0A 1H0, Canada
Related Site:https://inukpakoutfitting.ca/en/
2. Unikkaarvik Visitor Center
Unikkaarvik Visitor Center provides you with a lot of information on hotel accommodation, flight details, their availability, and prices. The staffs are friendly and helpful who are always eager to supply you the details of the local history. They are well-informed of the culture of Iqaluit. Every time you visit the place, you will learn something new about the town. Make sure to visit the center to get enthusiastic guides who will accompany you throughout your trip to Iqaluit. They are astute people ready to cater to the tourism industry.
Name:Unikkaarvik Visitor Center
Address:220 Sinaa St., Iqaluit, Nunavut X0A 0H0, Canada
Related Site:http://destinationnunavut.ca/
3. Legislative Assembly of Nunavut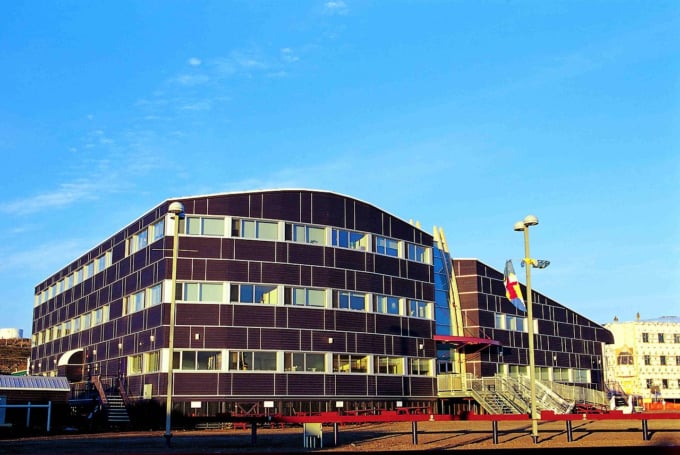 Photo by commons.wikimedia.org
The parliament building of Nunavut is in Iqaluit, its capital. Queen Elizabeth II has opened the Legislative assembly of Nunavut as Queen of Canada on October 7, 2002. Earlier the members used to meet at the gymnasium of Inuksuk high school for discussion of parliamentary affairs. The territories of Brunswick, Ottawa, and Ontario operate by consensus government. They do not have political parties as the way other democratic countries used to have. The will have an election and the newly elected legislatures meet up in Nunavut to form an executive council. In other countries, this executive council is popularly called the cabinet. Currently, they are operating with 22 seats in the legislature.
Name:Legislative Assembly of Nunavut
Address:926 Federal Rd, Iqaluit, NU X0A 0H0, Canada
Related Site:http://www.assembly.nu.ca/
4. Nunatta Sunakkutaangit Museum
Iqaluit boasts of the small museum in the Old Hudson's Bay Company building. The museum host exhibitions of well-acclaimed contemporary artists on a regular basis and also the museum keeps variety of traditional Inuit clothing, tools, and weapons, etc. Some of the exhibits like the amazing soapstone and carvings are bound to invoke your interest. Besides, some of the well-preserved artifacts from the previous century restored in the first floor of the building are pretty intriguing. The museum's simultaneous effort on restoring history as well as encouraging present art and culture will touch your hearts. You must make it a point to visit this museum whenever you plan a trip to Iqaluit.
Name:Nunatta Sunakkutaangit Museum
Address:212 Sinaa, Iqaluit, NU X0A 0H0, Canada
Related Site:https://www.nunavuttourism.com/member/nunatta-sunakkutaangit-museum/
5. Carvings Nunavut
Authentic Inuit art is the main attraction in the museum of Iqaluit. Various artifacts, soapstone carvings dating back few several years are displayed for visitors. Some of them are even put up for sale. The collectors purchase it from the local Inuit communities spread across Nunavut. The exotic weaponry collection is offering at an affordable price to travelers, and each artifact shall carry an authentication certificate.
Name:Carvings Nunavut
Address:626 Tumit Plaza, Iqaluit, NU X0A 0H0, Canada
Related Site:https://carvingsnunavut.com/
6. Sylvia Grinnell Territorial Park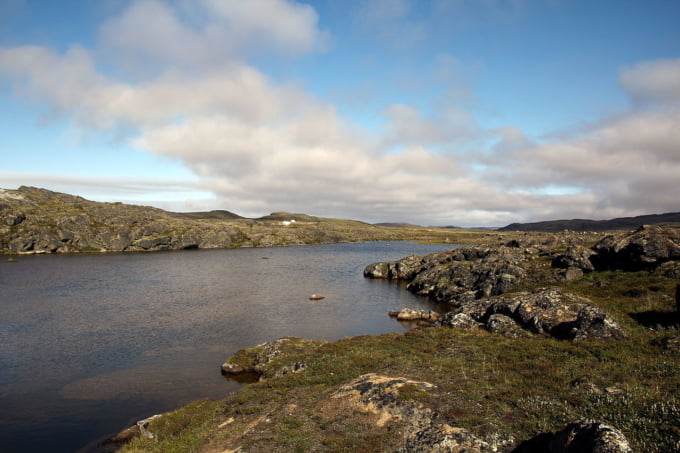 Photo by commons.wikimedia.org
This park is located about a kilometer from the capital of Nunavut, Iqaluit. Sylvia Territorial Park is a vibrant natural park through which flows the river, Sylvia Grinnell. You can revel in the beauty of the arctic char and the natural waterfall. It is an ideal place for a picnic. Various signage across the park narrate a rich tale of heritage and culture of the original inhabitants of Inuit. The park houses the rarest plant Woodsia Fern and some exotic wildlife that is equally captivating. You can find caribou, arctic hares, arctic foxes, and several rare species of birds in the park during winter and spring. The coastal area near the park is dense with the archeological remains of the original inhabitants of Iqaluit, the ancient Dorset, and Thule people.

Name:Sylvia Grinnell Territorial Park
Address:Akilliq Road, Iqaluit, Nunavut X0A 0H0, Canada
Related Site:https://www.nunavuttourism.com/things-to-see-do/parks-special-places/sylvia-grinnell-territorial-park/
7. St. Jude's Cathedral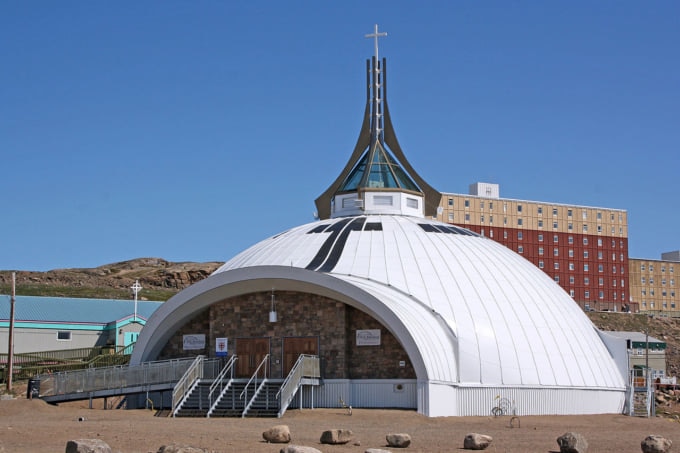 Photo by commons.wikimedia.org
Inaugurated on June 3, 202 for the believers, St. Jude's Cathedral is an Anglican cathedral in Nunavut, Canada, located in Iqaluit. The Church is the spiritual home for the Diocese of the Arctic, including people of Northwest Territories, Nunavut, and Northern Quebec. The current building which has a unique dome-like structure on top is called 'Igloo Cathedral.' Besides being a spiritual hub for the local Iqalummiut, it is a great tourist attraction owing to the structure and the calm and serenity inside. The Church bears the most beautiful craftsmanship of the Inuit culture. It is well known all over the world for its decorations, wall-hangings, woven baskets, and a cross made of narwhal tusks.
Name:St. Jude's Cathedral
Address:655 Mattaaq, Iqaluit, NU X0A 0H0 Canada
Related Site:https://cep.anglican.ca/st-judes-cathedral-iqaluit-pays-off-debt/
8. Apex Beach
Apex beach lies on 5 kilometers to the south-east of Iqaluit. It is a small peninsula that separates Koojesse inlet from Tarr inlet. When Americans had made Iqaluit an Air-force base, the original inhabitant Inuit mostly stayed along the Apex beach. The place boasts of housing around 60 families along with a women's shelter, a Church, a Nanook elementary school, and a bed-and-breakfast. Despite being a part of the city Iqaluit, some residents refused to accept the affiliation with Frobisher's Bay. They demanded a territorial representation with south Baffin community of Kimmirut. The breathtakingly beautiful, low-key Apex beach is a fascinating place to visit in Iqaluit.

Name:Apex Beach
Address:Apex, Nunavut, Canada
9. Qaummaarviit Territorial Park
The culturally rich heritage of Thule and Inuit has lavishly illustrated in the Qaummaarviit Territorial Park which is located 12 kilometers from Iqaluit near Peterhead inlet. It is a tiny, rocky island housing the remnants of innovative artifacts of the outstanding civilization. There are patches of lush green vegetation among the rocky island that drops off the hint about the living condition of the Thule and Inuit people several decades ago. If you have a penchant for traveling to historical places, you should never miss out on visiting the Qaummaarviit territorial park. The remnants of sled runners and dog harness suggest that the original inhabitants were hunters. Their profession becomes all the more prominent with the findings of sea-mammal bones. You cannot rule out the significant participation of women as you keep walking along the park. You will find some awe-inspiring hide scrapers, needles, tools, and soapstone lamps and dolls.
Name:Qaummaarviit Territorial Park
Address:Iqaluit, NU, Canada
Related Site:https://www.nunavuttourism.com/things-to-see-do/parks-special-places/qaummaarviit-territorial-park/
◎ Closing
Appreciate your trip throughout the old town of Iqaluit. The place is perfect for its combination of rich culture and splendid heritage. A sense of peace dawns on you as you stroll across the town or have fun with like-minded people in Inukpak Outfitting. Whether it's placid tranquil of the Apex beach or the historical Qaummaarviit Territorial Park, you are sure to find both of them equally mesmerizing. Pack your bags and set out on an alluring journey of Iqaluit.