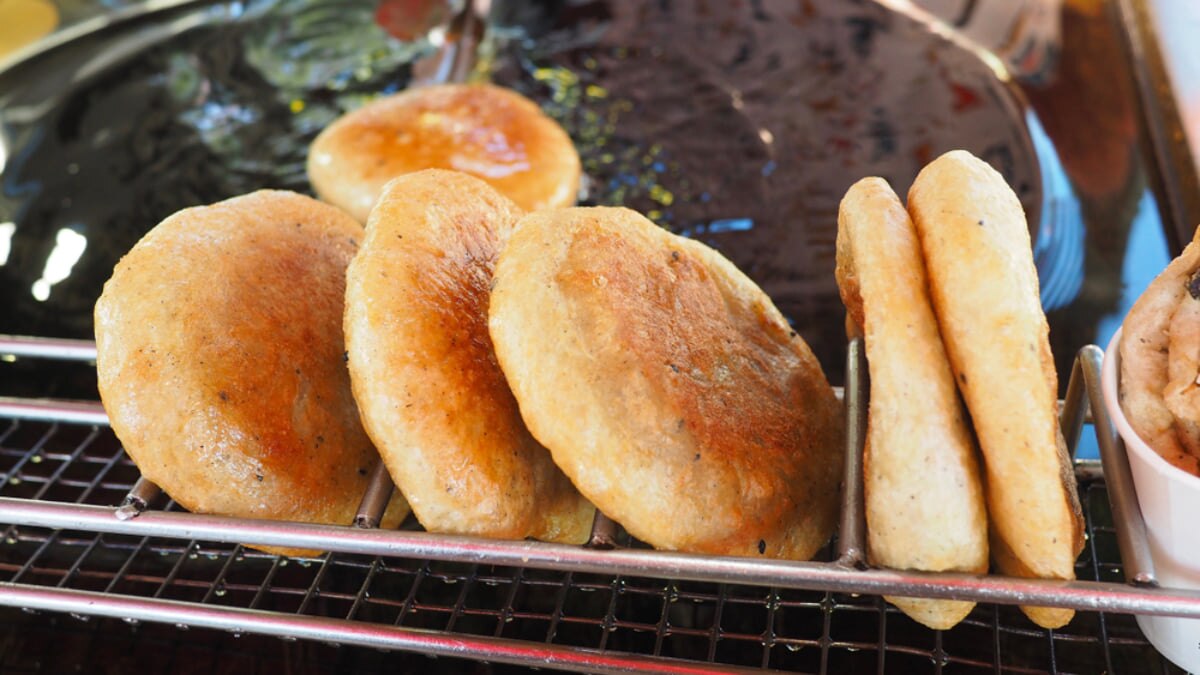 Photo by NavyBank/Shutterstock
5 Foods You Need to Eat in Busan, South Korea
As South Korea's second largest city and main seaport in the country, Busan is a must-visit for any coming to South Korea. While Busan is mostly known for its beautiful beaches, colorful towns and the Busan International Film Festival, the city is well-known in the country for its delicious seafood and other snacks that just aren't quite the same anywhere else. For the best of the best, here are five foods you need to try in Busan, South Korea.
table of contents
[x] close
5 Foods You Need to Eat in Busan, South Korea
Pork Soup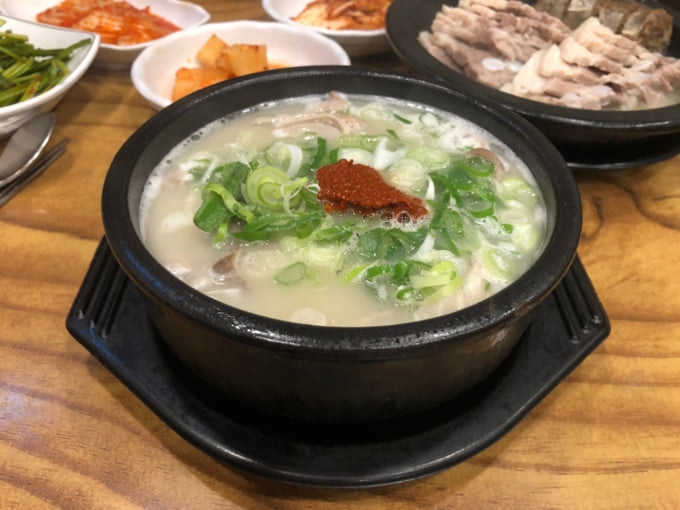 Photo by wavy wavy/Shutterstock
A specialty of Busan and the surrounding region, this simple pork soup or dwaeji gukbab is made by slow cooking pork bones and other parts of the pig to make a delicious, creamy, pork broth. While it's great to eat as is, you can add green onions, baby shrimp and chili to take the flavor to the next level. As always in South Korea expect a hearty addition of side dishes to accompany your pork soup.
Fish Cakes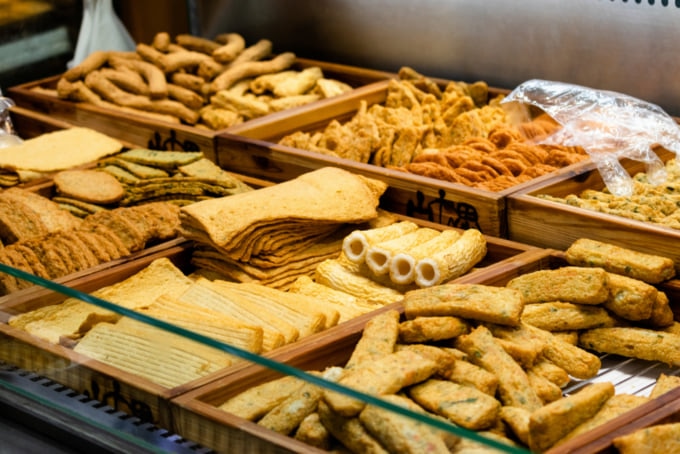 Photo by puyalroyo/Shutterstock
Served in all kinds of different shapes, sizes and flavors, Busan's fish cakes or eomuk are famous all around South Korea and beyond.

There's even a museum detailing everything about this popular snack, the Samjin Fish Cake History Museum lets you see the process of making the fishcakes and even lets you try making your own. An experience highly recommended for any food lovers visiting Busan.

If you're visiting Busan during the winter, make sure to try eomukguk, a fish cake soup that is both delicious and highly comforting.
Seed Pancakes (Ssiat Hotteok)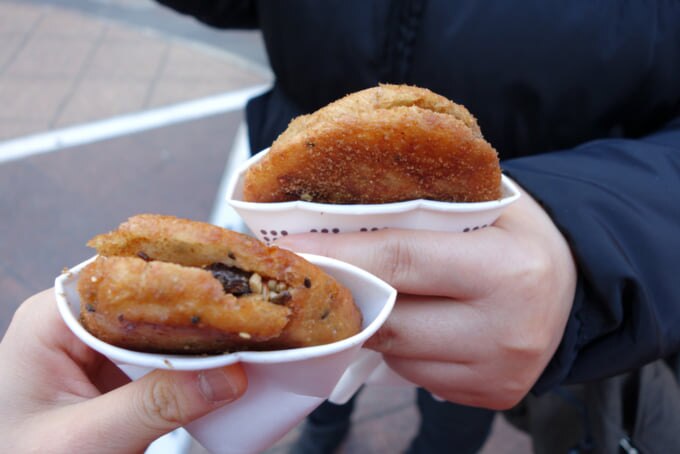 Photo by friday18pm/Shutterstock
While the name might not inspire confidence, these sweet snacks are delicious and comforting, especially during the winter months. Pan or deep-fried until perfectly crispy on the outside, the sweet dough is cut in half and filled with a generous helping of nuts and seeds along with brown sugar.

During South Korea's cold winter months, these seed pancakes double up as a edible hand warmer, when you've finished toasting up your frozen-cold fingers, they're the perfect temperature to eat.
Seafood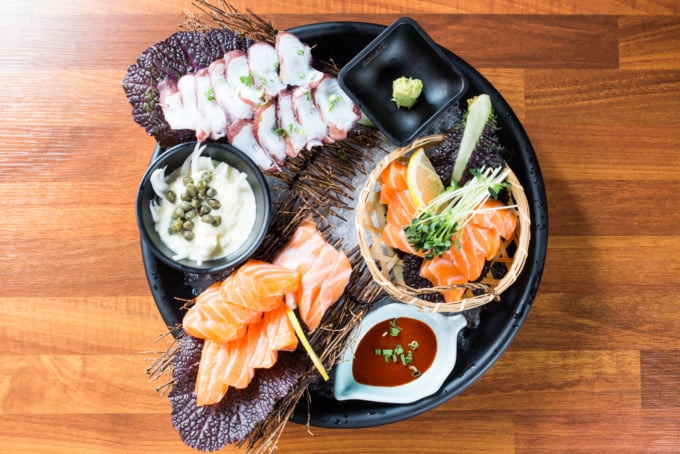 As one of South Korea's most famous coastal cities and the largest port in the country, it's no surprise that seafood is famous in Busan.

Apart from just getting your fill of seafood served sashimi style, make sure to try South Korea's famous seafood pancakes (haemul pajeon) which feature generous portions of seafood in Busan. Also give moolhwe a try, a local specialty made with raw fish in a spicy broth.

Head to Jagalchi Fish Market, buy whatever takes your fancy and then ask for vendors to cook it up or serve it raw on the second floor. It can be quite touristy, and expect to pay a little more of you don't speak Korean, however for the freshness and high quality it's well worth it.
Samgyetang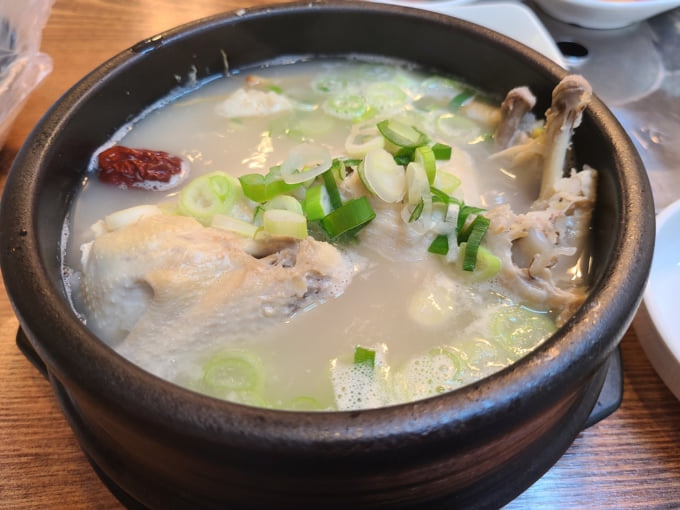 Photo by Dolslove/Shutterstock
Touted as a 'health food' in South Korea, whether you're trying to be healthy or not samgyetang is just delicious. A kind of Korean chicken soup, it's made using a whole chicken which is stuffed with ginseng, jujube, rice and garlic and cooked until beautiful tender. Samgyetang is popular all over South Korea, and Busan is no exception, with plenty of age-old restaurant serving their take on the Korean classic.

While it's served piping hot, it's actually more popular to eat during the summer as a kind of local way of 'fighting fire with fire'. However as you might expect, it also goes perfectly well to help you get through the cold winters here.