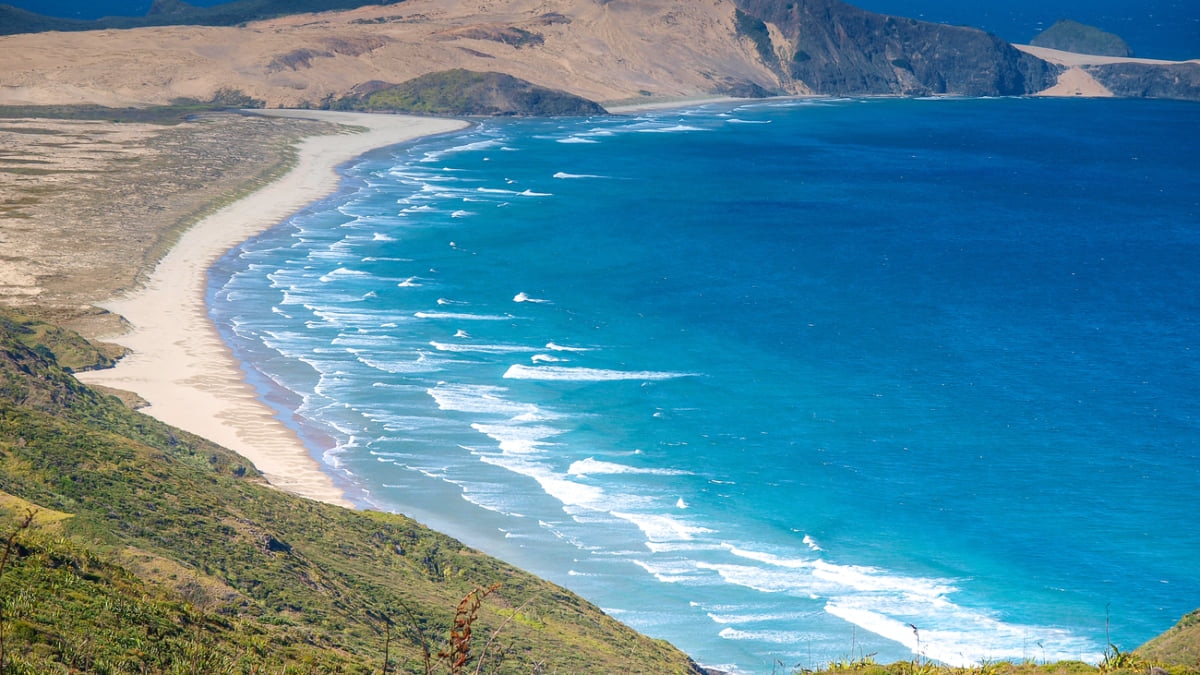 Photo by Nicram Sabod/Shutterstock
The Top Beaches to Visit in New Zealand
New Zealand might be famed for its beautiful out-of-this-world scenery, but this island nation has plenty of pristine beaches to show off as well that warrant heading out to the coastline. For those with an affinity for the ocean, here are the top beaches to check out while visiting New Zealand.
table of contents
[x] close
The Top Beaches to Visit in New Zealand
Best Beaches in South Island, NZ
Awaroa Beach, Abel Tasman National Park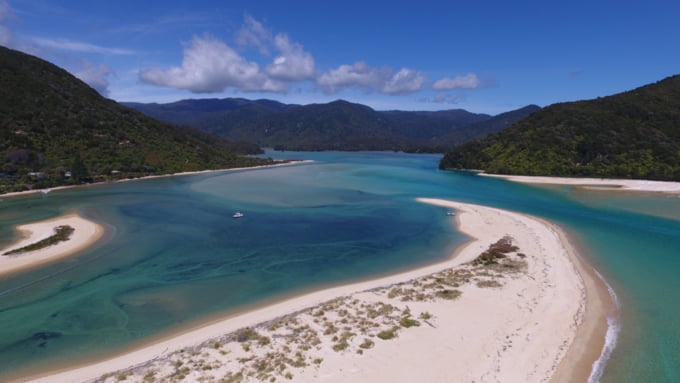 Photo by flyingry/Shutterstock
This national park at the north point of South Island is home to a range of stunning scenery and nature spots. Abel Tasman National Park is most famous for its golden sandy beaches and dramatic rocky coastline that have made it one of the most beautiful parks in the country. While you could spend a week exploring all the hidden coves and stunning beaches, Awaroa Beach is one of the most picturesque.

The beach also made headlines back in 2016 when a crowdfunding campaign bought the beach for public use to prevent it from being privatized.

If you want to take some time to explore this incredible wilderness, consider hiking along the Abel Tasman Coast Track, a three to five day trek through New Zealand's beautiful expanse of nature.
Moeraki Boulders Beach (Koekohe Beach)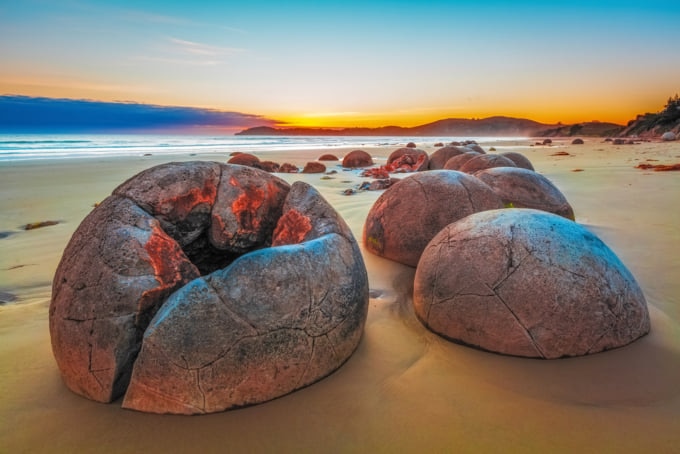 Photo by Greg Brave/Shutterstock
On the coast of Otago, Koekohe Beach is known not just for its golden sands but for the incredible rock formations and perfectly round boulders that sit here. These huge rocks were formed over thousands of years by erosion from the sea water. Some of them reach up to two meters tall and really is a incredible sight to behold, especially during sunrise or sunset.

If you're coming from Dunedin, it's about an hour's drive north of the city up New Zealand's State Highway 1.
Best Beaches in North Island, NZ
Papamoa Beach, Tauranga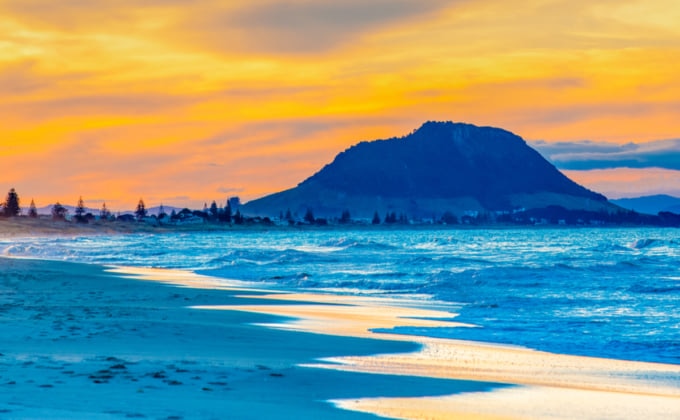 Photo by Photos BrianScantlebury/Shutterstock
New Zealand's charming seaside city of Tauranga is one of the country's most up and coming cities. With its location on the north coast of the country, it's a popular destination for water activities and sports. The highlight here however is Mount Maunganui and its surrounding beaches, long stretching coastline of white sand that lie right next to the city.

One of the easiest beaches to reach in New Zealand, Papamoa Beach is just a short walk from the city of Tauranga and Mount Maunganui.
Hot Water Beach, Waikato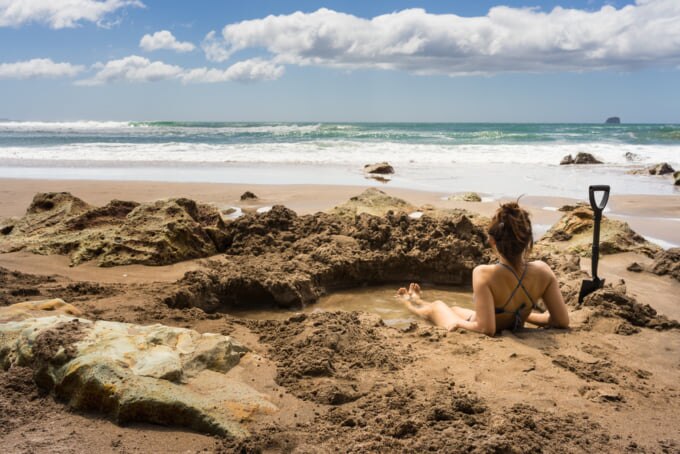 Photo by Naruedom Yaempongsa/Shutterstock
About two hours drive from Auckland, this highly unique beach has a natural hot spring hidden underneath the sand. While it's beautiful enough here that just enjoying the scenery and ocean views would be pleasant enough, visitors can dig into the sand to form a pool of hot spring water to soak in. Enabling you to enjoy a DIY jacuzzi while to really take relaxation to the next level. Just make sure to visit during low tide however as most of the hot spring beach area is covered during high tide making it impossible to bathe there.
Piha Beach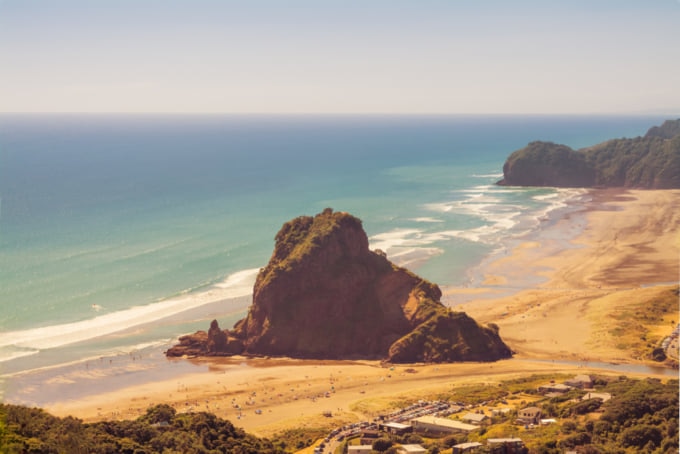 Photo by Scapigliata/Shutterstock
While the sands here are not quite as golden as the other beaches around New Zealand, Piha is a beautiful showcase of New Zealand's incredible coastal scenery. Famous for its black sand beach, formed by volcanoes in the area, Piha is a unique slice of scenery you won't find anywhere else. The iconic Lion Head makes for a picturesque landmark, jutting out from the main beach area.

Piha Beach is also one of the most popular spots for surfing in New Zealand. The waves here can get quite high and strong which can make it a little dangerous for swimming too far out, but is perfect for surfing swells.
Ninety Mile Beach, Northland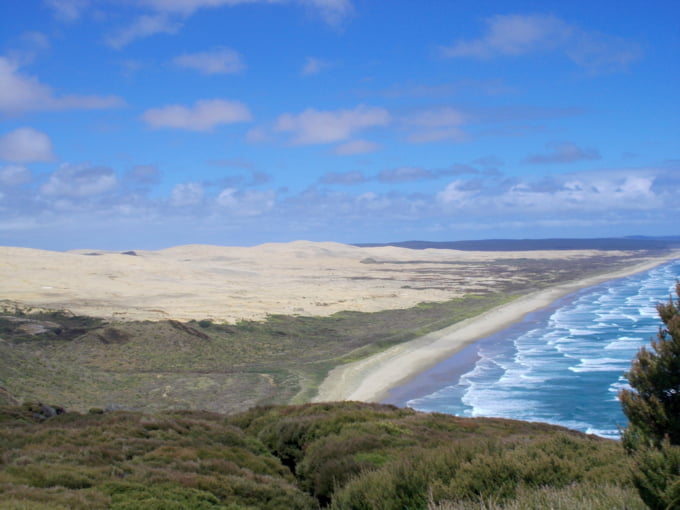 Photo by Schluffis On Tour/Shutterstock
In the far north of the country, this seemingly endless stretch of golden sands is a must-visit for beach lovers heading to North Island.

Ninety Mile Beach is also famous for its dune hills that stretch up next to the beach, perfect for trying out the local activity of sand-boarding down them. Although it's about a five-hour drive from Auckland, there's plenty of other things to do and see around this beautiful part of New Zealand that make it worth the trip.

Despite the name it's actually only 55 miles long, there's still plenty of space to enjoy however on this huge stretch of picturesque coastline.