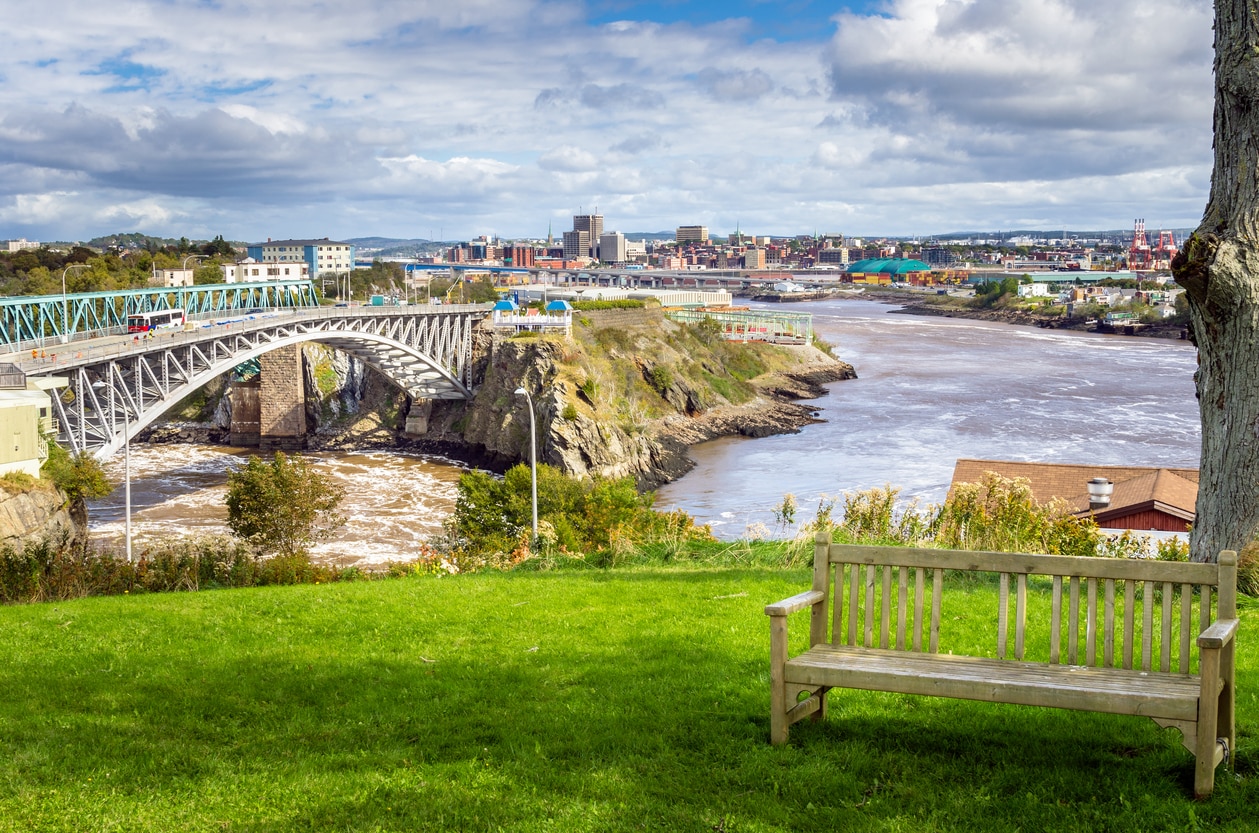 Saint John : Saint John the Historical and Cultural Paradise
Saint John is located in Canada's New Brunswick province. The city is easily confusable with another city having a similar name in the country, St. John's, however these are completely different destinations on different sides of the country. Saint John is a port city laying in the Bay of Fundy. A very important part in the economy since the port reached to be the third largest harbor in the country. There is a long and very interesting history behind Saint John and tourists are very often attracted to it. Here are some really cool places that are going to bring endless fun to the trip.
table of contents
[x] close
Saint John : Saint John the Historical and Cultural Paradise
1. Reversing Falls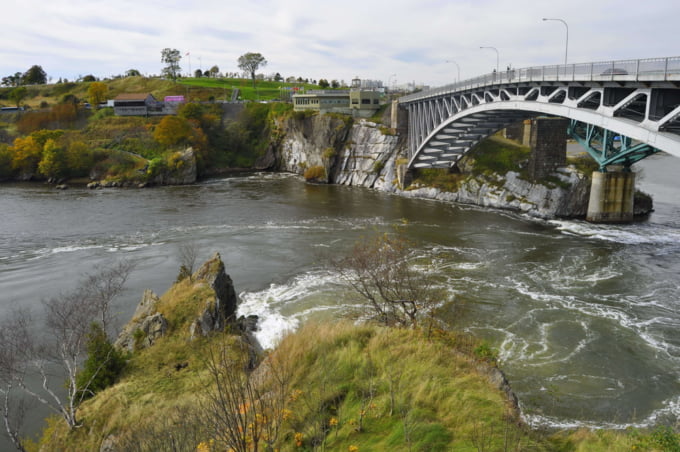 Photo by Nenad Basic/shutterstock.com
Located in the Saint John river the Reversing Falls are a series of rapids which attract many tourists and locals as well to admire the natural miracles. Visitors will be able to witness a rare occurring with their own eyes when visiting the Reversing Falls in Saint John. The interesting site includes the sight of the river which before emptying into the Bay of Fundy runs through a narrow gorge. This unique phenomenon was created when the Bay of Fundy and the Saint John River collided leaving behind an interesting place to visit and study.
Name:Reversing Falls
Address:Reversing Falls, Saint John, NB, Canada
Related Site:https://www.tourismnewbrunswick.ca/Products/R/Reversing-Rapids.aspx
2. Irving Nature Park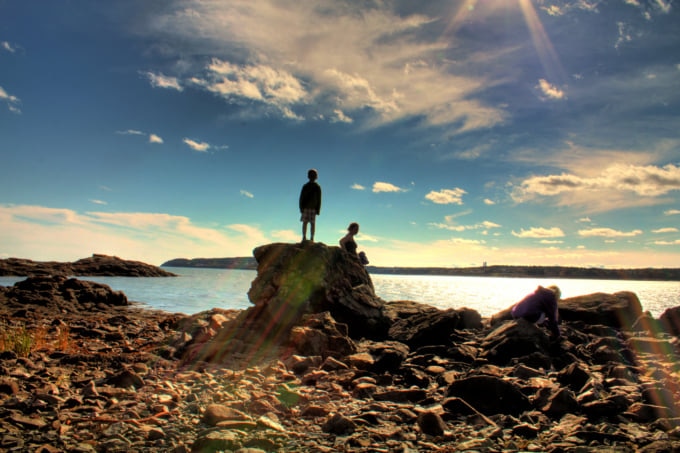 The Irving Nature Park is a really easily accessible area in Saint John. This park is close to the urban area and just some minutes away from the uptown area. The park was established to help protect the environment and to help people appreciate their surroundings meanwhile protecting it. The park is a six hundred acre territory which offers many outdoor activities to do. There are boardwalks for those who like to take a stroll or people can go and discover hidden places on the coast. The park features lovely picnic places with chances to grill and so much more.
Name:Irving Nature Park  
Address:1790 Sand Cove Rd, Saint John, NB E2M 4Z8, Canada
Related Site:https://www.jdirving.com/jd-irving-sustainability-nature-parks-irving-nature-park.aspx
3. Rockwood Park
When you visit Saint John you have the chance to visit one of Canada's biggest urban parks. The city park of Rockwood Park is located in the eastern area of the North End and has many many visitors throughout any season. This park is a very sizable natural area with chances to walk or hike or even bike on trails. People can choose between already existing trails or can have a little more adventure and discover their own. The park features many lakes for swimming boating or even fishing plus in the winter it is used to skate.
Name:Rockwood Park
Address:10 Fisher Lakes Dr, Saint John, NB E2K 5S6, Canada
Related Site:http://www.rockwoodpark.ca/main.html
4. New Brunswick Museum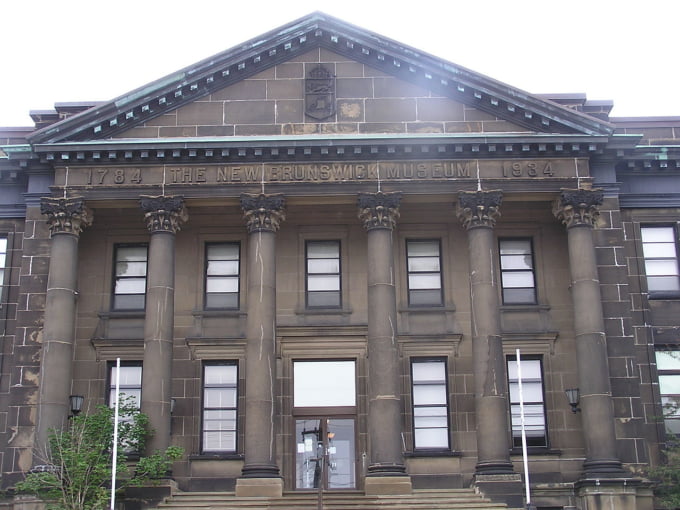 Photo by commons.wikimedia.org
Visiting the New Brunswick Museum is the best place to go to in case you were wondering about the past of the area or if you simply would like to get to know the city a little bit better. The museum is a very valuable place attracting many tourists because the museum of New Brunswick is the oldest continuing museum in Canada. Not only the age makes the building valuable and interesting but all the things that are displayed in the inside. The museum focuses to introduce and teach about the provinces history but visitors will also find exhibitions of science and art.
Name:New Brunswick Museum  
Address:1 Market Square, Saint John, NB E2L 4Z6, Canada
Related Site:http://www.nbm-mnb.ca/index.php?option=com_content&view=article&id=121&Itemid=316
5. Carleton Martello Tower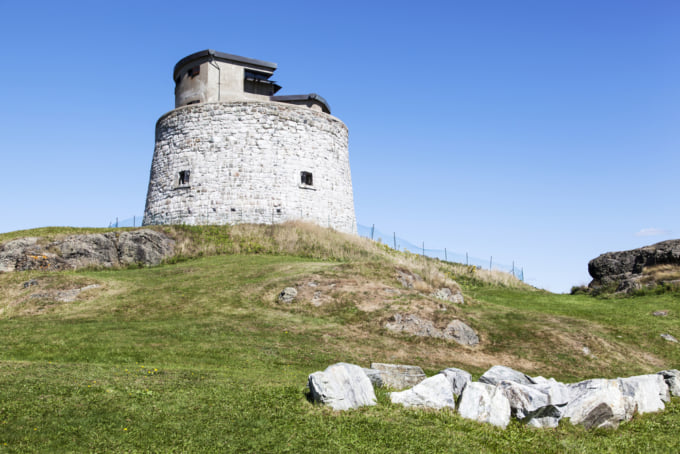 Photo by Ramunas Bruzas/shutterstock.com
Visitors who get to visit the Carleton Martello Tower are very lucky. Why would they be lucky to be able to see some ruins? Because the Carleton Martello Tower is one of the lucky survivors out of the nine other Martello Towers in Canada. The tower was used in wars and people will be able to witness the still standing tower which dates back to the 1812s. The tower was used for defense and was in use from the war of 1812 to the second World War. Visitors will be able to see the exhibits and get to know the history however climbs can be taken as well on this historic site.
Name:Carleton Martello Tower
Address:454 Whipple St, Saint John, NB, Canada
Related Site:https://www.pc.gc.ca/en/lhn-nhs/nb/carleton
6. Fort Howe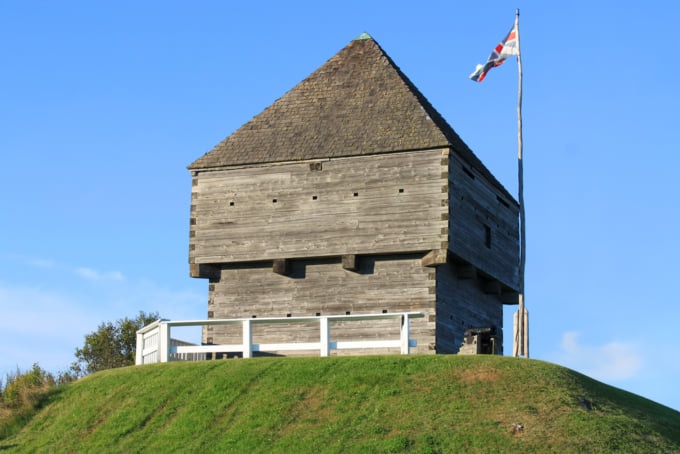 Photo by gvictoria/shutterstock.com
The historic site of Fort Howe brings up more interesting memories of Saint John's historical past. The fort was built in the time of the American Revolution by the British to protect the city of Saint John from further American attacks. Visitors will be able to hike up to the hill and see the fort. There is a broad and long sidewalk meant for discovering other sights along the walk to the Fort Howe. Continuing the walk from the fort there will be other sights to admire which talk about the long gone war but the memories are still here.
Name:Fort Howe
Address:Magazine Street, Saint John, New Brunswick, Canada
Related Site:http://www.historicplaces.ca/en/rep-reg/image-image.aspx?id=13001#i1
7. Loyalist House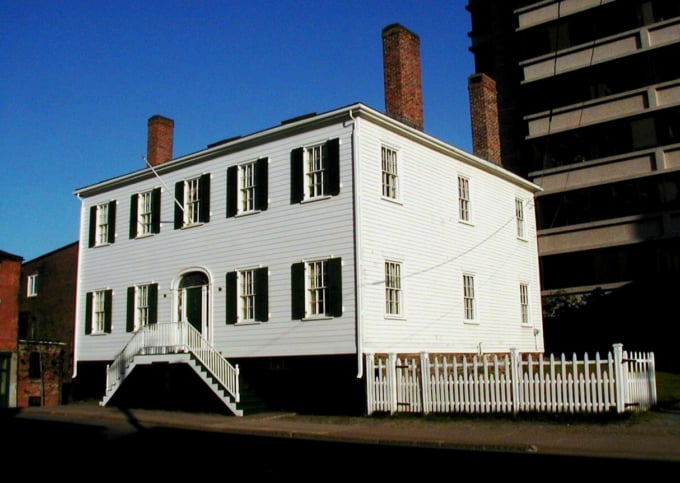 Photo by commons.wikimedia.org
Located right in uptown Saint John the Loyalist House is a museum and National Historic Site. Visitors will be able to step into a prosperous family's former house who claimed the Loyalist House their home between 1817 and 1958. The former family living there was called the Merritt family who were British loyalists. The house was built in 1817 in Gregorian style. Visitors today will be able to experience the life of those who lived in the respective era through the exhibitions in the museum. The Loyalist House displays original periodical furniture and interiors meanwhile representing the respective era.
Name:Loyalist House
Address:120 Union St, Saint John, NB E2L 1A3, Canada
Related Site:http://www.loyalisthouse.com/
8. Barbour's General Store
Although the name indicated this site to be a general store Barbour's General Store is actually so much more than that. Barbour's General Store is a historical museum and tourist hub being there to introduce Saint John on a new level to every traveler. The building is an authentic store building dating back to the nineteenth century. The building was built in a Victorian style and it was recreated and reserved toserve a purpose. Every visitor who visits the Barbour's General Store will receive a proper Victorian era experience and the sole purpose of this sight is to learn and have fun.
Name:Barbour's General Store
Address:10 N Market St, Saint John, NB E2L 2H7, Canada
Related Site:http://www.discoversaintjohn.com/places/barbours-general-store/
9. Saint John Jewish Historical Museum
Get to know another side of Saint John by visiting the Saint John Jewish Historical Museum. If you were ever interested in the interesting Jewish religion or you ever had questions about them and their beliefs then this museum is just the perfect place for you. Saint John Jewish Historical Museum will take you on a journey into another religion's point of view and will answer all the questions you have. During the tour you will be introduced to interesting concepts and will be able to tour the exhibits located in the museum.
Name:Saint John Jewish Historical Museum
Address:91 Leinster St, Saint John, NB E2L 1J2, Canada
Related Site:http://jewishmuseumsj.com/home.html
10. Cherry Brook Zoo
The Cherry Brook Zoo might be a small one however the experience and the memories you make here will be outstanding. The territory of the zoo is no more than thirty five acres and the scenery is mostly woodland which is perfect for a nice zoo, the woodland gives a really good atmosphere to the whole visit. Visitors will be able to enjoy various things on the grounds of the Cherry Brook Zoo. The place features a mini golf course for those who like to play golf or people can go and have fun in the extinct animal–themed park. There is also a gift shop so travelers won't have to return without tangible memories.
Name:Cherry Brook Zoo
Address:901 Foster Thurston Dr, Saint John, NB E2K 5H9, Canada
Related Site:http://www.cherrybrookzoo.ca/
◎ Closing
The places listed and described above are only a few of all those attractive places you can visit when in Saint John. This place will give a unique opportunity to discover another side of Canada. Saint John rather focuses on the historical and cultural part of Canada rather than the overwhelming natural beauty, however there are breathtaking sites in the area of Saint John that are worth a visit too after you are done with the city, if being done in the city is even possible. Saint John is great for a get-away because it gives you something new and unforgettable memories. You just have to go and find it out for yourself!