Chania : The Evocative City in Crete with Narrow Lanes that Culminates at One of Greece's Magnificent Harbor
Chania is Crete's second largest and reminiscent city. It is a picturesque of mixed old and modern town, crisscrossed with narrow lanes that lead to a magnificent fishing harbor. It is a great town for visitors to unwind. Its beauty is attractive to tourists that enjoy sightseeing the remnants of Turkish and Venetian architecture. Tourists would also deluge the town for its beautiful local cafes, museums, indie boutiques, exquisite restaurants and the greatest shopping spots in the beautiful Crete. Below are some of the best sightseeing attractions visitors would enjoy in Chania town.
table of contents
[x] close
Chania : The Evocative City in Crete with Narrow Lanes that Culminates at One of Greece's Magnificent Harbor
1. Greek National Football Museum
The Greek National Football Museum is rich in Greece's National Football Team history. Tourists on their sightseeing ventures would enjoy a tour by volunteers that would explain and expound on the history. There are also exhibitions of worldwide superstars like Messi, and Ronaldo which football fanatics would really enjoy. The entrance to the museum is free, but visitors can tip the volunteer tour guides. Football fan travelers would enjoy the outstanding collection of shirts, balls, tickets, and they would also get to touch the Euro trophy which would make their trip to Chania very memorable.

Name : Greek National Football Museum
Address : 40 Tsouderon, Chania Town, Crete 731 32, Greece
Related Site : https://www.galanolefkosfaros.gr/gr
2. Old Venetian Harbour
The old Venetian Harbour is an exquisite marina and nature park that is perfect for visitors on a sightseeing tour. It is perfect for its views of the city and the sea. There also many local cafes and restaurants with plush meals and drinks that visitors enjoy as they interact with the locals. Travelers would also participate in long strolls to the marina and to the lighthouse which will also have the best views of Chania town. Visitors can spend up to the evening at the Venetian harbor and have their dinner at the most relaxing place in Chania with its breathtaking night views.
Name : Old Venetian Harbour
Address : Agiou Markou 8/Akti Tompazi, Chania Town, Crete 731 32, Greece
Related Site : http://www.allincrete.com/chania-old-venetian-harbour/
3. Chania Venetian Lighthouse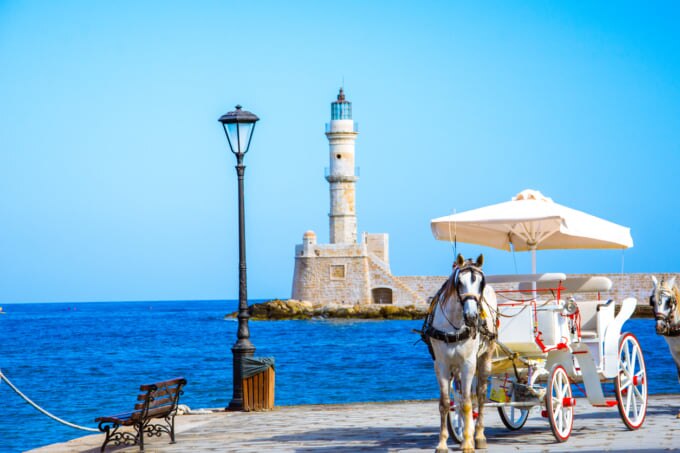 The Chania Venetian Lighthouse is a landmark on the Venetian Harbour with the best views and vantage points in Chania town. Once at the lighthouse, the view of the harbor is very remarkable, the rustic old townhouses in the town are also very impressive to look at from there. The sunset is breathtaking as this is the best serene spot in town to catch a glimpse of the daylight fade. The lighthouse is very rich in history and therefore, sightseeing travelers should make an effort to learn about the history while there. It is a rocky climb for visitors to the lighthouse but totally worth it, as the design is very aesthetic and architecturally detailed.
Name : Chania Venetian Lighthouse
Address : Old Port, Chania Town, Crete, Greece
Related Site : https://www.west-crete.com/chania-lighthouse.htm


4. Maritime Museum of Crete
Photo by commons.wikimedia.org
Maritime Museum of Crete is a fascinating military and naval museum that is well set out for visitors to understand the maritime history in the beautiful Chania town and Crete as an Island. Tourists sightseeing and strolling through the harbor would easily come across this museum. It has a beautiful collection of maritime stamps and a military museum that explains the World War II battle of Crete exhibitions. Visitors will get to see films, newspapers article displays, and artifacts amongst other historical exhibits. Admission tickets are available at the shops near the entrance and are reasonably priced. The museum is usually open from 10 am to 6 pm.

Name : Maritime Museum of Crete
Address : Coast Kountourioti, Akti Kountourioti, Chania Town, Crete 73110, Greece
Related Site : http://mar-mus-crete.gr/en/the-museum/
5. Museum- Residence of Eleftherios Venizelos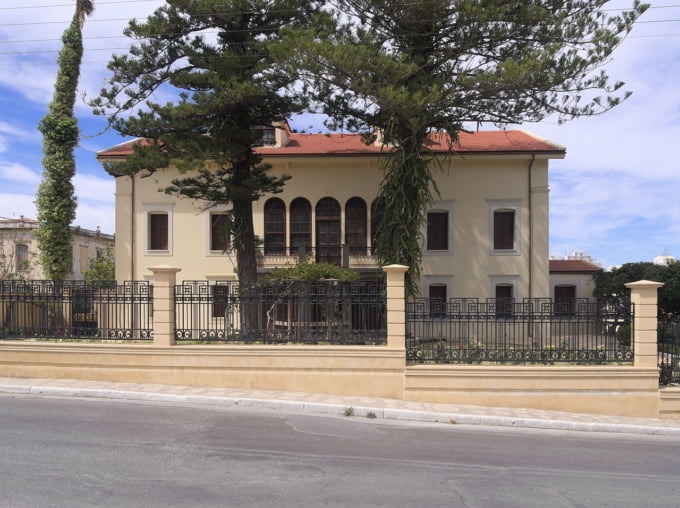 Photo by commons.wikimedia.org
Museum – Residence of Eleftherios Venizelos is a dedicated museum in Chania town owned by the Venizelos family. It allows sightseeing travelers and locals to see the life of Eleftherios Venizelos together with historical happenings of that era. Visitors will appreciate how well preserved the original exhibits are and the detailed explanations that accompany the exhibits. The guide is also very detailed in all information provided. Tourists will definitely notice how lovely the residence is. The surrounding gardens are perfect for a short stroll and for spectacular views of the old Venetian harbor.
Name : Museum –Residence of Eleftherios Venizelos
Address : Pl. Elenas Venizelou, Chania Town, Crete 73133, Greece
Related Site : http://www.venizelos-foundation.gr/en/
6. Cathedral of Eisodion tis Theotokou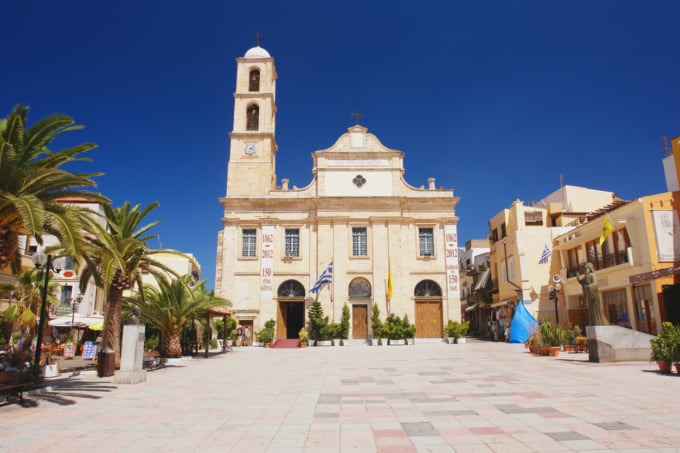 Cathedral of Eisodion tis Theotokou is one of the most iconic Greek Orthodox Church with a very impressive interior architecture. It is strategically placed at the center of Chania town. Visitors that have an eye for detail would enjoy visiting this Cathedral for the views of its ornate decorations; frescoes, impeccable chandeliers, and paintings. Sightseeing travelers would take a few minutes to explore the cathedral since admission is free and the cathedral is small in size. You get to learn the different activities that go on at the cathedral-like soap making and catch up on Greek history.

Name : Cathedral of Eisodion tis Theotokou
Address : PI. Athinagora Chania Town, Crete, Greece
Related Site : https://www.chaniatourism.com/see-do/churches-and-monasteries/86-cathedral-of-eisodion-tis-theotokou.html
7. Church of Agios Nikolaos
Photo by olgalngs/shutterstock.com
The church of Agios Nikolaos is a landmark in Chania town that depicts a traditional Orthodox church. It is graced with architecturally inclined features and interesting statues, icons, and goblets. It is a tranquil environment that engraves sightseeing visitors with a reverence atmosphere as you relax and have your thoughts. The exterior architecture is very intriguing, and the best part is the minaret which completes the church and makes its image worth a say. The history of the church from Christianity to Muslim and back to Christianity is also not one to miss, as it informs on the way of life of the people of Chania town and Crete in general.

Name : Church of Agios Nikolaos
Address : Rousou Vourdoumpa 5, Chania Town, Crete, Greece
Related Site : http://orthodoxcrete.com/el/places/saint-nicholas-church-splantzia-square/
8. Topolia Gorge
Photo by Nicola Pulham/shutterstock.com
Topolia Gorge is a breath-taking spot on visitors' sightseeing excursion. Located on the road between Chania town and Elafonissi, the canyon has one of the best views in town despite its rugged and adventurous landscape. Travelers would enjoy the scenic and unspoiled views that would intrigue most hikers. Otherwise, the views are also very impressive from the roadsides. Visitors also get to see a beautiful church in the cave and enjoy a taste of local delicacies as there is an old-fashioned restaurant before the cave that serves the best of Greece dishes.
Name : Topolia Gorge
Address : Minoa Pediada/South of Topolia Village, Chania Town, Crete 734 00, Greece
Related Site: https://www.cretanbeaches.com/en/gorges-and-canyons-in-crete/west-crete-gorges-chania/topolia-gorge
9. Archaeological Museum
The archaeological Museum brings forth the history of Chania from 2200 BC. This was the time that the Minoans discovered Kydonia. Sightseeing travelers would easily locate the archaeological museum inside the Church of San Francesco. Visitors will find archaeological exhibits from Crete in the Neolithic period. In addition, travelers will also enjoy the marvelous Minoan ceramics, beautifully painted burial urns, jewelry made of gold, tablets made of clay, among other artifacts. This is a must visit for tourists that enjoy historical sightseeing art, since the mosaic floor and the Roman emperor Hadrian marble bust will blow your minds.
Name : Archaeological Museum
Address : Chalidon 28, Chania, Crete, Greece
Related Site : http://chaniamuseum.culture.gr/en/
10. Neo Chora Beach
Neo Chora Beach is a small stretch of a nice sandy beach on the coast of Chania Town, aligned with restaurants and plenty of sunbeds for a relaxing day. It is a great resting place for sightseeing visitors as they unwind from the day's travel. It is also a place where visitors would enjoy a wide variety of seafood as it is a great fishing bay. Travelers would enjoy the views and the breeze of the sea over drinks. The beach is also very family friendly and creates a great interaction spot with the locals that are there to sunbathe and relax.
Name : Neo Chora Beach
Address : 29,, Akti Papanikoli 23, Chania 731 31, Greece
Related Site : http://www.cretanbeaches.com/en/sea-tourism/west-crete-beaches/nea-chora-beaches
◎ Closing
Chania town is a magnificent tourist destination in Crete, Greece, filled with many amazing tours and sightseeing packages available for tourists to choose from. It offers a peaceful atmosphere, rich in history and beautiful nature, city and beach tours, iconic cathedrals and spectacular museums. It is a place visitors would always remember due to its tranquil and plenty of adventures, and that is why you should visit it.