Granada : An Arab Flavored City Sprawling at the Foot of Sierra Nevada
Spain
Sep 28, 2018
352 views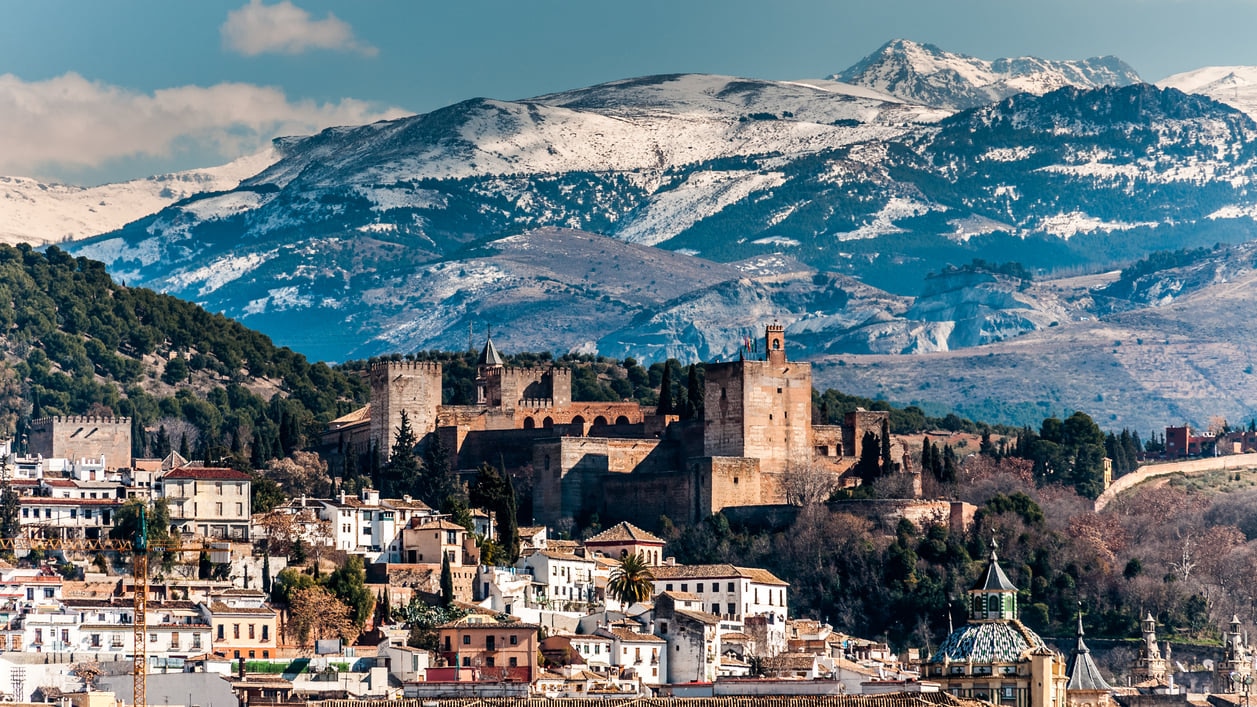 Granada is an Arab flavored city that is sprawling with serene Islamic architecture, old-school tapas, and monumental churches. Granada is known to be the last stronghold of the Spanish Moors. This is evident due to the various teterias among other things. The streets are full of life and are lively joints bound to wow the carefree. However, this city has so much to offer for sightseeing opportunities some are highlighted below.
[x] close
Granada : An Arab Flavored City Sprawling at the Foot of Sierra Nevada:table of contents
1. Alhambra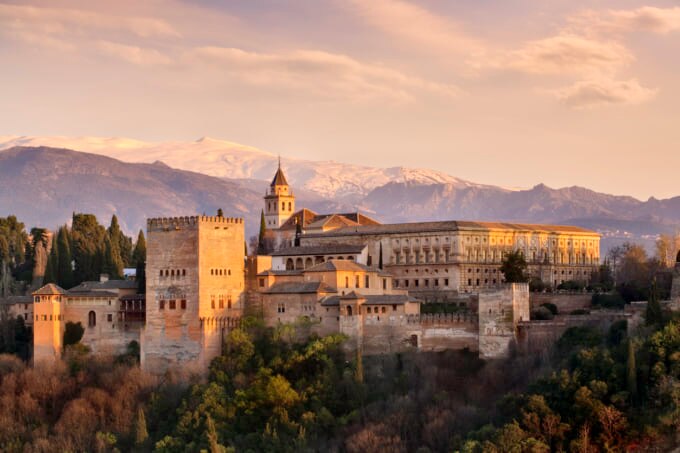 Alhambra is an all in one complex. It feels like an enchanting small town composed of a palace, castle and is popular for summer retreats. The place has a rich sense of history having been built between the 1,200s and 1,300s. The initial owners were the rulers of the Emirate of Granada known as the Nasrids. It was then converted into a royal court for the Catholic Monarchs. If you book within good time, you will be able to enjoy the full sightseeing experience which includes a royal chambers tour, courtyard tour along with a tour through Moorish palaces.
Name : Alhambra
Address : Calle Real de la Alhambra, s/n, 18009 Granada, Spain
Related Site : http://www.alhambra-patronato.es/
2. Granada Cathedral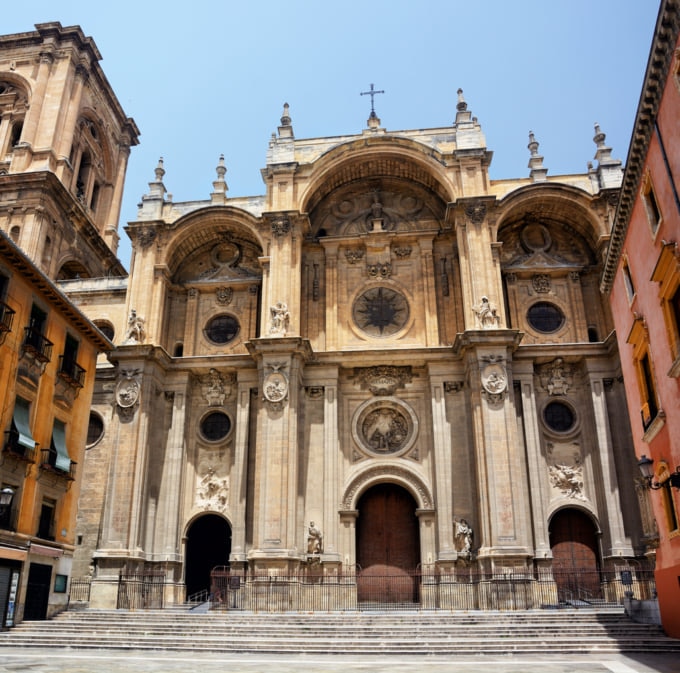 Granada Cathedral was built in the early 16th century above Granada's mosque. It was designed by Diego de SiloéIt who incorporated contemporary charm into it. This cathedral stands as the second largest cathedral found in Spain. Since it was erected at a time where architecture was evolving, most part of the interior of the structure is renaissance boasting some gothic elements. The sightseeing highlights are the interiors. The stained glass windows, paintings, and sculptures make everything pop when you grasp a view from the main chapel
Name : Granada Cathedral
Address : Calle Gran Vía de Colón, 5, 18001 Granada, Spain
Related Site : http://catedraldegranada.com/
3. Mirador de San Nicolas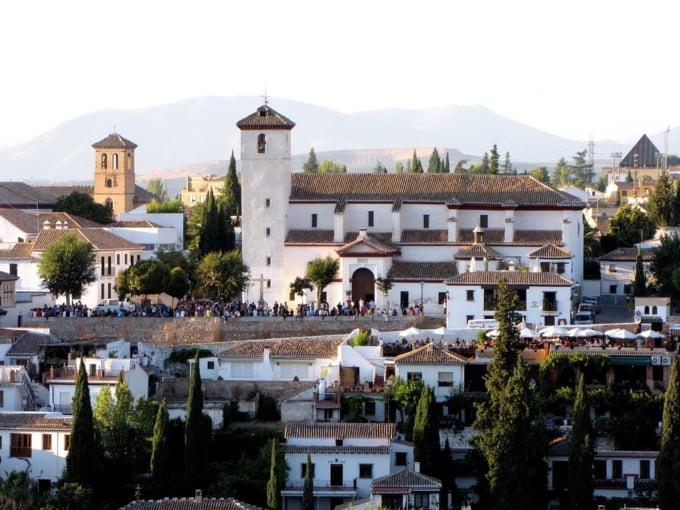 Photo by commons.wikimedia.org
Mirador de San Nicolas is a great place to people watch and enjoy some scenic views of some great sightseeing spots of Granada such as the Alhambra. Tourists also get to see the peaks of the Sierra Nevada from a distance. The place is so lively and common to locals that gypsies frequent it to perform their music. Tourists can also mingle with some local merchants selling bracelets and other kinds of crafts. Even though you are not certain about taking the flight of stairs up, consider all the photo opportunities and views you are bound to miss out on.
Name : Mirador de San Nicolas
Address : Calle Espaldas a San Nicolas s/n, 18009 Granada, Spain
Related Site : https://www.granada.es/internet/fotos11.nsf/xtod/41D1458595BB86A8C1257823003FFED0
4. La Alborea
La Alborea is a perfect stop in Granada to enjoy a Flamenco performance. This historic center has maintained an intimate atmosphere for its guests. Its perfect location allows perfect acoustics from around the venue allowing natural performances even without the aid of microphones or amplifiers. All the performances taking place usually involve at least two dancers and a guitarist. Many of the performers who dedicate their time and skills to this venue belong to the Sacromonte families who have been known as performers for many generations. Tickets are priced at 18 euros per person but it comes with a complimentary drink.
Name : La Alborea
Address : Calle Pan 3, 18010 Granada, Spain
Related Site : https://www.alboreaflamenco.com/
5. Science Park (Parque de las Ciencias)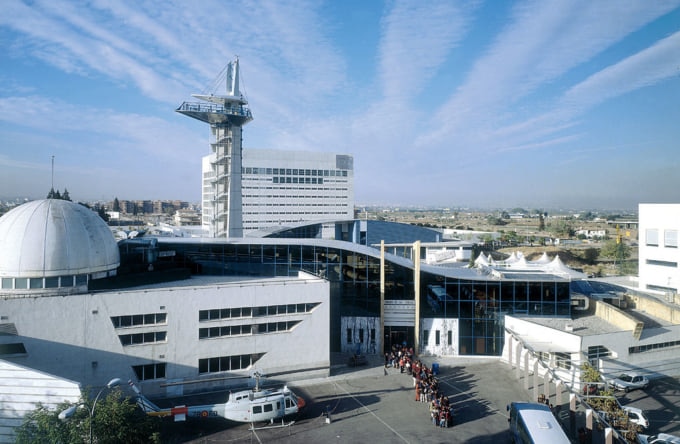 Parque de las Ciencias is a science park that is located close to the city center. It composed of two main buildings both for different purposes. One of the buildings focuses on various exhibits and achievements of Al-Andalus' Islamic scientists. However, the other building focuses on mechanics, physics, and chemistry. The planetarium is also housed here making the sightseeing more worth it. Guests get to see some very interesting shows throughout the day such as the 7,000 stars which are protected by over 100 mirrors.
Name : Science Park (Parque de las Ciencias)
Address : Av. de la Ciencia, s/n, 18006 Granada, Spain
Related Site : http://www.parqueciencias.com/parqueciencias/
6. Monasterio Cartuja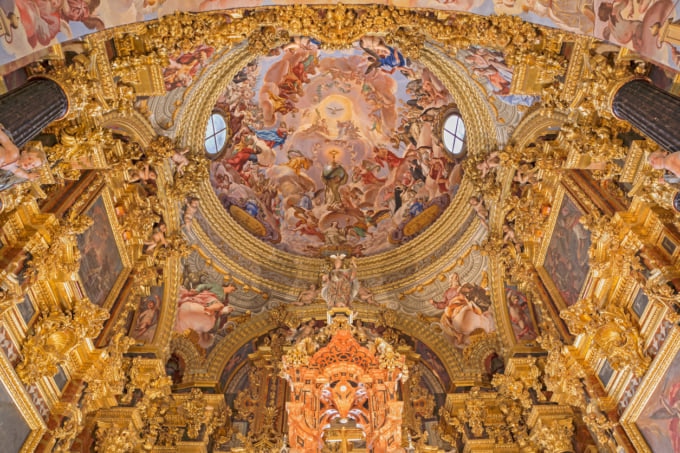 Monasterio Cartuja is a royal chapel and cathedral. It has remained inhabited since the 1800's although the monastery has remained well preserved. The place was dedicated to the one San Bruno whose paintings majestically grace the walls of this place. The tour includes an audio guide which aids the whole sightseeing process. Both the interior and exterior have a rich history. There are beautiful mosaics as you go up the stairs of the church which add spice to the place. The baroque style was adapted from the Cartujos. Other than that, there are great works of art too such as golden leaf carvings and wooden doors. Truly a must visit while in Granada.
Name : Monasterio Cartuja
Address : Paseo de Cartuja S/N, 18011 Granada, Spain
Related Site : http://www.archidiocesisgranada.es/index.php/patrimonio-cultural/la-cartuja
7. Carrera del Darro
Photo by lapas77/shutterstock.com
Carrera del Darro is an ancient street that traces the course of the Darro river. It is one of the most romantic streets in the entire country and the locals of Granada appreciate it as such. Some renaissance buildings can be seen close to it as proof of an ancient town in existence. This is because they used stonework from the Moorish buildings. There are also eateries along this street together with artisan shops which you can spare some minutes to explore. Sightseeing this area will give you a relaxing and heartful feel of Granada.
Name : Carrera del Darro
Address : Granada, Spain
Related Site : http://www.granadadirect.com/rincones/carrera-darro-granada/
8. Plaza de Toros de Granada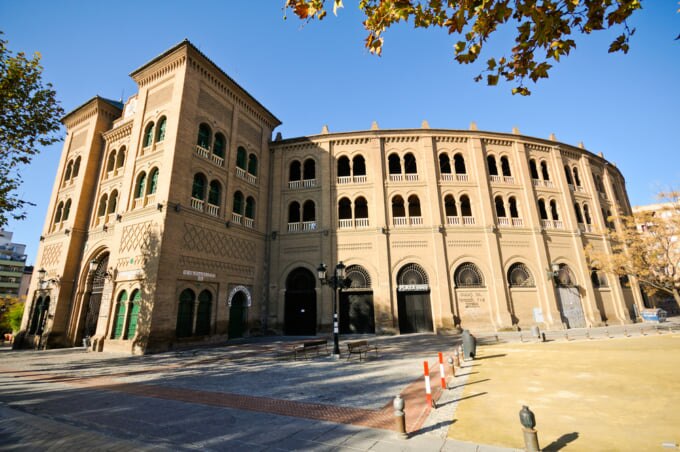 Photo by javi_indy/shutterstock.com
Plaza de Toros de Granada provides sightseeing tourists with exclusive tours of La Monumental de Frascuelo. This tour will include an exhibition on the bullfighting chronology of Granada, a sneak peek of historical posters, some unpublished photographs viewing, a short introductory documentary among other fascinating things. Understanding the bullfighting tradition is very interesting considering Spain values the sport as much. The whole space has been well maintained for the bulls and the grounds for the audience. There is even a medical center for the bulls. The price charged for a single tour is 8 euros.

Name : Plaza de Toros de Granada
Address : Avenida Doctor Oloriz 25, 18012 Granada, Spain
Related Site : http://culturaenlarena.com/
9. Real Chancilleria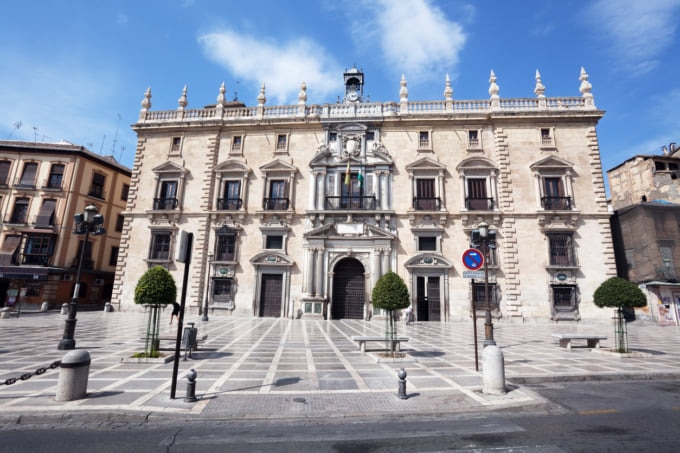 The Real Chancillería is the high court building of Granada. It is an ancient building that was built during the 1530's. Its austere renaissance façade explains why it served as a prison and high court. There are galleries that are usually featured in the courtyard which are very interesting. There is also a dungeon section that is not to be missed out. This place has so much history that one is bound to enjoy. Entrance is also free of charge so you have no excuse to miss.
Name : Real Chancilleria
Address :Plaza del Padre Suárez, 1, 18009 Granada, Spain
10. La Ermita de San Miguel Alto
La Ermita de San Miguel Alto is a great square that is popular with the young people of Granada. Most go there to drink, lunch or just chill especially during the afternoons. The place provides great views of the city together with providing a chilled vibe. It is definitely a good place to unwind and relax as you enjoy some drinks. The walk uphill is not to steep and you can make as many stops as you wish. However, it is not necessary that you walk. One can take a bus either route N9 or U3 which will still take you to the top.

Name : La Ermita de San Miguel Alto
Address : Calle Patio de la Alberca, 36, 18010 Albaicín, Granada, Spain
Related Site : http://www.granadatur.com/monumento/174-ermita-de-san-miguel-alto/
◎ Closing
This land of a thousand castles is truly progressive luring with an urban atmosphere yet maintaining remnants of an ancient town. From the many sightseeing activities offered, tourists get to enjoy the best of everything. From the buildings, scenery, museums, people, cuisine, there is nothing you are bound not to like about Granada.