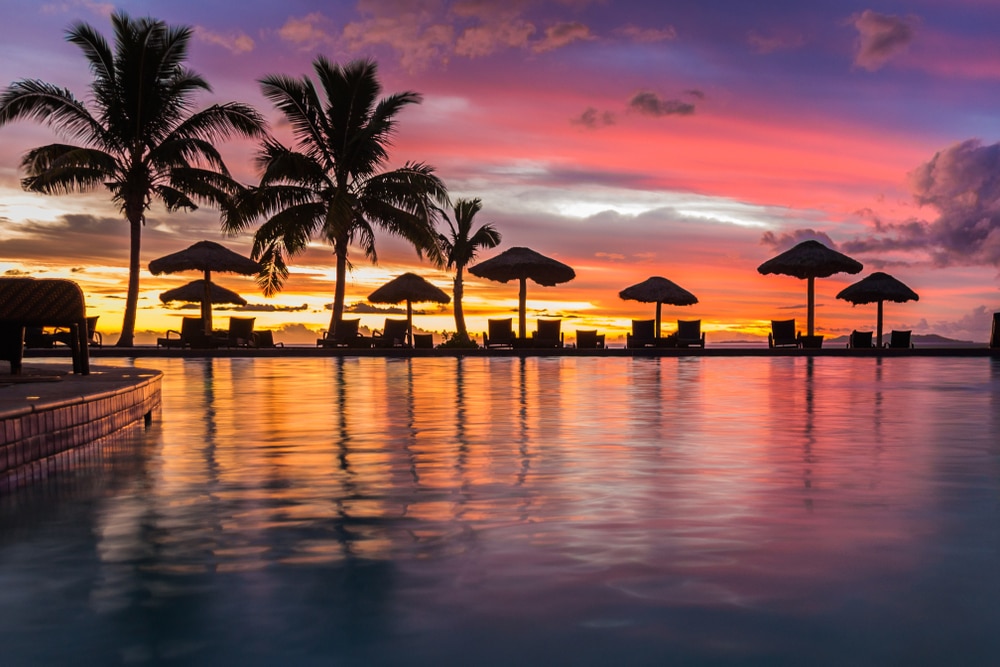 Photo by Paula Cobleigh/Shutterstock
Fiji:The Natural Gem of the South Pacific
The Fiji Islands, or just Fiji, is a country situated in the South Pacific Ocean. With a total of 332 islands, approximately 110 of these are inhabited. Fiji is divided into nine island groups, with Viti Levu as the largest, housing the country's capital, Suva. A perfect escape to the beautiful beaches and colorful ocean of the South Pacific, here are some places you should make sure to check out when visiting the islands.
table of contents
[x] close
Fiji:The Natural Gem of the South Pacific
1. Pacific Harbour (Viti Levu)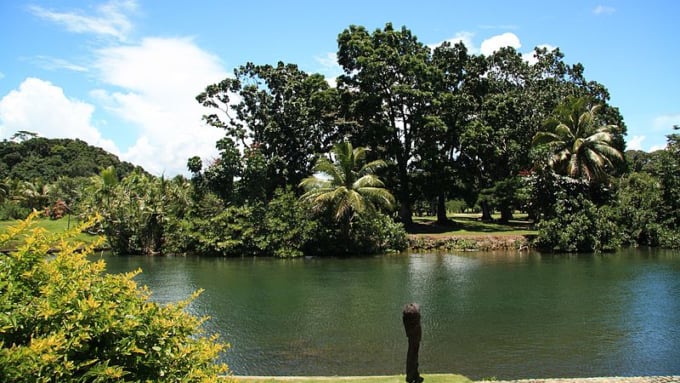 Photo by commons.wikimedia.org
Situated on the island of Viti Levu, the Pacific Harbour is widely recognized by the locals as the adventure capital of Fiji. It's the home to several places where visitors can try a number of extreme sports. Aside from touring around the harbor, tourists can try zip-lining, jet skiing, and 4WD adventures. Tourists can also experience river rafting at the upper Navua River or go diving with bull sharks in the nearby Beqa Lagoon.
Name:Pacific Harbour
Address:Viti Levu, Fiji
2. Natadola Beach (Sigatoka)
Photo by Amy K Casillas/shutterstock
Natadola Beach is widely known for its clear blue waters and pure white sand, perfect for soaking in the sun and the various water adventures on offer there. Known to be one of the best beaches in Fiji, Natadola Beach offers various activities to tourists including swimming and reef snorkeling. For those who just want to unwind and relax, you may want to take advantage of the services from the resort found nearby.
Name:Natadola Beach
Address:Sigatoka, Fiji
3. Kula Wild Adventure Park (Sigatoka)
Kula Wild Adventure Park is an ecological park located in Sigatoka, Fiji. It's also home to the rare Fijian crested iguana which is endemic in Fiji. When visiting the park, tourists can get to witness the beautiful birds that are native to the islands of Fiji and learn about the breeding programs of some of the endangered species found in the country. The 12-acre forest also houses several tropical plants along with exotic fishes and colorful corals.
Name:Kula Wild Adventure Park
Address:Sigatoka, Fiji
4. Sigatoka Sand Dunes National Park (Sigatoka)
Sigatoka Sand Dunes National Park is the first national park in Fiji, situated 60 kilometers south of Nadi. The park was established in order to preserve and protect the coastal dunes ecosystem which is found near the Sigatoka River. The sand dunes reach up to 60 meters with fascinating views from the highest peak. The national park also includes several archaeological spots which display the rich history and culture of the people of Fiji. Some of these include ancient artifacts including stone tools and pottery along with a large burial site.
Name:Sigatoka Sand Dunes National Park
Address:Sigatoka, Fiji
5. Sabeto Hot Springs and Mud Pool (Nadi)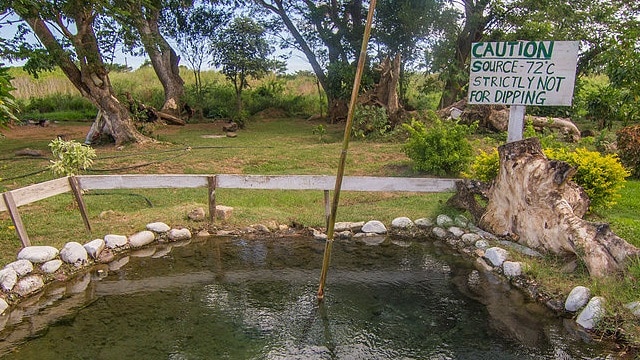 Photo by commons.wikimedia.org
After days of adventuring around the islands of Fiji, it might be time for a time for a spot of relaxation. Sabeto Hot Springs and Mud Pool allows visitors to enjoy a mud bath that's highly therapeutic. The pools are known to be a natural way of cleansing yourself. You can also soak yourself in hot water springs which are said to have healing properties.
Name:Sabeto Hot Springs and Mud Pool
Address:Nadi, Fiji
6. Garden of the Sleeping Giant (Nadi)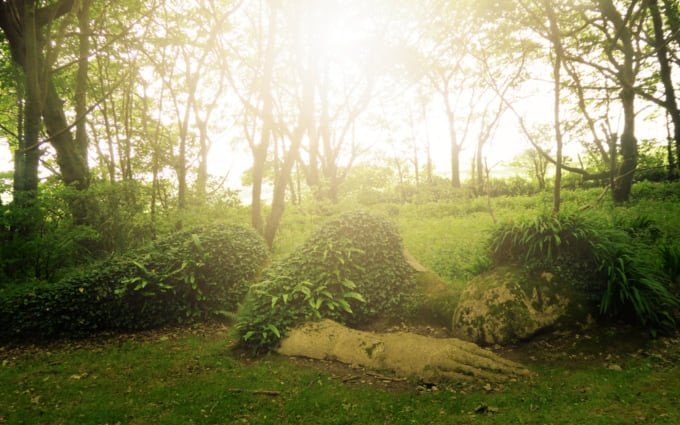 Photo by Growing Out West/Shutterstock
The Garden of the Sleeping Giant is nestled in the foothills of a mountain near Nadi. The garden features a stunning collection of flowers including around 2,000 species of orchids which used to be owned by the late actor Raymond Burr. When visiting the garden, you'll also discover hammocks and swings which you can use while enjoying the serenity of the place.
Name:Garden of the Sleeping Giant
Address:Nadi, Fiji
Related Sites:http://www.gsgfiji.com/
7. Bouma National Heritage Park (Taveuni Island)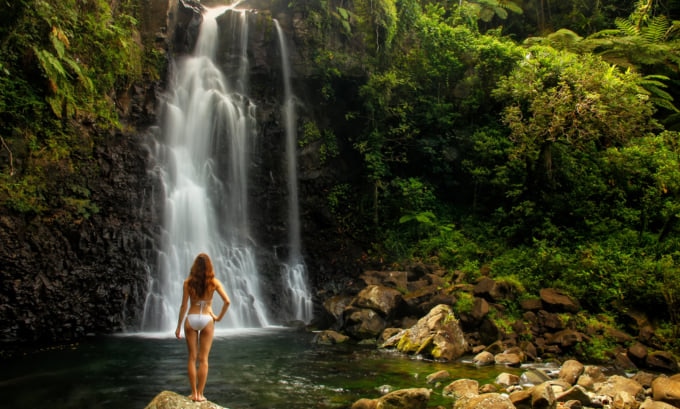 Photo by Don Mammoser/shutterstock
If you're a nature lover, the Bouma National Heritage Park is one of the best places in Fiji to escape to. Covering around 150 square kilometers of rain forest, the national park is home to several endemic flora and fauna. The park also houses four villages, which manage and maintain several parts of the park. Here tourists can hike through the rain forest, snorkel in the marine park or kayak around the coastal areas. The Bouma National Heritage Park is also home to several beautiful views in Fiji such as Lake Tagimaucia and De Voeux Peak.
Name:Bouma National Heritage Park
Address:Taveuni Island, Fiji
8. Fiji Museum (Suva)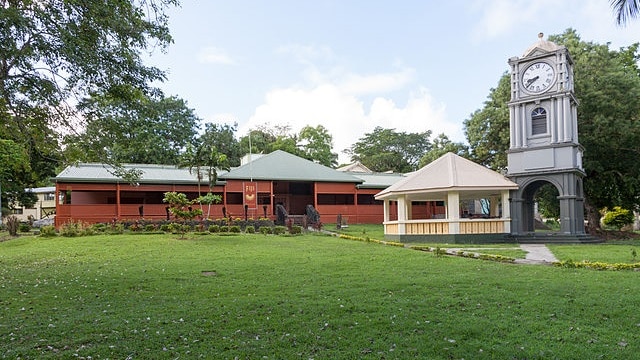 Photo by commons.wikimedia.org
After a long excursion around the natural wonders of Fiji, you may want to drop by the Fiji Museum to learn more about the history and culture of Fiji. Situated in the heart of Suva, the museum displays several collections which exhibit the history of Fiji as a British colony, the influence of the Indian population in Fiji and the culture of the indigenous people. Other exhibits worth seeing include the ancient canoes and bamboo rafts, as well as shards of pottery and work of modern artists.
Name:Fiji Museum
Address:Cakobau Road, Suva, Fiji
Related Sites:http://fijimuseum.org.fj/
9. Navua River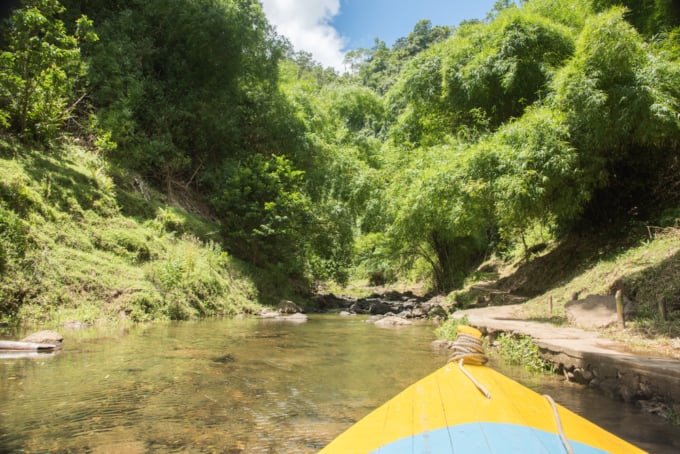 Photo by EA Given/shutterstock
The Navua River is a 65-kilometer body of water located Navua, Fiji. Taking a tour of the river offers some incredible scenery such as picturesque waterfalls, rain forests, and canyons. For those who are into water sports, you can go paddling using canoes or kayaks. You can also ride inflatable rafts on the whitewater rapids, or float on a traditional bamboo raft called bilibili. The area is home to a range of different wildlife such as herons, parrots and fruits bats that you can see around the river.
Name:Mamanuca and Yasawa Islands
Address:Mamanuca and Yasawa Islands, Fiji
10. Cloudbreak (Mamanuca Islands)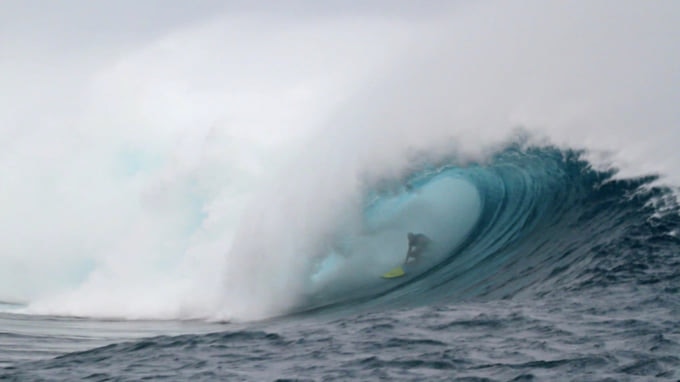 One of the most popular surfing spots in the world, Cloudbreak is a a reef area around three miles south of Namotu Island. Ranked as one of the most challanging areas for surfing, Cloudbreak is not for amateurs. The waves here can reach up to 20 feet and often quickly without much warning. If you're not quite up for the challenge, taking a boat out to watch the pros is almost just as thrilling to watch.
Name:Cloudbreak
Address:Mamanuca Islands, Fiji
Conclusion
Fiji is a beautiful country to visit. It's home to a range of natural attractions and historical sites which are well worth a visit. Exploring the vast archipelago will not only allow you to relax and take an adventure but also enrich your awareness towards the environment and culture of Fiji.