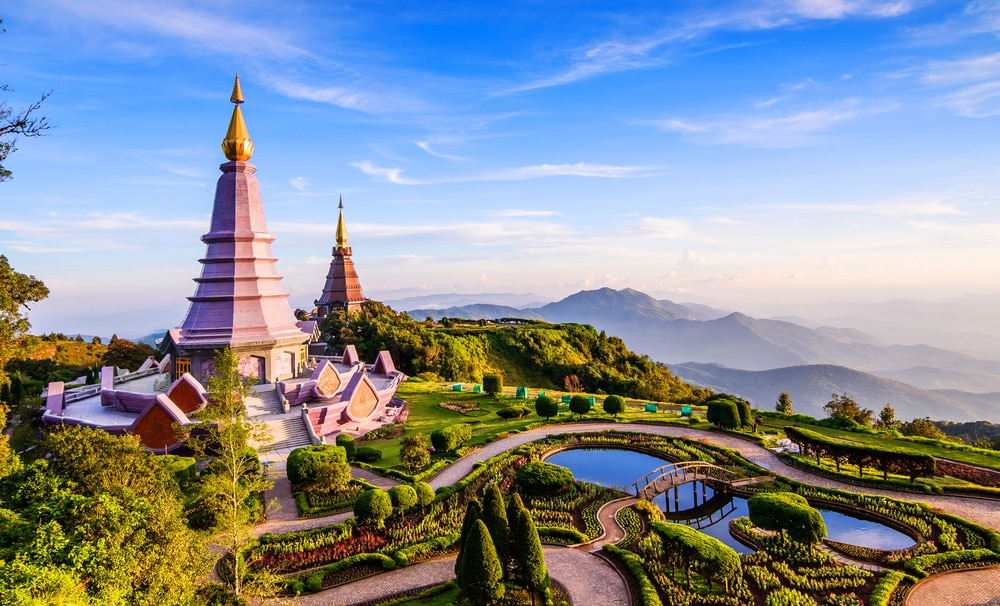 Photo by Take Photo/shutterstock.com
The 8 Best Temples to Visit While in Thailand's Northern Capital of Chiang Mai
Chiang Mai is the major metropolis of northern Thailand and the fifth largest city in Thailand. It's surrounded by lush countryside and mountains, offering some of the most beautiful landscape in the country. Apart from the stunning scenery, it's also home to a number of picturesque temples. Known as 'wat' these Thai religious sites are perfect for getting an understanding in depth of the culture. Here are the best of these fascinating sites to visit if you're planning on making a trip to the city.
table of contents
[x] close
The 8 Best Temples to Visit While in Thailand's Northern Capital of Chiang Mai
1. Wat Pha Lat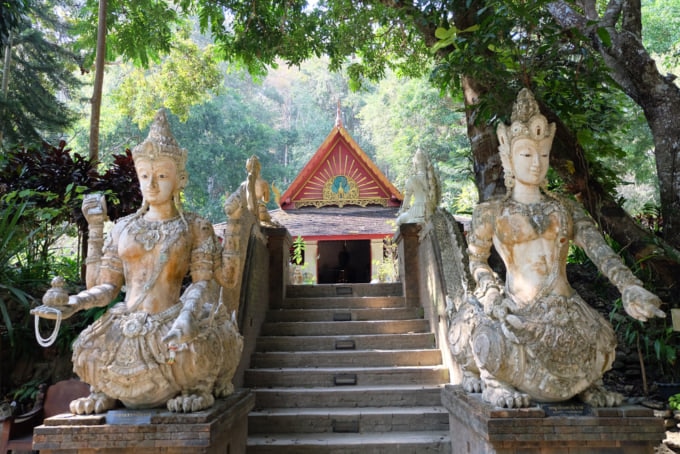 Photo by Jaemsri praikajee/shutterstock.com
One of the first sightseeing destinations you should check out in Chiang Mai is Wat Pha Lat. This small Buddhist temple and monastery can be found strategically hidden in a woodland just outside the city. Being a calm and quiet place, tourists can unwind and meditate while viewing the many statues that are placed strategically in and around the temple. Wat Pha Lat can be easily reached by taking a relatively easy hiking trail up to the top.
Name:Wat Pha Lat
Address:Suthep-Pui Road, Chiang Mai 50200,Thailand
2. Wat Chedi Luang Varavihara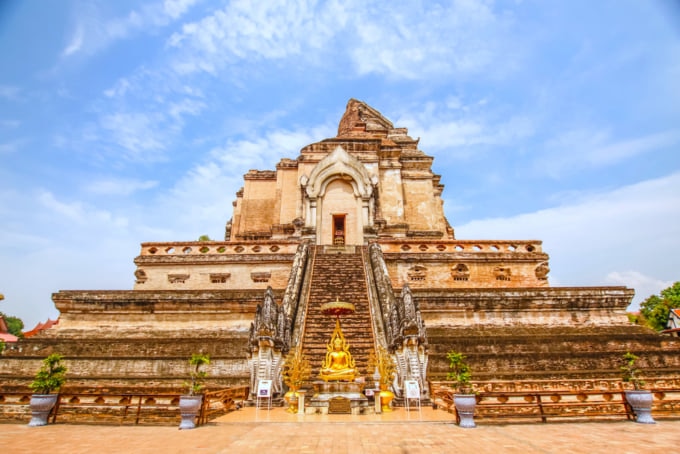 Photo by thanapath/shutterstock.com
Another of the incredible Buddhist temples located around Chiang Mai. The grounds where the current temple can be found were originally made up of three different temples: Wat Ho Thram, Wat Chedi Luang and Wat Sukmin. This temple hosts talks with the resident monks where tourists can speak to and ask questions of the monks. Most of them are usually novices, however it's a great way of getting to know the culture of Thailand or learning more about Buddhism.
Name:Wat Chedi Luang Varavihara
Address:103 Phra Pok Klao Road | Phra Singh, Chiang Mai 50200, Thailand
3. Wat Phra Singh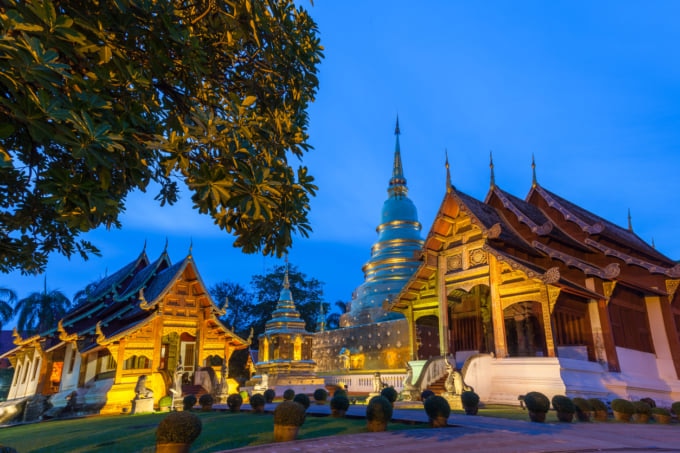 Also known by its full name of Wat Phra Singh Woramahaviharn, this beautiful temple can be found in the west portion of the old city center which is contained within the moat and the city walls. The main entrance is guarded by lions known as Singhs and you'll also see a significant Buddha statue known as the Phra Buddha Sihing. In 1935, King Ananda Mahidol bestowed the status of first grade Royal temple to it.
Name:Wat Phra Singh
Address:2 Samlarn Rd, Chang Wat Chiang Mai 50200, Thailand
4. Wat Phra That Doi Kham (Temple of the Golden Mountain)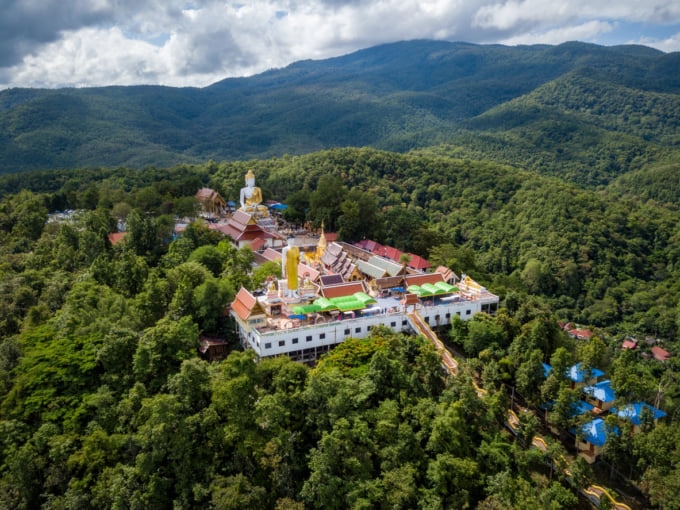 Wat Phra That Doi Kham, also known as the Temple of the Golden Mountain or simply Golden Temple, is a Buddhist temple on top of a hill to the southwest of the city. From the top you can get a spectacular view of the beautiful city of Chiang Mai and the rolling mountains that can be seen at the back of Doi Pui Mountain. Make sure to check out the impressive 17-meter-tall image of a sitting Buddha found around the temple grounds.
Name:Wat Phra That Doi Kham (Temple of the Golden Mountain)
Address:Mu Ban Chiang Mai Lake Land Rd, Tambon Su Thep, Amphoe Mueang Chiang Mai, Chang Wat Chiang Mai 50200, Thailand
5. Wat Sri Suphan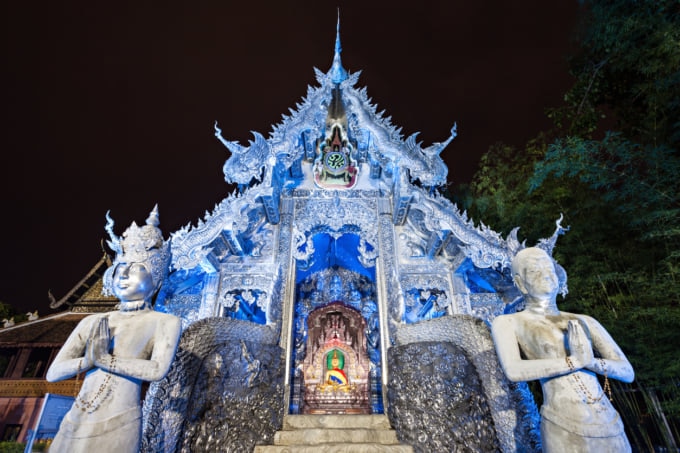 Wat Sri Suphan, also known as the Silver Temple due to its unique appearance, is one of the most visually-striking temples in the city. In fact Wat Sri Suphan is completely covered in silver: from the roof to the walls. Even the displays of Buddhism legends and statues of Buddha have been decorated with silver. Due to its stunning facade, it's one of the most photogenic and beautiful temples in the city that's well worth checking out if you have time to visit.
Name:Wat Sri Suphan
Address:100 Wua Lai Rd, Amphoe Mueang Chiang Mai, Chang Wat Chiang Mai 50100, Thailand
6. Wat Phakhao Temple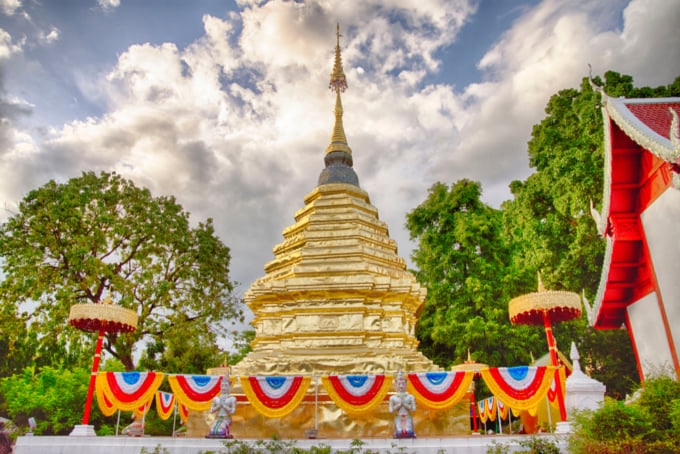 Photo by romrawin jeeraworanun/Shutterstock
Next up on the list of Buddhist temples in this historic city of Chiang Mai is the Wat Pha Khao. This small monastery in center of the city also holds talk sessions with monks from 5 PM till 9 PM during the weekends. Not only that, the temple is also worth visiting due to its intricate architecture and beautifully embellished areas for you to meditate at or simply relax. When you go to Chiang Mai, be sure to visit this incredible temple.
Name:Wat Phakhao Temple
Address:95/2 Ratchapakhinai Rd, Tambon Si Phum, Amphoe Mueang Chiang Mai, Chang Wat Chiang Mai 50200,Thailand
7. Wat Lok Molee
Wat Lok Molee is a Buddhist temple in the city of Chiang Mai. The temple is located in the northern portion of the north moat that surrounds the old portion of the city. While it was not known when it was originally built, it has been recorded that the first mention of the temple was in a charter in 1367 CE. the temple is noted for its intricate statues and beautiful brickwork and facades.
Name:Wat Lok Molee
Address:298/1 Manee Nopparat Road | Si Phum, Chiang Mai, Thailand
8. Wat Chiang Man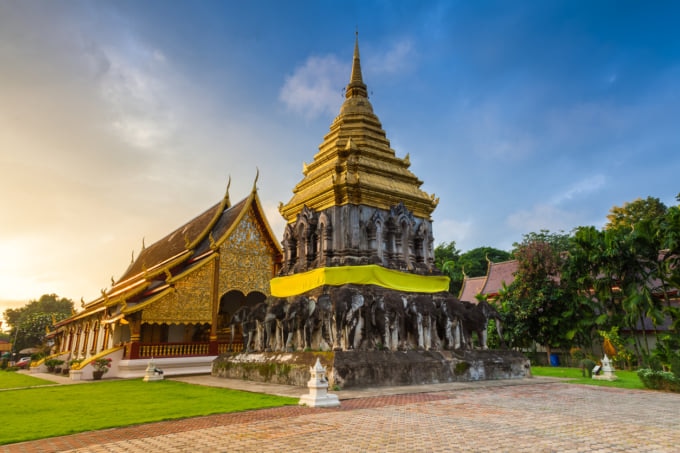 Our last temple and sightseeing destination in Chiang Mai is Wat Chiang Man. Sometimes called Wat Chiang Mun, Wat Chiang Man is a Buddhist temple that's found inside the old city of Chiang Mai, specifically within the city walls and the moat. The temple is thought to be the oldest in the city, built in 1297 by King Mangrai.
Name:Wat Chiang Man
Address:Ratchaphakhinai Road, Chiang Mai, Thailand
Conclusion
Along with the beautiful temples, there are a number of places to see in Chiang Mai, such as the Chedi Chang Lom or Elephant Chedi, the Ubosot, the Ho Trai and the Lotus Pond. The Phra Sae Tang Khamani and the Phra Sila, two famous Buddhist statues, can also be found here. From Thai temples to waterfalls, Chiang Mai is sure to complete your perfect experience of Thailand.