Lampang : A City with Its Architecture Charm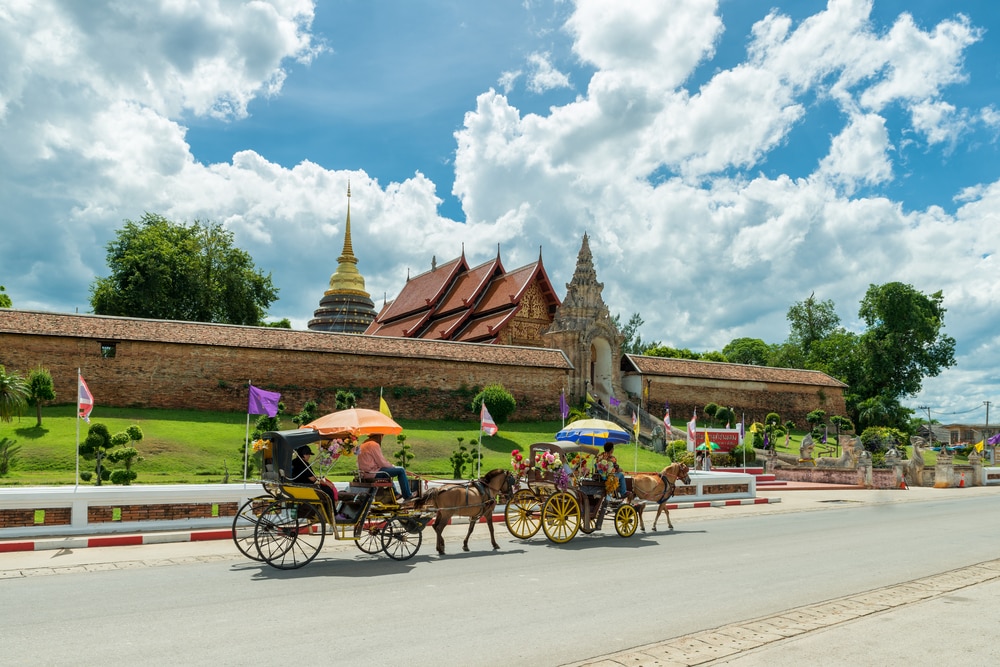 Photo by Prasit Rodphan/shutterstock.com
Lampang or Nakhon Lampang is a city in northern Thailand. It is the third largest city in Thailand and is also the capital of Lampang Province . The town lies in the Valley of Wang River, bordering on the west by Khun Tan Range and in the east by Phi Pan Nam Range. It is about 601 km from Bangkok and 101 km from Chiang Mai and can access by road, train or plane. People can travel around the city by horse-drawn carriages or songthaews (Thai passenger bus). Lampang is one of the busy trading and transportation center. It is known as Horse Carriage City, and also famous for its historical monuments, white elephants, Thai cuisine and calm environment.
[x] close
Lampang : A City with Its Architecture Charm:table of contents
1. Wat Phra That Lampang Luang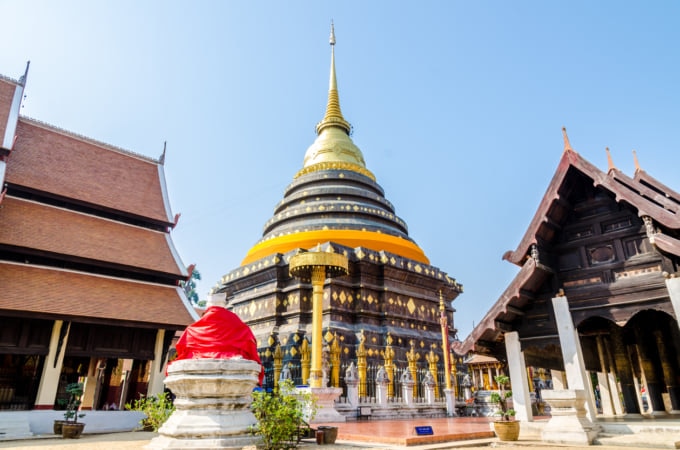 It is one of the most beautiful Buddhist temples in Thailand, depicting the beautiful Lan Na style architecture. Wat Phra That is 21km away from Lampang City and is part of the Ko Kah District. It is also known as Buddha Shrine and believing that Buddha has visited the place 2,500 years before. The temple features many religious structures and engrafted walls. It still features many of its building in the original state. High walls surround the Temple. The major attractions of the temples are two big guardian lions, Bronze Buddha Statue, Golden Chedi containing the holy relic, murals on wooden walls and Lan Na architectural style. The temple also features a huge collection of wooden utensils.
Name:Wat Phra That Lampang Luang
Address:271, 2 Lampang Luang, Ko Kha District, Lampang 52130, Thailand
Related Site:https://www.tourismthailand.org/Attraction/Wat-Phra-That-Lampang-Luang--4139
2. Chae Son National Park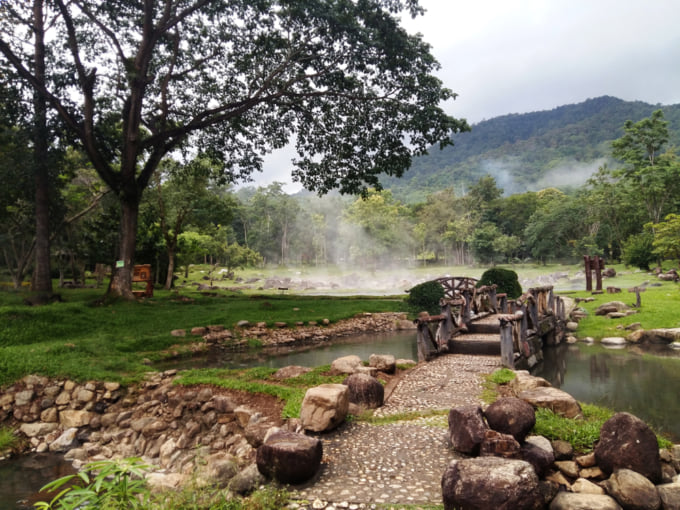 Photo by JuAir Yuyod/shutterstock.com
It is a national park in Mueang Pan District at Lampang province, covering an area of 592 square kilometers and located 75 kilometers from Lampang city. It is a mountainous region covering valleys and dense forest around. Significant park attractions are Chae Son Waterfall, Mae Peak waterfall, Mae Koon waterfall and Mae Mawn waterfall. The park is also famous for the Chae Son hot spring and various cave systems like Loug Kae, Pha-Ngam, and Mor Luang. With magnificent flora and fauna, varieties of vegetation, wildlife and bird species, it is an attractive location tourist love to visit. The park also offers trekking, hiking, and camping facilities.
Name:Chae Son National Park
Address:Chae Son, Mueang Pan District, Lampang 52000, Thailand
Related Site:https://www.tourismthailand.org/Attraction/Chae-Son-National-Park--4130
3. Thai Elephant Conservation Center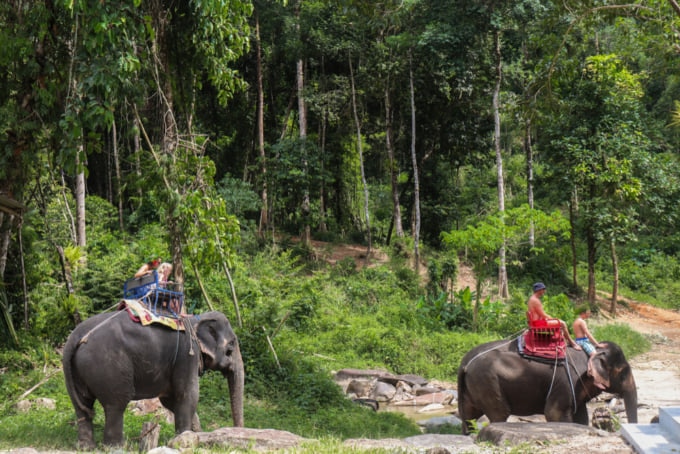 Photo by Nut In-orn/shutterstock.com
It is an elephant camp in Thailand established in 1993 working for the welfare of elephants in Thailand. It currently accommodates more than 50 elephants and looking after them. The center has an elephant care center in the forest near Chiang Mai. You can find 10 White elephants and Six HM King Bhumibol's in the Royal Stables, which is a major attraction here. Besides this, tourist can participate and be part of the Day Trip, Elephant Group Bathing, Visit to Thai Elephant Hospital, Elephant Feeding, etc. Out of many exciting training sessions for elephants, Thai Elephant Orchestra and elephant painting training are something unimaginable.
Name:Thai Elephant Conservation Center
Address:28-29 Lampang Road - Chiang Mai Tambon Wiang Tan, Amphoe Hang Chat, Chang Wat Lampang 52190, Thailand
Related Site:http://www.thailandelephant.org/en/
4. Wat Phra Kaeo Don Tao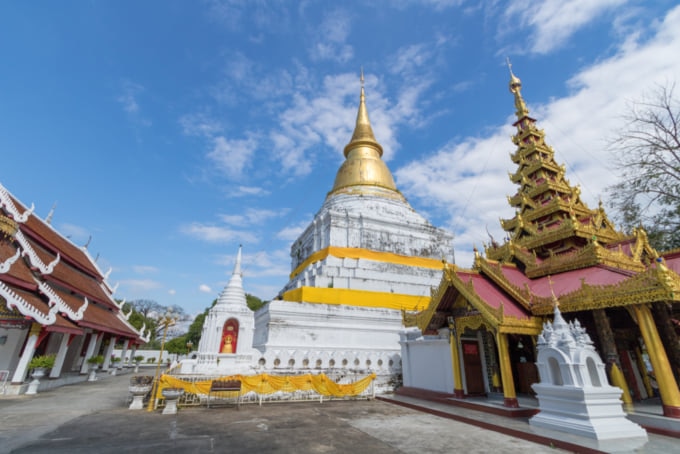 Photo by In_deep/shutterstock.com
The Buddha Emerald is the popular name for Wat Phra Kaeo Don Tao, situated in Wiang Nuea part of Mueang district at Lampang province, is one of the sacred temple in Thailand, bestowed with a mix of Lan Na, Burmese and Shan style architecture. Tourists can easily reach here by songthaews, pickup truck or horse carriage. The son of Queen Chama Devi, who was the founder of Lamphun city, constructed the temple and is one of the most important historical monuments in Thailand. The major attractions at the temple is its Chiang Saen style architecture, walls covered with mural paintings with gold leaves and lacquer and The Phra Kaew Don Tao Buddha image. Entry to the temple fee is THB 20 (i.e.0.52 USD) per individual.

Name:Wat Phra Kaeo Don Tao
Address:Wiang Nuea, Mueang Lampang District, Lampang 52000, Thailand
Related Site:https://www.tourismthailand.org/Attraction/Wat-Phra-Kaeo-Don-Tao--4135
5. Kad Kong Ta Street Market
It is an ancient and popular market in Thailand situated along the Wang River between Riverside Guest House and Ratchadapisek Bridge. This market is functional only on weekends, i.e. Saturday and Sunday during evening and night. Tourist can easily access the market by car from Lampang city. Many of the building around the city demonstrate the influence of Chinese, Burmese and European style architecture, which is a clear example of the various cultural influence of the city. The market will be closed during the weekend business hours from 4pm to 10 pm. Major attractions in market are local craftsman and traders selling clothes, handicrafts, antiques, souvenirs, local food, etc. The market also features Thai musical entertainment at night and to make your stay a memorable event, take a horse carriage drive.

Name:Kad Kong Ta Street Market
Address:Borommaratchachonnani Rd, Bang Bumru, Bang Phlat, Bangkok 10700, Thailand
6. Wat Pong Sanuk Temple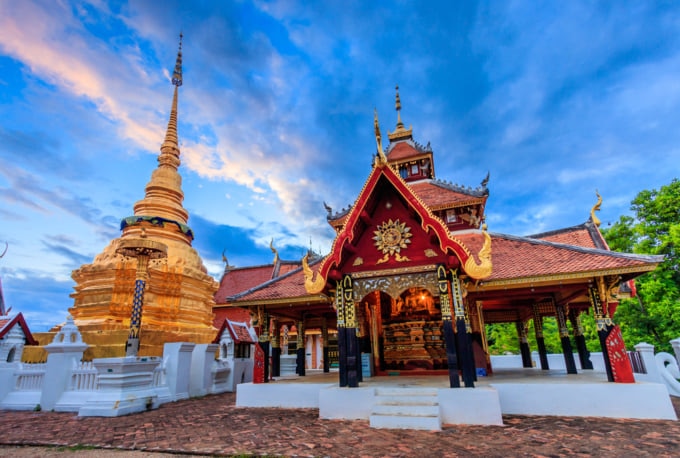 Photo by apiguide/shutterstock.com
The history of Wat Pong Sanuk Temple dated back to 1886, built by wealthy Burmese immigrants with significant influence of Lan Na and Burmese Shan architecture style. It is a Burmese temple situated on the banks of Wanks River in the Wat Pong Sanuk city of Lampang. The temple underwent extensive restoration work from 2004 to 2008 and had received the award of merit from UNESCO for its cultural heritage conservation. Being one among the ancient temple built by Burmese migrants, it is very popular among visitors. Major attractions are its multi-layered rooftop, white walls, Burmese Viharn and carvings on walls.
Name:Wat Pong Sanuk Temple
Address:60 Pongsanuk, Tambon Wiang Nuea, Amphoe Mueang Lampang, Chang Wat Lampang 52000, Thailand
7. Wat Chedi Sao Lang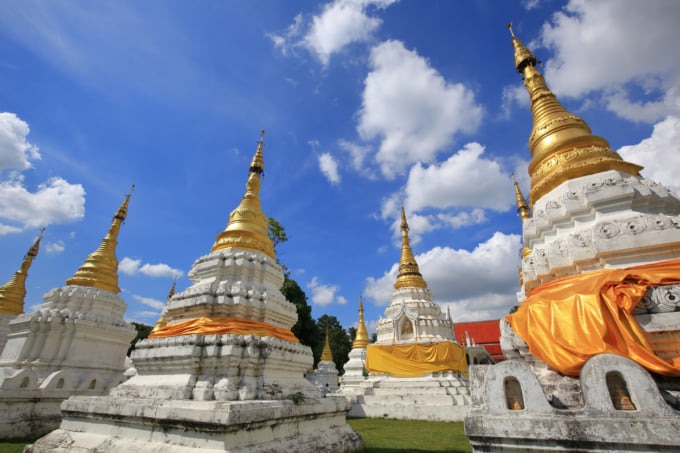 It is a Buddhist temple situated 1.5 km away towards the north of Lampang. The most attractive part of the temple is the 20 pillars (stupas) in the courtyard. People believe that counting all the 20 stupas brings good luck. The ancient temple is a mixture of Lan Na, Burmese and Chiang Saen-style. The main attraction of the temple is the Golden Buddha idol in the lotus position. The temple is also known for making healing balms and herbal medicines.
Name:Wat Chedi Sao Lang
Address:Mueang Lampang District, Lampang, Thailand
Related Site:https://www.tourismthailand.org/Attraction/Wat-Chedi-Sao--4134
8. Ban Sao Nak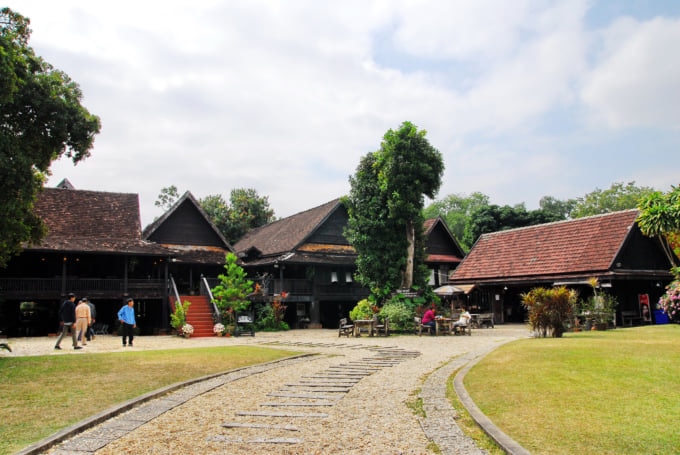 The construction of the wooden house dated back to 1895 and it has used about 116 teak posts. This teak house is a mixture of Lan Na and Burmese style architecture. In the past, it was used as a guest house and also for some auspicious events. Ban Sao Nak is about 15 minutes walking distance from downtown and is one of the popular attractions in Lampang, especially for the architecture, antiques, furniture, and interiors. The teak house consists of large houses, granary, and garage. What will baffle you is the 133-year-old Saraphi Tree that stays with all its glory carrying the historical legacies. The house also displays many ancient appliances used by the people in the past. Tourist can find many informations and pictures on the wall of the teak house. Every visitors will be served with a cup of Chinese herbal tea as customary practice after the visit. Entrance fee is THB 50 and locals THB 30 and no charges for monks, students, and children. Ban Sao Nak is available for traditional dinner and seminar booking.
Name:Ban Sao Nak
Address:6 Ratwatthana Road, Tambon Wiang Nuea, Amphoe Mueang, Lampang
Related Site:https://www.tourismthailand.org/Attraction/Ban-Sao-Nak--6366
9. Kiew Lom Dam
Photo by KobchaiMa/shutterstock.com
Kiew Lom Dam aimed to support irrigation; however, it becomes famous for rafting and boating. Major attractions nearby are the Fishing village, Isles, and Cliffs. Tourists can have the option of staying overnight in a raft or the Kio Lom resort or go for half day resort activities. The dam is approximately 38 kilometers from Lampang, and it is easy to reach there by car or bus. It is a peaceful place to enjoy nature surrounded by water and mountains.
Name:Kiew Lom Dam
Address:Mueang Lampang District, Lampang, Lampang
Related Site:https://www.tourismthailand.org/Attraction/Kiu-Lom-Dam--4119
10. Wat Si Rong Mueang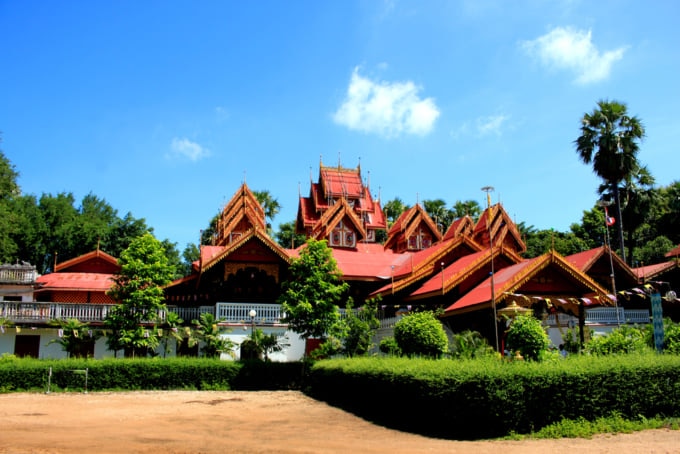 Photo by The_Fairhead/shutterstock.com
It is a Burmese temple established by Burmese immigrants in the 20th century on the south banks of Wang River. This temple is well known for its beautiful architecture and crafting and took seven years to finish. It has the most intricate teak wood vihara with Burmese crafting and named as Indra's Place. You can find many Mandalay style Buddha idols crafted in the Viharn. The main attractions of the temple are its architecture, Teak wood vihara, Shan-style chedi and other monuments within the premises. Entrance is free.
Name:Wat Si Rong Mueang
Address:Sop Tui, Mueang Lampang District, Lampang 52100, Thailand
◎ Closing
Lampang is famous for horse-drawn carriages and its ancient monuments. The city is most popular among visitors for its tranquil environment, ancient temples with beautiful architectures. Lampang is a perfect city to explore and unwind your life stress by visiting historical museums, ancient temples and enjoying the Thai delicacies. The city is also popular for white elephants. It is one of the best locations for the visitors looking for relaxation and unwinding. Lampang is a mixture of Chinese, Burmese and Indian architecture. Shopping and lot of entertainment activities make it as an ideal location to visit with family for leisure and enjoyment.