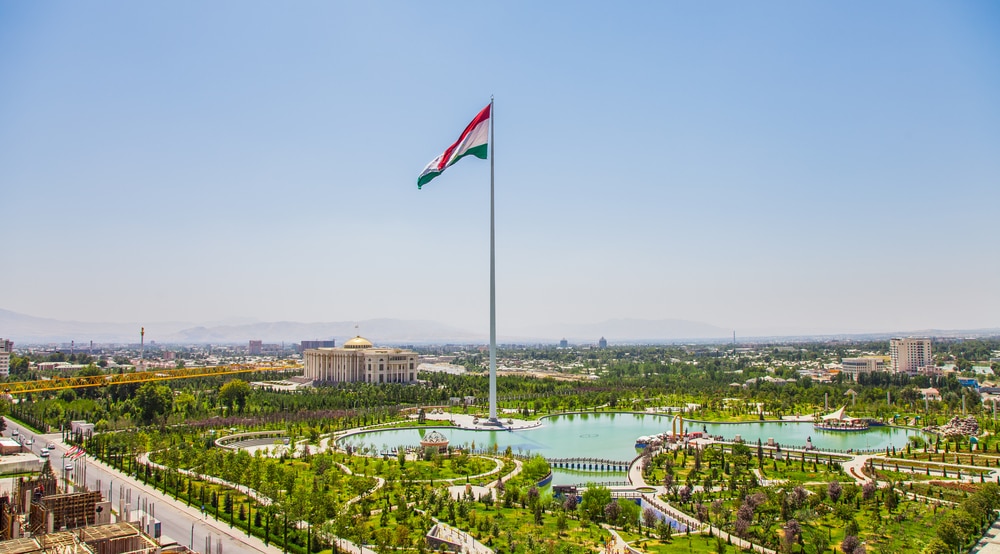 Photo by Alisher Primkulov/shutterstock.com
Dushanbe : A City in Tajikistan with Stunning Sightseeing Destinations
Dushanbe is recognized as the capital city of Tajikistan. With a population of more than 900,000 as of 2020, Dushanbe is easily the largest city in the country. Not only is Dushanbe noted for its population, it is also distinguished due to its stunning attractions which are worth sightseeing. In this article, we are going to be identifying ten of the best sightseeing destinations in Dushanbe.
table of contents
[x] close
Dushanbe : A City in Tajikistan with Stunning Sightseeing Destinations
1. Rudaki Park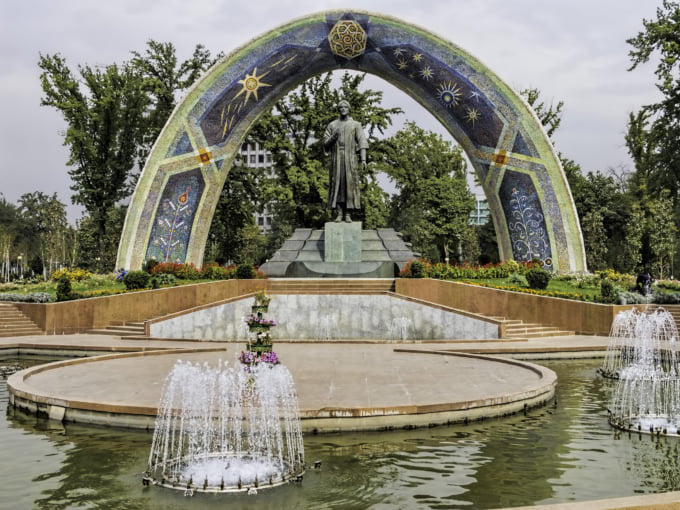 One of the first destinations in Dushanbe that you could visit when you are in Dushanbe is the Rudaki Park. It is an extensive park in Dushanbe is noted for its stunning canopy of mature trees. This park offers a series paths alongside fountains and lakes and through flower gardens. The park is home to the Statue of Rudaki, a much-photographed attraction in the park - and a giant flagpole. The Rudaki Park also offers a brilliant view of the iconic buildings and monuments of Dushanbe. Because of this, the park has become an interesting location for picnics and snowy vistas.
Name:Rudaki Park
Address:Rudaki Ave, Dushanbe 734000, Tajikistan
2. Pamir Highway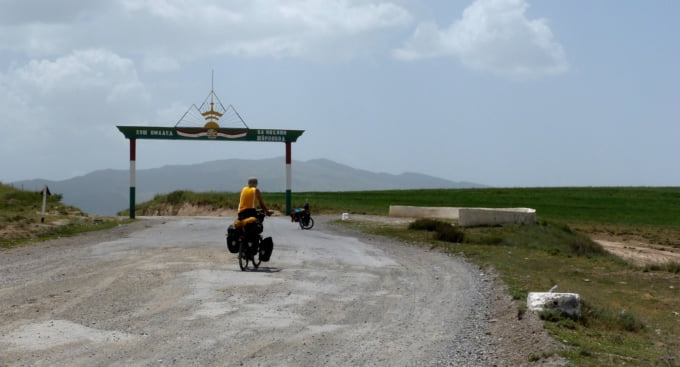 The Pamir Highway, known formally and less commonly as the M41, is a road that traverses the Pamir Mountains through Kyrgyzstan, Tajikistan, Uzbekistan, and Afghanistan in Central Asia. It is a continuous route through the terrain of the mountains. This road serves as the main supply route to the Gorno-Badakhshan Autonomous Region of Takijistan. When sightseeing at the Pamir Highway, you could see its stunning and breathtaking views that are worth taking photos. This is due to the fact that is one of the most spectacular highways in the world.
Name:Pamir Highway
Address:Dushanbe 734000, Tajikistan
Related Site:http://pamirhighwayadventure.com/
3. National Museum of Tajikistan
Photo by Milosz Maslanka/shutterstock.com
The National Museum of Tajikistan is another interesting attraction that you should go to when you are in Dushanbe. It comprises of 22 large and small exhibitions halls that display various exhibits on antiquity, the Middle Ages, fine and applied arts, nature, and modern and contemporary history. When sightseeing around the museum, a tourist could take about four hours to complete a tour. You could also witness permanent exhibitions of souvenirs about Tajiks culture which are also available for sale. The museum is closed on Mondays and on the last Saturdays of the month.
Name:National Museum of Tajikistan
Address:Ismoil Somoni Ave, Dushanbe 734000, Tajikistan
Related Site : http://www.newnmt.tj/en/
4. Statue of Ismoil Somoni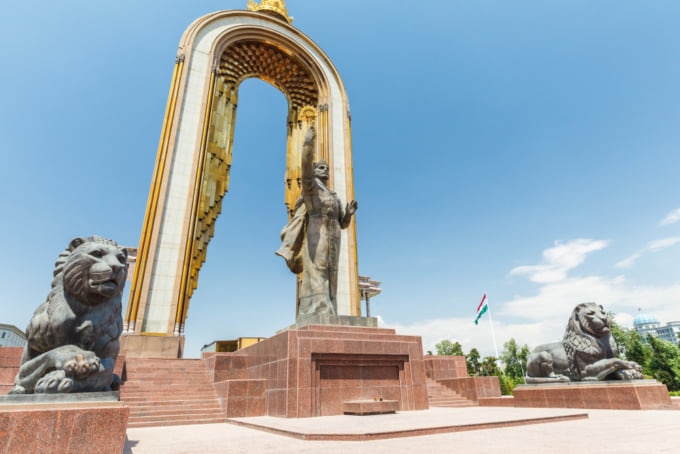 Photo by NOWAK LUKASZ/shutterstock.com
The Statue of Ismoil Somoni is one of the most impressive modern monuments of Dushanbe. This statue celebrates the founder of the Samanid dynasty. It has become an important point in the city because of its appearance. It has a stunning art-deco quality which adds to its already impressing golden casing. Because of its prominent position on Friendship Square, the Statue of Ismoil Somoni has become one of the most stellar sightseeing destinations in Dushanbe that you should go to.
Name:Statue of Ismoil Somoni
Address:Maydani Azadi (Freedom Square), Dushanbe 734000, Tajikistan
5. Ismaili Centre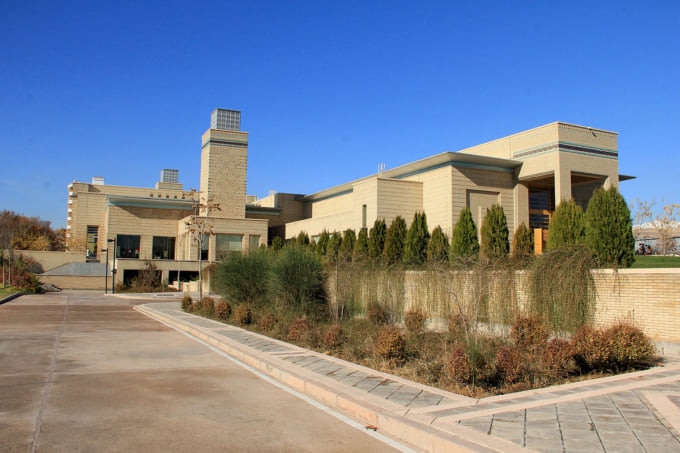 The Ismaili Centre is one of the six symbolic markers worldwide. It is an Ismaili jamatkhana. It is the first Ismaili Centre in Central Asia and the fifth built center that is built on purpose. This center is noted as being the only part of the world where the Ismailis make up most of the population. It has been designed by Farouk Noormohamed, a Canadian architect. It evokes Samanid architecture, a characteristic that is evident in a lot of post-independence Tajik buildings. The building could be found gardens that feature Persian silk trees and fountains.
Name:Ismaili Centre
Address:Ismoil Somoni Ave 47, Dushanbe 734000, Tajikistan
Related Site:https://the.ismaili/ismailicentres/dushanbe
6. Tajikistan Flagpole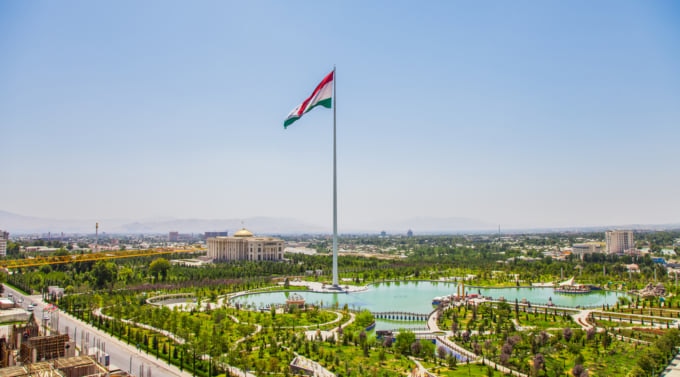 The Tajikistan Flagpole is a flagpole that could be found in front of the Palace of Nation in the city of Dushanbe. It is one of the tallest free-standing flagpoles in the world with a height of 541 feet. It has only been surpassed by the Jeddah Flagpole in 2014. The Tajikistan Flagpole flies the Flag of Tajikistan which weights more than 1,500 pounds. It also comprises of 12-meter sections of steel tube which are fitted together by crane. It has been built and erected by Trident Support which is based in San Diego.
Name:Tajikistan Flagpole
Address:Somoni street, Dushanbe 734000, Tajikistan
7. Tajikistan National Library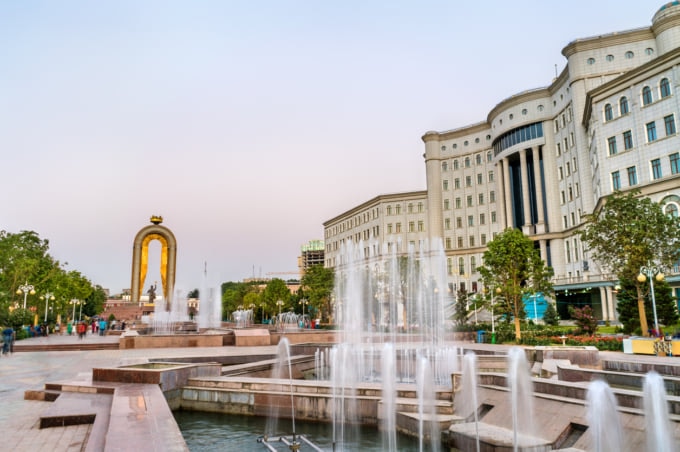 The Tajikistan National Library is a nine-storey structure in Dushanbe that is designed in the form of an open book. Due to its size, it is recognized as the largest library in Central Asia. Near the main facade of the building, this Tajikistan National Library contains 22 busts of popular heroes of local history, literature, and science masters of Tajikistan. It has 25 reading rooms with 274 automated workplaces for readers, three exhibition halls which display manuscripts and rare books. It also contains a gallery of books under branches of science and knowledge.
Name:Tajikistan National Library
Address:Rudaki 36 | Just west of the Somoni statue on Rudaki, Dushanbe 734000, Tajikistan
8. Mevlana Yakub Charki Mosque
The Mevlana Yakub Charki Mosque is another stunning sightseeing destination that you should visit when you are in Dushanbe. This mosque is an impressive landmark found at the heart of the city that is named as a tribute to Mawlana Yaqub-i Charkhi, an order chief of the15th-century Naqshbandiya Sufi. For believers, it is a great place for worship and for Jummah prayer. For others, it is an excellent place for sightseeing due to its nice surrounding, its strategic location in the middle of Dushanbe, and its stunning Persian architecture.
Name:Mevlana Yakub Charki Mosque
Address:Rudaki Avenue, Dushanbe 734000, Tajikistan
9. Fann Mountains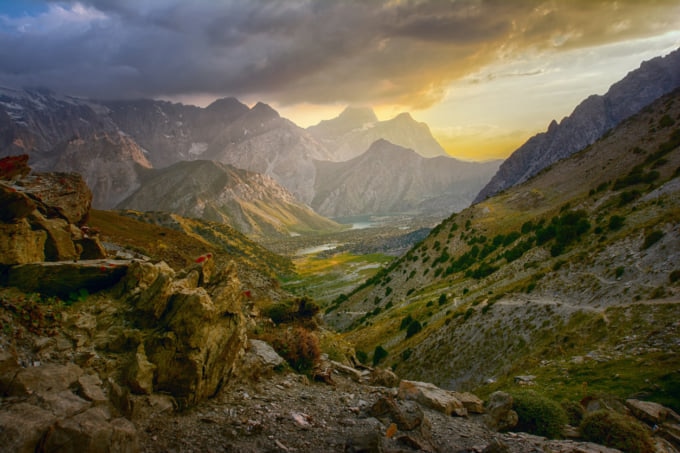 The Fann Mountains are an exceptionally scenic destination in Dushanbe that is worth sightseeing. It is a mountain range that is roughly halfway between Dushanbe and Samarkand. The range rises over 400 meters, although some would reach peaks of over 500 meters. Since it could be accessed easily from Dushanbe, and there are no permissions necessary, the Fann Mountains are pretty much recommended to climbers and hikers alike. When hiking in the Fann Mountains, you will be able to see various mountain lakes such as the Kulikalon lake and the Allo lake.
Name:Fann Mountains
Address:Ayni, Tajikistan
10. Palace of Nations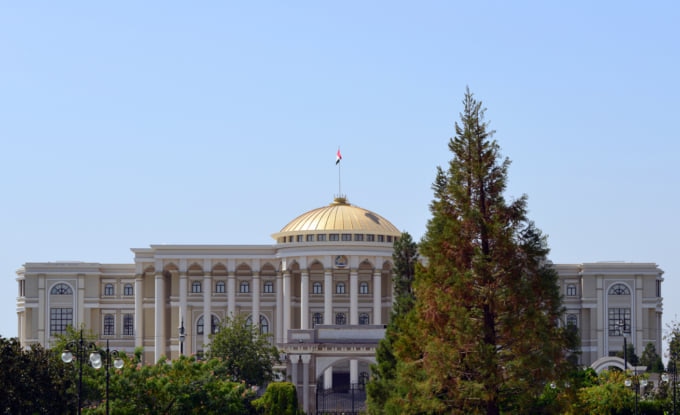 Our final sightseeing destination in Dushanbe is the Palace of Nations. Also known as the White House, the Palace of Nations is the official place of residence of the President of Tajikistan. Built in 2002, the palace has been designed and constructed by Codest International. This is where the president would receive foreign dignitaries and often holds events. When sightseeing at the Palace of Nations, you will be amazed of its regal architecture and its ambiance. You will also be able to see the Dushanbe Flagpole which is found in the middle of the dome.
Name:Palace of Nations
Address:Sherozi ave 11, Dushanbe 734000, Tajikistan
◎ Closing
From monuments to museums, Dushanbe really has something in store for you when you go sightseeing in this country. Be sure to enjoy these attractions so that you could have an awesome sightseeing experience in Dushanbe.