Peshawar : A Destination that Offer the Real Essence of Traveling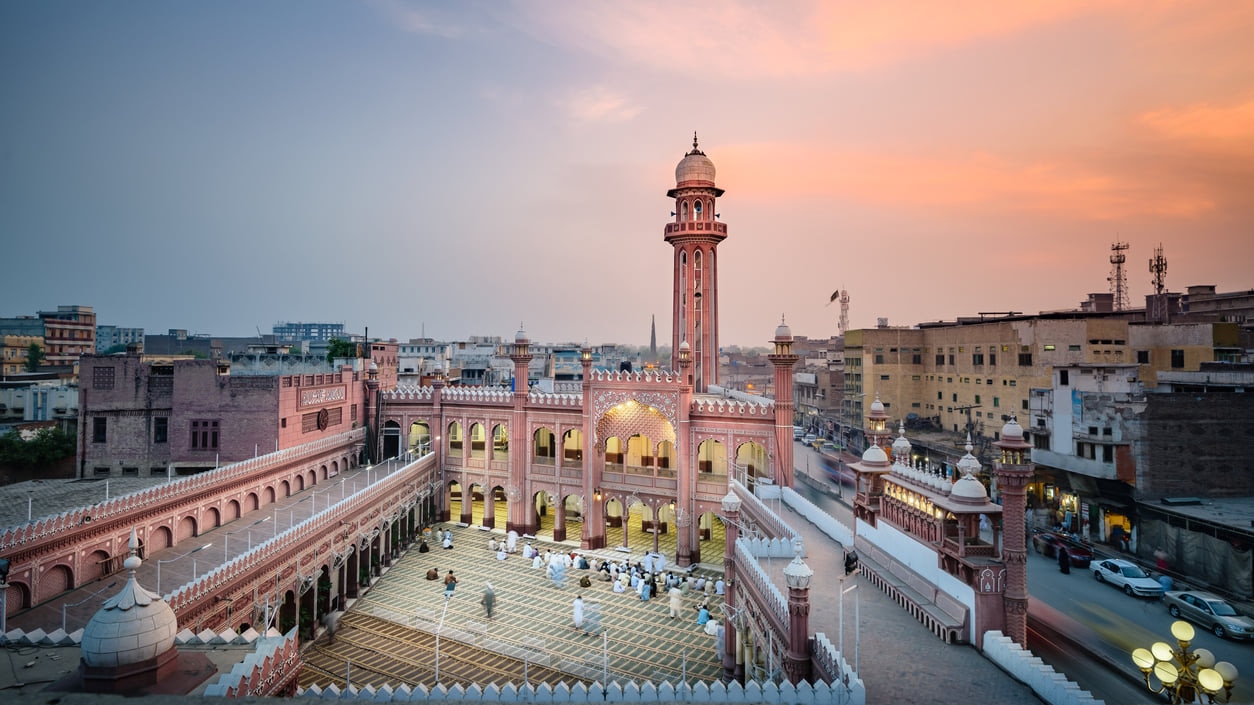 Peshawar a city of proud Pashtuns. And, not to forget that it is also the capital of Khyber Pakhtunkhwa. It has the world's second highest population of the Pakhtuns tribe. Really? This city has transformed into the center of their culture and arts in Pakistan.Peshawar is a beautiful city with the rich history that carries traits of Mughal Era from the 17th century and even older than. Well, this ancient town saw the likes of Alexander the Great and Babur was the pathway for plethora great civilizations such as the Greeks, Aryans, Persians, Mughals and the Mongols. You can find various buildings, historical streets, and bazaars that have modified a little in the past hundred years. If you are a history lover, going around these streets and bazaar is a treat to eyes. And, if you are not a history lover, doesn't worry Peshawar will make you fall in love with your deeply embedded roots. Here are interesting things to do if you are in Peshawar.
[x] close
Peshawar : A Destination that Offer the Real Essence of Traveling:table of contents
1. Qisa Khwani Bazaar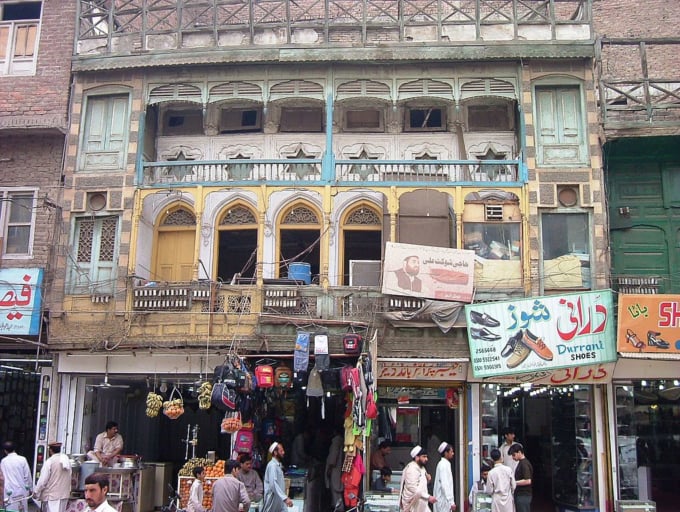 Phoyo by commons.wikimedia.org
Date back to 1000 years or maybe more than that, the Qissa Khawani Bazaar. It has got this name from various professional storytellers, who would camp here and entertain soldier and travelers with intriguing stories of love as well as war. These storytellers add the real rustic and historic essence to this bazaar. And, not to forget the old building are the icing on the cake. Over 1000 years, things have changed, but the bazaar still has the earthy historic touch to it. Walking the streets of this bazaar is and having a soothing cup of green tea (known as Kahwa) is a perfect traveling moment for travel-holics. A must have when in Peshawar!
Name:Qisa Khwani Bazaar
Address:Mohallah Baqir Shah, Peshawar, Khyber Pakhtunkhwa, Pakistan
2. Peshawar Museum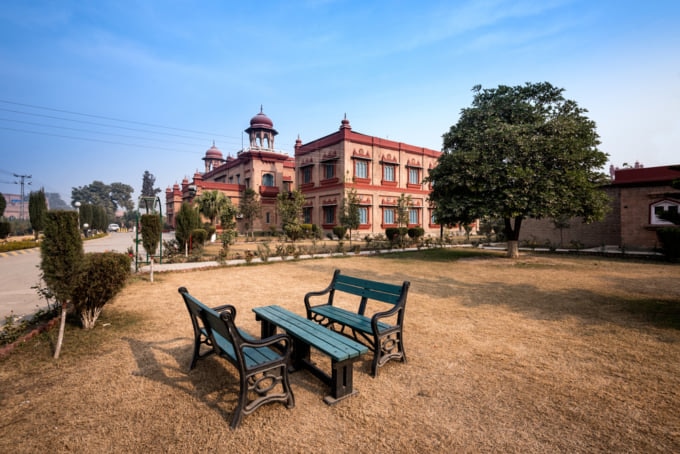 Phoyo by Shahid Khan/shutterstock.com
This museum was built in 1905 during the British Colonialist Regime. And, it was popularly known as "Victoria Memorial Hall". Its two-story building features an amalgamation of South Mughal Islamic Asian, British, Buddhist, Hindu, and Architectural style. Wondering what makes this museum stand out and extraordinary? It is the collection of Gandharan art that is the highlight of this museum. You can go through 14,000 items from various civilizations. There are coins, sculptures, weapons, and crafts, household items, art, and a lot more. A stroll down the Peshawar Museum will leave you intrigued.
Name:Peshawar Museum
Address:Saddar Road, Opposition side of government agency, Peshawar, Pakistan
Related Site : http://www.kparchaeology.com/
3. Mohabbat Khan Mosque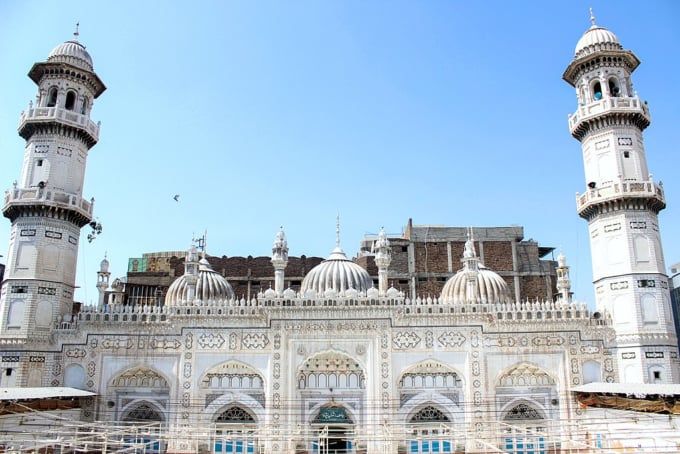 Phoyo by commons.wikimedia.org
The Mohabbat Khan Mosque was built in late Mughal Era of Shah Jehan and Aurangzeb. And, it was the governor of that time – Mohabbat Khan – who built this pilgrimage. This mosque is a beautiful and fine specimen of Mughal Architecture. And, it will truly leave you awe-inspired. You can enjoy the vast and open courtyard view from the roof of the mosque. Include it in your itenary on your next visit to Peshwar.
Name:Mohabbat Khan Mosque
Address:Andar Shehr Mohallah Baqir Shah, Peshawar, North West Frontier, Pakistan
4. Bala Hissar Fort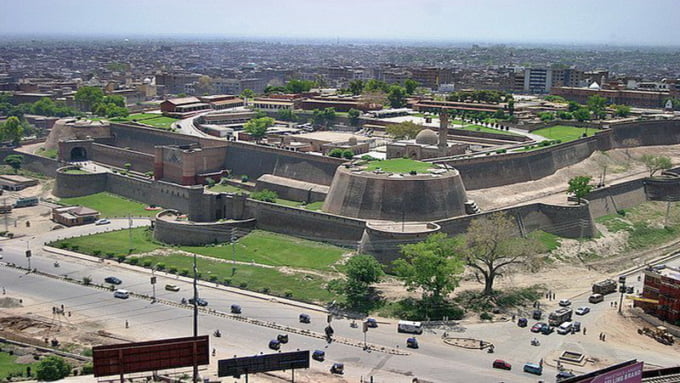 Phoyo by commons.wikimedia.org
The first and the most beautiful places to visit the time you enter the city is Bala Hissar Fort. No matter, whether you are coming from Khyber or Rawalpindi, the first thing that steals your attention is the mighty Bala Hissar Fort. When you pass under the shadow of this gigantic battlements and ramparts, you just cannot fail to get impressed. If you are flying from South to Peshawar visiting this fort is a must, it's worth it.
Name:Bala Hissar Fort
Address:Hashtnagri, Peshawar, Khyber Pakhtunkhwa, Pakistan
5. Sethi House Museum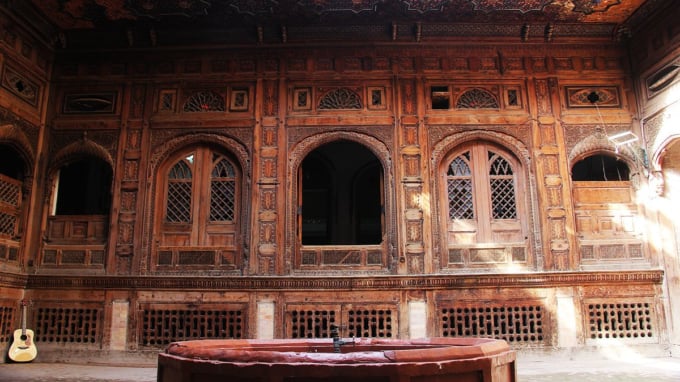 Anyone, who admires historical art, surely can't take away their eyes from Sethi House Museum, located in the Sethi Mohallah. It is said that these houses were the homes of the Sethi family, who have established businessmen with businesses in Central Asia, Afghanistan, China, India, and Iran. These beautiful houses feature with balconies, carved wooden doors, partitions, mirrored and painted rooms with architectural designs that will move you with its beauty. Absolutely a must visit when in Peshawar.
Name:Sethi House Museum
Address:YAKKATOOT, Peshawar, Khyber Pakhtunkhwa, Pakistan
6. Sardaryab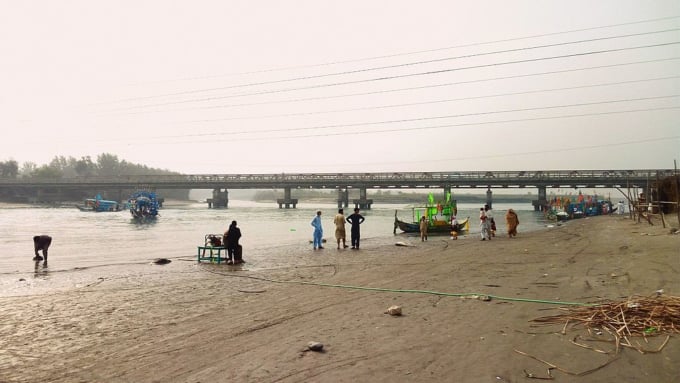 Phoyo by commons.wikimedia.org
Well, it is a small tourist gem built on the Great Kabul River. You can even rent a boat for a river cruise, or just sit down and relish the delicious freshwater fish, freshly caught and prepared. What more do you need for an awesome relaxing day outing?
Name:Sardaryab
Address:Charsadda District, located on the banks of the Kabul River
7. Pearl Continental Hote
Peshawar is an amazing and tasty food destination for food lovers. BBQ at Pearl Continental Hote is surely something that you can't miss on. The steam rising from the fresh BBQ cooked at the Tatara Restaurant is difficult to resist. You can even enjoy the traditional set-up with live folk music, satisfying your quest for delicious BBQ flavors. With the sky as its roof, this is a must-go place.
Name:Pearl Continental Hote
Address:Khyber Road, Peshawar, 25000, Pakistan
◎ Closing
Peshawar is a city that must find a place on your bucket list. It is an ultimate traveling destination for travelers around the world. Do not miss any of the listed places of interest when you next visit Peshawar. Do bring back with you the aromatic Kahwa green tea.