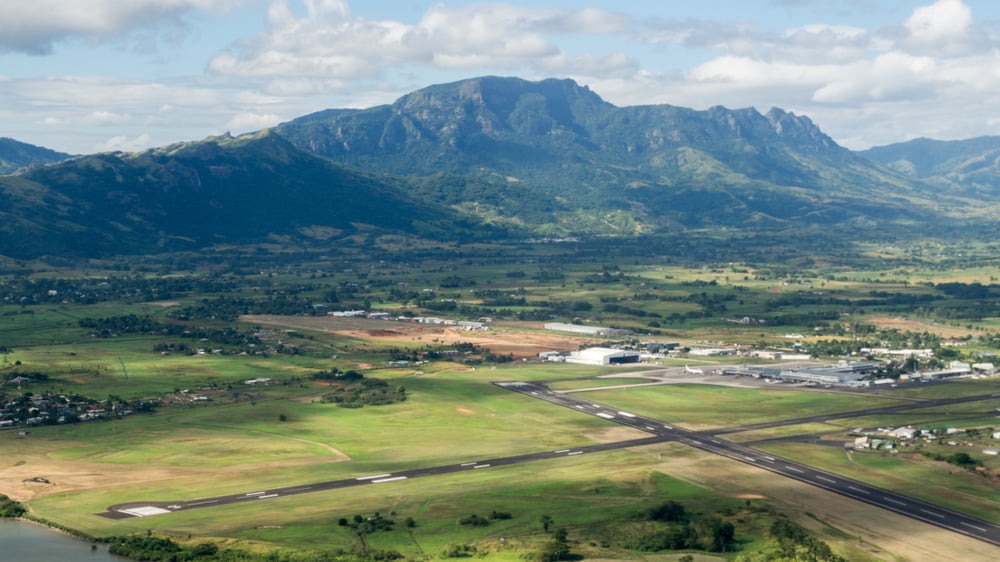 Photo by Guy Cowdry/shutterstock.com
Nadi : The Gateway of Fiji
Nadi is a city in Fiji located on the northwestern edge of Viti Levu. It is home to the recently upgraded international airport and most probably your port of entry as you jet into the island nation. It is a bustling tourism hub that attracts thousands of tourists year in year out due to the variety of attractions and the warm beaches. A multicultural cultural city with mainly Hindu and Fijian influences, Nadi has a reputation of being the safest town in the country adding to its allure. The city has often been seen just as a transit point to other Fijian destinations, but for those willing to explore its hidden treasures, you will be utterly amazed by this magnificent city. From beautiful scenery, warm beaches, celebrated culinary scene to the friendliness of the locals Nadi is one of those places that have everything to offer.
table of contents
[x] close
Nadi : The Gateway of Fiji
1. Sri Siva Subramaniya temple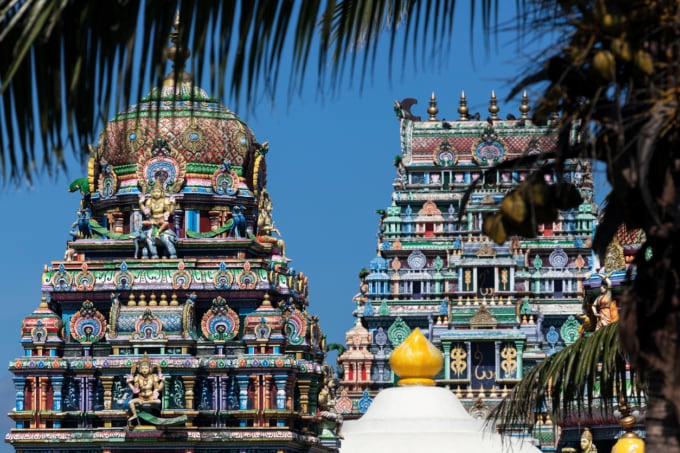 The Sri Siva Subramaniya Hindu Temple is a stunning landmark in Nadi and the largest of its kind in the Southern hemisphere. Set on the edge of the Nadi River, it is dedicated to Lord Murugan, the god of seasonal rains. Built on the site of its predecessor, the temple is an architectural icon with ornate carvings and beautiful sculptures everywhere you look. The complex was created by eight renowned Indian craftsmen in the iconic traditional Dravidian architectural style. Visit the temple and marvel at its beauty while taking in the tranquility of the place or the beautiful sunset view. The temple also hosts various festivals which are full of pomp and color and therefore worth checking out.
Name:Sri Siva Subramaniya temple
Address:Queens Road, Nadi, Fiji
Related Site:http://www.sangamfiji.com.fj/
2. Denarau Island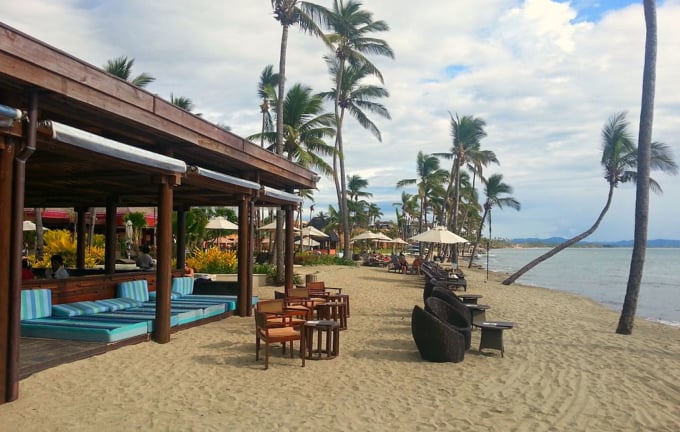 Photo by commons.wikimedia.org
Situated less than 10km from Nadi, Denarau Island is set within approximately 800 acres of tropical gardens. It is home to 8 world-class resorts and around 35 restaurants offering the very best of local and international cuisine. Apart from the warm beaches, there is also an international golf course and a marina offering easy access to other offshore islands. Denarau Island has a bus service as well as numerous tour and taxi services providing visitors and residents with a seamless connection to Nadi via a short causeway. Denarau has often been described as the place to get pampered as it has everything a tourist expects from an island resort.
Name:Denarau Island
Address:West of Nadi town, Fiji
Related Site:https://www.denarau.com/
3. Garden of the Sleeping Giant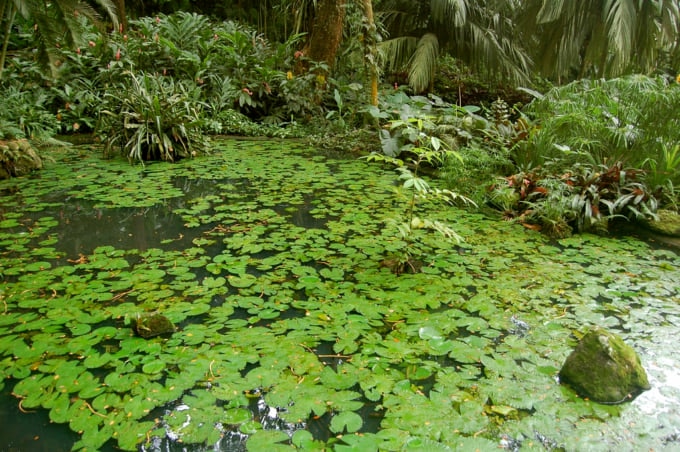 The Garden of the Sleeping Giant is located on a valley at the base of the Sleeping Giant Mountain and is one of the most pleasant of its kind in the world. Once the private collection of the late Canadian-American actor Raymond Burr, the garden has been praised by locals and foreigners alike not only for its beauty but also the superb service of its employees. Guided tours are a plus as you get to learn about the history of the garden as well as acquire in-depth knowledge of the many varieties of rare orchids found here. Although the orchids are the highlight of the garden, there is also a path cutting through the rainforest where one comes across fountains, a mud pool, and lily ponds making it a nature lover's paradise.
Name:Garden of the Sleeping Giant
Address:Wailoko Road, Nadi, Fiji
Related Site:http://www.gsgfiji.com/
4. Sabeto and Tifajek Mud Pools and Hot Springs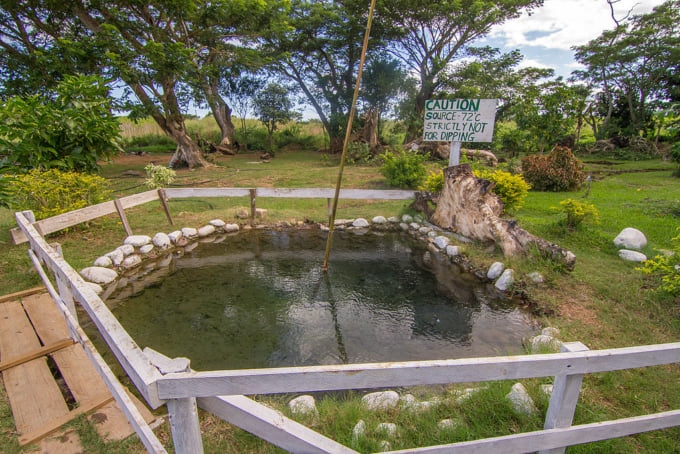 Photo by commons.wikimedia.org
The Sabeto and Tifajek mud pools and hot springs are located next door to each other. The pools are owned by siblings and are a must visit while in town. It is said that a dip in the hot springs has age-defying and healing benefits, but even if that weren't true, it is an exhilarating experience. Both have changing rooms and showers, and as they are popular among locals and tourists, they provide a great social experience. To take full advantage of the therapeutic value of the pools, it is advisable to cake yourself in mud and let it dry in the warm sun before washing it off in the hot springs. It is as exciting as it sounds.
Name:Sabeto and Tifajek Mud Pools and Hot Springs
Address:Wailoko Road, Sabeto, Nadi, Fiji
5. Wailoaloa Beach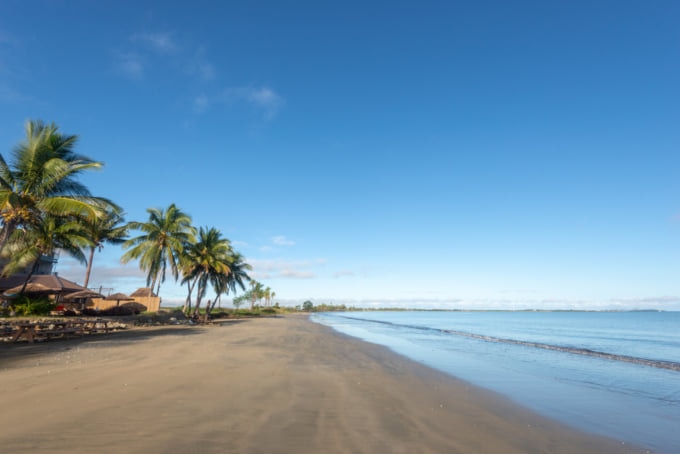 Photo by michael garner/shutterstock.com
Wailoaloa Beach is a picturesque 3km beachfront stretch in the heart of Nadi Bay that offers visitors a peaceful place to relax away from the hustle and bustle of the city. It is an ideal place to cool off after a long flight upon your arrival in Nadi as you plan out your visit. It offers a tranquil ocean outlook and stunning mountain views making it a perfect place to view the sunset. The downside of the beach is that the murky lagoon is not ideal for swimming due to the muddy mangrove forests that surround it. Worry not for one can always have a dip in the sea or engage in the myriad of activities on the beach including the popular beach rugby.
Name:Wailoaloa Beach
Address:Nadi, Viti Levu, Fiji
6. Mamanuca Islands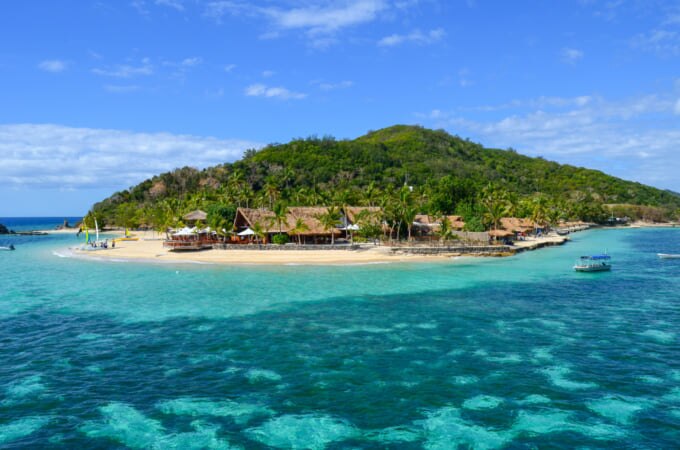 Photo by Nina Janesikova/shutterstock.com
The Mamanuca Islands are a volcanic archipelago located to the West of Nadi. The archipelago is made up of about 20 islands some of which are inhabitable as they are covered by the ocean at high tide. Not only are they the closest group of islands to the Viti Levu mainland, but also the most picturesque. This fact has made them a popular holiday destination with a number of resorts developed to cater to visitors. The clear waters are ideal for all kinds of water sports, snorkeling, and surfing. Whatever your preference, the common saying is that there is an island in the Mamanucas for everyone.
Name:Mamanuca Islands
Address:West of Nadi, Fiji
Related Site:https://www.fiji.travel/us/destinations/mamanuca-islands
7. Sleeping Giant Zipline, Orchid Falls & Jungle Safari
The Sleeping Giant Zipline, Orchid Falls and Jungle Safari is an excellent way to spend an afternoon in Nadi. Set within the stunning tropical rainforest, the zipline adventure gives one the false sense of flying with magical views of rivers and waterfalls in the jungle below. The zip lines collectively span over 600m propelling one up to 40 km/h. Professional tour guides accompany visitors on a tour of the jungle where can view the two waterfalls up close surrounded by pristine and untouched jungle. Birdwatchers will cherish the opportunity to view parrots and other birds that hover over the canopies. With a myriad of fun activities for the whole family, this is an adventure you may not want to miss while in Nadi.
Name:Sleeping Giant Zipline, Orchid Falls & Jungle Safari
Address:Holika Road, Nadi, Fiji
Related Site:https://www.ziplinefiji.com/
8. Tandem Skydive
Skydiving is one of the most exciting activities you can engage in while in Nadi. Skydive Fiji is the most experienced premier skydiving company in Fiji with an excellent 13-year track record. Their professional ground staff, instructors, and pilots work together making guests relaxed the result of which is an experience of a lifetime. The thrill of jumping from as high as 14,000 feet followed by a scenic parachute ride is one which one has to experience to grasp the joy derived from it. It is also the best way to view the clear waters, sandy beaches, and the coral reefs surrounding the Mamanuca and Denarau Islands all in one frame.
Name:Tandem Skydive
Address:11 Zahoor Rd, Nadi, Fiji
Related Site:http://www.skydivefiji.com.fj/
9. Koroyanitu National Heritage Park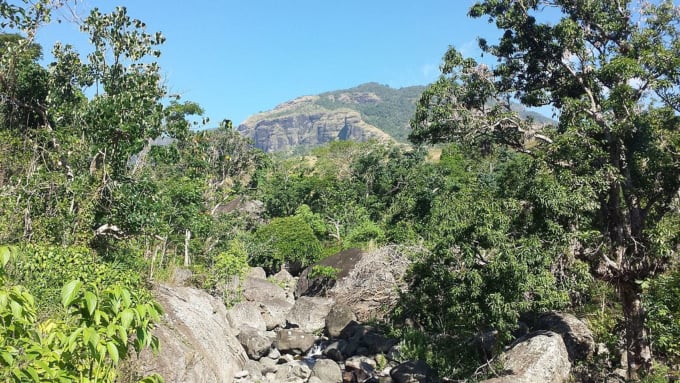 Photo by commons.wikimedia.org
Koroyanitu National Heritage Park is located less than an hour's drive from Nadi near the town of Lautoka. The park is a nature lover's paradise with trails snaking through native and untouched forests. The park is maintained by six villages located within the park as part of an eco-tourism project that aims to provide alternative income for the locals. It is advisable to get a guide to accompany you on your adventure as some trails may be washed off after heavy rains and one may get lost. If you are an avid hiker, birdwatcher, or just a nature lover, this park is definitely worth a visit.
Name:Koroyanitu National Heritage Park
Address:Nawaka, Lautoka, Viti Levu, Fiji
10. Fiji Culture Village
The Fiji Cultural Village is the best place to learn about the history and the culture of the native Fijian people. The tour begins with a beating of the Lali, a traditional drum used to communicate important events such as births, deaths, wars, and in this case, your visit. Visit the different traditional houses or Bures as they are called, and experience the diversity of the Fijian culture. Different traditional wares are also available for sale if you wish to carry a souvenir or memento back home. The tour concludes with a traditional dance, first by women followed by men offering you a chance to try out your Fijian moves. Delicious local food is offered on conclusion of your visit, as is traditional drink.
Name:Fiji Culture Village
Address:Navo, Nadi, Fiji
◎ Closing
Nadi is a unique town with a bit of everything and offering easy access to that which it lacks which is not much. For any visitor to Fiji, it is worth spending a few days taking in all the city has to offer before embarking on a tour of the rest of the country. Whatever your preferences, Nadi has it all.