Bandar Seri Begawan : Capital of Brunei Influenced with Islamic Culture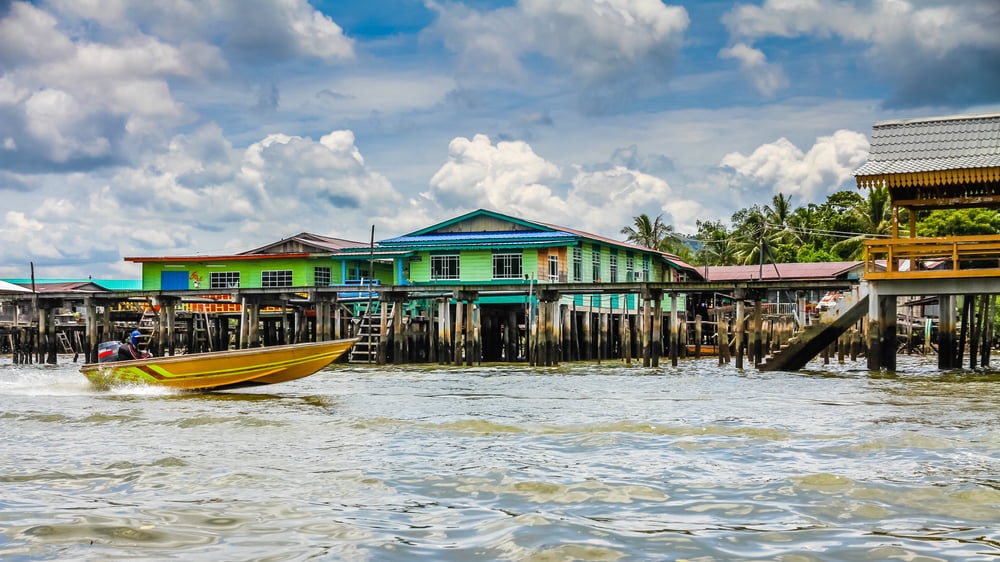 Photo by ZM_Photo/shutterstock.com
Bandar Seri Begawan is an island city that serves as the capital of Brunei. This city has been influenced with is Islamic cultural heritage that most of the entertainment attractions do not revolve around alcohol and nightclubs. It is however famous for the sprawling shopping malls and restaurants. The city is famous for enormous beautiful mosques such as the Sultan Omar Ali Saifuddien Mosque, that is the highlight of any sightseeing itinerary. Below are the main attractions of Bandar Seri Begawan.
[x] close
Bandar Seri Begawan : Capital of Brunei Influenced with Islamic Culture:table of contents
1. Sultan Omar Ali Saifuddin Mosque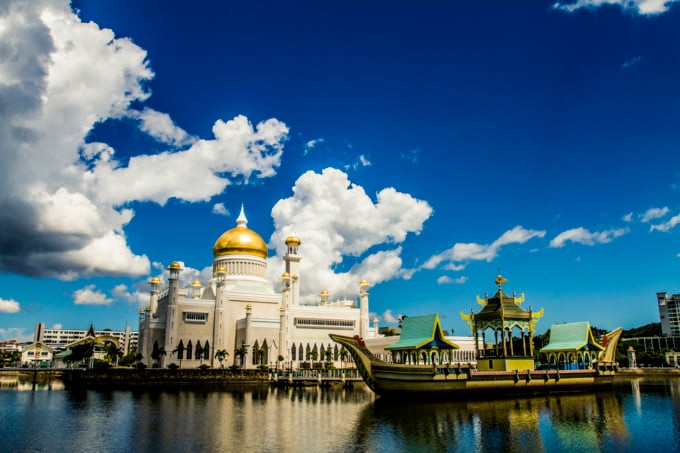 Sultan Omar Ali Saifuddin Mosque was opened in 1958. It is the most beautiful in the Asia Pacific due to its outstanding architecture. Due to the city's Islamic faith, the mosque has gained popularity being the most respected mosque in Bandar Seri Begawan. Tourists go sightseeing in the mosque to marvel at the luminous stained glass windows, and luxurious furnishings such as the chandeliers from Britain, Walls of Shanghai granite, Italian marble as well as carpets from Saudi Arabia. The illumination during the night is what makes it more beautiful. The mosque remains open all through Sunday to Wednesday for sightseeing.

Name : Sultan Omar Ali Saifuddin Mosque
Address : Jalan McArthur, Bandar Seri Begawan BS8711, Brunei
2. Jerudong Park
Jerudong Park is the largest and most expensive amusement park in the whole of southeast Asia. The project was initiated by the Government of Bandar Seri Begawan costing them 1 billion dollars to set up. The park features amusement park rides and gardens. Some of the latest additions include a 4D cinema motion, an adventure kingdom with zip lines, Some water splashing slides, and plenty of eating places to stop for food and beverages. It is hard to imagine the place was once free of charge to everyone. A small entrance fee is now charged to enter the park. Since it is an Islamic country, most shops close for 30 minutes daily during prayer hours.
Name : Jerudong Park
Address : Jerudong BG3122, Brunei
Related Site : https://www.jerudongpark.com/
3. Istana Nurul Iman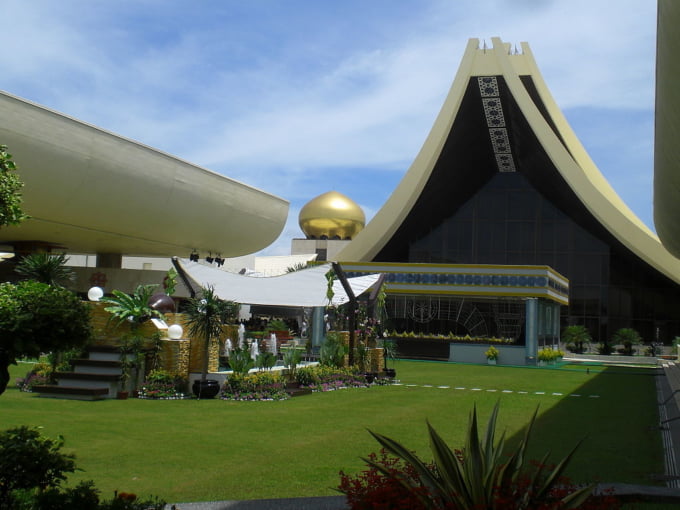 Istana Nurul Iman is a royal palace that is home to the sultan of Bandar Seri Begawan. There is also a mosque within the grounds. This royal palace is so grand that it has over 1,700 rooms. Aside from that, there are some fascinating features including a banquet hall that can hold thousands of guests, 5 swimming pools, and a car garage that can hold over 100 cars. Since it is located uphill, you can easily spot its golden domes glorifying the skyline. Not everyone is allowed to enter the premises for sightseeing and most tourists miss out. Only those on official business get this added advantage.
Name : Istana Nurul Iman
Address : Jln Menteri Besar, Bandar Seri Begawan BA2112, Brunei
Related Site : http://www.istananuruliman.org/
4. Royal Regalia Museum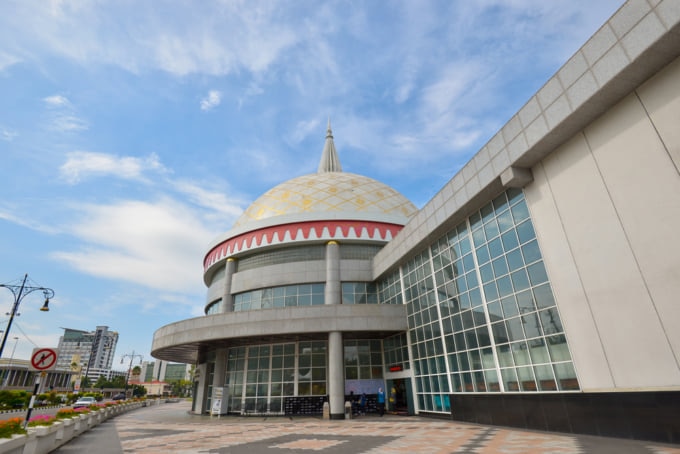 Phoyo by Farris Noorzali/shutterstock.com
Royal Regalia Museum is a royalty museum that speaks volume about luxury and items from the royal family. The architecture matches the contents of the museum with a golden-domed structure. Inside the museum, sightseeing tourists get to see some amazing galleries representing the coronation of the Sultan of Bandar Seri Begawan. Especially marking the 25th year in a ruling term. Aside from the pictorial galleries, you can find documents, films and other types of recordings. The place remains throughout the week but closes earlier on Friday due to prayers. Visitors are expected to enter the museum barefoot.

Name : Royal Regalia Museum
Address : Jln Sultan Omar Ali Saifuddien, Bandar Seri Begawan BS8611, Brunei
5. Tasek Lama Recreational Park
Tasek Lama Recreational Park is an interesting city park within Bandar Seri Begawan which takes a different perspective on the theme. This is because there are some Chinese elements to it that make it stand out such as the Chinese reflexology stone garden. Often you will find people practicing tai chi or martial arts training. The main adventure is strolling through the park and enjoying the scenery or hiking along the jungle trails. There is a tower which you can climb to get views of Bandar Seri Begawan. There is also a beautiful lake space that makes the place more beautiful for nature lovers who will also enjoy seeing squirrels and monkeys.
Name : Tasek Lama Recreational Park
Address : Bandar Seri Begawan BS8311, Brunei
6. Jame' Asr Hassanil Bolkiah Mosque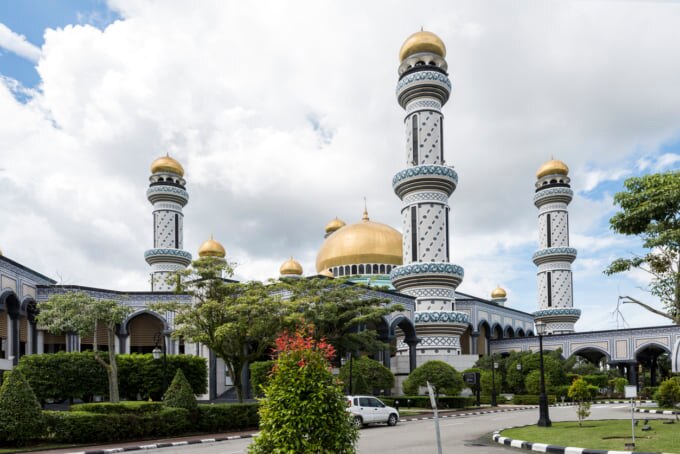 Jame' Asr Hassanil Bolkiah Mosque is among the top two national mosques of Bandar Seri Begawan. The finishes and architecture do not disappoint as they have a lavish feel to it. It has 4 minarets together with landscaped gardens and fountains. Despite being over 20 years old, it still aesthetically pleases the eyes. It remains open most days but you need to confirm prior that there are no functions planned ahead. If you wish to go sightseeing, you are expected to be in full garments from head to toe as well as barefoot as that is the tradition. Photography is not allowed.
Name : Jame' Asr Hassanil Bolkiah Mosque
Address : Bandar Seri Begawan, Brunei
7. Brunei Darussalam Maritime Museum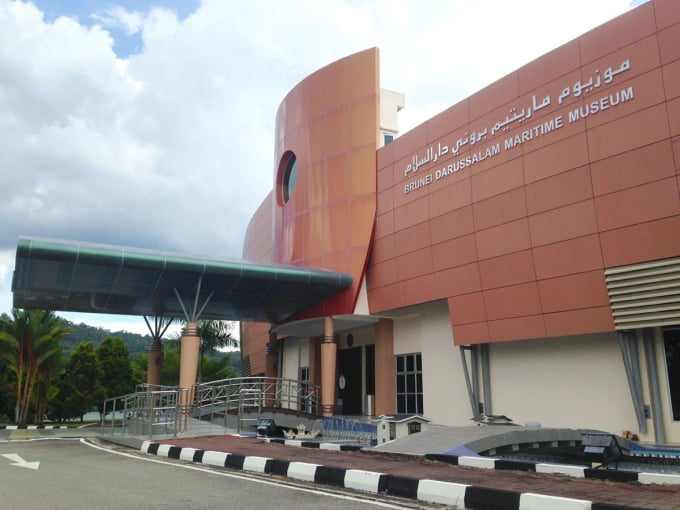 Brunei Darussalam Maritime Museum is the place to be if you are a history buff. The last shipwreck from the Trade between China, Thailand, and Vietnam that was operational in the 16C. The signage around the museum is both in Malay and English making it convenient. Aside from sightseeing, tourists can watch a short video that elaborates more on the wreck. Since the museum is spread out on two levels, the ground floor is most inclined towards the wreck and ceramics while the second floor shows exhibits on the exports of Bandar Seri Begawan.
Name : Brunei Darussalam Maritime Museum
Address : 482 Jln Kota Batu, Kampung Kota Batu, Brunei
8. Hassanal Bolkiah National Stadium
Hassanal Bolkiah National Stadium is a huge a multi-purpose stadium that is mostly used for football. Most sporting festivities taking place in Bandar Seri Begawan take place at these grounds. Since being opened in 1984, only one major event has taken place at the venue, being the 1999 20th SEA games. The stadium is able to host over 28,000 guests. You will find plenty of food stalls as well as stalls selling assorted festival items. The sharia law still applies because the men and women were separated. Even the sportsmen and women. Since the stadium is open to all, it is a great place to stop for some festivities if you wish to take a break from sightseeing.
Name : Hassanal Bolkiah National Stadium
Address : Jalan Stadium Negara Hassanal Bolkiah, Bandar Seri Begawan, Brunei
9. Berakas Forest Reserve
Berakas Forest Reserve is an escape some kilometers outside the center of Bandar Seri Begawan. The land is a vast land covered with trees and green grassy areas. This forest reserve covers under 350 hectares of land. There are nice hiking trails as well as wooden paths for strolling or hiking but it is ideal for the later or jogging. Upon entry, you will notice the pitcher plants that are hard to miss. There are BBQ stands if you wish to use the facility for picnicking with friends or family. The views are very amazing as you get to see the ocean from the park.
Name : Berakas Forest Reserve
Address : Lebuhraya Muara-Tutong, Bandar Seri Begawan, Brunei Darussalam
10. Lapau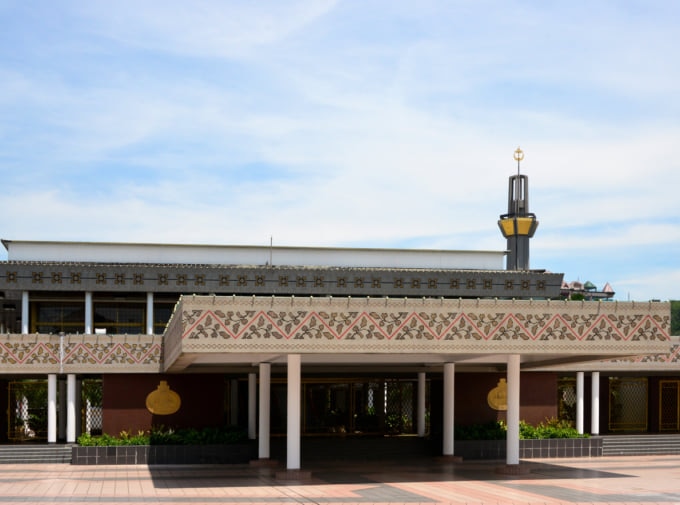 Lapau is an official ceremonial hall in Bandar Seri Begawan. It was gifted to the sultan of the nation in 1968. The center itself is historical holding much history about the nation. Most official and government-related events are hosted there. The architecture does not disappoint as most buildings around Bandar Seri Begawan. There is a nice fountain at the front that adds to the beauty to the whole grounds. Since it is a serious building, sightseeing is not allowed for commoners unless you intend to visit the building for official purposes.
Name : Lapau
Address : Jln Bendahara, Bandar Seri Begawan BS8611, Brunei
◎ Closing
Despite the heavy influence of Islamic culture within Bandar Seri Begawan, the place still offers a chill atmosphere for sightseeing. There are plenty of architectural marvels to inspire most including photographers. For the spiritually inclined, this is a perfect destination as it offers adventure as an added package. This is evident in the presence of the largest water village in the world.