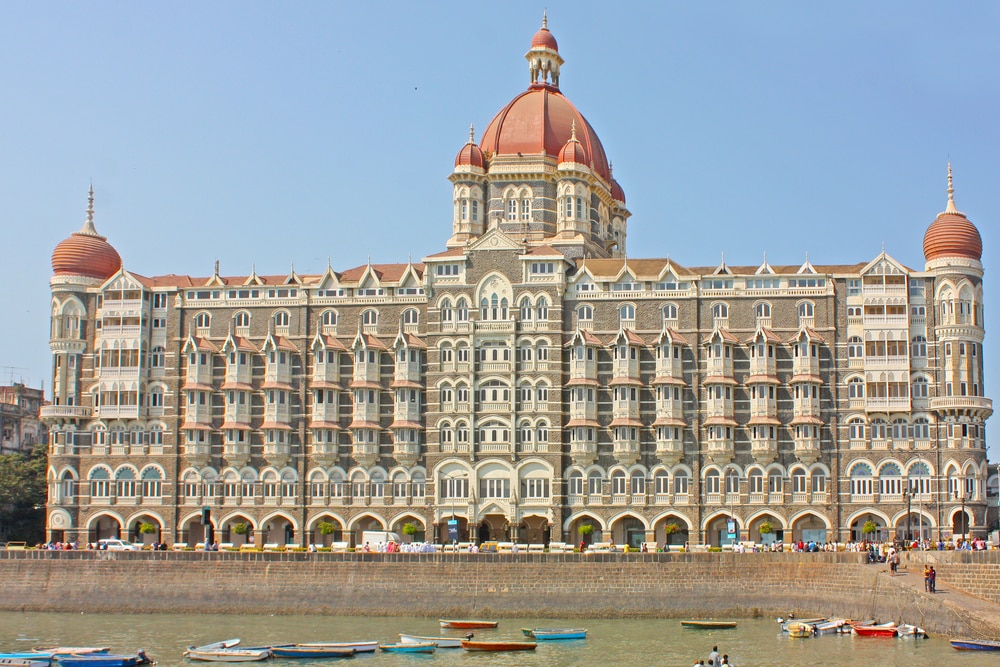 Photo by Alexandra Lande/Shutterstock
Mumbai's 5 Must-Visit Restaurants
A city of dreams, India's financial capital, and a bustling metropolitan in a class of its own, Mumbai is both wondrous and chaotic. Home to the largest film industry in the world, its rich heritage, along with the multicultural people that inhabit Mumbai, form the soul that keeps the city alive and kicking, day and night.

In terms of food, Mumbai offers myriad opportunities to gourmands who want to explore the diversity of its vibrant culinary culture and immerse themselves in experiences that promise intense flavors and memorable tastes.

table of contents
[x] close
Mumbai's 5 Must-Visit Restaurants
Masala Library
Masala Library re-imagines Indian cuisine in a way that it remains true to its roots, but simultaneously explores its complexities in a rather fun and visually appealing manner. Serving quintessential dishes from across the country, Masala Library is an experiment gone right. Its beige and somewhat subdued interiors are the perfect backdrops to the lively and colorful plates that arrive on the table, giving every bit of importance to what matters most, food.

If the soul of Masala Library is the expertise of Jiggs Kalra, the heart of the restaurant is his son's fascination with molecular gastronomy. You'll see hints of drama and phantasm associated with this new-age style of cooking in most of Zorawar Kalra's restaurants, as he has been the pioneer behind the popularity of molecular gastronomy in India.

Must try: While there are several interesting dishes to try and appreciate at Masala Library, their nine-course degustation menu showcases the very best of their offerings in a fantastic way. Pair it with wine or have it as it is, for someone's first visit to India, this is the perfect introduction to the country's exciting cuisine.

Address: Ground Floor, First International Financial Centre, Bandra East, Mumbai
Wasabi by Morimoto
Japanese cuisine has seen a rise in fame amongst Indian food lovers over the last decade. At the forefront of this trend has been Chef Masaharu Morimoto's Wasabi restaurant, at the Taj Mahal Hotel, which opened in 2004. Many are unaware that Morimoto, the first executive chef at Nobu, launched his Mumbai restaurant a good couple of years before his now-famous Morimoto New York. Wasabi is one of the most expensive restaurants in Mumbai. It is, however, the ideal place to spot Bollywood and international celebrities on any given day.

Exhibiting sophisticated finesse and Japanese ethos, Wasabi imports most of its ingredients and seafood from Japan. Listed among Asia's top 50 restaurants by San Pelligrino, it has adapted to local preferences by offering several vegetarian options conceived by Taj's resident master chef Hemant Oberoi.

Must-try: Even after 15 years, the white fish carpaccio and black cod in miso remain the two most admired dishes at Wasabi. Obviously, no meal here is complete without making the most of their sushi and sashimi offerings.
Address: Taj Hotel, Apollo Bandar, Colaba, Mumbai
Burma Burma
Burma Burma delights its customers in more ways than one. It's a vegetarian-only restaurant that serves the most delectable of Burmese dishes, giving family recipes and regional classics a slightly modern twist along the way. The interiors of the restaurant are a medley of subtle colors and artifacts that add authenticity to the ambiance while at the same time, bring about a sense of calmness.

In addition to the food, Burma Burma prides itself on being a tea room, featuring a collection of more than 50 blends from across the world. The specialty of the restaurant is that it manages to infuse tea into its food whenever the opportunity presents, for some genuinely hearty and flavorful meals.

Must-try: The samuza hincho brings together the warmth of a good soup and the comfort of having a samosa in a unique concoction. Whereas, the tea leaf salad is a beautifully refreshing and aromatic eat. First-time visitors, though, should stick to the essential Burma Burma 'Oh No Khaosuey,' which comes with a choice of udon, hakka, whole wheat or flat noodles.
Address: Kothari House, Allana Centre Lane, Fort, Kala Ghoda, Mumbai
The Table
Opened in 2011, The Table is behind some of the most prominent present-day trends seen across the Indian restaurant industry. Bringing together a collection of dishes from across the world, The Table champions the idea of farm to table by growing most of their ingredients at their farm in Alibaug. Moreover, they are among the first in the country to start serving food under the labels of small and large plates.

The presentations at The Table are inspired by San Francisco style cuisine and consists of fresh and in-season ingredients. The restaurant encourages community eating as well as sharing, and keeping true to this philosophy holds various food and cultural events throughout the year.

Must try: Dinner is typically the best time to experiment with everything that The Table has to offer. Their quail scotched eggs and truffle fries are a great way to start the meal, followed by a delicious French onion soup and duck salad. The Table burger and house-made fettuccini are recommended bites from the large plates section. The Table also has a lovely wine list to compliment the food.

Address: Ground Floor, Kalapesi Trust Building, Apollo Bunder Marg, Colaba, Mumbai
Britannia and Co. Restaurant
It's impossible to talk about Mumbai's restaurant scene and not mention Parsi cuisine. Britannia and Co. is an institution, serving food since 1923 from inside a colonial bungalow in Ballard Estate. The vintage charm of the location continues to remain the same thanks to the old-fashion furniture and an aura that exudes authenticity.

Among the most exciting aspects of eating at Britannia and Co. was the chance to meet and interact with Mr. Boman Kohinoor, who sadly passed away in 2019. The 97-year-old gentleman was a legend in Mumbai for having a larger than life persona, which included entertaining his customers with photographs and stories from the past.

Must try: Although Parsi cuisine is a treasure trove of captivating preparations, no meal at Britannia and Co. is complete without a sip of Pallonji's raspberry soda, and a taste of the iconic berry pulao with imported Iranian berries.
Address: Wakefield House, 16, 11, Sport Rd, Ballard Estate, Fort, Mumbai
Conclusion
Food defines Mumbai. From the city's streets and its beaches to the finest of dining options, there's a simplicity to the local cuisine that results in unforgettable adventures packed with unusual ingredients, passionate cooking, and whimsical pleasures.