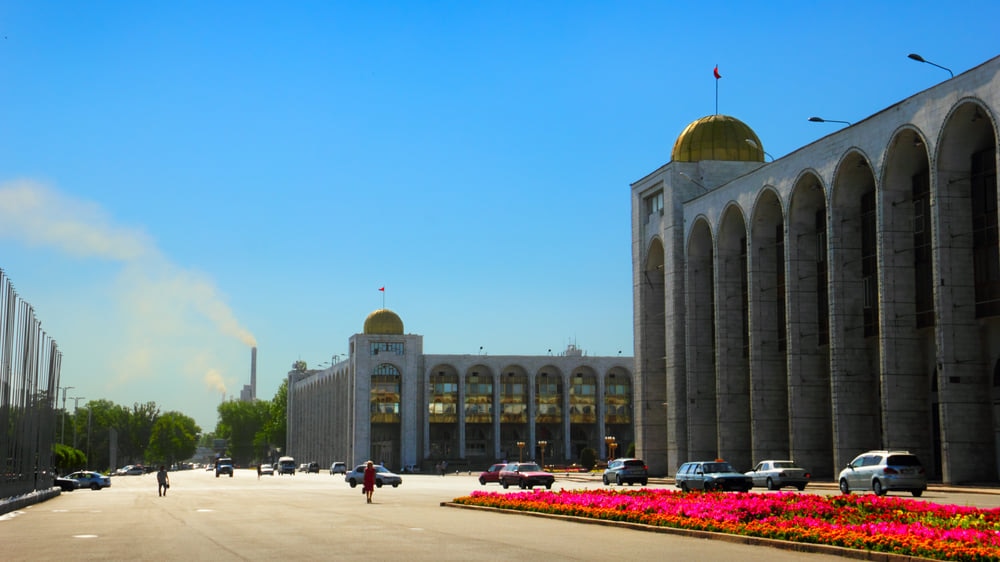 Photo by Natalia Davidovich/shutterstock
Kyrgyzstan:A Country of Natural Beauty with Untouched Mountains, Craggy Ridges, and Lush Summer Pastures
table of contents
[x] close
Kyrgyzstan:A Country of Natural Beauty with Untouched Mountains, Craggy Ridges, and Lush Summer Pastures
Kyrgyzstan is a country in the South-Central Asian Union. Kyrgyzstan is a landlocked and mountainous country, with nations such as Kazakhstan, Uzbekistan, Tajikistan, and China bordering Kyrgyzstan. When sightseeing Kyrgyzstan, a tourist may witness its remarkable natural beauty and fascinating nomadic traditions. In order to guide you to the attractions to visit when in Kyrgyzstan, we have listed down ten of the most popular places for sightseeing.
1. Ala Archa National Park (Bishkek)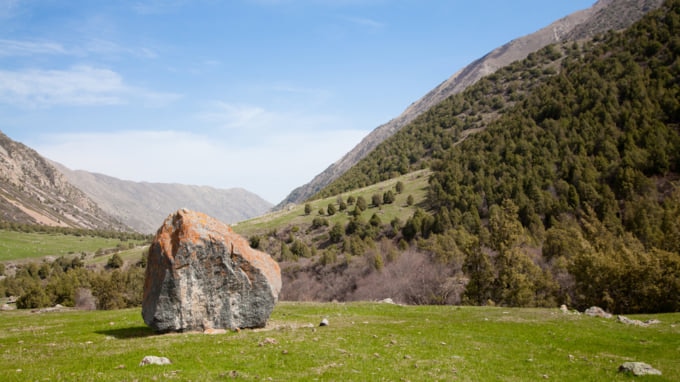 Photo by Artem Loskutnikov/shutterstock
Situated in the Tian Shan mountains of Kyrgyzstan, the Ala Archa National Park is one of the more popular attractions for sightseeing in the country. The park includes the gorge of the Ala-Archa River and the mountainous area which surrounds it. The national park is famous for those who are into hiking, skiing, horse trekking, or just sightseeing. Those who wish to go for a picnic during weekends may also visit the Ala Archa National Park. The said tourist attraction is open all year round, but it is recommended to visit it during late summer or early fall.
Name:Ala Archa National Park
Address:Chuy Region, Kyrgyzstan
2. Issyk-Kul Lake (Karakol)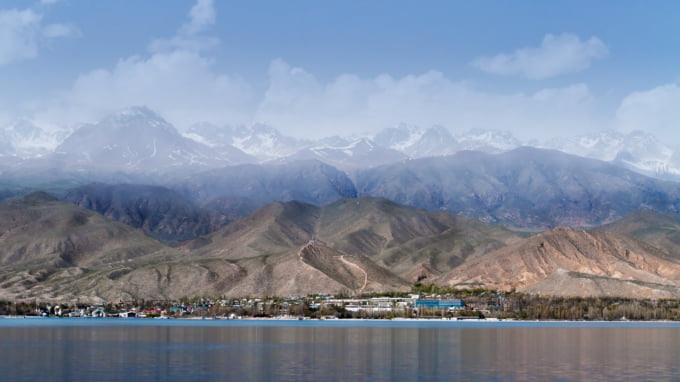 For those who are seeking for another natural attraction for sightseeing, this lake might be for you. Issyk-Kul Lake is a lake found in the northern Tian Shan mountain in eastern Kyrgyzstan. Its name is derived from the Kyrgyz language which means warm lake because it never freezes even though snow-capped peaks surround it. Issyk-Kul Lake is the tenth largest lake in the world and the second largest saline lake. If you wish to go sightseeing on the lake, you may take an excursion from the city of Karakol which is the administrative seat of the Issyk-Kul region of Kyrgyzstan.
Name:Issyk-Kul Lake
Address:Karakol, Kyrgyzstan
3. Altyn Arashan (Karakol)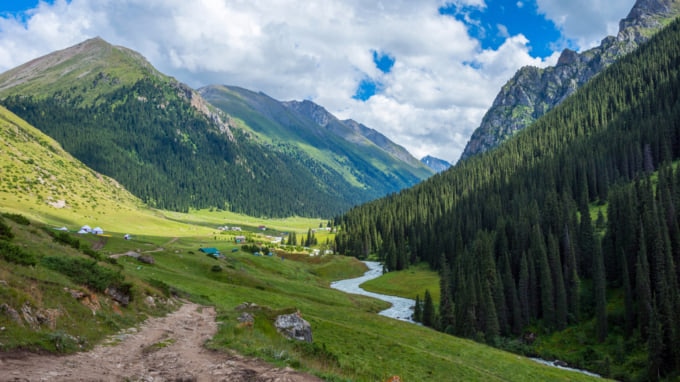 Photo by Ana Flasker/shutterstock
Another attraction worth sightseeing is the Altyn Arashan. Also known as the Golden Spa, Altyn Arashan is a mountain resort and a valley located near the Issyk Kul Lake in northeastern Kyrgyzstan. It is described as a hot spring which is set in an alpine valley. It is believed to include three groups of nitric thermal springs. Altyn Arashan has plenty of wooden sheds which contain hot pools which are said to cure various ailments. When sightseeing at Altyn Arashan, you may also visit the botanical research area called the Arashan State Nature Reserve.
Name:Altyn Arashan
Address:Karakol, Kyrgyzstan
4. Russian Orthodox Holy Trinity Cathedral (Karakol)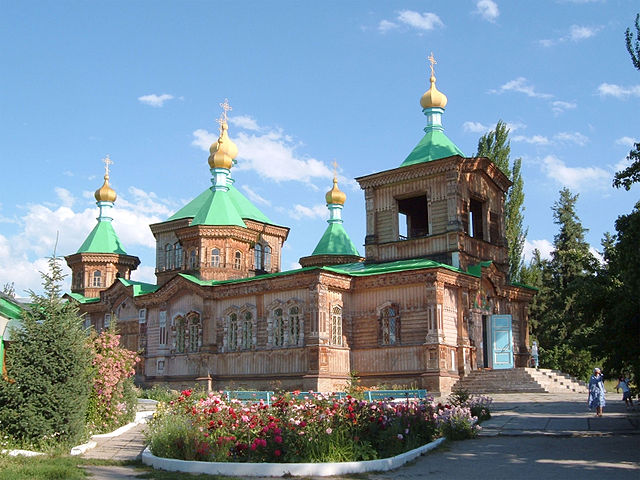 Photo by commons.wikimedia.org
Located in the heart of Karakol in Kyrgyzstan, the Russian Orthodox Holy Trinity Cathedral was built based on the principles of building ancient churches which employes the building of six pillars. However, the church has only four pillars. It was made of hewn logs around the 1890s on the ruins of the brick church. When sightseeing on the church, one can witness its facade which is embellished with several carvings. Sightseeing on the church will also let one observe its bell tower which is situated on the top of the Cathedral.
Name:Russian Orthodox Holy Trinity Cathedral
Address:Karakol, Kyrgyzstan
5. Song Kol Lake (Naryn)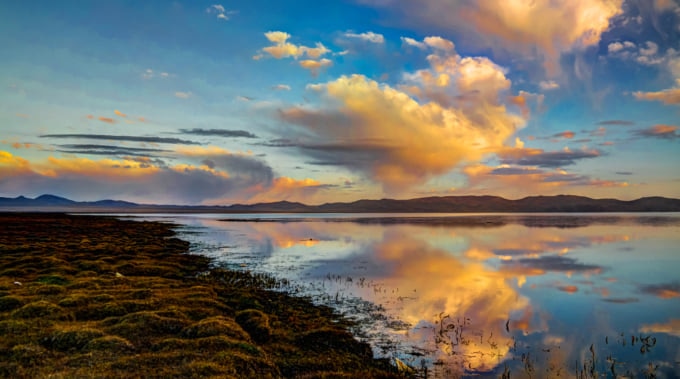 Situated in the Naryn Province at Kyrgyzstan, the Song Kol lake is an alpine lake which lies at an altitude of more than 3,000 meters. Its name can literally be translated to "following lake." After the Issyk Kul Lake, the Song Kol lake is the second largest lake in Kyrgyzstan. The beauty of the lake has been praised time and again because it is surrounded by a broad pasture and mountains. If you wish to go sightseeing at Song Kol lake, you may take several routes involving the use of all-terrain vehicles.
Name:Song Kol Lake
Address:Naryn Province, Kyrgyzstan
6. Sulayman Mountain (Osh)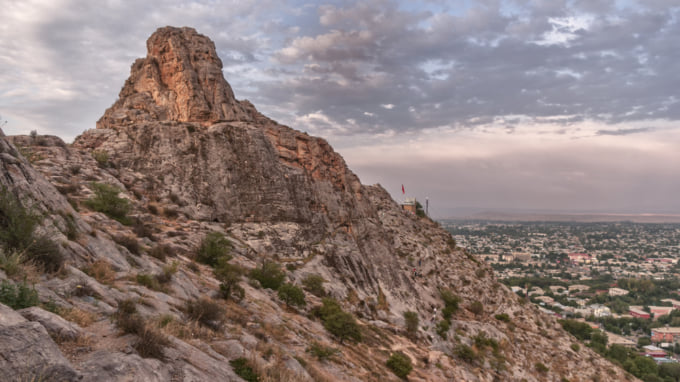 Photo by Suhanova Kseniya/shutterstock
The Sulayman Mountain is a tall body of land found in the city of Osh in Kyrgyzstan. Also known as Sulayman Rock or Sulayman throne, it was once considered a significant place of Muslim pilgrimage in Kyrgyzstan. Due to its cultural significance, the Sulayman Mountain has been recognized as UNESCO World Heritage Site, the only heritage site found in the country of Kyrgyzstan. When sightseeing at Sulayman Mountain, one may witness the unique rock formations located at the mountain. The mountain is dedicated to Sulayman, a prophet in the Qur'an, hence the name.
Name:Sulayman Mountain
Address:Osh, Kyrgyzstan
7. Ala Kul Lake (Karakol)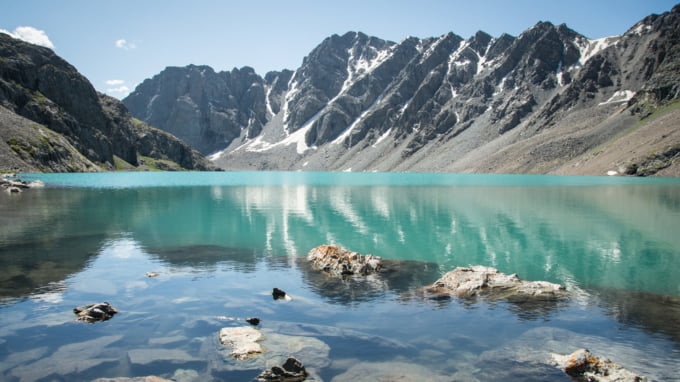 Photo by Philip Rodriguez/shutterstock
Situated in the Issyk-Kul Region of Kyrgyzstan, the Ala Kul Lake is a rock-dammed lake which lies at an altitude of about 3560 meters. Its name means "variegated lake." When sightseeing on this lake, one may notice its rocks which may be characterized by its different colors and its winds which blow around the lake. A Russian traveler named Putimtsoff first visited the lake in 1811. It was not until 30 years later when another explorer named Alexander Schrenk explored the lake and its surrounding area.
Name:Ala Kul Lake
Address:Issyk-Kul Region, Kyrgyzstan
8. Panfilov Street (Bishkek,)
Panfilov Street or Panfilov Park is a street situated at Bishkek, Kyrgyzstan. It stretches from the southern street of Abdylas Maldybaev to the northern street of Jibek Jolu Prospekti. Named after Soviet general Ivan Panfilov. When sightseeing in the park, one may stroll around it, with a bunch of flowers surrounding the stature of the former general. The Panfilov is a good family friendly park with benches and shade to escape the heat of the summer. The Kyrgyzstan Parliament, a good attraction for sightseeing, may also be found bordering the park.
Name:Panfilov Street
Address:Bishkek, Kyrgyzstan
9. Dungan Mosque (Karakol)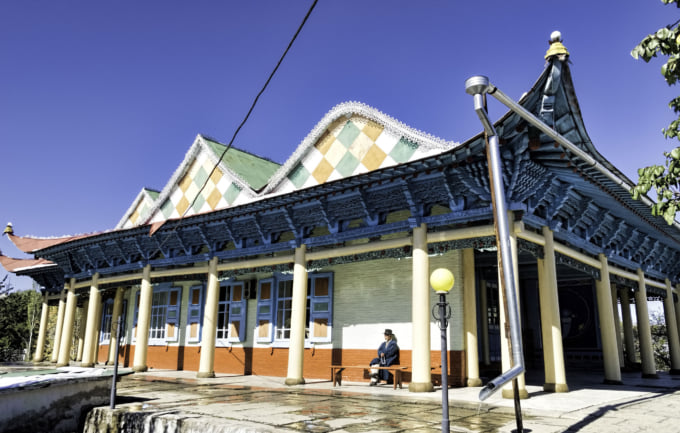 The Dungan mosque is a distinct monument built starting 1907. Found in Issyk Kul Region at Kyrgyzstan, the mosque is famous for its architecture. When sightseeing at the tourist spot, it would be observed that the mosque has only one floor. It is noted that the material used for the construction is wood including fir, poplar, and walnut. This monument in Kyrgyzstan is painted in bright colors. A tourist can also witness the embellishments which are carefully carved on its walls including mythological plants and animals. These mythological figures aimed at protecting the mosque from evil spirits.
Name:Dungan Mosque
Address:Issyk Kul Region, Kyrgyzstan
10. Tash Rabat (Naryn)
Photo by Beyond the Road Prod/shutterstock
Tash Rabat is a well-preserved stone caravanserai found at the Naryn Province, Kyrgyzstan. Built in the 15th century, Tash Rabat is situated in the surrounding mountains. The structure has 31 rooms, including chambers found at the central hall. When sightseeing at Tash Rabat, one will notice rooms which are dome-shaped. Further sightseeing will allow tourists to witness its crushed stone on clay mortar construction.
Name:Tash Rabat
Address:Naryn Province, Kyrgyzstan
◎ Closing
Kyrgyzstan is home to several attractions worth sightseeing. These attractions - whether natural or traditional - provide tourists with an unmatched experience. These attractions offer you with a sufficient reason to explore and immerse yourself in the exquisite country that is Kyrgyzstan.