Photo by worldroadtrip/shutterstock
Guatemala: A Central American Treasure for Its Mayan Ruins and Lush Canyons
Guatemala is a country situated south of Mexico, in the region of Latin American. known primarily as the ancient home of Mayan civilization, yet it offers much more than just historic sites. In Guatemala, beautiful natural wonders go hand in hand with places rich in history helping to transform Guatemala into one of the most incredible destinations in the region. If you're planning a trip to the country, here are some of the places you need to check out in Guatemala.
table of contents
[x] close
Guatemala: A Central American Treasure for Its Mayan Ruins and Lush Canyons
1. Tikal National Park (Tikal)
Photo by K_Boonnitrod/shutterstock
A visit to Guatemala would not be complete without witnessing this stunning national park, which occupies about five hundred square kilometers and contains over three thousand buildings dating back to the Mayan civilization which occupied Guatemala in 900 BC. Tours of Tikal Park include hikes and walks around the natural environment, but a historic sightseeing tour is definitely the main highlight of Tikal. It's also home to a tropical forest and wild turkeys, monkeys, toucans and other animals which make the sightseeing tours in Tikal especially interesting. Other than touring the historical buildings of the park, it's also possible to camp there too.

Name:Tikal National Park
Address:Tikal, Guatemala
Related Site:www.tikalpark.com
2. Palacio Nacional (Guatemala City)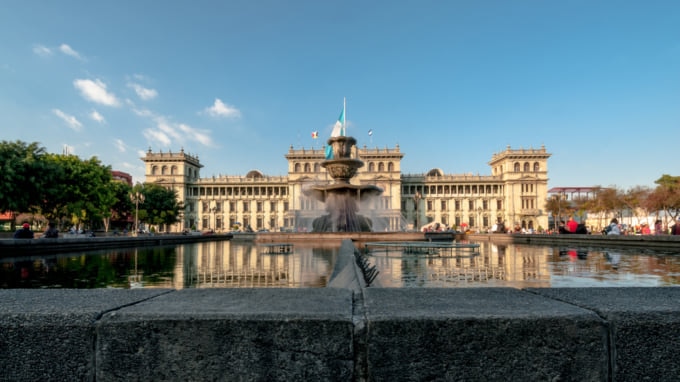 Photo by salmon-negro/shutterstock
When touring the capital, Guatemala City, Palacio Nacional de la Cultura is an important monument that should 't be overlooked. The palace dates back to the beginning of the 20th century and it was previously used as the headquarters of the President of Guatemala before it was recently turned into a museum. One of the most impressive buildings in the city, it was built during the reign of dictator, General Jorge Ubico in the style of Spanish Renaissance and neoclassical architecture.

Name:Palacio Nacional de la Cultura
Address:6A Calle, Guatemala City, Guatemala
3. Kaminaljuyu (Guatemala City)
Another of the country's incredible historical sights, Kaminaljuyu was an ancient center of Mayan civilization during the first millennium BC. The archaeological site nowadays is just a few mounds, although the scale of the city is thought to have been huge back in its heyday. The site still contains some intriguing artifacts in the museum there that allow for a great insight into the historical Mayan culture of the area.
Name:Kalimanaljuyu
Address:Zona 7, Guatemala City, Guatemala
4. Lake Atitlan (Solola)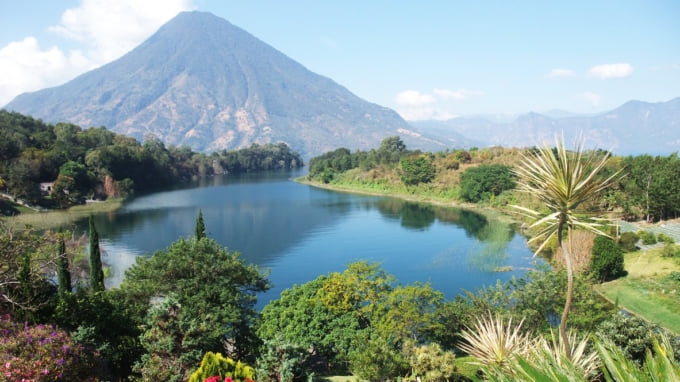 Lake Atitlan is situated in the western part of Guatemala, and is considered not only the most beautiful fresh body of water in Guatemala but also one of the most stunning natural lakes in the world. The lake was created by a volcanic eruption which caused the surface to collapse into a hollow. Tours from Guatemala City are organized for a day trip to Atitlan but you can also choose to stay longer by hiking and camping around the area.

Name:Lake Atitlan
Address:Sololá , Guatemala
Related Site:www.atitlan.com
5. Catedral Metropolitana (Guatemala City)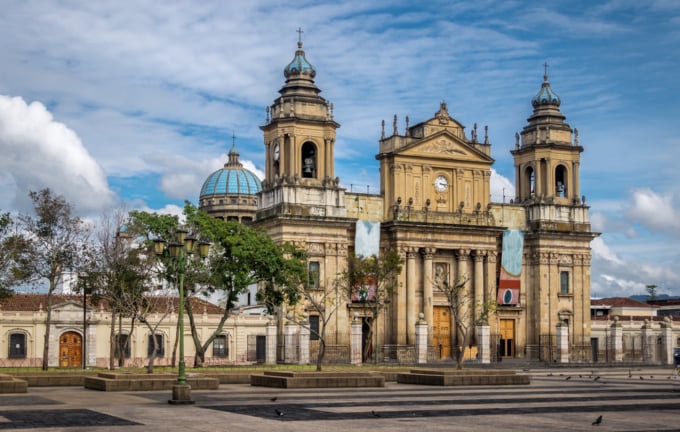 Photo by Diego Grandi/shutterstock
Catedral Metropolitan is the main sacred monument of Guatemala City and often the first port of call for tourists visiting the city. The cathedral is situated in the very center of Guatemala City which makes it easy to include when taking a tour of the Central Park area. Despite its name, the cathedral has a very simple decoration albeit its size and importance for Guatemala City is considerable. Catedral Metropolitana dates back to the 19th century and much of its art can be enjoyed during the sightseeing tour has been brought here from the Old Cathedral.
Name:Catedral Metropolitana
Address:7ma. Avenida 6-73 Zona 1, Guatemala City, Guatemala
Related Site:catedralbicentenaria.org
6. Monterrico (Monterrico)
Photo by Simon Dannhauer/shutterstock
Sightseeing around Guatemala can be quite tiring and challenging, and Monterrico is the best place to relax afterwards. Monterrico is considered the most beautiful beach of Guatemala. Located in the Pacific coast, this beach is easily accessed from Guatemala City by public or private transport. It is also possible to reach it during some of the sightseeing tours that leave from the city. Monterrico is known for its black sand of volcanic origin and pristine beauty of its clear waters. There are very scenic sunsets to be seen from the beach and the possibility of a sightseeing tour of the sea turtle conservation sites.

7. Arco de Santa Catalina (Antigua Guatemala)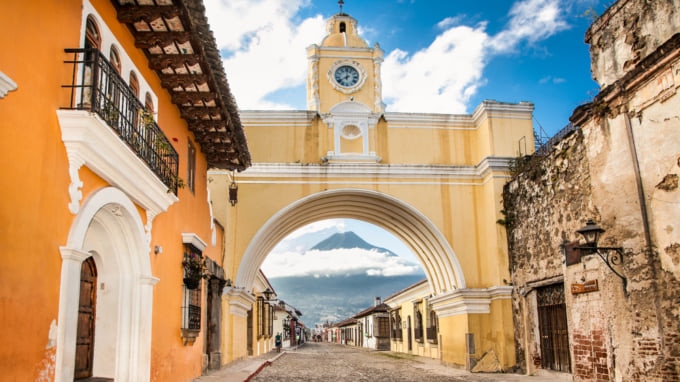 Photo by Aleksandar Todorovic/shutterstock
While sightseeing in Antigua Guatemala, the ancient capital of Guatemala, Santa Catalina Arch is an absolute highlight that should not be bypassed. The Arch was bulit in the 17th century as part of the Santa Catalina convent and it is today a symbol of Antigua Guatemala. There is a clock on the top of the Arch which dates back to the 19th century and besides sightseeing, it is also possible to lodge in the adjacent Convent Hotel. Beautiful views of the mountains are offered when standing in front of the Arch.

Name:Arco de Santa Catalina
Address:5A Avenida Norte, Antigua Guatemala, Guatemala
8. Iglesia de La Merced (Antigua Guatemala)
Photo by THPStock/shutterstock
Among the most popular sightseeing monuments of Antigua Guatemala is Iglesia de La Merced. I tis a church bulit in neoclassical style which still holds the masses as well as sightseeing tours. Iglesia de La Merced dates back to the 18th century but it was completely renovated after an earthquake in the 20th century when it was first open for sightseeing. When sightseeing in the Iglesia de La Merced, it is noteworthy that its towers were finished at the beginning of the 20th century and they are accessible for breathtaking views of Antigua Guatemala.

Name:Iglesia de La Merced
Address:6A Avenida Norte, Antigua Guatemala, Guatemala
9. Cerro de la Cruz (Antigua Guatemala)
When visiting Antigua Guatemala, there is a possibility to add a speciach touch to the sightseeing by climbing the Cerro de la Cruz lookout. Cerro de la Cruz offers a great view of Antigua Guatemala as well as the volcano called Volcán Agua. There is a cross on the top of Cerro de la Cruz and the site is consecrated to a local saint. A visit to Cerro de la Cruz helps put the rest of sightseeing in Antigua Guatemala to a perspective while being a refreshing part of the sightseeing tour thanks to the opportunity for an easy hike up the hill.

Name:Cerro de la Cruz
Address:Antigua, Guatemala, Antigua 03001, Guatemala
10. Semuc Champey (Lanquín)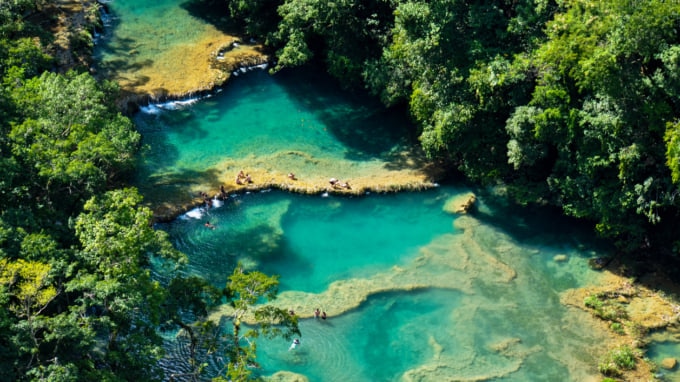 When on a sightseeing quest for the natural beauty of Guatemala, Semuc Champey is a place to stop and enjoy. It is located in the central part of Guatemala, near the city of San Agustín Lanquín. What makes Semuc Champey a unique sightseeing place is the natural bridge from limestone which runs above the Cahabón River and creates small pools with water from the river. A day sightseeing trip from Guatemala City will let the visitors experience its beauty and tranquility, but Semuc Champey deserves much more time than only several hours. Swimming in the water pools as well as hiking and sightseeing in the area can be a great several day long getaway when on a tour of Guatemala.

Name:Semuc Champey
Address:San Agustín Lanquín, Guatemala
◎ Closing
The highlights of Guatemala are both of historic and natural value and the best sightseeing tour will include some of both. While the historic sites such a Tikal Park provide for an active sightseeing experience, pools in Semuc Champey and Monterrico beach offer the rest and relaxation. Guatemala thus has all that a vacation destination needs for a great sightseeing tour.