Tokyo: Six Effortless Day Trips Near Japan's Capital
Japan
Apr 2, 2019
138 views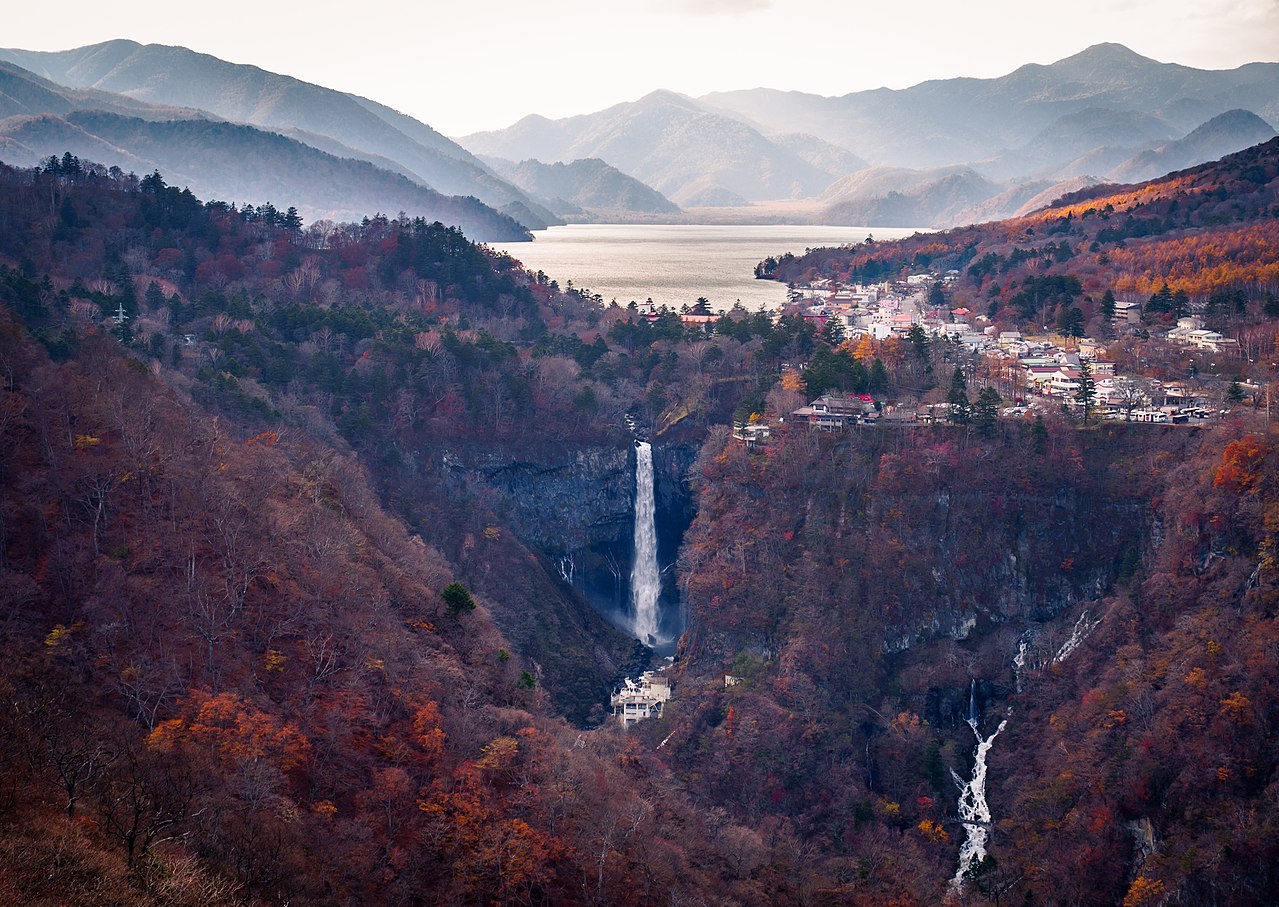 Photo by Reginald Pentinio/Wikipedia
As the largest megalopolis in the world, staying in Tokyo can quickly get a little cloying and tiresome. Fortunately with a wealth of mountains, coastal towns and other attractions straddling the city, it's easy to escape out of the concrete jungle. Here are some easy day trips you can take around the area, offering a wealth of nature, history and scenery.
[x] close
Tokyo: Six Effortless Day Trips Near Japan's Capital:table of contents
Kamakura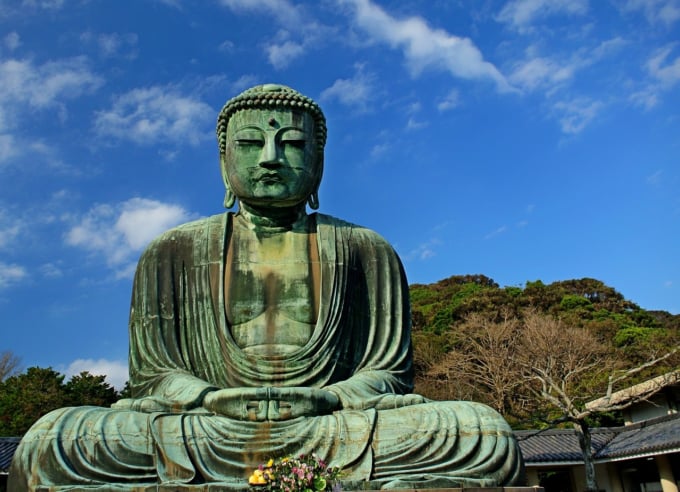 A coastal town less than an hour away from Tokyo, Kamakura was once the seat of the government in Japan from the 12th century. With mountains, beaches, great food and an array of temples and shrines, Kamakura offers a little bit of everything making it the perfect location to spend a day away from the city. Make sure to check out Kamakura Daibutsu, the giant bronze Buddha built in the 13th century. Consider also checking out Enoshima, another popular destination a stone's throw away from Kamakura.
Chichibu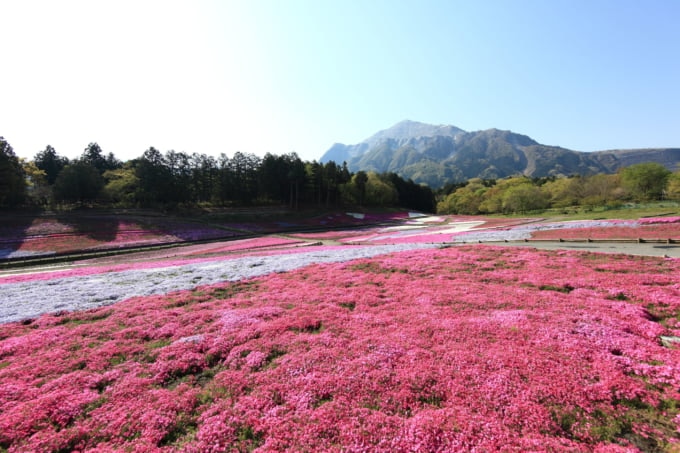 Located up in the mountain's in neighboring Saitama Prefecture, Chichibu is a wonderful escape for those looking for a stretch of nature just outside the megalopolis. Surrounded by hills and mountains on either side, Chichibu offers numerous hiking trails of varying difficulty, many of which you'll find picturesque views into the valley and beyond. If you're visiting in the fall make sure to check out the Nakatsu Valley, one of the top spots in Japan to view the fall colors. For spring travelers, Hitsujiyama Park is famed for its hill of pink moss that usually blooms in late April.
Kawaguchiko
Photo by Reginald Pentinio/Flickr
The easiest to access of the Fuji Five Lakes from Tokyo, Kawaguchiko also arguably offers some of the prettiest views among them. There's no shortage of things to do here too. Along with the beautiful views over the lake and Mount Fuji on clear days, it's also home to one of Japan's most popular theme parks, Fuji-Q Highland. Perfect for those traveling with kids and also great for adults and thrill-seekers alike, Fuji-Q has a multitude of exhilarating rides, many of which offer breathtaking views of Mount Fuji as you flash past.
Atami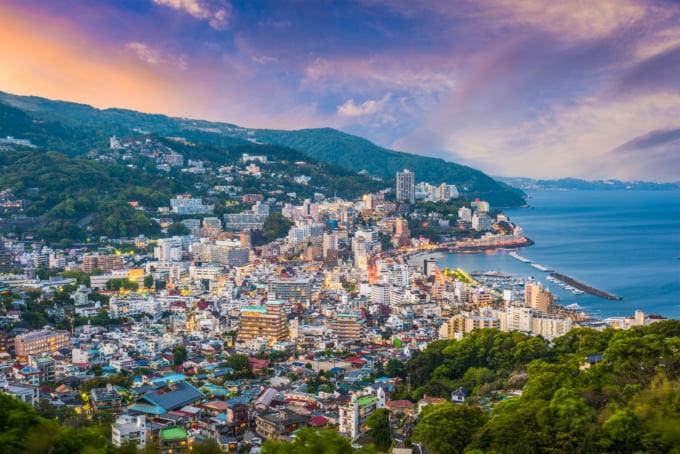 A picturesque coastal town straddling the Izu Peninsula, getting to Atami from Tokyo takes just over 40 minutes by bullet train. You might not associate the area around Tokyo with golden beaches and palm trees, but you'll find both however at Atami. Perfect for a getaway in the summer, the mountains nearby also offer some great hikes if you feel the need to venture into nature. Atami is also a popular onsen town, well known for its natural authentic hot springs dotted around the town.
Nikko
Photo by Reginald Pentinio/Wikipedia
Known for its lavish gold-decorated shrines and temples nestled up in the mountains of Tochigi Prefecture, Nikko is the perfect option for wandering in nature and viewing historic architecture. This mountainous area has long been a center of Buddhism and Shinto worship even before the famous Toshogu Shrine was built in the 15th century. Along with checking out the historic shrines and temples, make sure to visit some of the region's wealth of natural landscape such as Kegon Falls and Lake Chuzenji. The area is also home to several hot-spring towns for those who need the chance to relax and recuperate.
Nokogiriyama
At just over an hours drive across Tokyo Bay, Chiba's Boso Peninsula offers a wealth of attractions and things to do perfect for daily excursions from the capital. One of these is Nokogiriyama or 'saw-tooth mountain', an easy hike with some stunning views over the lush, green countryside and jagged hills along with the coast of Chiba and across into Tokyo Bay. The area is also famous for its huge stone Buddha carved in the 18th century, along with various other depictions of Buddha dotted around.
Conclusion
Especially for those living in Tokyo, it can often feel difficult to escape the endless concrete sprawl of the city and its neighboring urban areas. Luckily with Japan's well-connected railway and bullet train system, there are a wealth of places you can reach in under two hours.