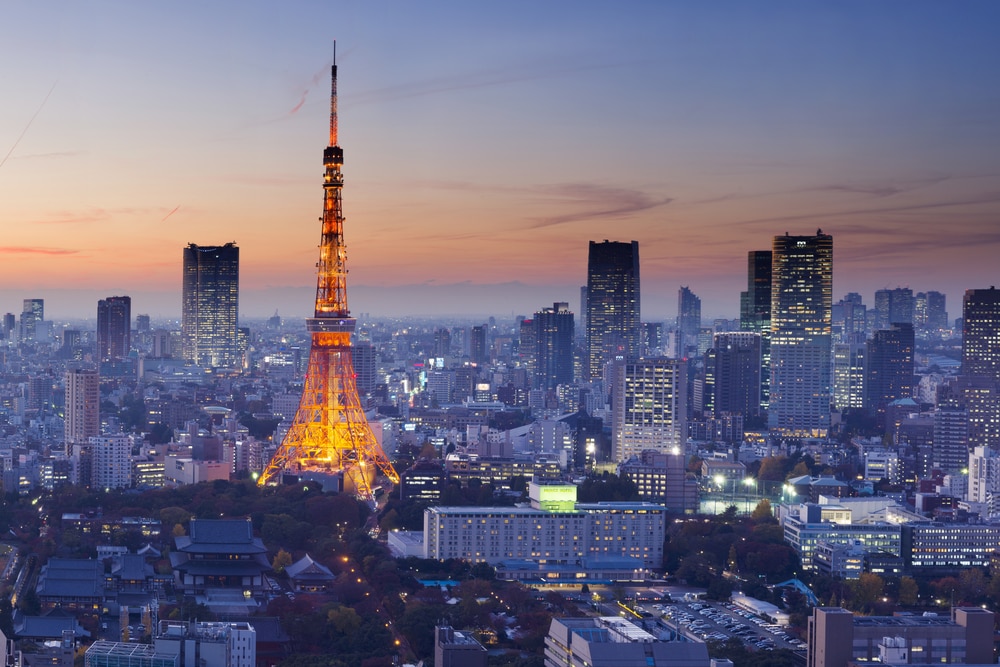 Photo by somchaij/Shutterstock
6 Beautiful Rooftop Terrace Bars in Tokyo You Need to Check Out
It's so pleasant to have drinks out in the open, on a breezy evening surrounded by friends, spectacular views and good conversation. This is especially so in a city as densely populated as Tokyo, where things can quickly start to feel claustrophobic. That's why we've compiled this list of amazing rooftop bars in the city that are perfect for grabbing a few drinks before retiring for the night.
table of contents
[x] close
6 Beautiful Rooftop Terrace Bars in Tokyo You Need to Check Out
Allamanda Garden
Conveniently located just one minute from Gaienmae subway station, the poolside bar at Allamanda Garden is an excellent place to have drinks as you take in spectacular views of the capital. It's quite a popular date spot, as the lit-up pool, soft lighting and sweeping views create a very intimate ambiance. There are also three restaurants here besides the bar. An Italian restaurant, a traditional Cantonese restaurant and a steak and oyster bar if you're feeling peckish.
Address: Unimat Aoyama Bldg 9F, 2-12-14 Minami-Aoyama, Minato-ku
URL:http://www.allamanda-garden.jp/
BVLGARI La Terraza Dom Pérignon Lounge
Perched on top of the Ginza Tower, this stylish rooftop bar is just the place to come if you want to get a little fancy. Sip on some bubbly as you nibble on delicious creations by Luca Fantin, who once held the title of Best Italian Chef in the World. The breezy terrace is also open in the afternoon, which is perfect for a little tea-time get together with friends.
Address: Ginza Tower, 2-7-12 Ginza, Chuo-ku
URL:https://www.bulgarihotels.com/en_US/tokyo-osaka-restaurants/tokyo/la-terrazza-dom-perignon-lounge
Xex Daikanyama
The cozy, lantern-lit, Bali-inspired terrace bar at Xex Daikanyama is a great spot to unwind in the evening as you sip on some delicious, refreshing cocktails. The shallow pool and calming sound of flowing water really add to the resort-like atmosphere of the place. Outside of drinks, you can also chose to order some delicious Italian or Japanese food from one of the two in-house restaurants.
Address: La Fuente Daikanyama 3F, 11-1 Sarugakucho, Shibuya-ku
URL:http://www.xexgroup.jp/en/daikanyama
Two Rooms Grill & Bar
Two Rooms Grill & Bar is a wildly popular spot among Tokyo's expat community. The design is very dapper, with warm lighting, natural wood and leather coming together to create an elegant and inviting space. The terrace itself is very spacious and features cozy sofas and outstanding views of the city. It can get a little pricey here but it's still quite a nice place to enjoy a drink or two.
Address: 5F Ao Bldg, 3-11-7 Kita-Aoyama, Minato-ku
URL:https://tworooms.jp/en/
Ebisu Exotica Beer Garden
Located in Tokyo's trendy Ebisu neighborhood, just a minute walk from the station, this vibrant green open-air terrace offers a wonderful place to just escape from it all. The beautiful terrace landscaping is all courtesy of the famous 'plant hunter' Seijun Nishihata, and transforms what would have otherwise been quite an ordinary space into a wonderful green oasis in the middle of the city. A great place to catch up with friends over a few drinks.
Address: Atré Ebisu West Bldg 8F, 1-6 Ebisu-Minami, Shibuya-ku
URL:http://www.bistro-shiro.com/beergarden/
Nomad Grill Lounge
This swanky steak house located in Akasaka is home to Tokyo's largest rooftop bar. It's a superb choice for meat lovers. Here you can enjoy a premium steak or wagyu burger alongside original cocktails, whisky and wine. The atmosphere inside is very stylish and sophisticated featuring a lovely open kitchen. The terrace is a touch more relaxed and an excellent place to throw back a couple of drinks on a nice, warm evening.
Address: 4F, Toukyouga-denterasukioityou, Kioicho, Chiyoda-ku
URL:http://nomad-grill-lounge.com/
Conclusion
If you don't know Tokyo well, it can be a bit of a task trying to find a good open air rooftop bar. These are just a handful of them, but ones we think are definitely worth a visit. A lot of big hotels such as The Peninsula, Mandarin Oriental and Park Hyatt also tend to have amazing rooftop bars and lounges worth checking out, although not always open air.