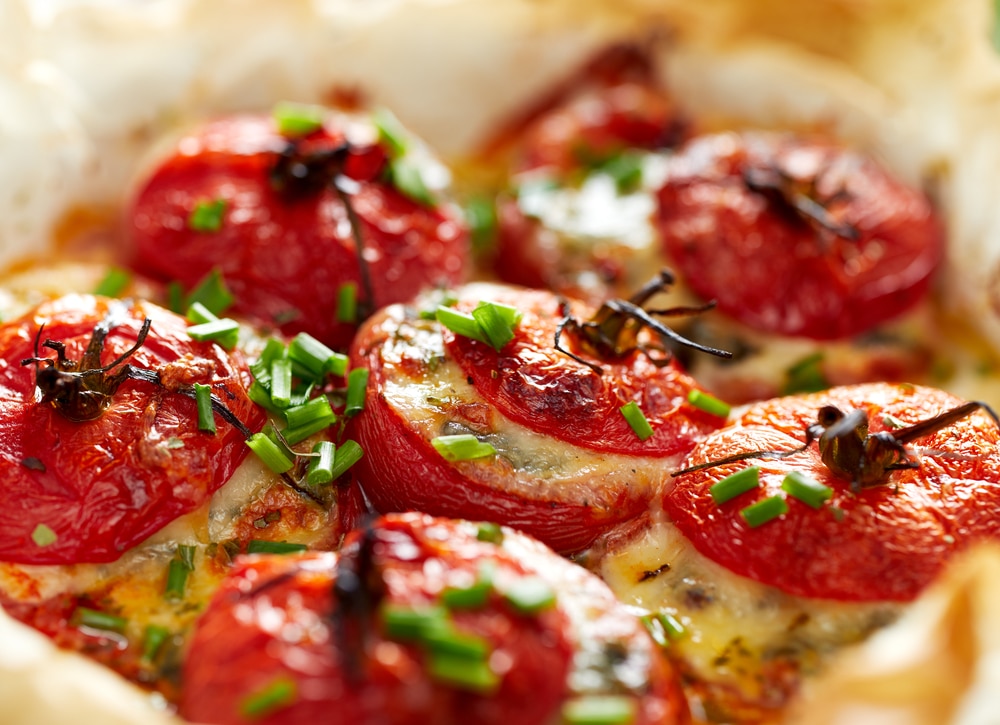 16 Delicious Local Greek Foods To Try When Visiting Greece
Greece is a paradise for food lovers. The perfect representative of the Mediterranean diet, Greek cuisine offers a variety of delicious and healthy dishes that everyone can enjoy. The best part? They're usually cooked with fresh, local ingredients that just makes everything taste so much better. Starting to work up an appetite? Here are 16 delicious local dishes you need to try when visiting Greece.
table of contents
[x] close
16 Delicious Local Greek Foods To Try When Visiting Greece
Souvlaki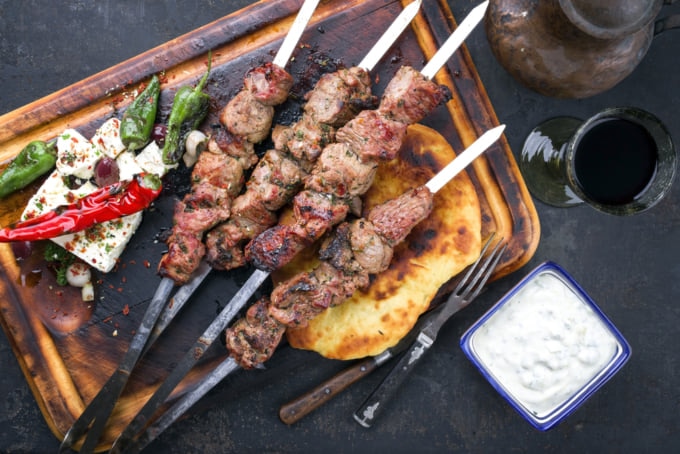 A traditional street food of Greece, it's safe to say there aren't many people that don't enjoy a kebab. It's usually either pork or chicken that's grilled on a skewer served with fried potatoes, tomatoes, onions, and tzatziki and then wrapped in pita bread.

Tzatziki is a mix of yogurt, garlic, and cucumber that is also served as an appetizer. If you are off for a romantic evening and want to avoid having garlic breath, make sure to substitute tzatziki with plain yogurt or sauce.
Gyros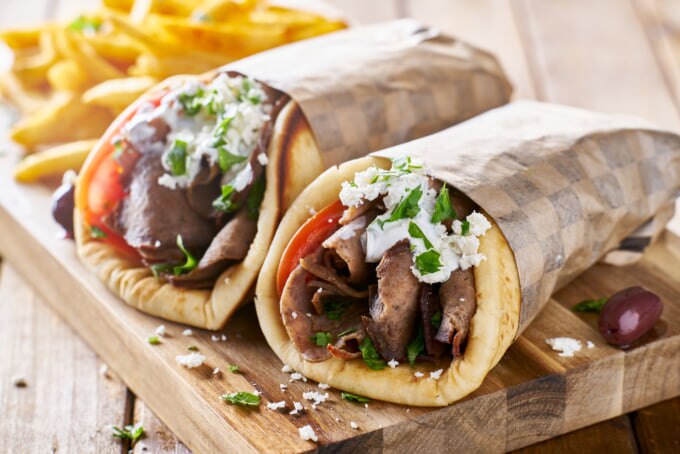 Photo by Joshua Resnick/Shutterstock
Similar to souvlaki, the difference with gyros is that the meat is cut vertically into thinner strips, it's then served along all the usual ingredients you'd find with souvlaki, stuffed inside a small pita bread.
Moussaka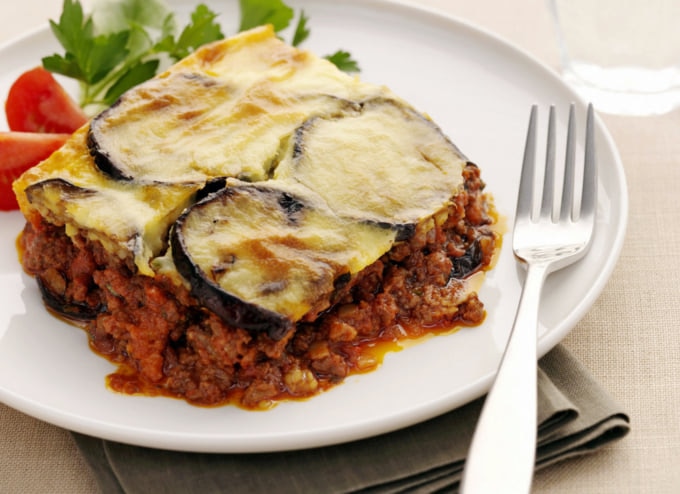 Photo by Radu Gheorghita/Shutterstock
Do yourself a favor and go easy on the appetizers before trying this rich, mouthwatering dish. You'll want to eat as much as you can. Fried or baked eggplant and potatoes, minced meat, and creamy béchamel sauce on top will fill your stomach and warm your insides. It's one of the most popular dishes from Greece and for good reason.
Pastitsio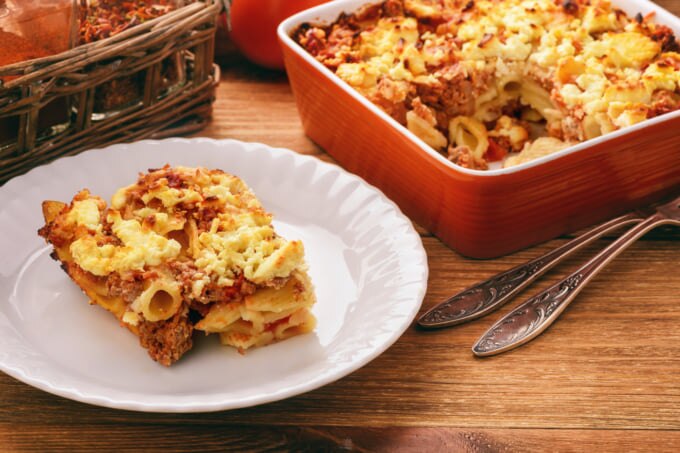 Another irresistible dish and often a kid's favorite. Pastitsio is a combination of thick pasta with minced meat and béchamel sauce on top with a pinch of nutmeg. Some cooks also like to add grated cheese between the layers or in the béchamel to take it a step further. Whichever way you have it though it'll taste incredible, like an extra flavorsome mac & cheese.
Ntakos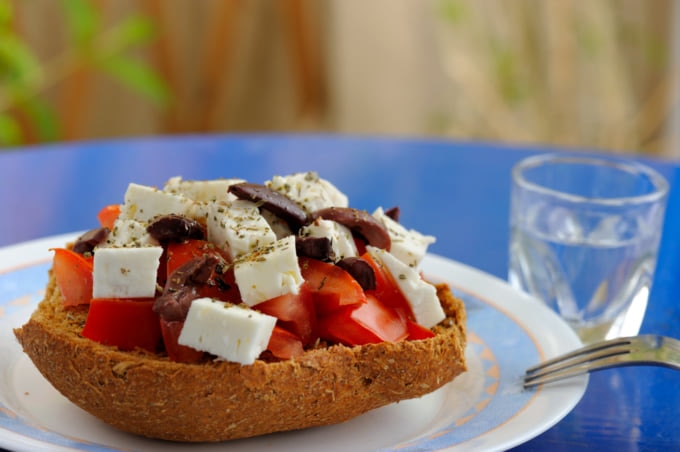 This traditional Cretan salad can be found in almost every restaurant across the island. In its original form, it's just grated tomato on a large rusk with feta cheese or mizithra (another type of Greek cheese) on top, olive oil and oregano. Some prefer to cut the rusk into pieces and mix all the ingredients adding onion, olives or parsley.

Choriatiki (Greek Salad)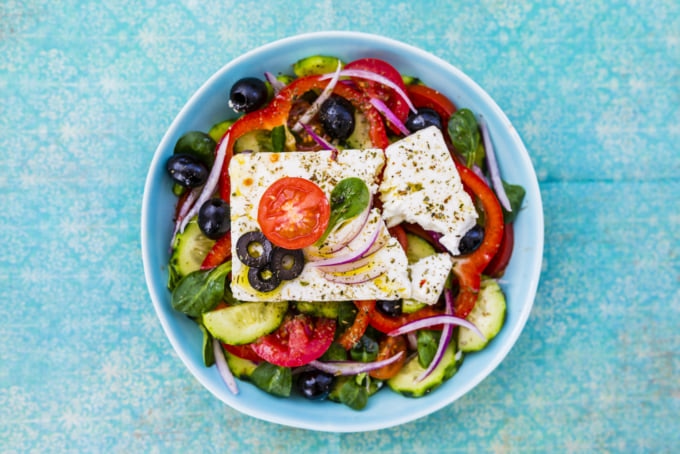 Greek salad is a must-have, especially in the summer when tomatoes are in season. Add to that cucumber, olives, green peppers, feta cheese, oregano and olive oil, and you have a cool, filling salad you can enjoy as a light dinner. Don't forget to dip a small slice of bread in the salad oil, or else do a 'vouta' (dive) as the Greeks call it!
Cheese Saganaki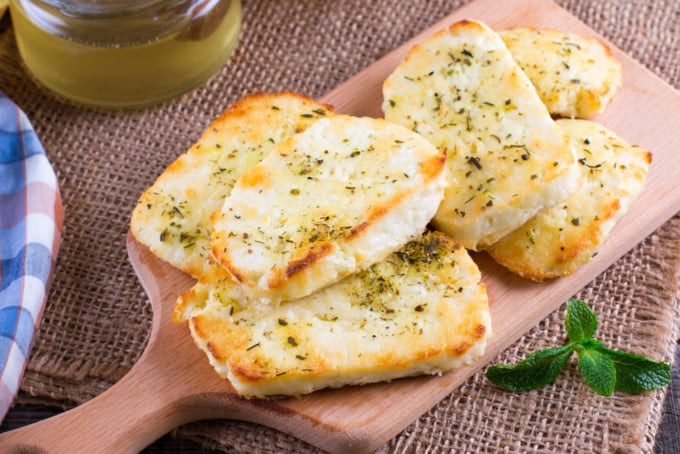 Photo by Ahanov Michael/Shutterstock
Cheese saganaki is one of the most popular appetizers. It's fried cheese served with a slice of lemon. Or in another variation it's often made with feta cheese wrapped in filo pastry and comes with sesame seeds on top and honey on the side. Simple, but exquisite.
Gemista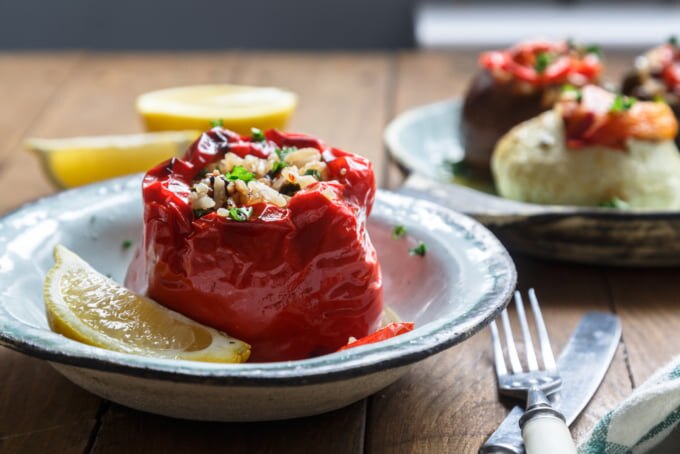 Photo by Konstantin Kopachinsky/Shutterstock
Gemista is stuffed tomatoes, courgettes, green peppers along with even onions or potatoes in the rarest of occasions. The stuffing usually consists of rice with or without minced meat, grated tomato and several herbs which is then thrown in the oven to finish it up. It's a food best enjoyed with a side of yogurt or feta cheese.
Ntolmadakia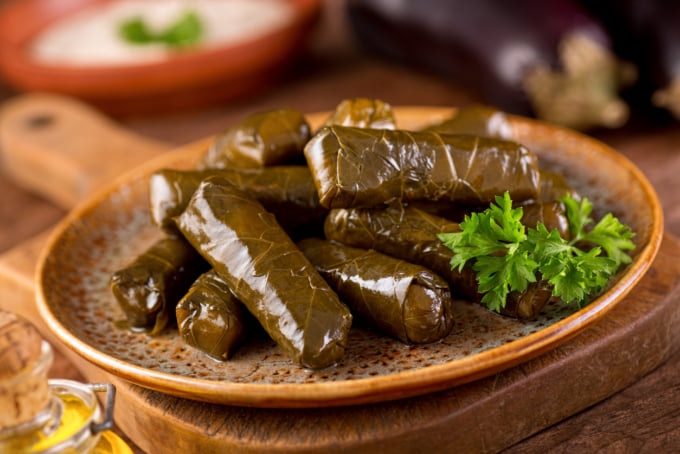 Ntolmadakia is grape leaves stuffed with rice and herbs. It might sound like quite a plain dish, but it takes an experienced cook to pull it off and when it's done correctly this dish is absolutely delicious. You'll also sometimes see it's made with courgette leaves. The stuffing and cooking instructions are the same as that of gemista, so these two dishes are often cooked and served together.
Spanakopita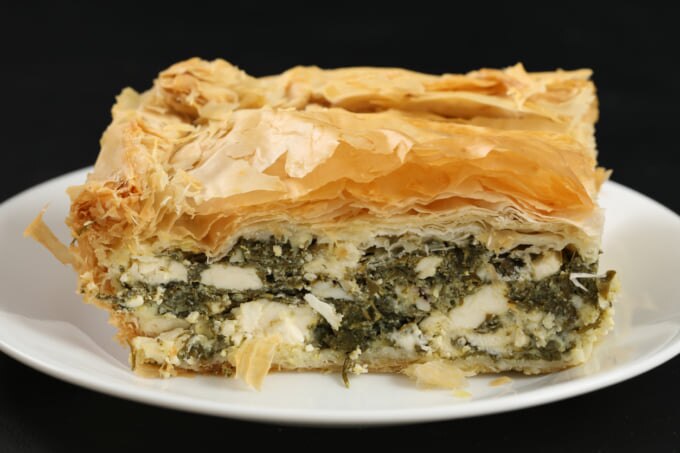 What makes the Greek spinach pie unique is the savory feta cheese in the filling. In its most traditional form, it's shaped like a spiral and the dough is particularly soft in between and crispy on top. It's often a favorite dish for foreigners visiting the country, and for good reason. The combination of flaky pastry, spinach and cheese is just perfect.
Mpakaliaros Skordalia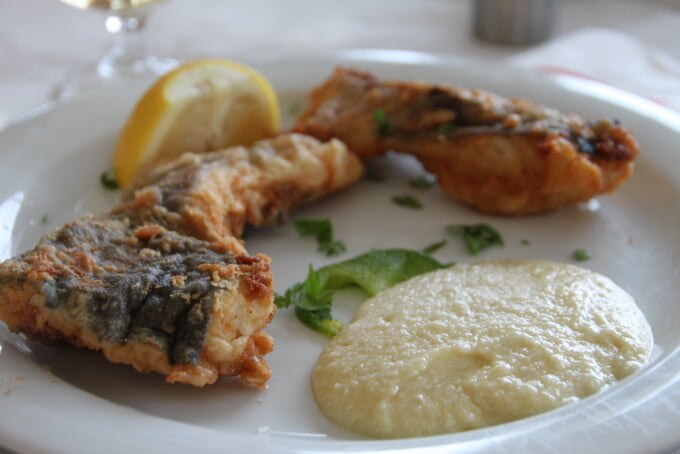 Hake with garlic mash is a dish that is linked to a Greek Orthodox celebration in March, but you can and should make sure to enjoy it all year round. Be warned though this is not a light dish. The hake is deep fried, and the garlic mash is, well, quite strong for those not used to such a heavy garlicky taste. If you can get past that however
it's something you'll be craving in no time.
Fasolada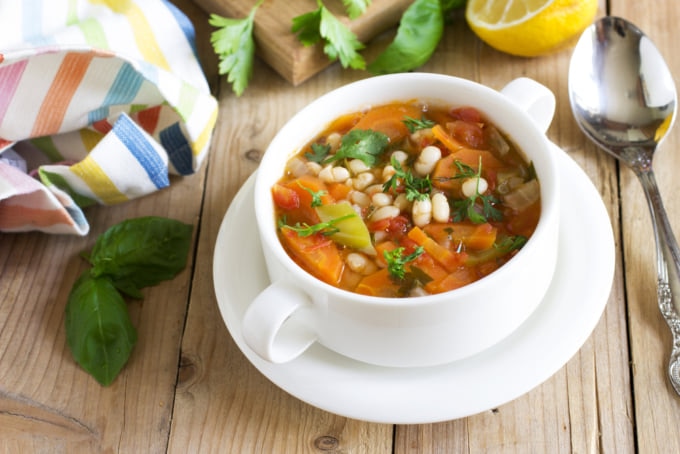 Photo by Elena M. Tarasova/Shutterstock
Fasolada was once known as the national dish of Greece until its many delicious dishes started to gain huge popularity. It's a stew of white beans slowly cooked in a pot with carrots, celery, tomato, and onions. It's a hearty meal, so it's wiser to have it for lunch. Since it's a kind of stew, it's best enjoyed in the winter when the weather is colder.
Kolokithokeftedes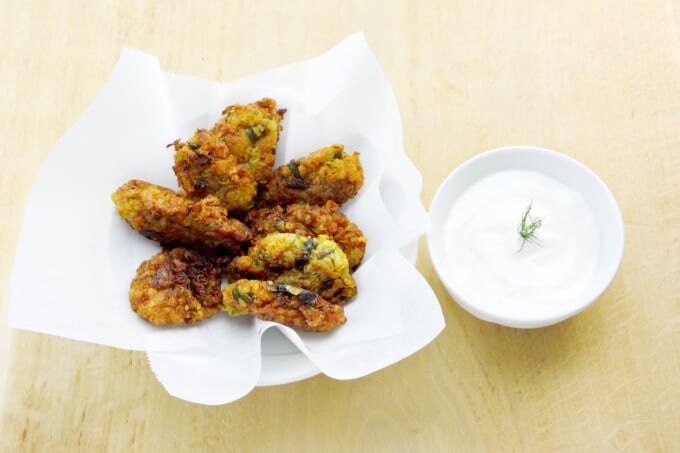 Kolokithokeftedes is a delicious appetizer. Courgettes, feta cheese, and herbs are nicely shaped into small balls and fried in olive oil. They're crispy on the outside and soft and creamy on the inside. Often they'll be rich in herbs such as spearmint and parsley and usually comes with a yogurt sauce.

A recipe similar to kolokithokeftedes is fried courgettes. Only this time it's just thin slices of courgettes dipped in flour.
Halvas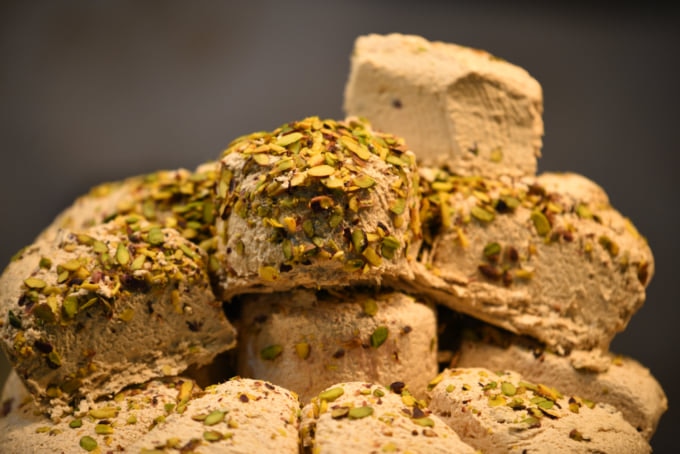 Photo by YILMAZUSLU/Shutterstock
Whenever you're visiting a Greek restaurant make sure to leave some room for dessert. In many Greek restaurants, dessert comes for free as a treat at the end of the meal. Halva are a simple, light dessert made of semolina. Its delicate taste is perfect for those who are not really into sugary sweets. To give it an extra savory nudge, try it with some kaymak ice cream.

Portokalopita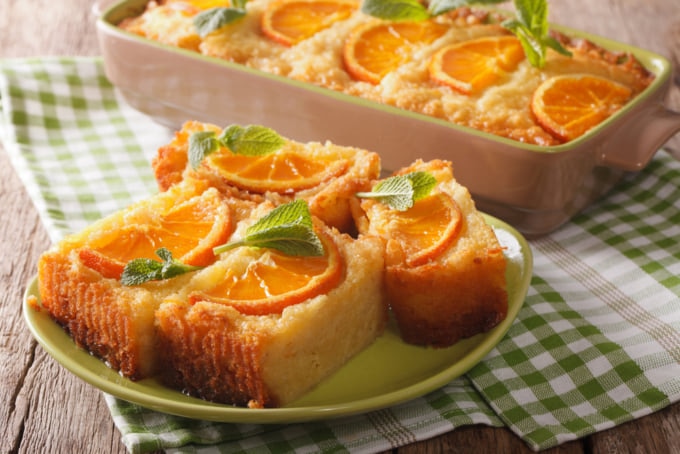 Photo by AS Food studio/Shutterstock
This Greek orange pie can often have an unusually messy look, as it's sometimes made with filo pastry that has been crumbled and crinkled. However once you try it, it's hard to stop. Plenty of orange zest is usually used to give this dessert its distinctive, citrus-y smell.
Spoon Sweets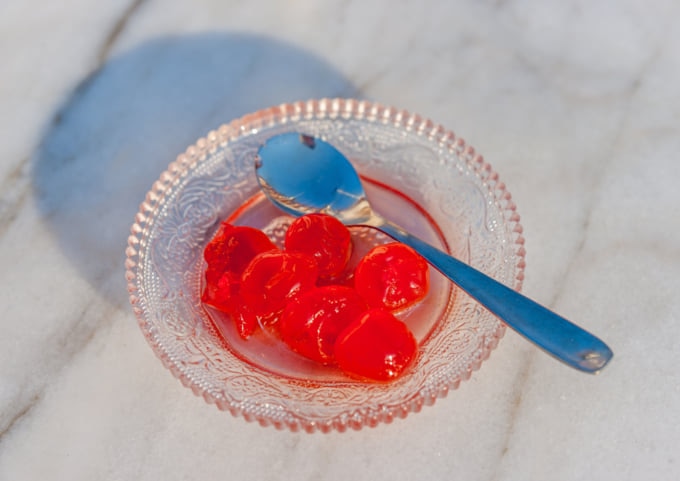 Photo by imagIN.gr photography/Shutterstock
After a long day under the strong Greek sun, there's nothing more refreshing than a spoon of pure sweetness and a large glass of ice cool water. Greek spoon sweets are made with nothing other than fruit and sugar, yet their taste is a bliss. Bergamot, sour orange, grape, and cherry are the most popular, but you can also find spoon sweets made with chestnuts or tomatoes. You'll also find them sold in jars in local shops and airports, so you can bring some home for yourself or as a gift.
Conclusion
If you're looking for a unique culinary experience with unpretentious, home-style food, then Greek cuisine will surely please you. Not only is it super delicious, visitors often feel much healthier after dining on Greek food due to the heavy reliance on fresh, seasonable vegetables.